This website uses cookies to ensure you get the best experience while browsing it. By clicking 'Got It' you're accepting these terms.
Antarctic Expedition Team Finds Clear Signs of Climate Change at the Bottom of the World
Mar. 18, 2015 08:56AM EST
Climate
[Editor's note: EcoWatch is tracking Robert Swan's International Antarctic Expedition 2015, which brings together people from around the world to "debate, discuss and determine firsthand the effects of climate change" via a 13-day trip to Antarctica. This is Part II. Read Part I.]
"If Antarctica were music it would be Mozart. Art, and it would be Michelangelo. Literature, and it would be Shakespeare. And yet it is something even greater; the only place on Earth that is still as it should be. May we never tame it." Robert Swan offers this quote from Andrew Denton, an Australian television producer, as his inspiration for fighting to protect the great icy continent.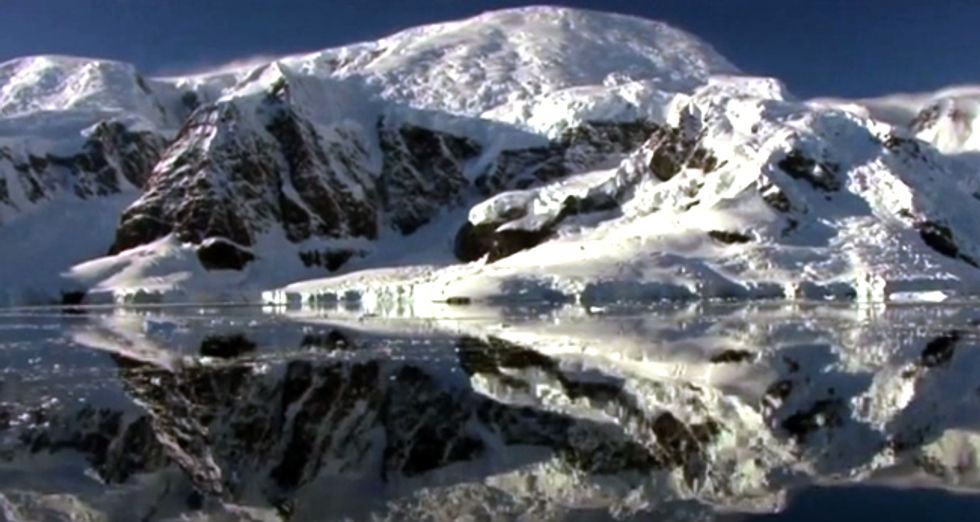 Swan, the famed Arctic and Antarctic explorer, and his team at 2041 are leading a group of intrepid travelers to Antarctica right now as part of the International Antarctic Expedition. The team, which has been documenting the trip on its Expedition 2015 blog, welcomed travelers from all over the world as they arrived in Ushuaia, Argentina on Friday. They spent Friday and Saturday gearing up for their departure on Sunday. As prep for the expedition, the team hiked up to the Martial Glacier in the mountains overlooking Ushuaia on Saturday. The glacier, which has been steadily retreating for the last 15 years, serves as the first of many physical impacts of climate change that the crew will take in over the next few weeks. In a video from the hike, one trekker says, "Here we are, where the glacier used to be, and that's really frightening."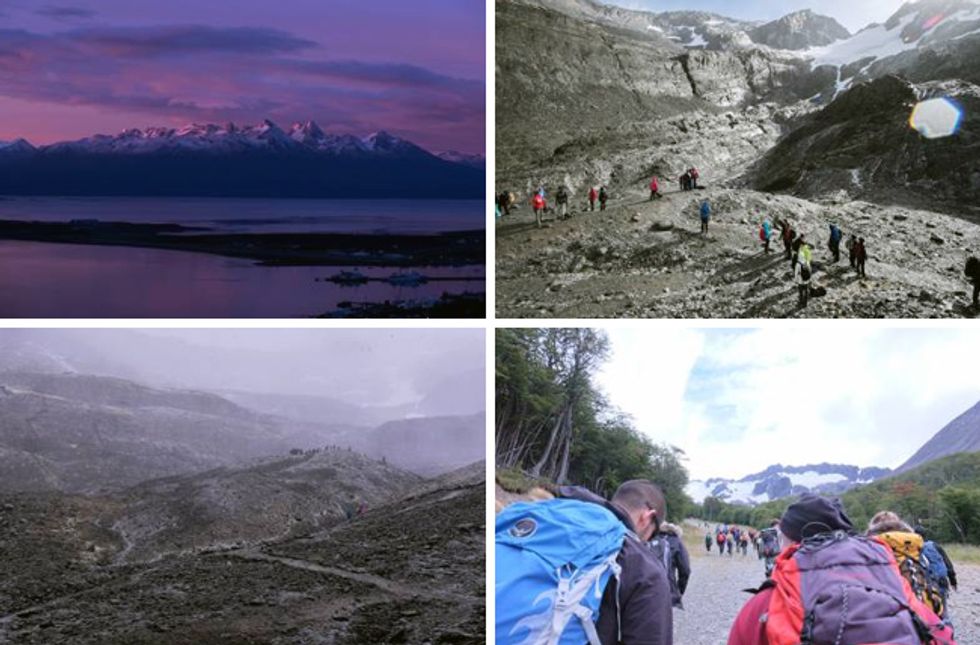 On Friday and Saturday, participants were briefed on the current, political and environmental status of Antarctica. The 2041 team explained how climate change is drastically impacting the icy continent, which has huge implications for the entire globe. All hope is not lost though: Participants brainstormed ways to advocate for change at every level starting with their own communities. Then, on Sunday, the team set sail for Antarctica. Galyna Tymoshenko, who represents Bain & Company, a global management consulting firm, is on the trip and wrote a blog post on the day of the crew's departure. He ended his post with "Today, full of thrill, we are heading south. The journey will take us beyond the edge of the world, beyond the edge of ourselves."
You can track the expedition through the "Ship Tracker" page on 2041's website. They just hit the tip of Antarctica yesterday. The plan is to make numerous shore landings in inflatable rubber boats, or "zodiacs." They will take in stunning ice shelves, calving glaciers, whales and one of the largest gatherings of penguins on the continent.
Robert Swan made a video this weekend explaining the International Antarctic Treaty and the goal of the expedition. In it, he asks: "Do we have the sense to leave one place alone on Earth as a natural reserve for science and peace?"
Watch the video below:
YOU MIGHT ALSO LIKE
Robert Swan Leads Antarctic Expedition to Show Firsthand Effects of Climate Change
HBO's Award-Winning VICE Exposes Climate Deniers and the Dire Consequences of Sea Level Rise
Major Antarctic Glacier Melting Irreversibly, Reaching Tipping Point
EcoWatch Daily Newsletter
Baby orangutan and mother orang utan seen walking in Jakarta, Indonesia. Aprison Photography / Moment / Getty Images
By Tara Lohan
To be a good wildlife photographer, you need an expertly trained eye. But good ears help, too.
Worker spraying toxic pesticides or insecticides on corn plantation. D-Keine / E+ / Getty Images
Poor people in developing countries are far more likely to suffer from exposure to pesticides classified as having high hazard to human health or the environment, according to new data that Unearthed analyzed.
Power to heat, to cool, to drive the world's industries. Renewables can supply it all.
Jason Blackeye / Unsplash
By Paul Brown
Virtually all the world's demand for electricity to run transport and to heat and cool homes and offices, as well as to provide the power demanded by industry, could be met by renewable energy by mid-century.

Phthalates, a group of chemicals used to make plastics more flexible and harder to break, affect health in many ways. Tatyana Tomsickova Photography / Moment / Getty Images
By George Citroner
Exposure to phthalates was associated with autism traits in boys (but not girls) between ages 3 and 4 years, according to a new study.
However, the risk was diminished in women who took folic acid during their pregnancy.
This study is the first to find that folic acid supplements provide a protective effect from phthalates.
Exposure in the womb to a group of endocrine-disrupting chemicals called phthalates was associated with autism traits in boys (but not girls) between ages 3 and 4 years, according to a new study.
A coral and fish community at the Great Barrier Reef, northeast of Port Douglas, Queensland, Australia, on Aug. 28, 2018. Francois Gohier / VWPics / Universal Images Group via Getty Images
Researchers released a sobering study this week showing that all of the world's coral reefs may be lost to the climate crisis by 2100.