Answering 3 Questions About Obama's Upcoming Carbon Emissions Rules
When President Barack Obama speaks Monday, he is expected to present a set of standards that will have a lasting impact on the environment, our health and the bottom lines of power plant operators.
Together, the rules will form a new regulation on existing coal-fired power plants and how much carbon they are permitted to emit. Many expect the rules to create a program allowing states to tax the biggest offenders.
With the help of experts from the Union of Concerned Scientists and the Natural Resources Defense Council, as well as environmental reporters from the Associated Press and New York Times, here are some answers to key points about the to-be-unveiled rules.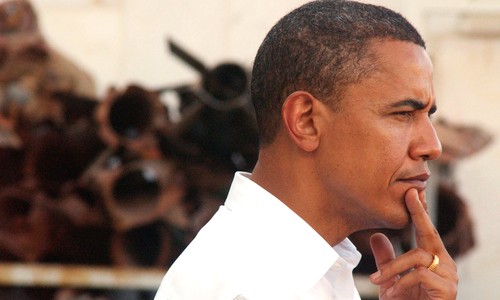 Photo courtesy of Shutterstock
Why are they important?
Fossil fuel-fired power plants emit 40 percent of the nation's carbon pollution, as well as significant amounts of mercury, acid gases, and pollutants that contribute to smog and particulates. Coal is the biggest source of greenhouse gases and a direct cause of climate change and the warming of the planet.
The new rules, crafted by the U.S. Environmental Protection Agency, will mark the first limits on carbon emissions from the energy sector.
"The standards can build on the ongoing transition away from coal-fired power to cleaner, increasingly cost-competitive generation sources like natural gas, wind and solar energy, and energy efficiency. In 2012, this shift helped lower energy-related emissions to their lowest level since 1994, and we now have the opportunity to go further," Rachel Cleetus, senior climate economist of the UCS, writes.
Additionally, a report from the Harvard School of Public Health and Syracuse University states that stronger standards mean "greater and more widespread the benefits will be for people and for the environment."
How will the rules affect the energy sector and its customers?
There is no way to know until Obama approaches the podium. As Lederman points out, the Administration has yet to say whether one national rule will be established or if states will be subject to unique standards.
However, the New York Times reported this week that "people familiar with the rule" said a national limit on carbon pollution will be set while also allowing states to develop emissions-reduction plans that could include the addition of wind and solar power, energy-efficiency technology and cap-and-trade programs.
Either way, for the residents of coal-heavy states like Ohio, Utah and Arizona, new rules will "literally mean a breath of fresh air," said David Doniger of the NRDC. If plants are limited on the amount of pollution they can emit, the risks of heart and asthma attacks will go down, as will emphysema and other respiratory illnesses.
Opponents like the American Coalition for Clean Coal Electricity have warned that new standards will ultimately drive up prices for the consumer. In March, that group estimated that retail electricity prices would rise in 29 states, eliminating nearly 3 million jobs. Environmentalists hope that the rules mandate efficiency and cleaner energy, to bring down costs over time. A price bump could be offset by decreased health care costs, particularly for those who live near coal-fired power plants.
What do new carbon rules mean for Obama's environmental legacy?
Far more than his decision on the Keystone XL pipeline, unnamed Administration officials told the New York Times. A strong set of standards would easily constitute Obama's strongest stance against climate change, something international groups, scientists and the military agree we need to be fighting. They will prove that the president is unafraid to use executive authority to aid in that fight.
If Obama did nothing, there's absolutely no way climate legislation would get approved in Congress—not with legislators like Marco Rubio, R-FL, stating that humans have nothing to do with climate change and John Boehner, R-OH, saying that climate legislation would hurt the economy.
Be warned—the rules will be open for revisions and public comment for a full year, according to the AP. Under the state scenario, states would have yet another year to submit their implementation plans.
Still, new rules could go a long way toward Obama's six-year-old goal of reducing carbon emissions by 17 percent by 2020.
"What's clear is that this is a significant opportunity—perhaps the most significant we've ever had—to make deep cuts in U.S. heat-trapping emissions," Cleetus writes. "The power plant carbon standards could be a climate game changer!"
——–
YOU ALSO MIGHT LIKE
Why Energy Efficiency Deserves a Key Role in EPA Carbon Limits
White House's Alarming Climate Change Study Calls For 'Urgent Action'
NASA: Earth Could Warm 20 Percent More Than Earlier Estimates
——–
www.facebook.com
Keep reading...
Show less
Scott Pruitt testifies during his Senate confirmation hearing for EPA administrator, January 2017.
The U.S. Environmental Protection Agency's (EPA) chief of staff pressured the leader of its Board of Scientific Counselors to change her congressional testimony to downplay the impact of the agency's mass dismissal of scientists from the board, the New York Times reports.
Keep reading...
Show less
By Jason Mark
Sequoiadendron giganteum. That's the scientific name for the giant sequoia: the mammoth trees found in California's Sierra Nevada that are the largest organisms on Earth, and among the longest-lived. Biologists estimate that about half of all sequoias live in Giant Sequoia National Monument, a 328,000-acre preserve in the Southern Sierra Nevada established by President Clinton in 2000.
Now that national monument is in jeopardy.
Keep reading...
Show less
By Andy Rowell
Donald Trump this week is launching an "energy week," pushing the argument that the U.S. will become a net exporter of oil and gas.
The president and his cronies are talking about a new era of "U.S. energy dominance," which could stretch for decades to come. However, no one believes the president anymore.
Keep reading...
Show less
UN
By Colleen Curry
The United Nations has designated 23 new sites around the world to its World Network of Biosphere reserves—stunning natural landscapes that balance environmental and human concerns and strive for sustainability.
The forests, beaches and waterways were added to the list this year at the International Coordinating Council of the Man and the Biosphere Programme meeting in Paris earlier this month.
Keep reading...
Show less
Jun. 26, 2017 01:48PM EST
www.elysee.fr
By Andy Rowell
There is a growing feeling within European capitals that a quiet, but deeply positive, revolution is happening under Emmanuel Macron in France.
Macron's opinion poll rating is high, especially boosted in how the young French president has reacted to Donald Trump on the international stage.
Keep reading...
Show less
Jun. 26, 2017 12:32PM EST
www.facebook.com
Keep reading...
Show less
Jun. 26, 2017 02:46PM EST
Keep reading...
Show less
Jun. 26, 2017 03:34PM EST
www.youtube.com
According to Bloomberg, "SeaWorld Entertainment Inc. received a subpoena earlier this month from regulators investigating disclosures and public statements by executives, including comments about the Blackfish documentary that caused a public backlash against the confinement of orcas.
Keep reading...
Show less


Get EcoWatch in your inbox