Annie Leonard: Climate Action Is an All Hands on Deck Situation
May. 11, 2014 10:00AM EST
Climate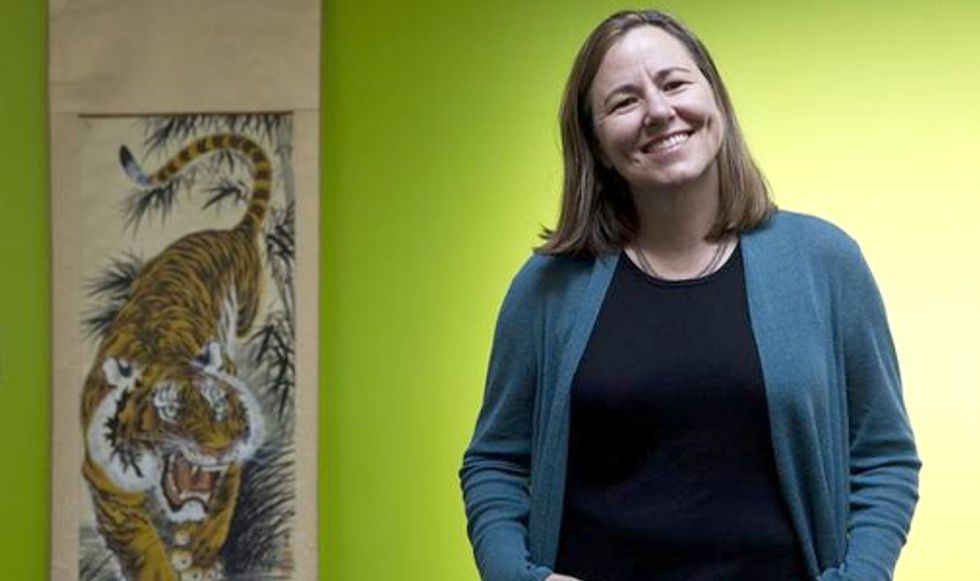 If you know the name Annie Leonard, it's probably because you are one of the tens of millions of people who have watched her short film, The Story of Stuff. Now we'd like you to know her for another reason: she's Greenpeace USA's new executive director.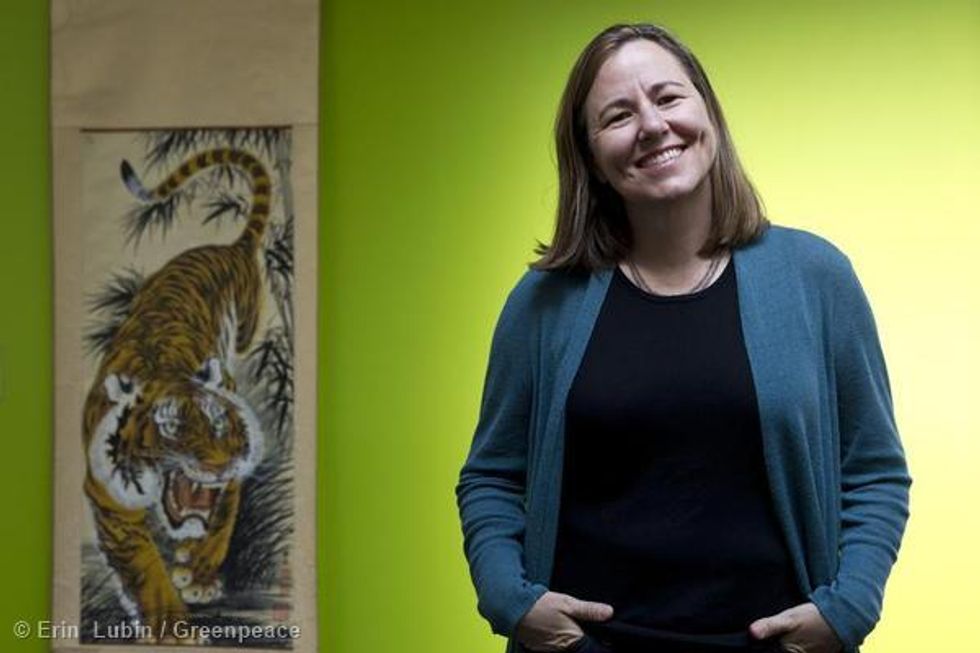 This is actually a reunion for Greenpeace USA and Annie. She was a toxics campaigner for Greenpeace International starting in 1988. After leaving, she went on to campaign all over the world for the environmental and justice movements. It all culminated with the The Story of Stuff Project and its eight great movies.
In this exclusive interview, we let Annie do the talking.
Greenpeace: The National Climate Assessment came out this week. It states what many already take as a given: that the effects of climate change are occurring now, that they are human-caused and that the solutions lie with people. The jury's out on how our leaders will lead on the particulars. As a cultural and environmental leader yourself, what does leadership on climate look like?
Annie Leonard: It looks a lot of different ways. This is an all hands on deck situation. We need to be doing what we can in our own communities to reduce our carbon use, but we're going to get much more done if we can focus more on engaging as citizens and forcing our political and business leaders to take action.
I worry that the paralysis of government makes us focus our attention on small, individual things like composting and recycling and changing our light bulb and riding our bikes. I often say those are a good place to start but a terrible place to stop. Of course we need to do things in our own lives to lessen our impacts.
GP: It seems like to do that, we need to be focused as a movement on building of community. That's something that Greenpeace has been doing for a long time, and it's something we have reinforced through a number of our initiatives. But we all know the way to do it is changing. What is the role of on-the-ground community building in the digital age, and how is it changing?
AL: Community building is really key to this. Stronger communities are going to be able to withstand environmental changes better. Also, the more we have strong communities, the more we can reduce our carbon output and meet our needs through community and sharing rather than more and more consumption.
Greenpeace provides information and inspiration. People can't be engaged citizens without either of them.
But we also have so much room to broaden what it means to be part of our community for supporters. Our supporters provide much needed, crucial financial support, which allows us to not be beholden to any government or corporation. But there are a lot of other ways GP supporters can support our campaigns, from writing letters to attending community meetings to taking direct action and marching in the streets. I'd love to see us call upon our supporters more and to help them expand their understanding of what it means to be involved. In that way, we can support them in their work of strengthening their communities.
GP: It's important to emphasize that the story of stuff is not about no stuff. In fact, you're kind of a materialist.
AL: I am not against stuff. I would actually say I am pro stuff. I want us to look at our stuff and pause for a second and have some reverence for all the materials and effort and energy that went into it, and to cherish our stuff so that it lasts longer. 
Nobody rational could be against consumption—we all need to consume food and water and we all need to be clothed and to experience art and music. I'm concerned about consumerism, with our seeking meaning and purpose by buying more stuff.
GP: So taking on the kind of consumerism that treats buying and flaunting stuff as a mark of status or values—how does Greepeace fit in? What does Greenpeace offer the struggle against consumerism?
AL: People buy stuff because we think somehow it's going to make us happy. But when you look at the studies about what really provides lasting happiness, the answers are consistent across nationalities, ethnic groups and income levels.
Once your basic needs are met, what most contribute to your sense of happiness and well being are not new objects but having a strong social fabric, having a sense of purpose beyond yourself, and the act of coming together with people to work toward shared goals. That might be sports, or religion, or PTA, or reclaiming a vacant lot to turn it into a garden.
If you think about it, being involved in Greenpeace campaigns provides all those things. I mean how fortuitous is that?
The more that Greenpeace can inspire people to get involved in making environmental and social change, the better we can help them create meaning and purpose that is greater than the logos on their shirts.
And the more we can get people off couches and out into their communities, the more we can be involved in expanding and strengthening their social fabric and that total high that comes from working with others toward shared goals.
GP: You have stated that success in the environmental arena requires working across a range of causes. What does it look like for Greenpeace to work across movements? How can Greenpeace better build bonds across the progressive spectrum?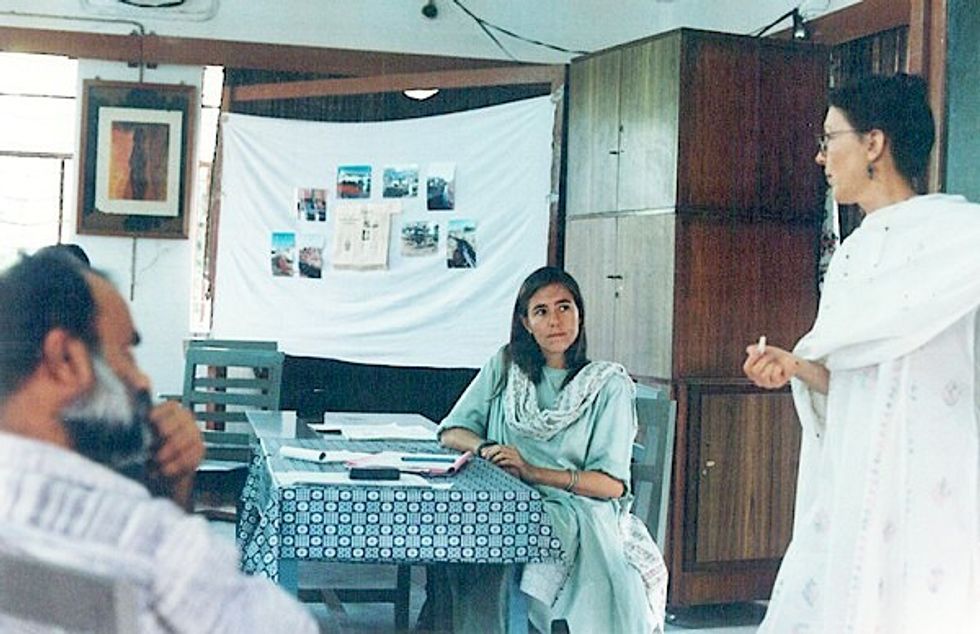 AL: I have to say, THAT is the thing I'm most excited about. My mind is just spinning as I think through all the unlikely partners we haven't worked with before. I think it's going to require us deepening our systemic analysis. And by that I mean: it's easy to focus on what our passions are. But it's not enough.
My passion has always been pollution, environmental justice and waste. Others' might be climate, or forests or oceans. It's so easy for us to focus on our passion areas, because that's what turns us on. But the better we uncover how all the issue areas we're working on are symptoms of a deeper problem, the more we can see our success is interdependent with a broad range of groups on the progressive side.
If we can see the connections between our environmental concerns and the concerns of, for example, inequality campaigners, we see that a collaboration is not just a tactically better thing. It's a much, much deeper acknowledgment that we really are going to fail or succeed together.
I also think it's important to realize that our movement is diverse. We have to offer a diversity of ways to be involved. Some people might want to chain themselves to a fence or tree. Other people might want to provide childcare for the people chained to fences or trees. Some people might want to act on social media to get the word out about the fences and the trees and organizing childcare.
Finally, we have to have room for everybody in our movement, and that requires thinking more broadly about what it means to participate and embrace people for whatever they can contribute.
There's this great quote from Bernice Johnson Reagon of Sweet Honey in the Rock that says, essentially, "If you like everybody in your coalition, then your coalition isn't big enough."
GP: You have proven experience establishing narratives that are inclusive, that permit lots of people to inhabit a movement and see it as theirs. As Greenpeace moves forward, it has got to find ways of harnessing that kind of inclusivity. What must we watch out for as online activists to make sure we're being inclusive?
AL: Environmental campaigns have a tendency to talk past people. We have to be sure we're taking the time to think deeply about who our audience is, and then we have to experiment.
For people who are feedback hungry— and I think everybody at Greenpeace is feedback hungry, because that's how we get smarter — social media platforms offer us so many ways to get feedback about what parts of our communications strategies are working and what aren't. Too often environmental campaigns get stuck waving our data and charts in front of people, and when they don't respond we just yell louder or reprint it in color instead of black and white.
We sometimes think the responsibility and failure is with people out there, when what we're not understanding is that the responsibility lies with us if we're not making it relevant.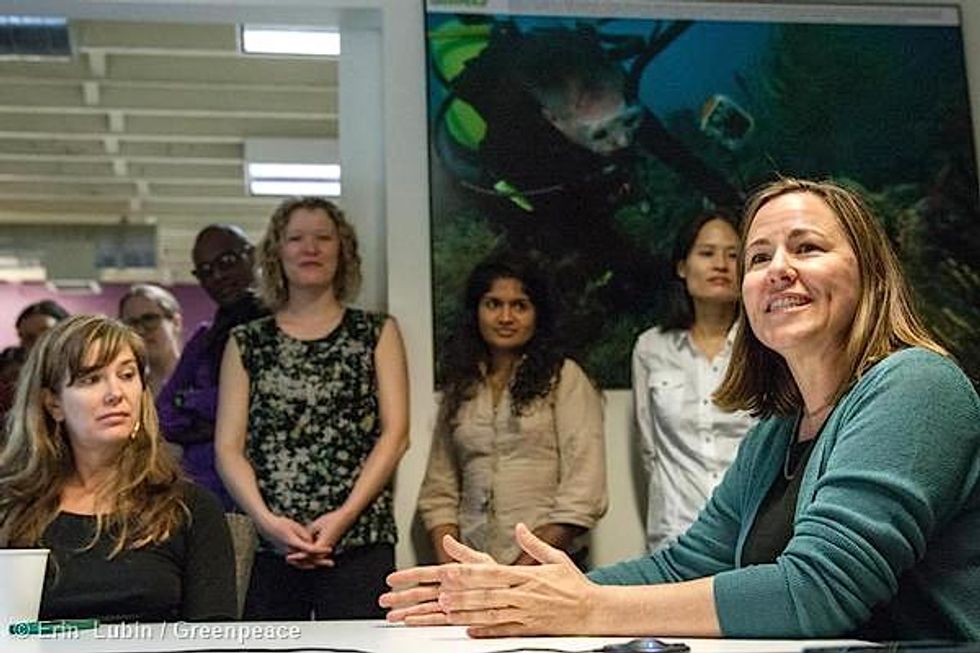 GP: Permitting yourself to fail, to say: "Oh well, that didn't work. Let's move on," that's not an easy posture in a fast-paced media environment.
AL: I think that it is absolutely crucial that we are innovative and experimental. What we always said at The Story of Stuff— and I'd love to bring this culture with me to GP—is, "We embrace failing, but we have to fail quickly and cheaply." It's only a failure if you didn't learn something from it, or if you take too long to change course.
My goal is to work smarter rather than harder.
--------
YOU MIGHT ALSO LIKE
Kids, Parents and Climate Change
Two College Students Show How to Grow Solutions
The Story of Solutions: Changing the Game in Favor of a Sustainable Economy
--------
EcoWatch Daily Newsletter