​America's Largest Reservoir Drains to Record Low As Western Drought Deepens
Lake Mead—America's largest reservoir, Las Vegas' main water source and an important indicator for water supplies in the Southwest—will fall this week to its lowest level since 1937 when the manmade lake was first being filled, according to forecasts from the federal Bureau of Reclamation.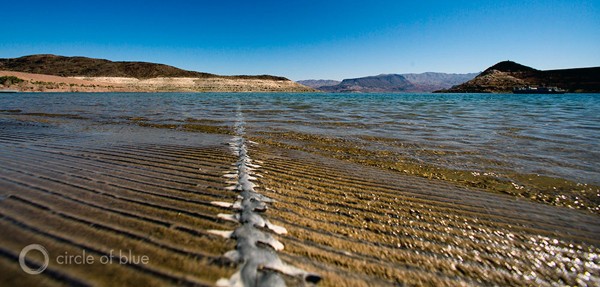 The record-setting low water mark—a surface elevation of 1,081.8 feet above sea level—will not trigger any restrictions for the seven states in the Colorado River Basin. Restrictions will most likely come in 2016 when the lake is projected to drop below 1,075 feet, a threshold that forces cuts in water deliveries to Arizona and Nevada, states at the head of the line for rationing.
But the steadily draining lake does signal an era of new risks and urgency for an iconic and ebbing watershed that provides up to 40 million people in the U.S. and Mexico with a portion of their drinking water. The rules governing the river are complex, but the risk equation is straightforward: less supply due to a changing climate, plus increasing demands from new development, leads to greater odds of shortages.
No area is more vulnerable than Las Vegas, which draws 90 percent of its water from Lake Mead. Today, in the midst of the basin's driest 14-year period in the historical record, the gambler's paradise is completing an expensive triage. The regional water authority is spending at least $US 829 million of ratepayer money to dig two tunnels—one at the lake bottom that will be completed next spring and the other an emergency connection between existing intakes—to ensure that the 2 million residents of southern Nevada can still drink from Mead as more of the big lake reverts to desert.
Yet despite a shrinking lake, diminishing supplies and ardent pleas from tour guides and environmental groups to preserve a canyon-cutting marvel, the four states in the basin upriver from Lake Mead intend to increase the amount of water they take out of the Colorado River. All of the states are updating or developing new state water strategies, most of which involve using more Colorado River water, not less.
"We have mapped out how the remainder of our allocation can be used," Eric Millis, director of the Utah Division of Water Resources, told Circle of Blue. "It's going to happen sooner rather than later. We have a place for every drop."
Utah—like fellow upper basin states Colorado, New Mexico and Wyoming—is not using all the Colorado River water it was granted by a 1922 interstate compact. The four states have the legal authority to increase their Colorado River diversions.
However, the water they seek may not be available. The calculations of availability stem from wetter hydrological conditions and supply forecasts made nearly a century ago. Under the 1922 compact, the upper basin is entitled to 7.5 million acre-feet. A later agreement apportioned each state a percentage of the available supply. The upper basin's average annual use between 2007 and 2011, the most recent figures, was 4.6 million acre-feet.
The legal entitlement, granted at a time when the river's hydrology was poorly understood, is surely too high. All the states acknowledge that fact. "We're not pegging our hopes or analysis on the full 7.5," said James Eklund, director of the Colorado Water Conservation Board, the state water planning agency.
Still, the much dryer conditions that exist today means that supplies are tight enough to substantially raise the risk of water shortages with every additional water consumption project.
A River of Equations
By law and tradition, the Colorado River Basin is divided into two halves. The four upper basin states have different obligations, preoccupations and goals than Arizona, California and Nevada, the three lower basin states.
While the lower basin keeps an eye on Lake Mead, the upper basin is more concerned about water levels in Lake Powell, the second largest reservoir on the Colorado, 180 miles upstream (290 kilometers) from Mead.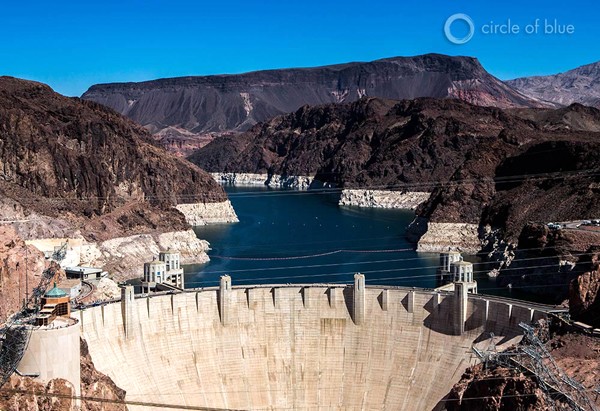 The upper basin put forward a plan this spring to keep more water in Powell. The states would do this by paying farmers not to farm and by changing how smaller mountain reservoirs are managed. Three urban water utilities in the lower basin, along with Denver and the federal government, put up $US 11 million to develop a similar basin-wide program.
Powell helps the upper basin meet a legal requirement to send an average of 7.5 million acre-feet of water to the lower basin each year. (An acre-foot is 325,851 gallons, or enough to flood an acre of land in one foot of water).
The two basins were brought closer together in 2007 when the seven states negotiated protocols for balancing water supplies in the two big reservoirs. Just 39 percent full today, Mead's water level dropped quickly this year—by 7.6 meters (25 feet)—because Powell was low last year. As a result, more water is being impounded upstream this year. The reverse will happen if Mead drops below certain thresholds.
In effect, the amount of water in Powell influences the amount of water in Mead and vice versa. The amount of water in Powell will in turn be determined by precipitation and upstream demand. Two general principles apply: the basin is getting drier and demands will increase.
Though the lower basin is using its entire allocation, the four upper basin states are not. They desire more water from the Colorado, yet exactly how much water is available is uncertain.
The only concrete number to emerge so far is 5.8 million acre-feet of water available for the upper basin, or three-quarters of what was granted. That figure, called the hydrological determination, was developed by New Mexico and the Department of the Interior in 2007 as part of a water supply study.
New Mexico is the only state using 5.8 million acre-feet as a firm number. Millis said Utah is using 6.5 million acre-feet of upper basin supply for its planning, and Colorado and Wyoming are looking at a range of values.
Eklund told Circle of Blue there is "vigorous debate" both within and between states over what number should be used to assess water availability and what the acceptable levels of risk are as water use increases.
"There's a sliding scale of risk," Eklund said. "The more water you develop, the more risk you take on. But that doesn't necessarily counsel against a project."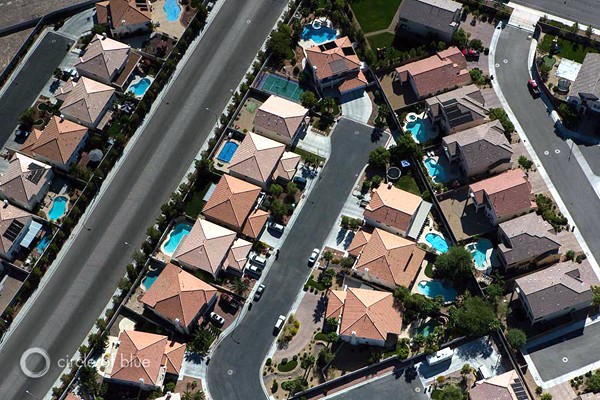 River flows over the last century averaged 15 million acre-feet annually. But future flows are expected to drop because of changes in precipitation due to global warming.
A 2012 Bureau of Reclamation study pegged the river's average annual flow by 2060 to be 13.7 million acre-feet. Adding together the water consumed by the seven basin states and Mexico, plus the water that evaporates from reservoirs, the current total use is roughly 13.4 million acre-feet per year. Farming accounts for roughly 80 percent of the water consumption in the basin, and watering lawns take up more than half of municipal supplies.
Very clearly there is room for adjusting practices and conserving water. Without those steps the Colorado River basin may soon find itself in a state of perpetual shortage, and Lake Mead's water level will sink further.
Monsanto, the maker of the glyphosate-based herbicide Roundup, filed a motion June 16 in U.S. District Court, Northern District of California to reconsider the chemical's addition to California's Proposition 65 list of agents known to cause cancer.
The agrochemical giant made this move based on a June 14 Reuters investigation of Dr. Aaron Blair, a lead researcher on the World Health Organization's International Agency for Research on Cancer (IARC) committee, that classified glyphosate as a "2A probable human carcinogen" in March 2015.
Keep reading...
Show less
By Avery Friedman
Algae is often considered a nuisance, but for Sweden, the rapidly growing sea plant is now an asset.
As the Scandinavian country works to cut all of its greenhouse gas emissions by 2045, it's using algae to sop up the carbon emissions from cement.
Keep reading...
Show less
Jun. 24, 2017 01:35PM EST
By Itai Vardi
A recent intensification in protests against Williams Partners' planned Atlantic Sunrise pipeline in Pennsylvania prompted a state senator to propose legislation aimed at limiting demonstrations.
Last month, Pennsylvania Sen. Scott Martin (R-Norman) announced his intention to introduce legislation that would pass the costs of law enforcement responding to protests onto the demonstrators. Martin also helped introduce a different bill that would criminalize protests at natural gas facilities.
Keep reading...
Show less
Jun. 24, 2017 01:29PM EST
Black Shogun / iStock
The Federal Energy Regulatory Commission (FERC) released its Final Environmental Impact Statement Friday for the Mountain Valley Pipeline, a controversial 303-mile pipeline that would carry two billion cubic feet of fracked gas per day from West Virginia through Virginia.
Keep reading...
Show less
Jun. 24, 2017 01:46PM EST
Falcon PEV
The so-called "first and last mile" problem is one of the biggest hurdles with public transportation. How do you encourage more people to take Earth-friendlier commutes when their homes are miles away from the train or bus station?
One solution, as this Estonian electric scooter company proposes, is to simply take your commute with you—literally. Tallinn-based Stigo has developed a compact e-scooter that folds to the size of a rolling suitcase in about two seconds.
Keep reading...
Show less
Jun. 24, 2017 05:12PM EST
Connect4Climate
[Editor's note: I'm still in shock after hearing the news that Lucia Grenna passed away in her sleep last week. When we first met in April of 2014 at a Copenhagen hotel, I was immediately taken by here powerful presence. We spent the next couple days participating in a Sustainia climate change event where Lucia presented her audacious plans to connect people to the climate issue. I had the chance to partner with Lucia on several other projects throughout the years and work with her incredible Connect4Climate team. I was always in awe of her ability to "make the impossible possible." Her spirit will live on forever. — Stefanie Spear]
It is with a heavy heart that Connect4Climate announces the passing of its founder and leading light, Lucia Grenna. Lucia passed peacefully in her sleep on June 15, well before her time. We remember her for her leadership and extraordinary ability to motivate people to take on some of the greatest challenges of our time, not least climate change.
Keep reading...
Show less
Jun. 23, 2017 07:29PM EST
Wikimedia Commons
By Stacy Malkan
Neil deGrasse Tyson has inspired millions of people to care about science and imagine themselves as participants in the scientific process. What a hopeful sign it is to see young girls wearing t-shirts emblazoned with the words, "Forget princess, I want to be an astrophysicist."
Keep reading...
Show less
Jun. 23, 2017 01:57PM EST
www.youtube.com
By Andy Rowell
Any day now we will truly witness climate change in action. Within days at worst, maybe weeks at best, scientists predict that a huge section of the Larsen C ice shelf in Antarctica will break off into the ocean, in what is called a major "carving" event.
Keep reading...
Show less
Jun. 23, 2017 02:27PM EST
www.youtube.com
President Trump visited Cedar Rapids, Iowa on June 21 to speak to a large crowd in the U.S. Cellular Center at a political rally organized by his campaign.
As Trevor Noah noted during The Daily Show episode last night (starts at 2:25), the real reason Trump has these rallies is to "get back in front of his loyal crowds and feed of their energy." Noah believes that "Trump supporters are so on board with their dude he can say anything and they'll come along for the ride."
Keep reading...
Show less