This website uses cookies to ensure you get the best experience while browsing it. By clicking 'Got It' you're accepting these terms.
​America's Largest Reservoir Drains to Record Low As Western Drought Deepens
Jul. 07, 2014 08:15AM EST
Climate
Lake Mead—America's largest reservoir, Las Vegas' main water source and an important indicator for water supplies in the Southwest—will fall this week to its lowest level since 1937 when the manmade lake was first being filled, according to forecasts from the federal Bureau of Reclamation.
The record-setting low water mark—a surface elevation of 1,081.8 feet above sea level—will not trigger any restrictions for the seven states in the Colorado River Basin. Restrictions will most likely come in 2016 when the lake is projected to drop below 1,075 feet, a threshold that forces cuts in water deliveries to Arizona and Nevada, states at the head of the line for rationing.
But the steadily draining lake does signal an era of new risks and urgency for an iconic and ebbing watershed that provides up to 40 million people in the U.S. and Mexico with a portion of their drinking water. The rules governing the river are complex, but the risk equation is straightforward: less supply due to a changing climate, plus increasing demands from new development, leads to greater odds of shortages.
No area is more vulnerable than Las Vegas, which draws 90 percent of its water from Lake Mead. Today, in the midst of the basin's driest 14-year period in the historical record, the gambler's paradise is completing an expensive triage. The regional water authority is spending at least $US 829 million of ratepayer money to dig two tunnels—one at the lake bottom that will be completed next spring and the other an emergency connection between existing intakes—to ensure that the 2 million residents of southern Nevada can still drink from Mead as more of the big lake reverts to desert.
Yet despite a shrinking lake, diminishing supplies and ardent pleas from tour guides and environmental groups to preserve a canyon-cutting marvel, the four states in the basin upriver from Lake Mead intend to increase the amount of water they take out of the Colorado River. All of the states are updating or developing new state water strategies, most of which involve using more Colorado River water, not less.
"We have mapped out how the remainder of our allocation can be used," Eric Millis, director of the Utah Division of Water Resources, told Circle of Blue. "It's going to happen sooner rather than later. We have a place for every drop."
Utah—like fellow upper basin states Colorado, New Mexico and Wyoming—is not using all the Colorado River water it was granted by a 1922 interstate compact. The four states have the legal authority to increase their Colorado River diversions.
However, the water they seek may not be available. The calculations of availability stem from wetter hydrological conditions and supply forecasts made nearly a century ago. Under the 1922 compact, the upper basin is entitled to 7.5 million acre-feet. A later agreement apportioned each state a percentage of the available supply. The upper basin's average annual use between 2007 and 2011, the most recent figures, was 4.6 million acre-feet.
The legal entitlement, granted at a time when the river's hydrology was poorly understood, is surely too high. All the states acknowledge that fact. "We're not pegging our hopes or analysis on the full 7.5," said James Eklund, director of the Colorado Water Conservation Board, the state water planning agency.
Still, the much dryer conditions that exist today means that supplies are tight enough to substantially raise the risk of water shortages with every additional water consumption project.
A River of Equations
By law and tradition, the Colorado River Basin is divided into two halves. The four upper basin states have different obligations, preoccupations and goals than Arizona, California and Nevada, the three lower basin states.
While the lower basin keeps an eye on Lake Mead, the upper basin is more concerned about water levels in Lake Powell, the second largest reservoir on the Colorado, 180 miles upstream (290 kilometers) from Mead.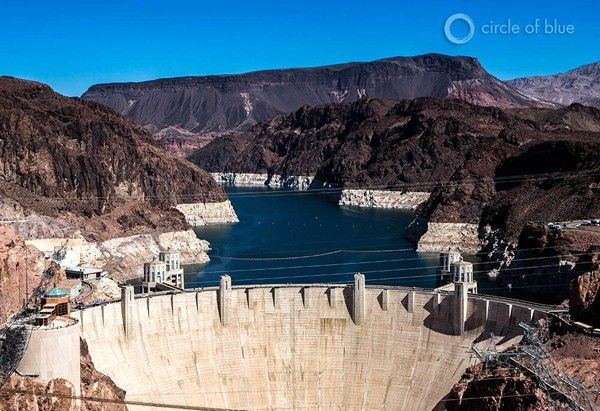 The upper basin put forward a plan this spring to keep more water in Powell. The states would do this by paying farmers not to farm and by changing how smaller mountain reservoirs are managed. Three urban water utilities in the lower basin, along with Denver and the federal government, put up $US 11 million to develop a similar basin-wide program.
Powell helps the upper basin meet a legal requirement to send an average of 7.5 million acre-feet of water to the lower basin each year. (An acre-foot is 325,851 gallons, or enough to flood an acre of land in one foot of water).
The two basins were brought closer together in 2007 when the seven states negotiated protocols for balancing water supplies in the two big reservoirs. Just 39 percent full today, Mead's water level dropped quickly this year—by 7.6 meters (25 feet)—because Powell was low last year. As a result, more water is being impounded upstream this year. The reverse will happen if Mead drops below certain thresholds.
In effect, the amount of water in Powell influences the amount of water in Mead and vice versa. The amount of water in Powell will in turn be determined by precipitation and upstream demand. Two general principles apply: the basin is getting drier and demands will increase.
Though the lower basin is using its entire allocation, the four upper basin states are not. They desire more water from the Colorado, yet exactly how much water is available is uncertain.
The only concrete number to emerge so far is 5.8 million acre-feet of water available for the upper basin, or three-quarters of what was granted. That figure, called the hydrological determination, was developed by New Mexico and the Department of the Interior in 2007 as part of a water supply study.
New Mexico is the only state using 5.8 million acre-feet as a firm number. Millis said Utah is using 6.5 million acre-feet of upper basin supply for its planning, and Colorado and Wyoming are looking at a range of values.
Eklund told Circle of Blue there is "vigorous debate" both within and between states over what number should be used to assess water availability and what the acceptable levels of risk are as water use increases.
"There's a sliding scale of risk," Eklund said. "The more water you develop, the more risk you take on. But that doesn't necessarily counsel against a project."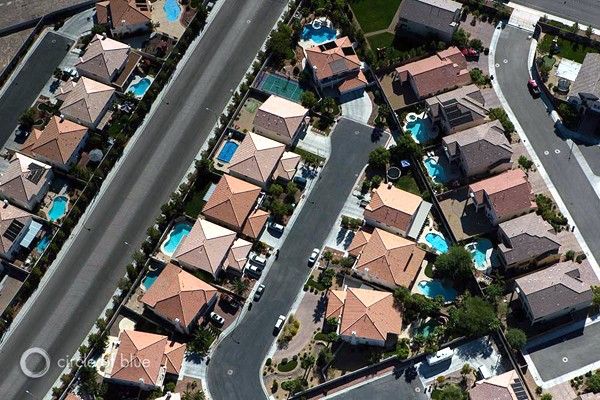 River flows over the last century averaged 15 million acre-feet annually. But future flows are expected to drop because of changes in precipitation due to global warming.
A 2012 Bureau of Reclamation study pegged the river's average annual flow by 2060 to be 13.7 million acre-feet. Adding together the water consumed by the seven basin states and Mexico, plus the water that evaporates from reservoirs, the current total use is roughly 13.4 million acre-feet per year. Farming accounts for roughly 80 percent of the water consumption in the basin, and watering lawns take up more than half of municipal supplies.
Very clearly there is room for adjusting practices and conserving water. Without those steps the Colorado River basin may soon find itself in a state of perpetual shortage, and Lake Mead's water level will sink further.
EcoWatch Daily Newsletter
Bird watching in the U.S. may be a lot harder than it once was, since bird populations are dropping off in droves, according to a new study.
Amazon CEO Jeff Bezos announces the co-founding of The Climate Pledge at the National Press Club on Sept. 19 in Washington, DC. Paul Morigi / Getty Images for Amazon
The day before over 1,500 Amazon.com employees planned a walkout to participate in today's global climate strike, CEO Jeff Bezos unveiled a sweeping plan for the retail and media giant to be carbon neutral by 2040, 10 years ahead of the Paris agreement schedule.
For the past seven years, the Anishinaabe people have been facing the largest tar sands pipeline project in North America. We still are. In these dying moments of the fossil fuel industry, Water Protectors stand, prepared for yet another battle for the water, wild rice and future of all. We face Enbridge, the largest pipeline company in North America, and the third largest corporation in Canada. We face it unafraid and eyes wide open, for indeed we see the future.
The climate crisis often intensifies systems of oppression. Rieko Honma / Stone / Getty Images Plus
By Mara Dolan
We see the effects of the climate crisis all around us in hurricanes, droughts, wildfires, and rising sea levels, but our proximity to these things, and how deeply our lives are changed by them, are not the same for everyone. Frontline groups have been leading the fight for environmental and climate justice for centuries and understand the critical connections between the climate crisis and racial justice, economic justice, migrant justice, and gender justice. Our personal experiences with climate change are shaped by our experiences with race, gender, and class, as the climate crisis often intensifies these systems of oppression.

Lana Del Rey: "call her Doris Doomsday." Darren Gerrish / BFC / Getty Images Entertainment
By Emer McHugh
Popular music has, and always will be, informed by the political and social contexts from which it emerges.
It was early in the morning last Thursday, and Jonathan Butler was standing on the Fred Hartman Bridge, helping 11 fellow Greenpeace activists rappel down and suspend themselves over the Houston Ship Channel. The protesters dangled in the air most of the day, shutting down a part of one of the country's largest ports for oil.
By C.J. Polychroniou
Climate change is by far the most serious crisis facing the world today. At stake is the future of civilization as we know it. Yet, both public awareness and government action lag way behind what's needed to avert a climate change catastrophe. In the interview below, Noam Chomsky and Robert Pollin discuss the challenges ahead and what needs to be done.
Food manufacturer General Mills issued a voluntary recall of more than 600,000 pounds, or about 120,000 bags, of Gold Medal Unbleached All Purpose Flour this week after a sample tested positive for a bacteria strain known to cause illness.