Americans in Biggest Cities Driving Less
Dec. 04, 2013 12:44PM EST
Business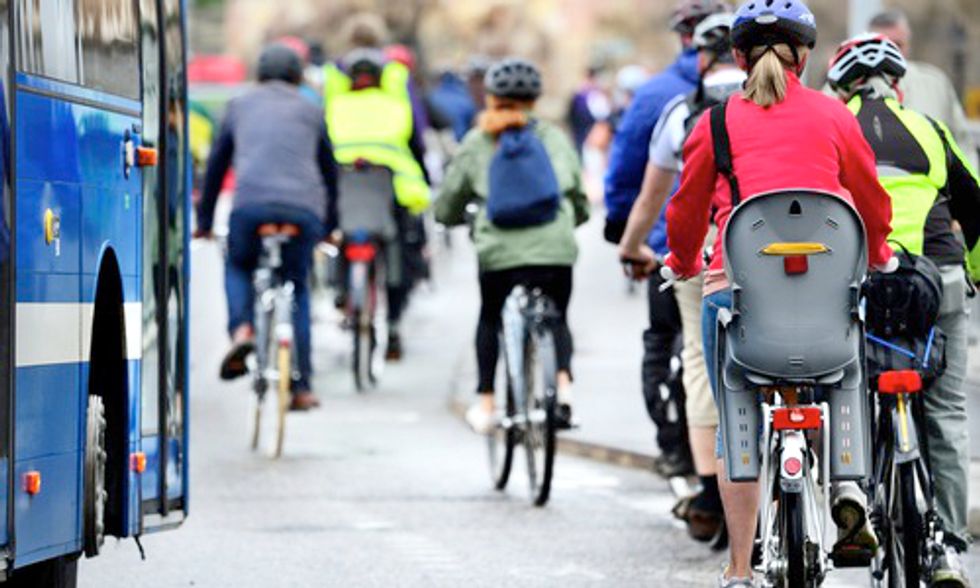 Even if you saw agitating, bumper-to-bumper traffic during your morning commute, know that the numbers say things are changing.
The average American drives 7.6 percent fewer miles today than when per-capita driving peaked in 2004, according to a report issued today by the U.S. Public Interest Research Group Education Fund (PIRG). The study is a review of data from the Federal Highway Administration, Federal Transit Administration and Census Bureau on the nation's 100 most populated, urbanized areas, which are home to more than half of the U.S. population.
From 2006 to 2011, the average number of miles driven per resident fell in almost three-quarters of the country's largest city's, according to the report.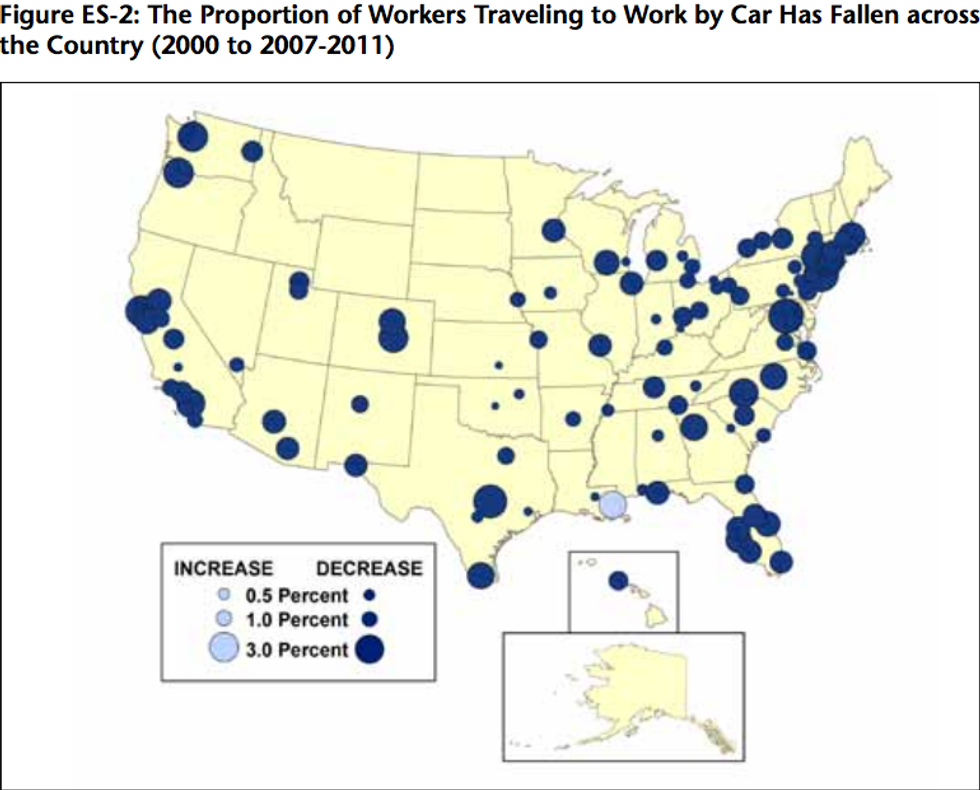 "There is a shift away from driving," said Phineas Baxandall, Senior Analyst for the U.S. PIRG Education Fund. "The cities in this report are home to most of America's population and are engines of the economy.
"Policy leaders need to wake up and realize the driving boom is over. Instead of expanding new highways, our government leaders should focus on investing in
public transit
and
biking
for the future."
Here are some standout facts from the report:
The proportion of workers commuting by private vehicle—either alone or in a carpool—declined in 99 out of 100 of the most populated areas between 2000 and the 2007-2011 period averaged in U.S. Census data.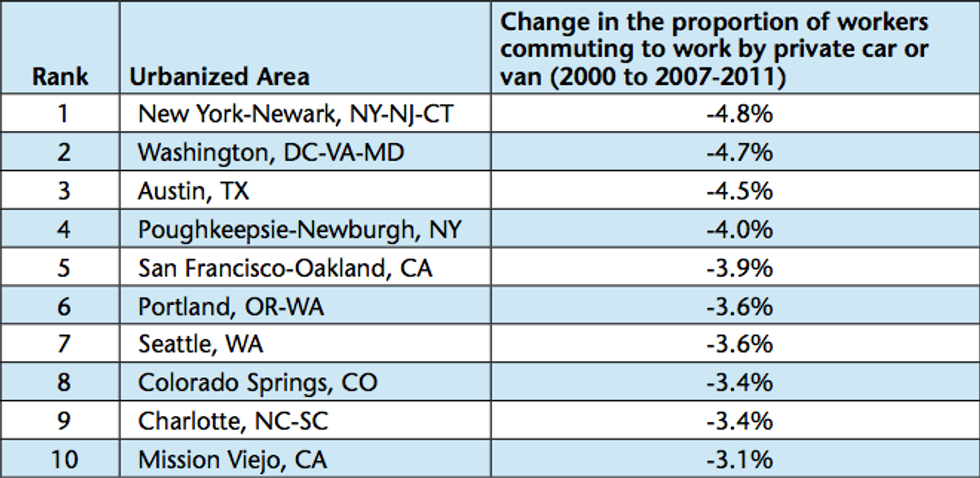 The proportion of households without cars increased in 84 out of the 100 largest urbanized areas from 2006 to 2011. The proportion of households with two cars or more cars decreased in 86 out of the 100 of these areas during that period.
The proportion of residents bicycling to work increased in 85 out of 100 of America's largest urbanized areas between 2000 and 2007-2011.
The number of passenger-miles traveled per capita on transit increased in 60 out of 98 of America's large urbanized areas whose trends could be analyzed between 2005 and 2010. 
The study also found that cities with the largest decreases in driving weren't the same ones hit hardest by the recession. Instead, their economies appear to be the least affected by the recession according to unemployment, income and poverty indicators. PIRG hopes policymakers examine these figures when considering transportation investments of the future.
"Government should support transportation initiatives that reflect these travel trends," said Baxandall. "Instead of wasting taxpayer dollars continuing to enlarge our grandfather's Interstate Highway System, we should invest in the kinds of transportation options that the public increasingly favors."
Visit EcoWatch's TRANSPORTATION page for more related news on this topic.

EcoWatch Daily Newsletter
Related Articles from EcoWatch
Recent Stories from EcoWatch