This website uses cookies to ensure you get the best experience while browsing it. By clicking 'Got It' you're accepting these terms.
All Climate Change Is Local
Oct. 08, 2015 10:34AM EST
Climate
When world leaders gather in Paris in December to negotiate a global agreement on climate change, they will have a powerful ally standing behind them and urging them onward: mayors. In fact, mayors have already helped set the stage for success in Paris, by establishing models of cooperation that provide a strong foundation for the negotiations.
Through international coalitions like the C40 Cities Climate Leadership Group and the Compact of Mayors, cities around the world have been committing to major reductions in carbon emissions, while adopting a common measurement system and public reporting process to ensure that they can be held accountable. In other words: Many cities are already doing what the United Nations is urging national governments to do.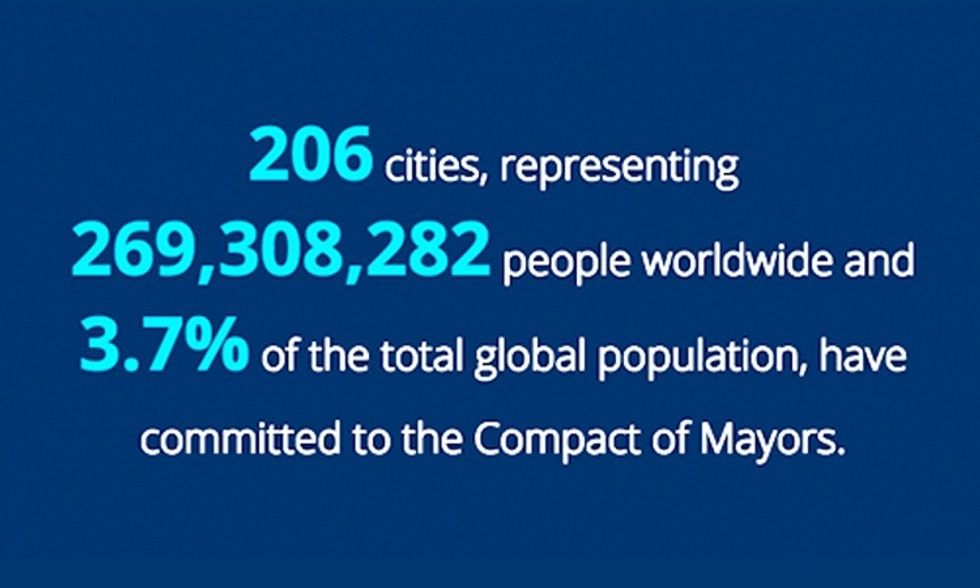 Mayors have had good reason to take a leading role in this work. Urban centers are now home to half of the global population and are responsible for an estimated 70 percent of annual greenhouse-gas emissions. Cities are not only a big part of the cause of climate change—they will also bear the brunt of the effects. Ninety percent of cities are built along rivers and coastal plains, which are particularly vulnerable to sea-level rise and extreme weather, both of which are byproducts of climate change.
Necessity is the mother of invention, but mayors have other powerful incentives to take immediate action to curb emissions. Energy efficiency measures save taxpayers money and save innocent people from respiratory and other diseases. A 2014 study by the Clean Air Task Force found that five years ago, U.S. coal pollution was linked to the deaths of 13,000 people a year. Today, thanks in part to President Barack Obama's leadership in helping to move old, heavily polluting coal plants offline (work that Bloomberg Philanthropies has long encouraged), that number is down to 7,500.
Mayors also have economic incentives to act, because people want to live in cities with clean air. And where people want to live, businesses want to invest. The more cities can attract talented and hard-working people, the more their economies will grow.
Cities around the world are demonstrating that fighting climate change and spurring economic growth can go hand-in-hand. In the years after the global recession, for instance, New York City helped lead the nation in job growth while also reducing its carbon footprint by 19 percent.
In addition to having health, fiscal and economic incentives to act, mayors also have the ability to do so. Cities often manage their transportation networks and building stocks, which tend to be the two most important drivers of greenhouse-gas emissions. Research has shown that by investing in climate-smart buildings, transportation and waste management, cities could reduce C02 emissions by 8 gigatons a year—about 25 percent of the world's annual total—while saving an estimated $17 trillion by midcentury.
As mayors lead on climate change, they are taking an additional step that is multiplying their impact: They are sharing their experiences and lessons learned with other mayors and spreading the best ideas around the world.
For example, bus rapid transit systems have spread from Bogota to Jakarta and many points in between. Melbourne Mayor Robert Doyle credits the progress in his city to "shamelessly stealing" strategies from New York and Toronto. Today, Melbourne boasts the highest density of Green Star-rated buildings in Australia and has doubled the number of trees in the city's center.
The fact is, more shameless stealing would do the world a lot of good. That's why the two of us decided to bring the State Department and Bloomberg Philanthropies together to launch the "Our Cities, Our Climate" exchange for city officials around the globe.
To kick it off, we invited officials from 19 international cities to visit three U.S. cities that are helping to set the standard for sustainability: San Francisco, Boston and Washington.
Over the past 10 days, they have learned how each of these cities are creating more extensive fuel-efficient transportation systems, building advanced energy systems, adapting to rising sea levels and more. On Thursday, we're convening all of them—along with mayors of other U.S. cities—at the State Department to discuss this work and how to spread it far and wide.
Extensive international cooperation will be absolutely essential to the fight against climate change—at all levels of government. The unprecedented degree of climate cooperation taking place between countries like the U.S. and China is encouraging—but partnerships like the joint sustainability push Los Angeles and Shenzhen announced last month are also critical in achieving the outcome we seek. Together—city by city, country by country—we can meet this global challenge.
This article first appeared in BloombergView.
YOU MIGHT ALSO LIKE
Bloomberg Analysis: It Has Never Made Less Sense to Build Fossil Fuel Power Plants
Robert Redford: Pope Francis Is Right, Climate Change Is a Moral Imperative
Why Isn't Big Ag's Huge Contribution to Climate Change on the Agenda at COP21?
Jared Leto Takes You on a 360º Virtual Tour to See First-Hand Effects of Climate Change
EcoWatch Daily Newsletter
A new report spotlights a U.N. estimate that at least 275 million people rely on healthy coral reefs. A sea turtle near the Heron Island in the Great Barrier Reef is seen above. THE OCEAN AGENCY / XL CATLIN SEAVIEW SURVEY
In a new report about how the world's coral reefs face "the combined threats of climate change, pollution, and overfishing" — endangering the future of marine biodiversity — a London-based nonprofit calls for greater global efforts to end the climate crisis and ensure the survival of these vital underwater ecosystems.
Half of the extracted resources used were sand, clay, gravel and cement, seen above, for building, along with the other minerals that produce fertilizer. Cavan Images / Cavan / Getty Images
The world is using up more and more resources and global recycling is falling. That's the grim takeaway from a new report by the Circle Economy think tank, which found that the world used up more than 110 billion tons, or 100.6 billion metric tons, of natural resources, as Agence France-Presse (AFP) reported.
By Gero Rueter
Heating with coal, oil and natural gas accounts for around a quarter of global greenhouse gas emissions. But that's something we can change, says Wolfgang Feist, founder of the Passive House Institute in the western German city of Darmstadt.

By George Citroner
Recent research finds that official government figures may be underestimating drug deaths by half.
Researchers estimate that 142,000 people died due to drug use in 2016.
Drug use decreases life expectancy after age 15 by 1.4 years for men and by just under 1 year for women, on average.
Government records may be severely underreporting how many Americans die from drug use, according to a new study by researchers from the University of Pennsylvania and Georgetown University.
Water coolers in front of shut-off water fountains at Center School in Stow, MA on Sept. 4, 2019 after elevated levels of PFAS were found in the water. David L. Ryan / The Boston Globe via Getty Images
In a new nationwide assessment of drinking water systems, the Environmental Working Group found that toxic fluorinated chemicals known as PFAS are far more prevalent than previously thought.