ALEC-Affiliated Legislators Launch Premature Attacks on Carbon Pollution Limits
By Aliya Haq
For many of us, this winter makes June feel far away, but you'd think summer is right around the corner judging by the frenzied activity of the American Legislative Exchange Council (ALEC). The Environmental Protection Agency (EPA) is scheduled to propose limits on carbon pollution from power plants this coming June, but ALEC and other polluter groups are not waiting to see EPA's draft standard before they declare opposition.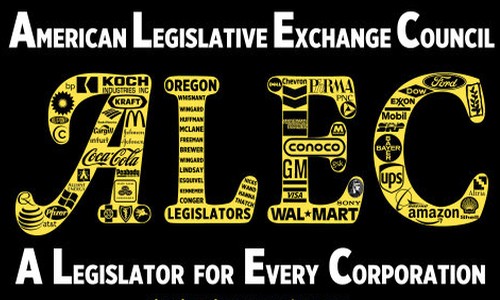 EPA's upcoming standards will be the first time that carbon limits have ever been set for existing power plants – the largest source of U.S. carbon pollution. The final standard will be issued next year, giving state governments until June of 2016 to design a plan to achieve the needed pollution reductions. But ALEC, a secretive cabal of corporations and conservative state lawmakers, is already pushing two pro-polluter resolutions opposing EPA action. Several of ALEC's corporate members are linked to the coal industry, including Peabody Coal, American Electric Power, and the American Coalition for Clean Coal Electricity.
Most state legislatures are only a few weeks into their 2014 sessions, yet ALEC legislators have already introduced a dozen anti-EPA bills and resolutions across the country, including in Arizona, Florida, Georgia, Illinois, Ohio, Kansas, Missouri, Tennessee, Virginia and West Virginia. These attacks on carbon limits use weak ALEC arguments that don't stand up to scrutiny:
ALEC asserts that power plants will not singlehandedly solve the global climate problem, failing to recognize that addressing power plant emissions, a significant portion of global carbon pollution, is an essential step forward. We must deliver on our promise to the international community that we will cut emissions 17 percent below 2005 levels by 2020 in order to persuade other countries to follow our lead.
 ALEC implies that coal is already clean, citing recent declines in carbon pollution. Of course, the actual reason for this decline is less coal use due to low natural gas prices, energy efficiency increases and more renewable energy like wind and solar. Additionally, the Department of Energy forecasts that carbon pollution will increase again in the absence of policy action.
In a misguided effort to protect coal companies, ALEC-affiliated legislators in Missouri, Florida, Kansas, and West Virginia are also pushing legislation that would create serious obstacles for Governors and state agencies. These self-defeating bills would take away a Governor's flexibility in meeting the EPA standard, forcing the state into more expensive and difficult compliance pathways than necessary. Thankfully, sensible state legislators are already defeating these kinds of bills—in Virginia, the shoddy, restrictive parts of SB 615 were replaced with benign language to study the effects of implementing carbon pollution standards.
Although ALEC resolutions will not change state law, they provide vehicles for polluters to lobby local officials and for politicians to grandstand on behalf of their coal industry campaign contributors. ALEC and its industry supporters are hoping these resolutions will discourage Governors and impede EPA action.
Many public interest groups, including the Natural Resources Defense Council, the Center for Media and Democracy, the Union of Concerned Scientists, Greenpeace and the Energy & Policy Institute among many others are working to expose ALEC's secretive activity and curb polluter influence in state politics. The National Caucus of Environmental Legislators is also educating their network of state lawmakers to counteract ALEC's presence in statehouses.
We expect ALEC's attacks on the EPA to fail, especially since most legislators know their constituents want them to stand up to polluters and to protect their families from climate change.
This piece was originally published on NRDC's Switchboard blog.
Visit EcoWatch's CLIMATE CHANGE page for more related news on this topic.

Bill Maher is sick of billionaires' obsession with Mars, more like "Mars-a-Lago," he said.
In a new animation produced by ATTN:, the popular talk show host of Real Time, discusses the perils of our planet, including how "climate change is killing us."
Keep reading...
Show less
Dr. Benjamin D. Santer, research scientist
A group of prominent climate scientists have written a study explicitly refuting statements made by the U.S. Environmental Protection Agency Administrator Scott Pruitt on climate data. During his Senate confirmation hearing, Pruitt claimed in a written response that satellite data shows a "leveling off" of warming over the past two decades.
Keep reading...
Show less
By David Pomerantz
The Nevada Assembly passed a bill Wednesday that would dramatically increase the growth of renewable energy in the state, but Sheldon Adelson, the casino magnate and major donor to Donald Trump, is attempting to prevent the bill from becoming law.
Keep reading...
Show less
Matt Crossick
By Yosola Olorunshola
Whether it's through fashion or protest, Vivienne Westwood is not a woman afraid of making a statement.
On May 23, she rocked up to the residence of the Archbishop of Canterbury in London with a special guest—the Grim Reaper—to issue a strong statement on the Church of England's position on fracking.
Keep reading...
Show less
By Paul Brown
The food industry and big agricultural concerns are driving climate change and at the same time threatening to undermine efforts to feed the world's growing population, according to GRAIN, an organization that supports small farmers.
Particularly singled out for criticism are the large chemical fertilizer producers that have gained access to the United Nations talks on climate change. GRAIN accuses them of behaving like the fossil fuel companies did in the 1990s, pushing false information in the hope of delaying real action on climate change.
Keep reading...
Show less
By Sydney Robinson
President Trump has no doubt been given a long list of extravagant, elaborate gifts in his lifetime, but the gift given to him today by Pope Francis may not make it on his most favorite list.
Keep reading...
Show less
By John Rogers
Maybe it's because I first started working on clean energy while serving in the Peace Corps he founded, or maybe it's my years of working on these issues from his home state. But I can't help thinking about the 100th anniversary of John F. Kennedy's birth, and connecting his stirring rhetoric to the energy challenges of our times.
Here's what our 35th president might have said about the challenges of energy transition and the opportunities in clean energy:
"Change is the law of life. And those who look only to the past or present are certain to miss the future."
Keep reading...
Show less
May. 24, 2017 01:47PM EST
Keep reading...
Show less


Get EcoWatch in your inbox