ACTION: Save the Susquehanna River Basin from Fracking
Mar. 13, 2012 01:10PM EST
Energy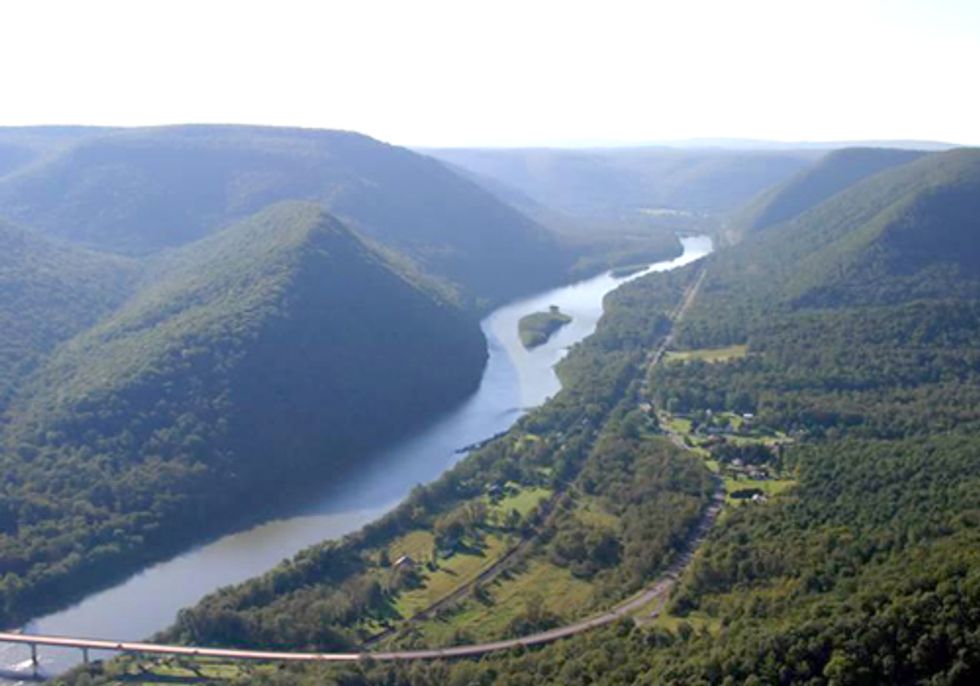 Mark your calendars for March 15, when the Susquehanna River Basin Commission (SRBC) meets in Harrisburg, Pa. to vote on dozens of water withdrawals (many billions of gallons over four years) for fracking. The written comment period is closed, but it is now time to call the Maryland, Pennsylvania, and New York governors, and the Obama administration, to urge "no new permits" for water withdrawals for fracking in the Susquehanna Basin. SRBC should not even consider one permit without a cumulative impact study, let alone approving hundreds of permits for billions of gallons of consumptive water use for fracking.
A fraction of the water contamination cases within the Susquehanna River Basin so far includes the 17 families whose drinking water was contaminated by Chesapeake Energy in Bradford County; the families evacuated due to the Chesapeake blowout last April; at least 19 families with contaminated water in Dimock, Pa.; another 13 families in Susquehanna County including Susan Breese; and Sherry Vargson, whose experience was summarized in the current Rolling Stone Magazine this way:
"I discovered I could light my water on fire," she says. "And I still can." To demonstrate, she walks over to the faucet in her kitchen, lights a match and turns on the faucet. Whoosh! A flame shoots out like a blowtorch.

Vargson stopped drinking the water after she discovered the methane—but tests showed that her water also contained elevated levels of toxic chemicals like radium, manganese and strontium. Chesapeake agreed to supply Vargson with fresh drinking water, delivered to her door in five-gallon jugs once a month, but it denies any responsibility for the elevated methane levels. Tom Darrah, a Duke geologist who has examined Vargson's well for a new study, finds that difficult to square with the facts. "Anyone who has seen the data I have and thinks this much methane in her well is from natural sources has their head in the sand," he says.
If you'd like to read expert comments and share them with the governors, President Obama, and their respective commissioners, here is a link to expert arguments including a stream ecologist and hydrogeologist Paul Rubin. Delaware Riverkeeper Network submitted these comments to New York regarding their statewide Environmental Impact Study; they are equally and directly relevant to the SRBC process, since SRBC has similarly not performed any cumulative study of the impact from these withdrawals, which are permanently lost due to consumptive use (injected underground after being poisoned with chemicals, most of the water stays underground and what returns to the surface is "flowback," even more poisoned with heavy metals, radioactive materials, and volatile organic chemicals / hydrocarbons, as well as toxic levels of salt and the chemical additives used in fracking).
In addition to a broad network of smaller grassroots organizations, including Protecting Our Waters, now calling for a halt on any further permits for water withdrawals in the beautiful, vital and critically endangered Susquehanna River Basin, larger and longer-established organizations are weighing in strongly at this time:
Sierra Club, Earthworks and Lower Susquehanna Riverkeeper collectively concluded in February:
Given all the detrimental impacts of gas development on the environment and communities, Susquehanna River Basin Commissioners  need to take action and stop additional permitting and other actions that accelerate shale gas development.
It is inappropriate for SRBC to authorize more water withdrawal permits and implement new shale gas regulations without first performing the scientific studies necessary to ensure that decisionmaking is comprehensive and informed.
Read the full Sierra Club, Earthworks and Riverkeeper statement here.
If you would like to attend the meeting in Harrisburg, here are the specifics:
What: SRBC Meeting
When: Thursday, March 15 at 8:30 a.m.
Where: North Office Building, Hearing Room 1 (Ground Level), North Street (at Commonwealth Avenue) Harrisburg, Pa. 17120
POW's Greater Philly Trainpool / Carpool Coordinator: Sarah Lowry, [email protected], (201) 214-2580
If you can't make it Harrisburg on March 15, call the commissioners in advance:
What: Call all four voting members of the Susquehanna River Basin Commission (SRBC) by Wednesday, March 14 at 5 p.m.
The Ask: Urge the governors of Maryland, Pennsylvania, New York and President Obama, through his Army Corps of Engineers Commissioner, to vote NO on any further permits to withdraw water for fracking in the Susquehanna River Basin. We stand united for a moratorium on water withdrawals.
Why: The SRBC plans to approve many billions of gallons of water withdrawals for fracking at their March 15 meeting, further accelerating the already rapid pace of high-volume slickwater hydraulic fracturing in the watershed. Surface and drinking water already contaminated by methane and toxic chemicals in multiple locations in the watershed has not been remediated (because it can't be remediated). SRBC has not undertaken any cumulative impact study of fracking's life cycle impacts on the Susquehanna River and Chesapeake Bay, which is already in critical condition and can't take any more abuse. Ninety percent of the water in the northern Chesapeake Bay comes from the Susquehanna River. Animal and human health is at risk, and the State of Pennsylvania doesn't even have a mechanism for residents to report health impacts from fracking.
When families' water supplies are destroyed, they cannot even take care of their children and animals safely, let alone sell their homes. Finally, when the industry does settle a lawsuit and pay medical bills or buy devastated properties, they force a legal gag order of silence. An industry with this many toxic secrets to keep must be prevented from doing any further damage. The SRBC holds the reins for the Susquehanna River Basin, a gigantic and irreplaceable watershed. Call the commissioners now.
Call-in Days: Call any and all when you are able. To add zest, an alliance of grassroots groups has designated days:
MONDAY: Md. Gov. O'Malley.  
TUESDAY: President Obama and Army Corps of Engineers.
WEDNESDAY: New York Gov. Cuomo

WHENEVER: Pa. Gov. Corbett

The Phone Numbers:  
Each commissioner votes according to the governor's preference. For extra influence call both the governor and the commissioner. Be respectful, patient, and extremely clear in delivering your message. You may have to explain a bit if you are one of the early callers.
1. Maryland Gov. Martin J. O'Malley (410) 974-3901 or (800) 811-8336
SRBC Commissioner: Dr. Robert M. Summers, Secretary, Maryland Department of the Environment (410) 537-3084
Email: [email protected]
In writing: Gov. O'Malley, State House, 100 State Circle, Annapolis, MD 21401 – 1925
2. New York Gov. Cuomo (518) 474-8390 (9 – 5 a live person answers) or you may have better luck with (212) 681-4580
3. Pennsylvania Gov. Tom Corbett (717) 787-2500  (8:30 AM – 6 PM live person answers)
4. President Obama (202) 456-1111 
Obama's SRBC Commissioner: Colonel Christopher Larsen, commander, North Atlantic Division,
U.S. Army Corps of Engineers: (347) 370-4501
Amy Guise (who is handling the vote for Colonel Larsen), Chief Civil Project Branch, Planning Division: (410) 962-6138
Once you've called, consider following up with an email or snail mail letter for greater impact, and encourage groups you are part of to call and write as well. Consider educating each commissioner about specific instances of water contamination associated with hydraulic fracturing, and consider telling them about the terrible impacts on animal and human health so far. They truly may not know.
For more information, click here.
EcoWatch Daily Newsletter
Related Articles from EcoWatch