This website uses cookies to ensure you get the best experience while browsing it. By clicking 'Got It' you're accepting these terms.
A Reality Check for Economist Who Claims Carbon Pollution Benefits Society
Feb. 05, 2014 09:56AM EST
Business
By Gernot Wagner
This open letter, co-authored by Jeremy Proville, was written in response to a New York Times article citing Dr. Roger Bezdek's report on "The Social Costs of Carbon? No, The Social Benefits of Carbon."
Dear Dr. Bezdek,
After seeing so many peer-reviewed studies documenting the costs of carbon pollution, it's refreshing to encounter some out-of-the-box thinking to the contrary. You had us with your assertion that: "Even the most conservative estimates peg the social benefit of carbon-based fuels as 50 times greater than its supposed social cost." We almost quit our jobs and joined the coal lobby.
Who wouldn't want to work so selflessly for the greater good?
Then we looked at the rest of your report. Your central argument seems to be: Cheap fuels emit carbon; cheap fuels are good; so, by the transitive property of Huh?!, carbon is good.
Pithy arguments are fine, but circular ones aren't.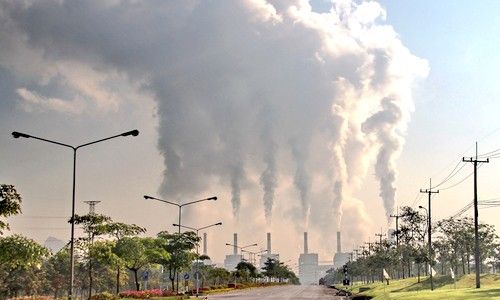 Photo courtesy of Shutterstock
First off, cheap fuels are good. Or more precisely, cheap and efficient energy services are good. (Energy efficiency, of course, is good, too. Inefficiency clearly isn't.) Cheap energy services have done wonders for the U.S. and the world, and they are still doing so. No one here is anti-energy; we are against ruining our planet while we are at it.
The high cost of cheap energy
Yes, the sadly still dominant fuels—by far not all—emit carbon pollution. Coal emits the most. Which is why the cost to society is so staggering. Forget carbon for a moment. Mercury poisoning from U.S. power plants alone causes everything from heart attacks to asthma to inhibiting cognitive development in children. The latter alone is responsible for estimated costs of $1.3 billion per year by knocking off IQ points in kids.
All told, coal costs America $330 to 500 billion per year.
Put differently, every ton of coal—like every barrel of oil—causes more in external damages than it adds value to gross domestic product (GDP). The costs faced by those deciding how much fossil fuel to burn are much lower than the costs faced by society.
None of that means we shouldn't burn any coal or oil. It simply means those who profit from producing these fuels shouldn't get a free ride on the taxpayer. Conservative estimates indicate that carbon pollution costs society about $40 per ton. And yes, that's a cost.
Socializing the costs is not an option
As someone with a Ph.D. in economics, Dr. Bezdek, you surely understand the difference between private benefits and social costs. No one would be burning any coal if there weren't benefits to doing so. However, the "social benefits" you ascribe to coal are anything but; in reality they are private, in the best sense of the word.
If you are the one burning coal, you benefit. If you are the one using electricity produced by burning coal, you benefit, too. To be clear, these are benefits. No one disputes that. It's how markets work.
But markets also fail in a very important way. The bystanders who are breathing the polluted air are paying dearly. The costs, if you will, are socialized. Society—all of us—pays for them. That includes those who seemingly benefit from burning coal in the first place.
Your claim that what you call "social benefits" of coal dwarf the costs is wrong in theory and practice. In theory, because they are private benefits. As a matter of practice because these (private) benefits are very much included in the calculations that give us the social costs of coal. What you call out as the social benefits of coal use are already captured by these calculations. They are part of economic output.
Our indicators for GDP do a pretty good job capturing all these private benefits of economic activity. Where they fail is with the social costs. Hence the need to calculate the social cost of carbon pollution in the first place.
So far so bad. Then there's this:
Plants need carbon dioxide to grow, just not too much of it
In your report, you also discuss what you call the benefits of increases in agricultural yields from the well-known carbon dioxide fertilization effect. It may surprise you to hear that the models used to calculate the cost of carbon include that effect. It turns out, they, too, in part base it on outdated science that ought to be updated.
But their science still isn't as old as yours. For some reason, you only chose to include papers on the fertilization effect published between 1902 and 1997 (save one that is tangentially related).
For an updated perspective, try one of the most comprehensive economic analysis to date, pointing to large aggregate losses. Or try this Science article, casting serious doubt on any claims that carbon dioxide fertilization could offset the impacts on agricultural yields from climate change.
Farmers and ranchers already have a lot to endure from the effects of climate change. There's no need to make it worse with false, outdated promises.
Coal lobby speaks, industry no longer listens
It's for all these reasons that, to borrow the apt title to the otherwise excellent New York Times story that ran your quote: "Industry Awakens to Threat of Climate Change." And it's precisely why the U.S. government calculates the social cost of carbon pollution.
Yes, sadly, it's a cost, not a benefit.

EcoWatch Daily Newsletter
A dead sea lion on the beach at Border Field State Park, near the international border wall between San Diego, California and Tijuana, Mexico. Sherry Smith / iStock / Getty Images
People crossing the Brooklyn Bridge on July 20, 2017 in New York City sought to shield themselves from the sun as the temperature reached 93 degrees. Drew Angerer / Getty Images
by Jordan Davidson

Taking action to stop the mercury from rising is a matter of life and death in the U.S., according to a new study published in the journal Science Advances.
Salmon fry before being released just outside San Francisco Bay. Jim Wilson / The New York Times / Redux
By Alisa Opar
For Chinook salmon, the urge to return home and spawn isn't just strong — it's imperative. And for the first time in more than 65 years, at least 23 fish that migrated as juveniles from California's San Joaquin River and into the Pacific Ocean have heeded that call and returned as adults during the annual spring run.
Protesters hold a banner and a placard while blocking off the road during a protest against Air pollution in London. Ryan Ashcroft / SOPA Images / LightRocket / Getty Images
By Jessica Corbett
Dozens of students, parents, teachers and professionals joined a Friday protest organized by Extinction Rebellion that temporarily stalled morning rush-hour traffic in London's southeasten borough of Lewisham to push politicians to more boldly address dangerous air pollution across the city.

Jose A. Bernat Bacete / Moment / Getty Images
By Bridget Shirvell
On a farm in upstate New York, a cheese brand is turning millions of pounds of food scraps into electricity needed to power its on-site businesses. Founded by eight families, each with their own dairy farms, Craigs Creamery doesn't just produce various types of cheddar, mozzarella, Swiss and Muenster cheeses, sold in chunks, slices, shreds and snack bars; they're also committed to becoming a zero-waste operation.

By Jessica A. Knoblauch
Summers in the Midwest are great for outdoor activities like growing your garden or cooling off in one of the area's many lakes and streams. But some waters aren't as clean as they should be.
That's in part because coal companies have long buried toxic waste known as coal ash near many of the Midwest's iconic waterways, including Lake Michigan. Though coal ash dumps can leak harmful chemicals like arsenic and cadmium into nearby waters, regulators have done little to address these toxic sites. As a result, the Midwest is now littered with coal ash dumps, with Illinois containing the most leaking sites in the country.

picture-alliance / AP Photo / NOAA Pacific Islands Fisheries Science Center
The Group of 20 major economies agreed a deal to reduce marine pollution at a meeting of their environment ministers on Sunday in Karuizawa, Japan.