This website uses cookies to ensure you get the best experience while browsing it. By clicking 'Got It' you're accepting these terms.
A Reality Check for Economist Who Claims Carbon Pollution Benefits Society
Feb. 05, 2014 09:56AM EST
Business
By Gernot Wagner
This open letter, co-authored by Jeremy Proville, was written in response to a New York Times article citing Dr. Roger Bezdek's report on "The Social Costs of Carbon? No, The Social Benefits of Carbon."
Dear Dr. Bezdek,
After seeing so many peer-reviewed studies documenting the costs of carbon pollution, it's refreshing to encounter some out-of-the-box thinking to the contrary. You had us with your assertion that: "Even the most conservative estimates peg the social benefit of carbon-based fuels as 50 times greater than its supposed social cost." We almost quit our jobs and joined the coal lobby.
Who wouldn't want to work so selflessly for the greater good?
Then we looked at the rest of your report. Your central argument seems to be: Cheap fuels emit carbon; cheap fuels are good; so, by the transitive property of Huh?!, carbon is good.
Pithy arguments are fine, but circular ones aren't.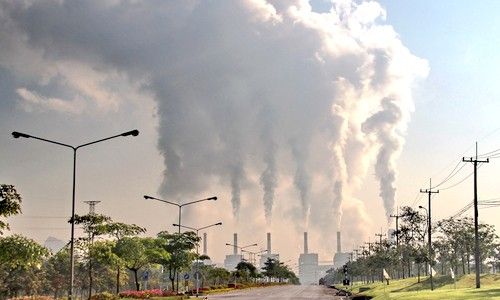 Photo courtesy of Shutterstock
First off, cheap fuels are good. Or more precisely, cheap and efficient energy services are good. (Energy efficiency, of course, is good, too. Inefficiency clearly isn't.) Cheap energy services have done wonders for the U.S. and the world, and they are still doing so. No one here is anti-energy; we are against ruining our planet while we are at it.
The high cost of cheap energy
Yes, the sadly still dominant fuels—by far not all—emit carbon pollution. Coal emits the most. Which is why the cost to society is so staggering. Forget carbon for a moment. Mercury poisoning from U.S. power plants alone causes everything from heart attacks to asthma to inhibiting cognitive development in children. The latter alone is responsible for estimated costs of $1.3 billion per year by knocking off IQ points in kids.
All told, coal costs America $330 to 500 billion per year.
Put differently, every ton of coal—like every barrel of oil—causes more in external damages than it adds value to gross domestic product (GDP). The costs faced by those deciding how much fossil fuel to burn are much lower than the costs faced by society.
None of that means we shouldn't burn any coal or oil. It simply means those who profit from producing these fuels shouldn't get a free ride on the taxpayer. Conservative estimates indicate that carbon pollution costs society about $40 per ton. And yes, that's a cost.
Socializing the costs is not an option
As someone with a Ph.D. in economics, Dr. Bezdek, you surely understand the difference between private benefits and social costs. No one would be burning any coal if there weren't benefits to doing so. However, the "social benefits" you ascribe to coal are anything but; in reality they are private, in the best sense of the word.
If you are the one burning coal, you benefit. If you are the one using electricity produced by burning coal, you benefit, too. To be clear, these are benefits. No one disputes that. It's how markets work.
But markets also fail in a very important way. The bystanders who are breathing the polluted air are paying dearly. The costs, if you will, are socialized. Society—all of us—pays for them. That includes those who seemingly benefit from burning coal in the first place.
Your claim that what you call "social benefits" of coal dwarf the costs is wrong in theory and practice. In theory, because they are private benefits. As a matter of practice because these (private) benefits are very much included in the calculations that give us the social costs of coal. What you call out as the social benefits of coal use are already captured by these calculations. They are part of economic output.
Our indicators for GDP do a pretty good job capturing all these private benefits of economic activity. Where they fail is with the social costs. Hence the need to calculate the social cost of carbon pollution in the first place.
So far so bad. Then there's this:
Plants need carbon dioxide to grow, just not too much of it
In your report, you also discuss what you call the benefits of increases in agricultural yields from the well-known carbon dioxide fertilization effect. It may surprise you to hear that the models used to calculate the cost of carbon include that effect. It turns out, they, too, in part base it on outdated science that ought to be updated.
But their science still isn't as old as yours. For some reason, you only chose to include papers on the fertilization effect published between 1902 and 1997 (save one that is tangentially related).
For an updated perspective, try one of the most comprehensive economic analysis to date, pointing to large aggregate losses. Or try this Science article, casting serious doubt on any claims that carbon dioxide fertilization could offset the impacts on agricultural yields from climate change.
Farmers and ranchers already have a lot to endure from the effects of climate change. There's no need to make it worse with false, outdated promises.
Coal lobby speaks, industry no longer listens
It's for all these reasons that, to borrow the apt title to the otherwise excellent New York Times story that ran your quote: "Industry Awakens to Threat of Climate Change." And it's precisely why the U.S. government calculates the social cost of carbon pollution.
Yes, sadly, it's a cost, not a benefit.

EcoWatch Daily Newsletter
A vegan diet can improve your health, but experts say it's important to keep track of nutrients and protein. Getty Images
By Dan Gray
Research shows that 16 weeks of a vegan diet can boost the gut microbiome, helping with weight loss and overall health.
A healthy microbiome is a diverse microbiome. A plant-based diet is the best way to achieve this.
It isn't necessary to opt for a strictly vegan diet, but it's beneficial to limit meat intake.
New research shows that following a vegan diet for about 4 months can boost your gut microbiome. In turn, that can lead to improvements in body weight and blood sugar management.
Students gathered at the National Mall in Washington DC, Sept. 20. NRDC
By Jeff Turrentine
Nearly 20 years have passed since the journalist Malcolm Gladwell popularized the term tipping point, in his best-selling book of the same name. The phrase denotes the moment that a certain idea, behavior, or practice catches on exponentially and gains widespread currency throughout a culture. Having transcended its roots in sociological theory, the tipping point is now part of our everyday vernacular. We use it in scientific contexts to describe, for instance, the climatological point of no return that we'll hit if we allow average global temperatures to rise more than 2 degrees Celsius above preindustrial levels. But we also use it to describe everything from resistance movements to the disenchantment of hockey fans when their team is on a losing streak.
samael334 / iStock / Getty Images
Berries are small, soft, round fruit of various colors — mainly blue, red, or purple.
A glacier is seen in the Kenai Mountains on Sept. 6, near Primrose, Alaska. Scientists from the U.S. Geological Survey have been studying the glaciers in the area since 1966 and their studies show that the warming climate has resulted in sustained glacial mass loss as melting outpaced the accumulation of new snow and ice. Joe Raedle / Getty Images
By Mark Mancini
On Aug. 18, Iceland held a funeral for the first glacier lost to climate change. The deceased party was Okjökull, a historic body of ice that covered 14.6 square miles (38 square kilometers) in the Icelandic Highlands at the turn of the 20th century. But its glory days are long gone. In 2014, having dwindled to less than 1/15 its former size, Okjökull lost its status as an official glacier.
Members of Chicago Democratic Socialists of America table at the Logan Square Farmers Market on Aug. 18. Alex Schwartz
By Alex Schwartz
Among the many vendors at the Logan Square Farmers Market on Aug. 18 sat three young people peddling neither organic vegetables, gourmet cheese nor handmade crafts. Instead, they offered liberation from capitalism.
Hackney primary school students went to the Town Hall on May 24 in London after school to protest about the climate emergency. Jenny Matthews / In Pictures / Getty Images
Bird watching in the U.S. may be a lot harder than it once was, since bird populations are dropping off in droves, according to a new study.