This website uses cookies to ensure you get the best experience while browsing it. By clicking 'Got It' you're accepting these terms.
A Page Out of the Climate Change Handbook
Jul. 21, 2014 10:55AM EST
Climate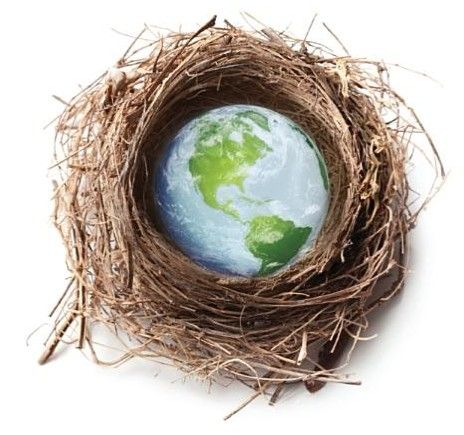 Here's a page from a climate change handbook, Earth Calling:
Rather than looking at the crises we face as issues on a to-do list, we need to see beneath the words to the real messages trying to get through to us. We as a culture are unmatched at assembling facts and events into a mosaic of a condition-at-large and taking it on with hard work and a can-do attitude. We have giant hearts and giving and compassionate natures. Why isn't this enough to motivate us to look more deeply, to make sense of this, and to demand change of our leaders and ourselves?
To begin to answer this, we need to understand how different this challenge is from anything we have ever faced before. We need to see this as a call to our spirits to awaken and look at the earth and our relationship to her differently. And we need to understand where things have come apart, where we are broken, and why and how we can fix ourselves, each other, and the conditions that are harming our planet.
We can all take a leaf out of Ellen Gunter and Ted Carter's Earth Calling: A Climate Change Handbook—to see the interconnectedness of all things, understand the deeper truths about climate change and discover a roadmap for finding our own call to action.
Gunter, climate activist, journalist and spiritual director, talks with the Green Divas about finding her own calling and how people can make a difference on an individual basis.
A presenter with the Climate Reality Project, Gunter has often heard "Well what should I do?" While acknowledging that not all activists are willing to get arrested, she highlights the fact that we  all have something that's speaking to us, that each of us can be proactive in unique ways.
Described as the Silent Spring for the twenty-first century, Earth Calling is a handbook for action that invites us to reestablish our connection with nature while repairing our damaged environment. In other words, it is "an examination of what is happening in our world and how we can fix it, collectively and individually, by reconnecting with the earth that nurtures us on a spiritual—not just a physical—level."
We can make the connection between spirit, nature and Earth. Each one of us has an Earth calling. What's yours?
EcoWatch Daily Newsletter
Fabian Krause / EyeEm / Getty Images
Water protectors of all persuasions gathered in talking circles at Borderland Ranch in Pe'Sla, the heart of the sacred Black Hills, during the first Sovereign Sisters Gathering. At the center are Cheryl Angel in red and white and on her left, Lyla June. Tracy Barnett
By Tracy L. Barnett
Sources reviewed this article for accuracy.
For Sicangu Lakota water protector Cheryl Angel, Standing Rock helped her define what she stands against: an economy rooted in extraction of resources and exploitation of people and planet. It wasn't until she'd had some distance that the vision of what she stands for came into focus.
Hedges, 2019 © Hugh Hayden. All photos courtesy of Lisson Gallery
By Patrick Rogers
"I'm really into trees," said the sculptor Hugh Hayden. "I'm drawn to plants."
BruceBlock / iStock / Getty Images
Thanks to their high concentration of powerful plant compounds, foods with a natural purple hue offer a wide array of health benefits.
Environmental Investigation Agency
Last week, the Peruvian Palm Oil Producers' Association (JUNPALMA) promised to enter into an agreement for sustainable and deforestation-free palm oil production. The promise was secured by the U.S. based National Wildlife Federation (NWF) in collaboration with the local government, growers and the independent conservation organization Sociedad Peruana de Ecodesarrollo.
Pixabay
Leaked documents show that Jair Bolsonaro's government intends to use the Brazilian president's hate speech to isolate minorities living in the Amazon region. The PowerPoint slides, which democraciaAbierta has seen, also reveal plans to implement predatory projects that could have a devastating environmental impact.
XL CATLIN SEAVIEW SURVEY / THE OCEAN AGENCY
Hope may be on the horizon for the world's depleted coral reefs thanks to scientists who successfully reproduced endangered corals in a laboratory setting for the first time, according to Reuters.