A Nuclear Waste Dump on the Shore of the Great Lakes?

Is dilution really the solution to pollution—especially when it's nuclear waste that can stay radioactive for 100,000 years? A four-member expert group told a federal joint review panel it is.
The panel is examining an Ontario Power Generation proposal to bury low- and intermediate-level nuclear waste from the Darlington, Pickering and Bruce nuclear plants in limestone at the Bruce site in Kincardine, beside Lake Huron. According to the Toronto Star, the experts reported that 1,000 cubic meters of contaminated water could leak from the site, although it's "highly improbable." But even if it did leak, they argued, the amount is small compared to Lake Huron's water volume and the quantity of rain that falls into it.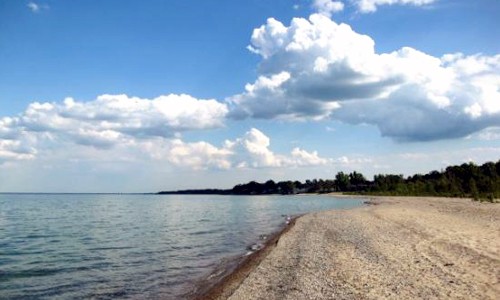 If the materials were instead buried in Canadian Shield granite, any leaking waste would be diluted by active streams and marshes, the experts claimed: "Hence, the volumes of the bodies of water available for dilution at the surface are either immense (Great Lakes) or actively flowing … so the dilution capacity is significant." 
Others aren't convinced. The Stop the Great Lakes Nuclear Dump group has more than 62,000 signatures on a petition opposing the dump. Many communities around the Great Lakes, home to 40-million people, have passed resolutions against the project, including Canadian cities Toronto, Mississauga, Hamilton, Niagara Falls, Kingston, Thunder Bay, Sault Ste. Marie, Windsor and more, and local governments in the states of Michigan, Illinois, Pennsylvania, Indiana, Minnesota, Wisconsin, New York and Ohio. The United Tribes of Michigan, representing 12 First Nations, is also opposed.
Michigan's Senate recently adopted resolutions to urge President Barack Obama, Secretary of State John Kerry and U.S. Congress to intervene, and for the International Joint Commission, the Great Lakes Commission and all Great Lakes States and Ontario and Quebec to get involved.
According to Stop the Great Lakes Nuclear Dump, burying such highly toxic wastes in limestone next to 21 percent of the world's fresh water "defies common sense." The group's website notes, "There are no precedents anywhere in the world for burying radioactive nuclear waste in limestone. The repository must function to safely contain the nuclear wastes for over 100,000 years. No scientist or geologist can provide a 100,000 year guarantee." The Great Lakes are only 12,000 years old!
On top of that, retired Ontario Power Generation research scientist and chemist Frank R. Greening wrote to the review panel stating that OPG has "seriously underestimated, sometimes by factors of more than 100" the radioactivity of material to be buried.
Greening says the company acknowledged his criticism but downplayed its seriousness, which he believes raises doubts about the credibility of OPG's research justifying the project. "Their response has been, 'Oops we made a mistake but it isn't a problem' and that really bothers me as a scientist," he told Kincardine News. "It is rationalizing after the fact."
According to the newspaper, "a radiation leak at a nuclear waste site in New Mexico—cited by OPG as an example of a successful facility—is further fueling criticism of the project." In February, radiation was detected in vaults and in the air a kilometre from the U.S. Department of Energy's Waste Isolation Pilot Plant near Carlsbad, where radioactive materials from the nuclear weapons program are stored. The facility, the world's only deep geologic repository, had only been in use for 15 years and is closed for now. The cause of the leak isn't yet known.
Those and other factors led the joint review panel to re-open hearings beginning September 9. They initially ended October 30, 2013. A federal cabinet decision is expected sometime next year.
This "out of sight, out of mind" mentality must end. We can't continue to dump garbage into the oceans, waterways and air or bury it in the ground and hope it will disappear. If we can't find better ways to use or at least reduce waste products, we must stop producing them.
In the meantime, this project must be halted. The Great Lakes are already threatened by pollution, agricultural runoff, invasive species, climate change and more. We can't afford to add the risk of radioactive contamination to one of the world's largest sources of fresh water.
Written with Contributions from David Suzuki Foundation Senior Editor Ian Hanington.
Bill Maher is sick of billionaires' obsession with Mars, more like "Mars-a-Lago," he said.
In a new animation produced by ATTN:, the popular talk show host of Real Time, discusses the perils of our planet, including how "climate change is killing us."
Keep reading...
Show less
Dr. Benjamin D. Santer, research scientist
A group of prominent climate scientists have written a study explicitly refuting statements made by the U.S. Environmental Protection Agency Administrator Scott Pruitt on climate data. During his Senate confirmation hearing, Pruitt claimed in a written response that satellite data shows a "leveling off" of warming over the past two decades.
Keep reading...
Show less
By David Pomerantz
The Nevada Assembly passed a bill Wednesday that would dramatically increase the growth of renewable energy in the state, but Sheldon Adelson, the casino magnate and major donor to Donald Trump, is attempting to prevent the bill from becoming law.
Keep reading...
Show less
Matt Crossick
By Yosola Olorunshola
Whether it's through fashion or protest, Vivienne Westwood is not a woman afraid of making a statement.
On May 23, she rocked up to the residence of the Archbishop of Canterbury in London with a special guest—the Grim Reaper—to issue a strong statement on the Church of England's position on fracking.
Keep reading...
Show less
By Paul Brown
The food industry and big agricultural concerns are driving climate change and at the same time threatening to undermine efforts to feed the world's growing population, according to GRAIN, an organization that supports small farmers.
Particularly singled out for criticism are the large chemical fertilizer producers that have gained access to the United Nations talks on climate change. GRAIN accuses them of behaving like the fossil fuel companies did in the 1990s, pushing false information in the hope of delaying real action on climate change.
Keep reading...
Show less
May. 24, 2017 06:55PM EST
By Sydney Robinson
President Trump has no doubt been given a long list of extravagant, elaborate gifts in his lifetime, but the gift given to him today by Pope Francis may not make it on his most favorite list.
Keep reading...
Show less
May. 24, 2017 07:17PM EST
By John Rogers
Maybe it's because I first started working on clean energy while serving in the Peace Corps he founded, or maybe it's my years of working on these issues from his home state. But I can't help thinking about the 100th anniversary of John F. Kennedy's birth, and connecting his stirring rhetoric to the energy challenges of our times.
Here's what our 35th president might have said about the challenges of energy transition and the opportunities in clean energy:
"Change is the law of life. And those who look only to the past or present are certain to miss the future."
Keep reading...
Show less
May. 24, 2017 01:47PM EST
Keep reading...
Show less


Get EcoWatch in your inbox