This website uses cookies to ensure you get the best experience while browsing it. By clicking 'Got It' you're accepting these terms.
A Nuclear Waste Dump on the Shore of the Great Lakes?
Jul. 16, 2014 07:46AM EST

Is dilution really the solution to pollution—especially when it's nuclear waste that can stay radioactive for 100,000 years? A four-member expert group told a federal joint review panel it is.
The panel is examining an Ontario Power Generation proposal to bury low- and intermediate-level nuclear waste from the Darlington, Pickering and Bruce nuclear plants in limestone at the Bruce site in Kincardine, beside Lake Huron. According to the Toronto Star, the experts reported that 1,000 cubic meters of contaminated water could leak from the site, although it's "highly improbable." But even if it did leak, they argued, the amount is small compared to Lake Huron's water volume and the quantity of rain that falls into it.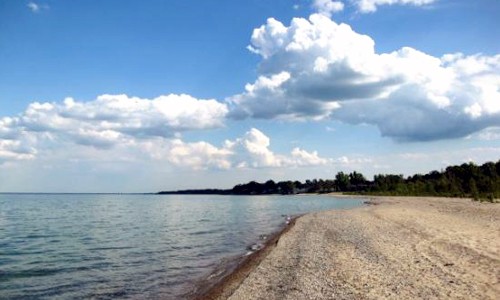 If the materials were instead buried in Canadian Shield granite, any leaking waste would be diluted by active streams and marshes, the experts claimed: "Hence, the volumes of the bodies of water available for dilution at the surface are either immense (Great Lakes) or actively flowing … so the dilution capacity is significant." 
Others aren't convinced. The Stop the Great Lakes Nuclear Dump group has more than 62,000 signatures on a petition opposing the dump. Many communities around the Great Lakes, home to 40-million people, have passed resolutions against the project, including Canadian cities Toronto, Mississauga, Hamilton, Niagara Falls, Kingston, Thunder Bay, Sault Ste. Marie, Windsor and more, and local governments in the states of Michigan, Illinois, Pennsylvania, Indiana, Minnesota, Wisconsin, New York and Ohio. The United Tribes of Michigan, representing 12 First Nations, is also opposed.
Michigan's Senate recently adopted resolutions to urge President Barack Obama, Secretary of State John Kerry and U.S. Congress to intervene, and for the International Joint Commission, the Great Lakes Commission and all Great Lakes States and Ontario and Quebec to get involved.
According to Stop the Great Lakes Nuclear Dump, burying such highly toxic wastes in limestone next to 21 percent of the world's fresh water "defies common sense." The group's website notes, "There are no precedents anywhere in the world for burying radioactive nuclear waste in limestone. The repository must function to safely contain the nuclear wastes for over 100,000 years. No scientist or geologist can provide a 100,000 year guarantee." The Great Lakes are only 12,000 years old!
On top of that, retired Ontario Power Generation research scientist and chemist Frank R. Greening wrote to the review panel stating that OPG has "seriously underestimated, sometimes by factors of more than 100" the radioactivity of material to be buried.
Greening says the company acknowledged his criticism but downplayed its seriousness, which he believes raises doubts about the credibility of OPG's research justifying the project. "Their response has been, 'Oops we made a mistake but it isn't a problem' and that really bothers me as a scientist," he told Kincardine News. "It is rationalizing after the fact."
According to the newspaper, "a radiation leak at a nuclear waste site in New Mexico—cited by OPG as an example of a successful facility—is further fueling criticism of the project." In February, radiation was detected in vaults and in the air a kilometre from the U.S. Department of Energy's Waste Isolation Pilot Plant near Carlsbad, where radioactive materials from the nuclear weapons program are stored. The facility, the world's only deep geologic repository, had only been in use for 15 years and is closed for now. The cause of the leak isn't yet known.
Those and other factors led the joint review panel to re-open hearings beginning September 9. They initially ended October 30, 2013. A federal cabinet decision is expected sometime next year.
This "out of sight, out of mind" mentality must end. We can't continue to dump garbage into the oceans, waterways and air or bury it in the ground and hope it will disappear. If we can't find better ways to use or at least reduce waste products, we must stop producing them.
In the meantime, this project must be halted. The Great Lakes are already threatened by pollution, agricultural runoff, invasive species, climate change and more. We can't afford to add the risk of radioactive contamination to one of the world's largest sources of fresh water.
Written with Contributions from David Suzuki Foundation Senior Editor Ian Hanington.
Prince William and British naturalist David Attenborough attend converse during the World Economic Forum annual meeting, on January 22 in Davos, Switzerland. Fabrice Cofferini /AFP / Getty Images
Britain's Prince William interviewed famed broadcaster David Attenborough on Tuesday at the World Economic Forum's annual meeting in Switzerland.
During the sit-down, the 92-year-old naturalist advised the world leaders and business elite gathered in Davos this week that we must respect and protect the natural world, adding that the future of its survival—as well as humanity's survival—is in our hands.
Electric vehicle sales took off in 2018, with a record two million units sold around the world, according to a new Deloitte analysis.
What's more, the accounting firm predicts that another 21 million electric cars will be on the road globally over the next decade due to growing market demand for clean transportation, government subsidies, as well as bans on fossil fuel cars.
Teenager Alex Weber and friends collected nearly 40,000 golf balls hit into the ocean from a handful of California golf courses.
Alex Weber /
CC BY-ND
Southwest Greenland had the most consistent ice loss from 2003 to 2012. Eqalugaarsuit, Ostgronland, Greenland on Aug. 1, 2018.
Rob Oo / CC BY 2.0
Greenland is melting about four times faster than it was in 2003, a new study published Monday in the Proceedings of the National Academy of Sciences found, a discovery with frightening implications for the pace and extent of future sea level rise.
"We're going to see faster and faster sea level rise for the foreseeable future," study lead author and Ohio State University geodynamics professor Dr. Michael Bevis said in a press release. "Once you hit that tipping point, the only question is: How severe does it get?"
Finally, some good news about the otherwise terrible partial government shutdown. A federal judge ruled that the Trump administration cannot issue permits to conduct seismic testing during the government impasse.
The Justice Department sought to delay—or stay—a motion filed by a range of coastal cities, businesses and conservation organizations that are suing the Trump administration over offshore oil drilling, Reuters reported. The department argued that it did not have the resources it needed to work on the case due to the shutdown.
Most people have heard of the Amazon, South America's famed rainforest and hub of biological diversity. Less well known, though no less critical, is the Pantanal, the world's largest tropical wetland.
Like the Amazon, the Pantanal is ecologically important and imperiled. Located primarily in Brazil, it also stretches into neighboring Bolivia and Paraguay. Covering an area larger than England at more than 70,000 square miles, the massive wetland provides irreplaceable ecosystem services that include the regulation of floodwaters, nutrient renewal, river flow for navigability, groundwater recharge and carbon sequestration. The wetland also supports the economies of the four South American states it covers.
Demonstrators participate in a protest march over agricultural policy on Jan. 19 in Berlin, Germany. Carsten Koall / Getty Images Europe
By Andrea Germanos
Organizers said 35,000 people marched through the streets of the German capital on Saturday to say they're "fed up" with industrial agriculture and call for a transformation to a system that instead supports the welfare of the environment, animals and rural farmers.

The fire that erupted after a pipeline explosion in Mexico Friday. FRANCISCO VILLEDA / AFP / Getty Images
By Patrick Rogers
If you have ever considered making the switch to an environmentally friendly electric vehicle, don't drag your feet. Though EV prices are falling, and states are unveiling more and more public charging stations and plug-in-ready parking spots, the federal government is doing everything it can to slam the brakes on our progress away from gas-burning internal combustion engines. President Trump, likely pressured by his allies in the fossil fuel industry, has threatened to end the federal tax credits that have already helped put hundreds of thousands of EVs on the road—a move bound to harm not only our environment but our economy, too. After all, the manufacturing and sale of EVs, hybrids, and plug-in hybrids supported 197,000 jobs in 2017, according to the most recent U.S. Energy and Employment Report.