This website uses cookies to ensure you get the best experience while browsing it. By clicking 'Got It' you're accepting these terms.
"I read recently that lack of sleep can lead to chronic disease and other problems," writes this week's house call. "I have kids, a job with crazy hours and personal stress. I struggle to get a great night's sleep."
Sadly, your situation has become all too common in our stressed-out, super-busy, hyper-caffeinated, modern world. Among the numerous responsibilities we juggle daily, quality sleep often takes the back burner and those repercussions show up in our health and around our waistlines.
Inadequate sleep can quickly sabotage your efforts at getting healthy and losing weight. Sleep is a major cornerstone for an energetic, joyful, healthy life. Not getting enough sleep or getting poor-quality sleep adversely affects hormones that make you hungry and store fat.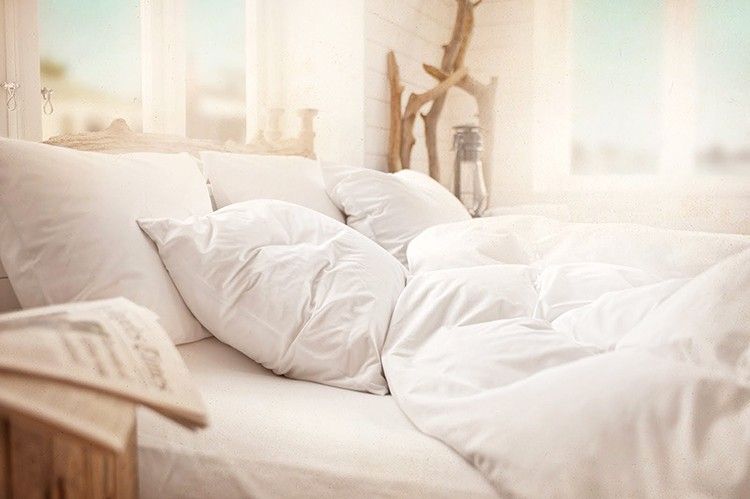 One study found just one partial night's sleep could create insulin resistance, paving the path for diabesity and many other problems. Others show poor sleep contributes to cardiovascular disease, mood disorders, poor immune function and lower life expectancy.
I've seen inadequate sleep's repercussions play out numerous times among patients. One struggled with his weight for many years. He was probably 60 to 70 pounds overweight and often felt extremely tired. His situation became so bad that he had to stand up at his desk at work (this was before a stand-up work station became common) just so he didn't fall asleep.
I diagnosed him with sleep apnea, an extreme form of sleep deprivation where you wake up several times throughout the night. You can't sleep, you can't breathe and as a result, you lack oxygen. You don't even realize you're waking up throughout the night.
This lack of sleep creates hunger, cravings and blood sugar imbalances that eventually increase pre-diabetes, type 2 diabetes and high blood pressure. Obviously, sleep apnea is a serious situation.
With my help, simply fixing his sleep (using some of the tips below) enabled this patient to lose about 50 pounds. Without changing much else, his sleep apnea subsided and the weight loss powerfully impacted his health.
As a doctor, I understand how stress can become an issue. I juggle what feels like about 10 jobs. I have kids, a house, many employees and patients, plus I'm rarely home because I often travel for work.
I realized that lack of sleep adversely impacts my health. I know I have to make sleep a priority, so I give myself a goal to get seven or eight hours of sleep every night. By experimenting, I figured out that when I get eight hours of good sleep, I feel much more alert and focused.
Trust me; I know what a challenge that can become. Here are eight ways to achieve a better night's sleep:
1. Get on a regular schedule. Going to sleep and waking at the same time each day creates a rhythm for your body. Only use your bed for sleep or romance. Don't keep a television in your bedroom: Studies show the artificial, bright light can disrupt brain activity and alter sleep hormones like melatonin. Your bedroom should be a quiet, peaceful haven.
2. Get natural sunlight. Aim for at least 20 minutes of sunshine every day, preferably in the morning, which triggers your brain to release chemicals that regulate sleep cycles. Avoid computers, smart phones, tablets and television one or two hours before bed. You might also try low blue light exposure for about three hours before bed. Low blue spectrum light helps your brain reset for sleep and increase melatonin.
3. Use an acupressure mat. This helps stimulate your parasympathetic nervous system and create deep relaxation. Lay on it for about 30 or more minutes before bed.
4. Get grounded. At times, electromagnetic frequencies can impair sleep. I recommend turning off WiFi and keeping all of your electronic devices away from your bed. Create a common area charging station in your home and encourage all your family members to "check in" their devices before bed.
5. Clear your mind. Everyone knows how something resonating on your mind can hinder sleep. Turning your mind off can become a challenge. Keep a journal or notebook by your bed and write down your to-do list or ruminations before you go to sleep so you can close your eyes and make it less likely for your mind to spin.
6. Perform light stretching or yoga before bed. This relaxes your mind and body. Research shows daily yoga can improve sleep significantly.
7. Use herbal therapies. I recommend 300 to 600 milligrams (mg) of passionflower or 320 to 480 mg of valerian root extract before bed. Other natural sleep supplements include melatonin or magnesium. Potato starch mixed into a glass of water before bedtime can also help. Start slowly with one teaspoon and gradually build up the dose. This feeds good gut bacteria and improves blood sugar control while helping you drift into sleep. You can find sleep and other quality supplements in my store.
8. Use relaxation practices. Guided imagery, meditation or deep breathing calm your mind and help you drift into sleep. Try calming essential oils such as lavender, Roman chamomile or ylang ylang. Many patients get amazing results with my UltraCalm CD.
I've found these eight strategies help me get a better night's sleep; and I encourage you to give them a try. If you want even more ideas, you can get 19 of my top sleep tips here.
If you employ these strategies and still struggle with sleeping, please see a Functional Medicine practitioner who can determine whether things like food sensitivities, thyroid problems, menopause, fibromyalgia, chronic fatigue syndrome, heavy metal toxicity, stress and depression are interfering with your sleep. Consider getting tested for sleep disorders, which I discussed here. If you suspect deeper issues like sleep apnea, I also recommend The 8-Hour Sleep Paradox written by my friend and colleague, Dr. Mark Burhenne. This book dives deep into causes of fatigue and sleep troubles while providing excellent tips and tools for better sleep immediately.
You can improve your sleep, lose weight and feeling better by joining our Eat Fat, Get Thin May Challenge starting April 28.
YOU MIGHT ALSO LIKE
Are Basil Seeds the New Superfood?
5 Essential Oil Recipes for All Your Spring Cleaning
EcoWatch Daily Newsletter
Extreme weather events supercharged by climate change in 2012 led to nearly 1,000 more deaths, more than 20,000 additional hospitalizations, and cost the U.S. healthcare system $10 billion, a new report finds.
Giant sequoia trees at Sequoia National Park, California. lucky-photographer / iStock / Getty Images Plus
A Bay Area conservation group struck a deal to buy and to protect the world's largest remaining privately owned sequoia forest for $15.6 million. Now it needs to raise the money, according to CNN.
This aerial view shows the Ogasayama Sports Park Ecopa Stadium, one of the venues for 2019 Rugby World Cup. MARTIN BUREAU / AFP / Getty Images
The Rugby World Cup starts Friday in Japan where Pacific Island teams from Samoa, Fiji and Tonga will face off against teams from industrialized nations. However, a new report from a UK-based NGO says that when the teams gather for the opening ceremony on Friday night and listen to the theme song "World In Union," the hypocrisy of climate injustice will take center stage.
Vera_Petrunina / iStock / Getty Images Plus
By Wudan Yan
In June, New York Times journalist Andy Newman wrote an article titled, "If seeing the world helps ruin it, should we stay home?" In it, he raised the question of whether or not travel by plane, boat, or car—all of which contribute to climate change, rising sea levels, and melting glaciers—might pose a moral challenge to the responsibility that each of us has to not exacerbate the already catastrophic consequences of climate change. The premise of Newman's piece rests on his assertion that traveling "somewhere far away… is the biggest single action a private citizen can take to worsen climate change."

Volunteer caucasian woman giving grain to starving African children.
Bartosz Hadyniak / E+ / Getty Images
Food will be scarce, expensive and less nutritious," CNN warns us in its coverage of the UN's new "Climate Change and Land" report. The New York Times announces that "Climate Change Threatens the World's Food Supply."
By Adam Vaughan
Two-thirds of people in the UK think the amount people fly should be reined in to tackle climate change, polling has found.
Climate Week NYC
On Monday, Sept. 23, the Climate Group will kick off its 11th annual Climate Week NYC, a chance for governments, non-profits, businesses, communities and individuals to share possible solutions to the climate crisis while world leaders gather in the city for the UN Climate Action Summit.
By Pam Radtke Russell in New Orleans
Local TV weather forecasters have become foot soldiers in the war against climate misinformation. Over the past decade, a growing number of meteorologists and weathercasters have begun addressing the climate crisis either as part of their weather forecasts, or in separate, independent news reports to help their viewers understand what is happening and why it is important.