This website uses cookies to ensure you get the best experience while browsing it. By clicking 'Got It' you're accepting these terms.


The best of EcoWatch, right in your inbox. Sign up for our email newsletter!
7 Eco-Friendly Fabrics That Will Green Your Wardrobe
Nov. 15, 2013 02:10PM EST
The clothes we wear and the textiles they are made from can damage the environment and make us sick. Good thing there are some eco-friendly alternatives. Check out these seven fabrics, courtesy of Green America:
1. Bamboo—Bamboo is a hardy, highly renewable grass and is generally grown with few chemical inputs. The fabric also has natural antibacterial properties, breathes and is biodegradable. However, toxic chemicals may be used to turn the plant into fabric. The Federal Trade Commission mandates that companies using this process label their products bamboo-based rayon.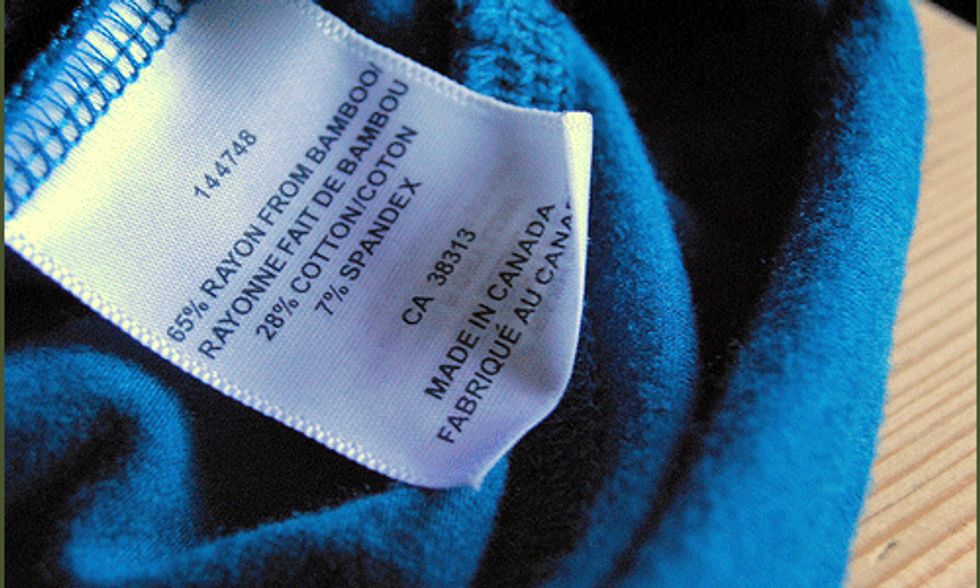 2. Organic cotton—More than 25 percent of the world's pesticides are used in conventional cotton production. Organic cotton is grown without toxic, synthetic chemical inputs. Look for natural dyes or colored cotton to further reduce the amount of chemicals dumped into our ecosystem.
3. Industrial hemp—Hemp is rapidly renewable, requires little or no pesticides, grows without fertilizer, requires minimum attention, doesn't deplete soil nutrients and is easy to harvest. 
4. Recycled polyester—This fiber is made from cast-off polyester fabric and soda bottles, resulting in a carbon footprint that is 75 percent lower than virgin polyester. Recycled polyester contains toxic antimony, but some companies are working on removing it from their fabrics.
5. Soy cashmere/silk—This fabric is made from soy protein fiber left over after processing soybeans into food. The soy may be genetically engineered unless noted on the label.
6. Tencel—Tencel is made from natural cellulose wood pulp and is fully biodegradable. It uses Forest Stewardship Council-certified wood pulp and less-toxic chemicals in a closed-loop process.
7. W00l—Wool is renewable, fire-resistant and doesn't need chemical inputs. Look for chlorine-free wool from humanely-treated animals. Organic wool is increasingly becoming available: it is produced using sustainable farming practices and without toxic sheep dips.
Even these choices are not clear-cut, says The Nature Conservancy. These types of fabric represent positive change, but have drawbacks. Clothes production in general has environmental impact, including:
Energy—It takes agricultural energy to produce natural fibers and mining or processing for synthetic fabrics. Energy also is needed for production, processing and shipping of the fabric and finished product.
Toxic chemicals—Pesticides, dyes and bleaches and chemical processing are used for fibers like bamboo or rayon.
Land/natural resources—Natural fibers can require large areas for production and synthetic ones typically require petrochemicals.
Water—Nearly all fabrics require some water use during production, with cotton requiring the most.
The way you use clothing can make an enormous environmental difference—as much as the type of fabric, The Nature Conservancy says. 
Since all textile manufacturing has a fairly hefty impact, wearing what you already have for a longer time is one of the best and easiest things you can do to make your clothing more eco-friendly.
Other ways include buying used clothes, recycling what doesn't fit and repairing damaged clothes rather than throwing them away.

EcoWatch Daily Newsletter
BLM drill seeders work to restore native grasses after wildfire on the Bowden Hills Wilderness Study Area in southeast Oregon, Dec. 14, 2018. Marcus Johnson / BLM / CC BY 2.0
By Tara Lohan
In 2017 the Thomas fire raged through 281,893 acres in Ventura and Santa Barbara counties, California, leaving in its wake a blackened expanse of land, burned vegetation, and more than 1,000 destroyed buildings.
Brogues Cozens-Mcneelance / EyeEm / Getty Images
Fruit juice is generally perceived as healthy and far superior to sugary soda.
Pexels
By Danielle Nierenberg and Katherine Walla
As the holiday season ramps up for many across the world, Food Tank is highlighting 15 children's books that will introduce young eaters, growers and innovators to the world of food and agriculture. Authors and organizations are working to show children the importance — and fun — of eating healthy, nutritious and delicious food, growing their own produce, and giving food to others in need.
Pixabay
Purple cabbage, also referred to as red cabbage, belongs to the Brassica genus of plants. This group includes nutrient-dense vegetables, such as broccoli, Brussels sprouts, and kale.
Pexels
By Lauren Wolahan
For the first time ever, the UN is building out a roadmap for curbing carbon pollution from agriculture. To take part in that process, a coalition of U.S. farmers traveled to the UN climate conference in Madrid, Spain this month to make the case for the role that large-scale farming operations, long criticized for their outsized emissions, can play in addressing climate change.