This website uses cookies to ensure you get the best experience while browsing it. By clicking 'Got It' you're accepting these terms.
7 Eco-Friendly Fabrics That Will Green Your Wardrobe
Nov. 15, 2013 02:10PM EST
The clothes we wear and the textiles they are made from can damage the environment and make us sick. Good thing there are some eco-friendly alternatives. Check out these seven fabrics, courtesy of Green America:
1. Bamboo—Bamboo is a hardy, highly renewable grass and is generally grown with few chemical inputs. The fabric also has natural antibacterial properties, breathes and is biodegradable. However, toxic chemicals may be used to turn the plant into fabric. The Federal Trade Commission mandates that companies using this process label their products bamboo-based rayon.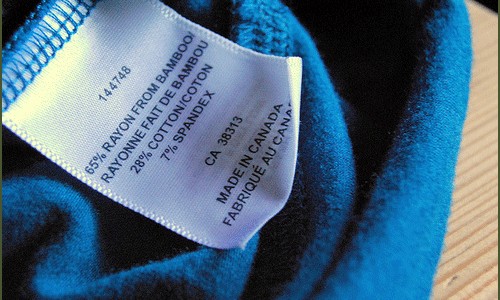 2. Organic cotton—More than 25 percent of the world's pesticides are used in conventional cotton production. Organic cotton is grown without toxic, synthetic chemical inputs. Look for natural dyes or colored cotton to further reduce the amount of chemicals dumped into our ecosystem.
3. Industrial hemp—Hemp is rapidly renewable, requires little or no pesticides, grows without fertilizer, requires minimum attention, doesn't deplete soil nutrients and is easy to harvest. 
4. Recycled polyester—This fiber is made from cast-off polyester fabric and soda bottles, resulting in a carbon footprint that is 75 percent lower than virgin polyester. Recycled polyester contains toxic antimony, but some companies are working on removing it from their fabrics.
5. Soy cashmere/silk—This fabric is made from soy protein fiber left over after processing soybeans into food. The soy may be genetically engineered unless noted on the label.
6. Tencel—Tencel is made from natural cellulose wood pulp and is fully biodegradable. It uses Forest Stewardship Council-certified wood pulp and less-toxic chemicals in a closed-loop process.
7. W00l—Wool is renewable, fire-resistant and doesn't need chemical inputs. Look for chlorine-free wool from humanely-treated animals. Organic wool is increasingly becoming available: it is produced using sustainable farming practices and without toxic sheep dips.
Even these choices are not clear-cut, says The Nature Conservancy. These types of fabric represent positive change, but have drawbacks. Clothes production in general has environmental impact, including:
Energy—It takes agricultural energy to produce natural fibers and mining or processing for synthetic fabrics. Energy also is needed for production, processing and shipping of the fabric and finished product.
Toxic chemicals—Pesticides, dyes and bleaches and chemical processing are used for fibers like bamboo or rayon.
Land/natural resources—Natural fibers can require large areas for production and synthetic ones typically require petrochemicals.
Water—Nearly all fabrics require some water use during production, with cotton requiring the most.
The way you use clothing can make an enormous environmental difference—as much as the type of fabric, The Nature Conservancy says. 
Since all textile manufacturing has a fairly hefty impact, wearing what you already have for a longer time is one of the best and easiest things you can do to make your clothing more eco-friendly.
Other ways include buying used clothes, recycling what doesn't fit and repairing damaged clothes rather than throwing them away.

EcoWatch Daily Newsletter
Ocean Heroes Bootcamp
By Coda Christopherson (11) and Lea Eiders (15)
Growing up in a plastic-free home, I was sheltered from the plastic waste crisis. I (Coda) went to a very progressive school that had vegan lunch items, farm animals and ran on solar power. My mom produces zero-waste events and my dad is a sailor, so we're very passionate about the ocean. When I was nine years old, we moved back to Manhattan Beach, California and I started 3rd grade in a public school. This was the first time I really understood that plastic-free living is not the norm; single-use plastics were everywhere, especially in the cafeteria. Once I recognized this problem, I knew I had to make a difference.
A major California avocado producer issued a voluntary recall of the popular fruit over concerns they could be contaminated with Listeria monocytogenes, USA Today reported.
Henry Avocado issued the recall Saturday after a routine government inspection at its California packing facility turned up positive test results for the bacteria on "environmental samples," the company said in a statement. No illnesses have been reported.
Acting Secretary David Bernhardt visited Watson Hopper Inc., a manufacturer of rigs and oil drilling equipment in Hobbs, New Mexico on Feb. 6, 2019.
Tami A. Heilemann / DOI
Oil executives gathered for a conference laughed about their "unprecedented" access to Trump administration officials, according to a recording obtained by Reveal from the Center for Investigative Reporting.
In the recording, taken at a June 2017 meeting of the Independent Petroleum Association of America (IPAA) at a Ritz-Carlton in Southern California, members expressed excitement about one official in particular: David Bernhardt, who had been nominated that April to be deputy secretary at the Department of Interior (DOI). Bernhardt would be confirmed the following month.
"We know him very well, and we have direct access to him, have conversations with him about issues ranging from federal land access to endangered species, to a lot of issues," IPAA political director Dan Naatz said in the recording.
Pixabay
Saw palmetto (Serenoa repens) is a type of palm native to the southeastern U.S.
Jeff K / Flickr / CC BY-NC 2.0
By Elizabeth Henderson
The certified organic label has helped save many generational farms and enabled people like me, who do not come from agricultural backgrounds, to become successful farmers. Organic farming has brought environmental benefits—healthier soils, freedom from toxic pesticides and herbicides—to 6.5 million acres in the U.S.
PhotoAlto / Laurence Mouton / Getty Images
By Ana Reisdorf, MS, RD
You've probably heard the buzz around collagen supplements and your skin by now. But is the hype really that promising? After all, research has pointed to both the benefits and downsides of collagen supplements — and for many beauty-conscious folk, collagen isn't vegan.
Pixabay
By Marlene Cimons
Neil Pederson's introduction to tree rings came from a "sweet and kindly" college instructor, who nevertheless was "one of the most boring professors I'd ever experienced," Pederson said. "I swore tree rings off then and there." But they kept coming back to haunt him.
Aerial view of the explosion site of a chemical factory on March 22 in Yancheng, Jiangsu Province of China. Caixin Media / VCG / Getty Images)
At least 47 people have died in an explosion at a plant in Yancheng, China Thursday run by a chemical company with a history of environmental violations, Sky News reported.