This website uses cookies to ensure you get the best experience while browsing it. By clicking 'Got It' you're accepting these terms.
7 Easy Ways to Make Buildings Energy Efficient
Oct. 24, 2013 09:53AM EST
Business
If commercial and government buildings are empty for most of the year, why do they consume so much energy?
A report from Greensense, an Australian sustainability software developer, estimates that buildings in its country are vacant for about 72 percent of a year, between off hours and holidays. Still, those buildings consume about 55 percent of their annual electricity use during those periods. The report indicates that figures are about the same in the U.S.
Buildings account for 40 percent of total energy use in the U.S., which is more than the transportation and industrial sectors, according to the report.
"In many cases, this has meant more than $100,000 a year spent powering an empty building," said Will Turbet of Greensense.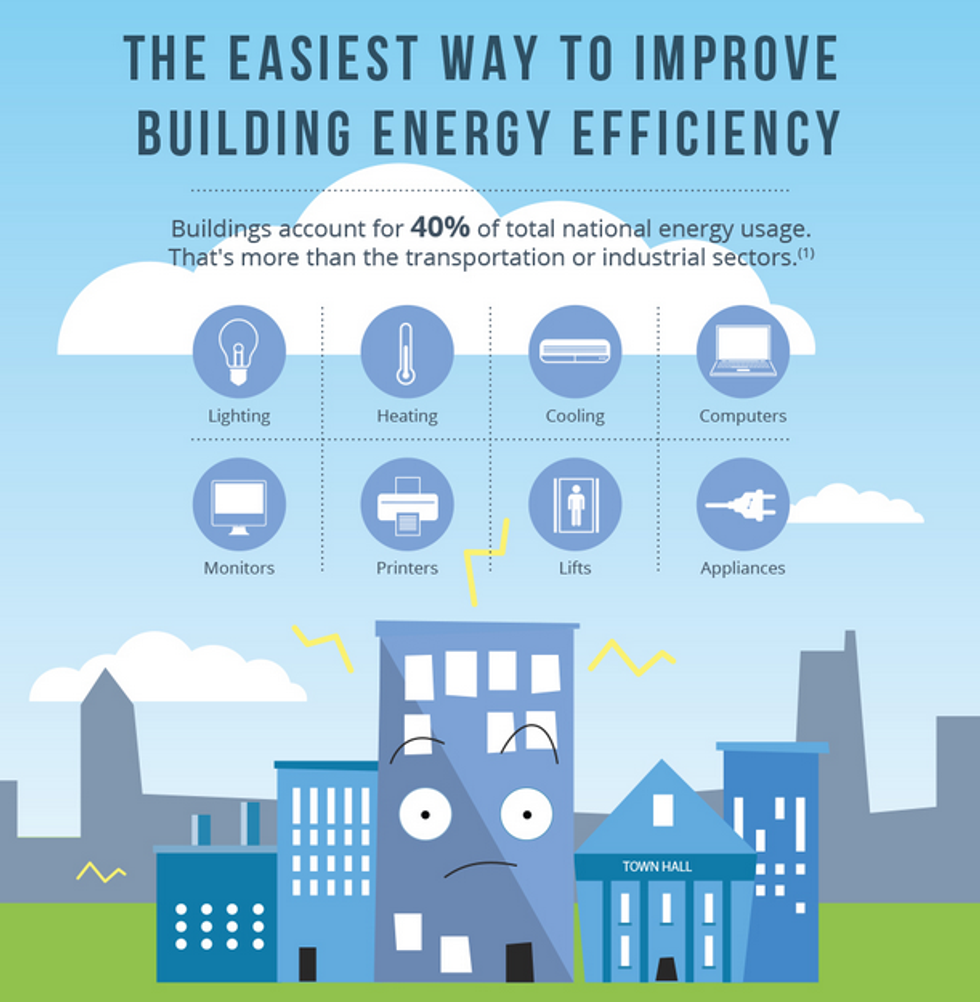 The report suggests that analysis of data is the easiest way for building owners and tenants to make properties greener. The three main energy suckers during a building's off hours are heating, ventilation and air conditioning (HVAC) systems, lighting and plugged-in appliances. Those three account for 75 percent of usage.
Since HVAC and lighting systems are often centralized, plugs should be the main focus and starting point for those seeking efficiency. It most likely will come down to a change in behavioral patterns.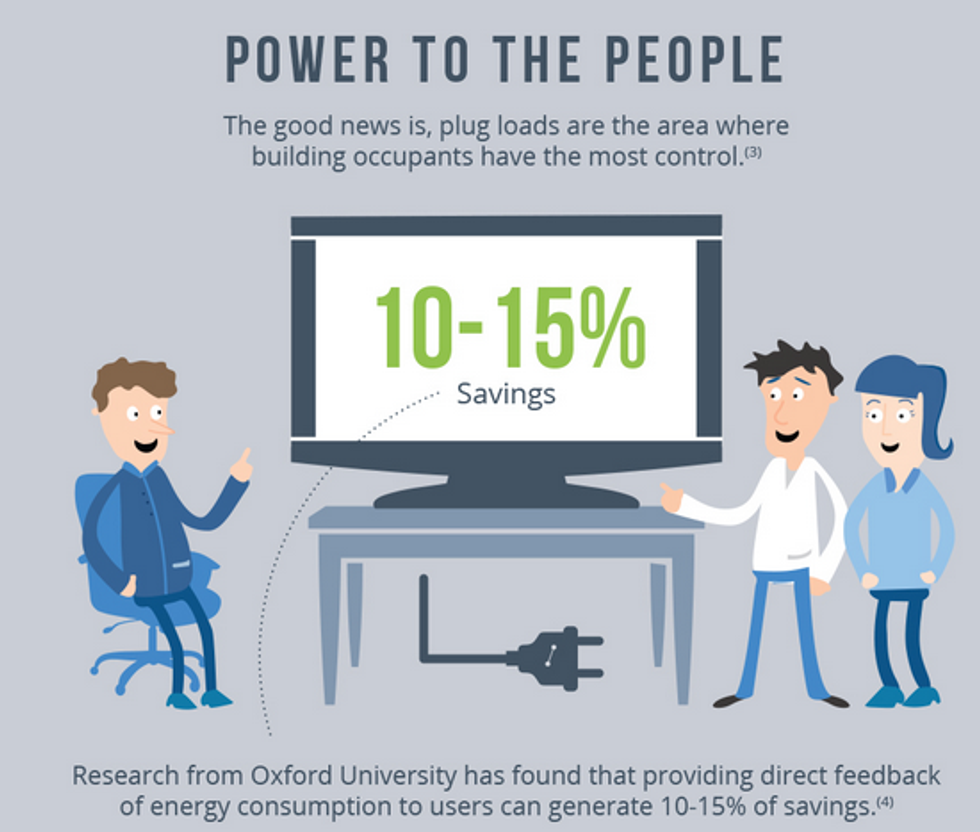 Graphic credit: Greensense
"For the most part, as building users we give little thought to how our daily choices impact energy efficiency, yet we've seen time and time again that, by increasing occupants' awareness and providing feedback in a relevant, actionable way, it's possible to realize significant savings," the report reads.
Here are a few tips and questions building operators should ask themselves:
What's our biggest out of hours opportunity? Is our main energy user plug loads, lighting, HVAC or maybe the server room? 
If plug loads (most likely), what are the biggest offenders? 
Are there any devices that are left on but not used at night? Can we upgrade, use a power saving mode or simply turn them off?
Armed with this information, which building occupants and champions should we engage to see the biggest results?
What data will people need to be aware of and how can we provide it in an engaging way?
What other relevant information can we provide to educate and motivate people? Remember to always frame any data you're sharing in a way that your staff can easily understand and relate to. 
How else can we encourage behavior change? e.g. an energy saving competition or a tie-in with an event such as Earth Hour or the Global Corporate Challenge.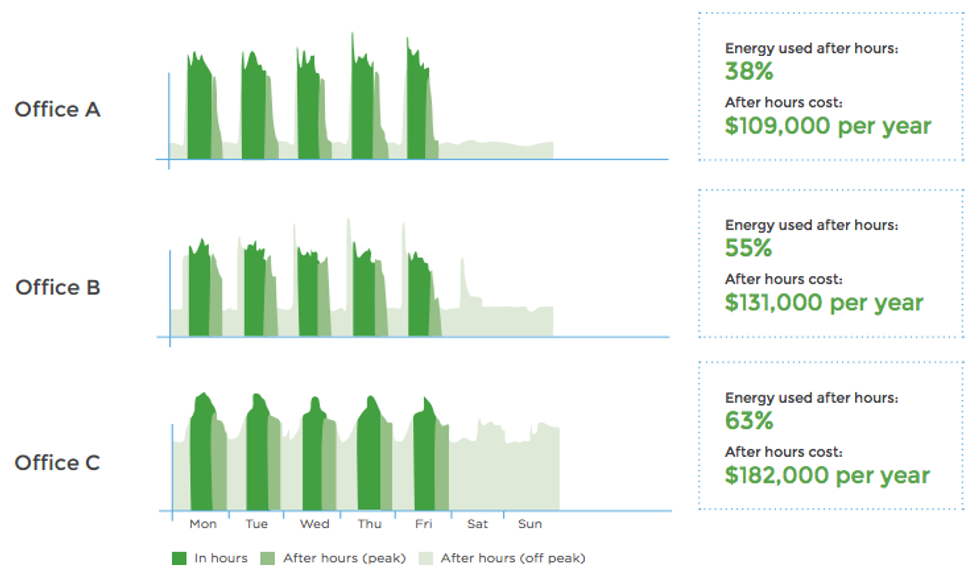 Graphic credit: Greensense
"There will likely be a number of (often competing) project options, whether it's covering the building in solar panels or turning up the set point on the [air conditioning]," the report reads. "While many of these projects will have merit, a number will present significant obstacles such as upfront cost (solar panels) or push back from building occupants (air conditioning tweaks).
"By starting your energy saving quest by focusing on out of hours use[d], you remove most of these barriers."

EcoWatch Daily Newsletter
Investing in grid infrastructure would enable utilities to incorporate modern technology, making the grid more resilient and flexible. STRATMAN2 / FLICKR
By Elliott Negin
The Royal Swedish Academy of Sciences' recent decision to award the 2019 Nobel Prize in Chemistry to scientists who developed rechargeable lithium-ion batteries reminded the world just how transformative they have been. Without them, we wouldn't have smartphones or electric cars. But it's their potential to store electricity generated by the sun and the wind at their peak that promises to be even more revolutionary, reducing our dependence on fossil fuels and protecting the planet from the worst consequences of climate change.
Two Javan rhinos deep in the forests of Ujung Kulon National Park, the species' last habitat on Earth. Sugeng Hendratno / WWF
The global population of the critically endangered Javan rhinoceros has increased to 72 after four new calves were spotted in the past several months.
A tiger looks out from its cage at a new resort and zoo in the eastern Lao town of Tha Bak on Dec. 5, 2018. Karl Ammann believes the "zoo" is really a front for selling tigers. Terrence McCoy / The Washington Post / Getty Images
Are tigers extinct in Laos?
That's the conclusion of a detailed new study that found no evidence wild tigers still exist in the country.
A group of scientists is warning that livestock production must not expand after 2030 for the world to stave off ecological disaster.
The largest wetland in Africa is in the South Sudan. George Steinmetz / Corbis Documentary / Getty Images Plus
Methane emissions are a far more powerful greenhouse gas than carbon dioxide – about 28 times more powerful. And they have been rising steadily since 2007. Now, a new study has pinpointed the African tropics as a hot spot responsible for one-third of the global methane surge, as Newsweek reported.