62 Richest People on Earth Own the Same Wealth as Half the World's Population
A mere 62 people own the same amount of wealth as the world's poorest 3.6 billion people, according to an Oxfam report published on Monday. This number has fallen dramatically from 388 as recently as 2010 and 80 last year.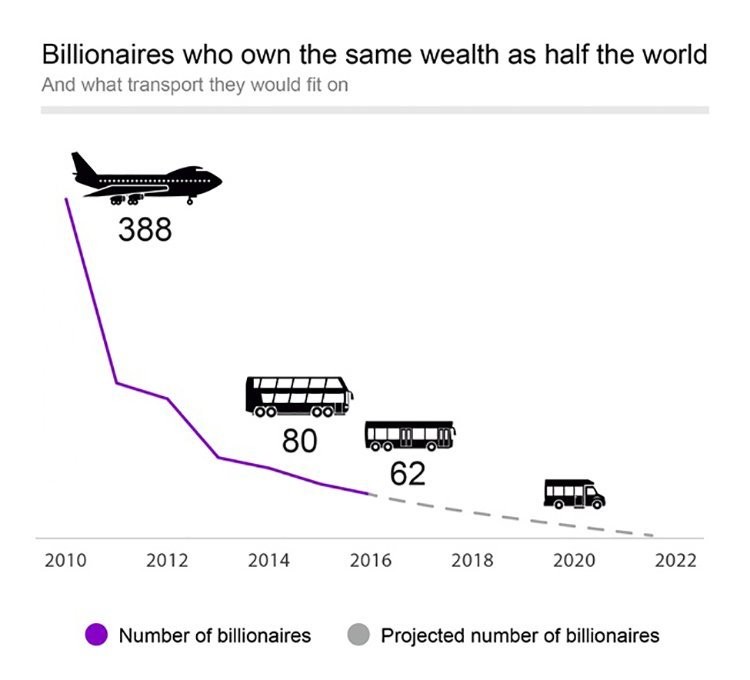 The report, An Economy for the 1 Percent, found that the wealth of the poorest half of the world's population has fallen by a trillion dollars since 2010.
"This 41 percent drop has occurred despite the global population increasing by around 400 million people during that period," Oxfam said. "Meanwhile the wealth of the richest 62 has increased by more than half a trillion dollars to $1.76 trillion."
Using data from Credit Suisse, Oxfam also found that the richest 1 percent now has as much wealth as the rest of the world combined.
"It is simply unacceptable that the poorest half of the world population owns no more than a small group of the global super-rich—so few, you could fit them all on a single coach," Mark Goldring, Oxfam Great Britain chief executive, said.
The report comes ahead of the World Economic Forum, an annual gathering of financial and political elites in Davos, Switzerland, which will take place Jan. 20 to Jan. 23.
"World leaders' concern about the escalating inequality crisis has so far not translated into concrete action to ensure that those at the bottom get their fair share of economic growth," Goldring said. "In a world where one in nine people go to bed hungry every night we cannot afford to carry on giving the richest an ever bigger slice of the cake.
"It is no longer good enough for the richest to pretend that their wealth benefits the rest of us when the facts show that the recent explosion in the wealth of the super-rich has come at the expense of the poorest.
"Ending extreme poverty requires world leaders to tackle the growing gap between the richest and the rest which has trapped hundreds of millions of people in a life of poverty, hunger and sickness."
The wealth of the richest 62 was calculated using Forbes' billionaires list. The list of 62 includes Bill Gates, Warren Buffett, the Koch brothers and the Walmart heirs.
David and Charles Koch, principle owners of Koch Industries, are tied for sixth place on Forbes' billionaire list with each having an estimated net worth of $42.9 billion. The Koch brothers stand out with the second largest private company by revenue in the U.S.
"Few outside business circles know ... how pervasive their company's industrial influence is on our everyday lives," explained Popular Mechanics.
The Rolling Stone reported:
"The volume of Koch Industries' toxic output is staggering. According to the University of Massachusetts Amherst's Political Economy Research Institute, only three companies rank among the top 30 polluters of America's air, water and climate: ExxonMobil, American Electric Power and Koch Industries.
Thanks in part to its 2005 purchase of paper-mill giant Georgia-Pacific, Koch Industries dumps more pollutants into the nation's waterways than General Electric and International Paper combined. The company ranks 13th in the nation for toxic air pollution. Koch's climate pollution, meanwhile, outpaces oil giants including Valero, Chevron and Shell. Across its businesses, Koch generates 24 million metric tons of greenhouse gases a year."
And they've used their vast wealth to back candidates and legislation that weaken environmental regulations that safeguard human health. Their network of conservative mega-donors, or the Freedom Partners Chamber of Commerce, raised $400 million in the 2012 election, and they plan to spend $889 million for the 2016 presidential race, according to the The Washington Post.
YOU MIGHT ALSO LIKE
Hillary Clinton Demands Action on Flint Water Crisis at #DemDebate
Monsanto, the maker of the glyphosate-based herbicide Roundup, filed a motion June 16 in U.S. District Court, Northern District of California to reconsider the chemical's addition to California's Proposition 65 list of agents known to cause cancer.
The agrochemical giant made this move based on a June 14 Reuters investigation of Dr. Aaron Blair, a lead researcher on the World Health Organization's International Agency for Research on Cancer (IARC) committee, that classified glyphosate as a "2A probable human carcinogen" in March 2015.
Keep reading...
Show less
By Avery Friedman
Algae is often considered a nuisance, but for Sweden, the rapidly growing sea plant is now an asset.
As the Scandinavian country works to cut all of its greenhouse gas emissions by 2045, it's using algae to sop up the carbon emissions from cement.
Keep reading...
Show less
Jun. 24, 2017 01:35PM EST
By Itai Vardi
A recent intensification in protests against Williams Partners' planned Atlantic Sunrise pipeline in Pennsylvania prompted a state senator to propose legislation aimed at limiting demonstrations.
Last month, Pennsylvania Sen. Scott Martin (R-Norman) announced his intention to introduce legislation that would pass the costs of law enforcement responding to protests onto the demonstrators. Martin also helped introduce a different bill that would criminalize protests at natural gas facilities.
Keep reading...
Show less
Jun. 24, 2017 01:29PM EST
Black Shogun / iStock
The Federal Energy Regulatory Commission (FERC) released its Final Environmental Impact Statement Friday for the Mountain Valley Pipeline, a controversial 303-mile pipeline that would carry two billion cubic feet of fracked gas per day from West Virginia through Virginia.
Keep reading...
Show less
Jun. 24, 2017 01:46PM EST
Falcon PEV
The so-called "first and last mile" problem is one of the biggest hurdles with public transportation. How do you encourage more people to take Earth-friendlier commutes when their homes are miles away from the train or bus station?
One solution, as this Estonian electric scooter company proposes, is to simply take your commute with you—literally. Tallinn-based Stigo has developed a compact e-scooter that folds to the size of a rolling suitcase in about two seconds.
Keep reading...
Show less
Jun. 24, 2017 05:12PM EST
Connect4Climate
[Editor's note: I'm still in shock after hearing the news that Lucia Grenna passed away in her sleep last week. When we first met in April of 2014 at a Copenhagen hotel, I was immediately taken by here powerful presence. We spent the next couple days participating in a Sustainia climate change event where Lucia presented her audacious plans to connect people to the climate issue. I had the chance to partner with Lucia on several other projects throughout the years and work with her incredible Connect4Climate team. I was always in awe of her ability to "make the impossible possible." Her spirit will live on forever. — Stefanie Spear]
It is with a heavy heart that Connect4Climate announces the passing of its founder and leading light, Lucia Grenna. Lucia passed peacefully in her sleep on June 15, well before her time. We remember her for her leadership and extraordinary ability to motivate people to take on some of the greatest challenges of our time, not least climate change.
Keep reading...
Show less
Jun. 23, 2017 07:29PM EST
Wikimedia Commons
By Stacy Malkan
Neil deGrasse Tyson has inspired millions of people to care about science and imagine themselves as participants in the scientific process. What a hopeful sign it is to see young girls wearing t-shirts emblazoned with the words, "Forget princess, I want to be an astrophysicist."
Keep reading...
Show less
Jun. 23, 2017 01:57PM EST
www.youtube.com
By Andy Rowell
Any day now we will truly witness climate change in action. Within days at worst, maybe weeks at best, scientists predict that a huge section of the Larsen C ice shelf in Antarctica will break off into the ocean, in what is called a major "carving" event.
Keep reading...
Show less
Jun. 23, 2017 02:27PM EST
www.youtube.com
President Trump visited Cedar Rapids, Iowa on June 21 to speak to a large crowd in the U.S. Cellular Center at a political rally organized by his campaign.
As Trevor Noah noted during The Daily Show episode last night (starts at 2:25), the real reason Trump has these rallies is to "get back in front of his loyal crowds and feed of their energy." Noah believes that "Trump supporters are so on board with their dude he can say anything and they'll come along for the ride."
Keep reading...
Show less