This website uses cookies to ensure you get the best experience while browsing it. By clicking 'Got It' you're accepting these terms.
6 Urban Farms Revolutionizing Where Food Is Grown
May. 06, 2015 09:15AM EST
Popular
Urban agriculture has really made a comeback in the U.S. in recent years. The U.N. Food and Agriculture Organization reports that 800 million people worldwide grow fruits or vegetables or raise animals in cities, producing an impressive 15 to 20 percent of the world's food. The U.N. Food and Agriculture Organization notes that while many city dwellers in the developing world grow food for subsistence, food production has been brought back to city centers in recent years in developed countries in a concerted effort to address sustainability issues in our food system.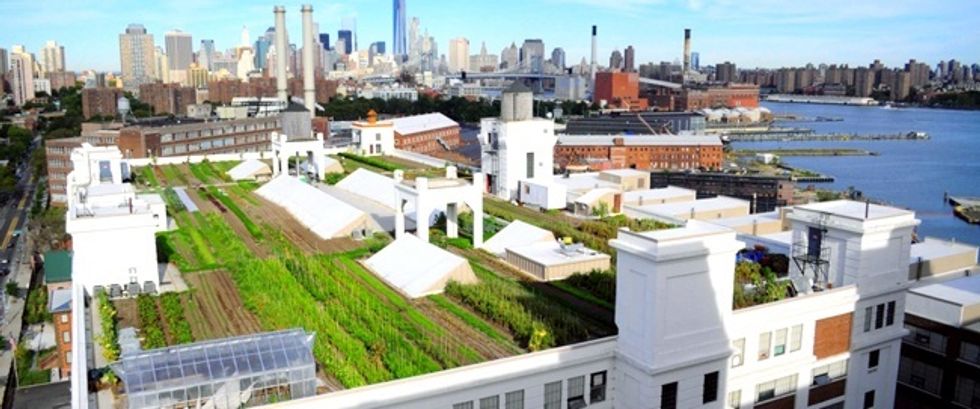 The U.S. Department of Agriculture doesn't track numbers of urban farmers, but based on demand for its programs that fund education and infrastructure in support of urban agriculture projects, and on surveys of urban agriculture in select cities, it affirms that business is booming, according to GreenBiz.
We at EcoWatch have documented how cities around the world are developing and expanding their local food systems to create a more sustainable method of food production and distribution, which will become increasingly necessary as cities adapt to climate change. Urban farming is often criticized for not being scaleable.
While urban agriculture will probably never replace rural agriculture, these six urban farms show that urban agriculture can play a significant role in sustainable food production:
Gotham Greens has four state of the art greenhouses where its workers grow organic greens year round. Its flagship greenhouse, built in 2010, was the first commercial scale rooftop greenhouse in the U.S, according to the company. The rooftop greenhouse measures over 15,000 square feet and annually produces over 100 tons of fresh leafy greens.
Food Field, founded in 2011, is helping revitalize Detroit by producing "fresh, healthy, and delicious food while improving the neighborhood and creating economic opportunities." Its founders, Noah Link and Alex Bryan, believe in using environmental and social goals to develop "a successful, community-based business [that meets] the need for local, affordable, and sustainably produced food."
Farmed Here is the nation's largest indoor farm, pumping out roughly a million pounds per year of baby salad greens, basil and mint in its 90,000-square-foot warehouse on the industrial outskirts of Chicago, according to GreenBiz.
Brooklyn Grange operates the world's largest rooftop soil farm out of two buildings in New York City, totaling 2.5 acres, according to National Geographic. The farm grows more than 50,000 pounds of organic produce each year, and distributes it through farmers' markets, community-supported agriculture networks, and wholesale to restaurants and catering companies.
Farmscape Gardens is California's largest urban farming company, but unlike other companies on the list, this LA-based company's urban farms are dispersed throughout 400 locations, where its employees have installed and maintained sites at residences and businesses around the city.
Green City Growers Cooperative is a 3.25-acre leafy greens, hydroponic greenhouse in Cleveland, Ohio. The greenhouse, which opened in 2013, has 15,000 square feet of packinghouse and office space, and is currently producing Butterhead lettuce, Cleveland Crisp, Green leaf lettuce, gourmet lettuces and basil.
YOU MIGHT ALSO LIKE
 10 Superfoods You Can Buy This Spring at Your Local Farmers' Markets
 Panera Bread to Drop 150 'Unacceptable' Additives From Its Menu
Tiny House on Wheels Provides 'Giant Journey' for Couple + Their Dog
EcoWatch Daily Newsletter
Doctors report that only 1 in 4 children are getting the recommended 60 minutes of physical activity per day. Ronnie Kaufman / DigitalVision / Getty Images
By Dan Gray
Pediatricians are being urged to start writing "exercise prescriptions" for the children they see in their office.
A First Nations protester walks in front of a train blockade in Tyendinaga, near Belleville, Ontario, Canada on Feb. 21, 2020. LARS HAGBERG / AFP via Getty Images
An indigenous rail blockade that snarled train travel in Canada for more than two weeks came to an end Monday when police moved in to clear protesters acting in solidarity with another indigenous community in British Columbia (B.C.), which is fighting to keep a natural gas pipeline off its land.
A rainbow snake, a rare reptile spotted in a Florida county for the first time in more than 50 years, seen here on July 5, 2013.
Kevin Enge / FWC Fish and Wildlife Research Institute / Flickr
A Florida hiker recently stumbled across a slithering surprise — a rare snake that hadn't been spotted in the area for more than 50 years.
We need our government to do everything it can to stop PFAS contamination and exposure from wreaking havoc in communities across the country. LuAnn Hun /
Unsplash
By Genna Reed
The EPA announced last week that it is issuing a preliminary regulatory determination for public comment to set an enforceable drinking water standard to two of the most common and well-studied PFAS, PFOA and PFOS.
This decision is based on three criteria:
PFOA and PFOS have an adverse effect on public health
PFOA and PFOS occur in drinking water often enough and at levels of public health concern;
regulation of PFOA and PFOS is a meaningful opportunity for reducing the health risk to those served by public water systems.
Charging EVs in Stockholm: But where does a dead battery go? Ranjithsiji / Wikimedia Commons
By Kieran Cooke
Driving an electric-powered vehicle (EV) rather than one reliant on fossil fuels is a key way to tackle climate change and improve air quality — but it does leave the old batteries behind as a nasty residue.