This website uses cookies to ensure you get the best experience while browsing it. By clicking 'Got It' you're accepting these terms.
6 Urban Farms Revolutionizing Where Food Is Grown
May. 06, 2015 09:15AM EST
Popular
Urban agriculture has really made a comeback in the U.S. in recent years. The U.N. Food and Agriculture Organization reports that 800 million people worldwide grow fruits or vegetables or raise animals in cities, producing an impressive 15 to 20 percent of the world's food. The U.N. Food and Agriculture Organization notes that while many city dwellers in the developing world grow food for subsistence, food production has been brought back to city centers in recent years in developed countries in a concerted effort to address sustainability issues in our food system.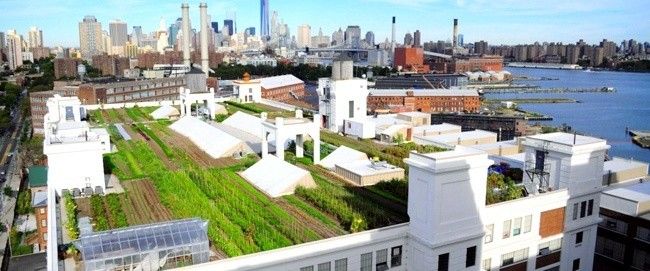 The U.S. Department of Agriculture doesn't track numbers of urban farmers, but based on demand for its programs that fund education and infrastructure in support of urban agriculture projects, and on surveys of urban agriculture in select cities, it affirms that business is booming, according to GreenBiz.
We at EcoWatch have documented how cities around the world are developing and expanding their local food systems to create a more sustainable method of food production and distribution, which will become increasingly necessary as cities adapt to climate change. Urban farming is often criticized for not being scaleable.
While urban agriculture will probably never replace rural agriculture, these six urban farms show that urban agriculture can play a significant role in sustainable food production:
Gotham Greens has four state of the art greenhouses where its workers grow organic greens year round. Its flagship greenhouse, built in 2010, was the first commercial scale rooftop greenhouse in the U.S, according to the company. The rooftop greenhouse measures over 15,000 square feet and annually produces over 100 tons of fresh leafy greens.
Food Field, founded in 2011, is helping revitalize Detroit by producing "fresh, healthy, and delicious food while improving the neighborhood and creating economic opportunities." Its founders, Noah Link and Alex Bryan, believe in using environmental and social goals to develop "a successful, community-based business [that meets] the need for local, affordable, and sustainably produced food."
Farmed Here is the nation's largest indoor farm, pumping out roughly a million pounds per year of baby salad greens, basil and mint in its 90,000-square-foot warehouse on the industrial outskirts of Chicago, according to GreenBiz.
Brooklyn Grange operates the world's largest rooftop soil farm out of two buildings in New York City, totaling 2.5 acres, according to National Geographic. The farm grows more than 50,000 pounds of organic produce each year, and distributes it through farmers' markets, community-supported agriculture networks, and wholesale to restaurants and catering companies.
Farmscape Gardens is California's largest urban farming company, but unlike other companies on the list, this LA-based company's urban farms are dispersed throughout 400 locations, where its employees have installed and maintained sites at residences and businesses around the city.
Green City Growers Cooperative is a 3.25-acre leafy greens, hydroponic greenhouse in Cleveland, Ohio. The greenhouse, which opened in 2013, has 15,000 square feet of packinghouse and office space, and is currently producing Butterhead lettuce, Cleveland Crisp, Green leaf lettuce, gourmet lettuces and basil.
YOU MIGHT ALSO LIKE
 10 Superfoods You Can Buy This Spring at Your Local Farmers' Markets
 Panera Bread to Drop 150 'Unacceptable' Additives From Its Menu
Tiny House on Wheels Provides 'Giant Journey' for Couple + Their Dog
EcoWatch Daily Newsletter
Artist's conception of solar islands in the open ocean. PNAS
Millions of solar panels clustered together to form an island could convert carbon dioxide in seawater into methanol, which can fuel airplanes and trucks, according to new research from Norway and Switzerland and published in the Proceedings of the National Academy of Sciences journal, PNAS, as NBC News reported. The floating islands could drastically reduce greenhouse gas emissions and dependence on fossil fuels.
Marcos Alves / Moment Open / Getty Images
More than 40 percent of insects could go extinct globally in the next few decades. So why did the U.S. Environmental Protection Agency (EPA) last week OK the 'emergency' use of the bee-killing pesticide sulfoxaflor on 13.9 million acres?
EcoWatch teamed up with Center for Biological Diversity via EcoWatch Live on Facebook to find out why. Environmental Health Director and Senior Attorney Lori Ann Burd explained how there is a loophole in the The Federal Insecticide, Fungicide, and Rodenticide Act under section 18, "that allows for entities and states to request emergency exemptions to spraying pesticides where they otherwise wouldn't be allowed to spray."
Simple swaps that cut down on kitchen trash.
Sponsored
By Kayla Robbins
Along with the bathroom, the kitchen is one of the most daunting areas to try and make zero waste.
View of downtown Miami, Florida from Hobie Island on Feb. 2, 2019.
Michael Muraz / Flickr
The Democratic candidates for president descended upon Miami for a two-night debate on Wednesday and Thursday. Any candidate hoping to carry the state will have to make the climate crisis central to their campaign, as The New York Times reported.
By Sharon Kelly
On Monday, the Wall Street Journal featured a profile of Scott Sheffield, CEO of Pioneer Natural Resources, whose company is known among investors for its emphasis on drawing oil and gas from the Permian basin in Texas using horizontal drilling and hydraulic fracturing, or fracking.
Pexels
By Craig K. Chandler
The federal government has available to it, should it choose to use them, a wide range of potential climate change management tools, going well beyond the traditional pollution control regulatory options. And, in some cases (not all), without new legislative authorization.
Denis Poroy / Getty Images
By Dan Gray
Processed foods, in their many delicious forms, are an American favorite.
But new research shows that despite increasing evidence on just how unhealthy processed foods are, Americans have continued to eat the products at the same rate.
By Sarah Steffen
With a profound understanding of their environmental surroundings, indigenous communities around the world are often cited as being pivotal to tackling climate change.