This website uses cookies to ensure you get the best experience while browsing it. By clicking 'Got It' you're accepting these terms.
59 Indigenous Corn Varieties at Risk as Monsanto Eyes Mexico
Jan. 15, 2016 01:34PM EST
Food
Mexico's unique and treasured native corn varieties could be under threat as Monsanto, the world's largest seed producer, vies to plant genetically modified (GMO) corn in the country.
In August 2015, a Mexican judged overturned a September 2013 ban on GMO corn, thus opening more business opportunities for Monsanto and other agribusinesses pending favorable later court decisions. Monsanto even announced in October 2015 that it was seeking to double its sales in the country over the next five years.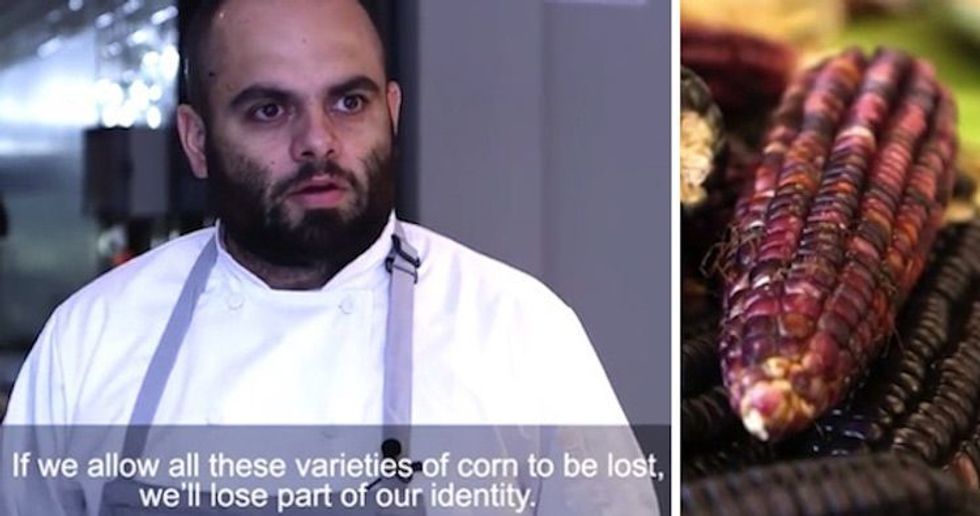 The GMO corn ban remains pending a ruling on the appeal, but a final decision could end up in Mexico's supreme court.
Monsanto, which is seeking five permits to grow GMO corn in five areas in northern Mexico, touts that the bioengineered crop is a ticket out of poverty for small farmers since the crops purportedly result in higher yields and profits, the Financial Times reported.
"It's incredible that we are not giving [small farmers] the option to cross the poverty line," Monsanto's chief executive for northern Latin America, Manuel Bravo told the publication.
He added that the controversial multinational company has trouble "communicating" its message.
"We're the company that employs the most PhDs in the world after NASA. We're good at talking to Petri dishes, but we were no good at communicating," Bravo said.
However, community advocates and chefs warn that Mexico's 59 indigenous corn varieties could be under threat by GMOs. As you can see in this video from the Financial Times, the country's most noted chefs are speaking out against a possible takeover. Roughly 80 other Mexican chefs have also joined the fight against GMO corn.
"If we allow all these varieties of corn to be lost, we'll lose part of our identity," said Chef Pancho Ibanez of the world-renowned Pujol in Mexico City. "It's as if we were cutting of our feet, cutting off the roots of a tree. It's something that could seem so simple, so basic but it's our past, present and future."
According to Rabobank, the prominent Netherlands-based food and agribusiness banking company, Mexico is second largest importer of corn in the world, as well as the sixth largest producer and the sixth largest consumer of corn in the world.
Additionally, the bank said, Mexico has two different corn markets: one for white corn (mainly for human consumption) and the other for yellow corn (mainly for animal feed).
Mexico imports its yellow corn from the U.S., and since 90 percent of U.S. corn is grown from Monsanto's genetically modified seeds, this mean Monsanto is inadvertently dominating Mexico's yellow corn market.
EcoWatch reported in November that a staunch anti-GMO movement has swelled in the country in order to preserve the unique biodiversity of Mexico's staple crop. As the World Watch Institute wrote:
For years, scientists and environmental activists have been warning the Mexican government that GMOs in imported corn could harm Mexico's exceptionally rich biological and cultural diversity. The known risks of GMOs include the creation of hard-to-control weedy relatives of crops through "crop-to-wild hybridization," the development of insect pests or weeds that are resistant to the chemicals used with GMO crops, and the unintentional poisoning of beneficial insects and non-target species.
YOU MIGHT ALSO LIKE
Outraged Republican Senator Vows to Block Appointment of FDA Commissioner Over GMO Salmon
Taiwan Bans GMOs in Schools, Mandates Strict Label Laws
Nestle, Pepsi Fined for Concealing GMOs as Campbell Soup Announces Voluntary Label
EcoWatch Daily Newsletter
Ocean pollution concept with plastic and garbage.
Anton Petrus
/ Moment / Getty Images
Nestlé cannot claim that its Ice Mountain bottled water brand is an essential public service, according to Michigan's second highest court, which delivered a legal blow to the food and beverage giant in a unanimous decision.
A number of supermarkets across the country have voluntarily issued a recall on sushi, salads and spring rolls distributed by Fuji Food Products due to a possible listeria contamination, as CBS News reported.
A U.S. Border Patrol agent gathers personal effects from immigrants before they are transferred to a McAllen processing center on July 02, 2019 in Los Ebanos, Texas. John Moore / Getty Images
Poverty and violence in Central America are major factors driving migration to the United States. But there's another force that's often overlooked: climate change.
Retired Lt. Cmdr. Oliver Leighton Barrett is with the Center for Climate and Security. He says that in Guatemala, Honduras and El Salvador, crime and poor economic conditions have long led to instability.
"And when you combine that with protracted drought," he says, "it's just a stressor that makes everything worse."
Barrett says that with crops failing, many people have fled their homes.
"These folks are leaving not because they're opportunists," he says, "but because they are in survival mode. You have people that are legitimate refugees."
So Barrett supports allocating foreign aid to programs that help people in drought-ridden areas adapt to climate change.
"There are nonprofits that are operating in those countries that have great ideas in terms of teaching farmers to use the land better, to harvest water better, to use different variety of crops that are more resilient to drought conditions," he says. "Those are the kinds of programs I think are needed."
So he says the best way to reduce the number of climate change migrants is to help people thrive in their home countries.
Reporting credit: Deborah Jian Lee / ChavoBart Digital Media.
Reposted with permission from Yale Climate Connections.
Chris Pratt arrives to the Los Angeles premiere of "Jurassic World: Fallen Kingdom" on June 12, 2018 in Los Angeles, California. Michael Tran / FilmMagic / Getty Images

Chris Pratt was called out on social media by Game of Thrones star Jason Momoa after Pratt posted an image "low key flexing" with a single-use plastic water bottle.