Food
Jan. 15, 2016 01:34PM EST
59 Indigenous Corn Varieties at Risk as Monsanto Eyes Mexico
Mexico's unique and treasured native corn varieties could be under threat as Monsanto, the world's largest seed producer, vies to plant genetically modified (GMO) corn in the country.
In August 2015, a Mexican judged overturned a September 2013 ban on GMO corn, thus opening more business opportunities for Monsanto and other agribusinesses pending favorable later court decisions. Monsanto even announced in October 2015 that it was seeking to double its sales in the country over the next five years.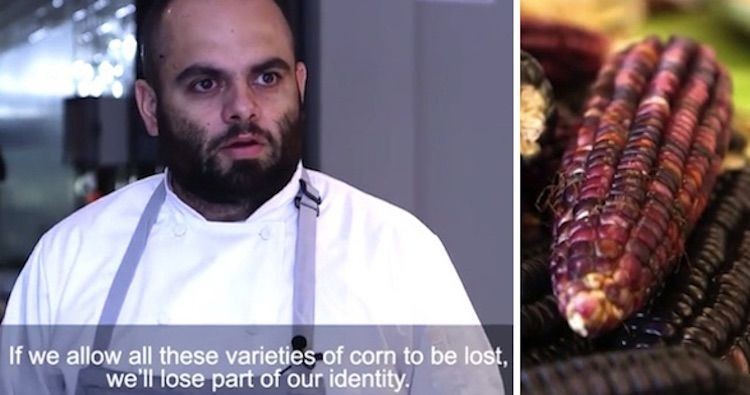 The GMO corn ban remains pending a ruling on the appeal, but a final decision could end up in Mexico's supreme court.
Monsanto, which is seeking five permits to grow GMO corn in five areas in northern Mexico, touts that the bioengineered crop is a ticket out of poverty for small farmers since the crops purportedly result in higher yields and profits, the Financial Times reported.
"It's incredible that we are not giving [small farmers] the option to cross the poverty line," Monsanto's chief executive for northern Latin America, Manuel Bravo told the publication.
He added that the controversial multinational company has trouble "communicating" its message.
"We're the company that employs the most PhDs in the world after NASA. We're good at talking to Petri dishes, but we were no good at communicating," Bravo said.
However, community advocates and chefs warn that Mexico's 59 indigenous corn varieties could be under threat by GMOs. As you can see in this video from the Financial Times, the country's most noted chefs are speaking out against a possible takeover. Roughly 80 other Mexican chefs have also joined the fight against GMO corn.
"If we allow all these varieties of corn to be lost, we'll lose part of our identity," said Chef Pancho Ibanez of the world-renowned Pujol in Mexico City. "It's as if we were cutting of our feet, cutting off the roots of a tree. It's something that could seem so simple, so basic but it's our past, present and future."
According to Rabobank, the prominent Netherlands-based food and agribusiness banking company, Mexico is second largest importer of corn in the world, as well as the sixth largest producer and the sixth largest consumer of corn in the world.
Additionally, the bank said, Mexico has two different corn markets: one for white corn (mainly for human consumption) and the other for yellow corn (mainly for animal feed).
Mexico imports its yellow corn from the U.S., and since 90 percent of U.S. corn is grown from Monsanto's genetically modified seeds, this mean Monsanto is inadvertently dominating Mexico's yellow corn market.
EcoWatch reported in November that a staunch anti-GMO movement has swelled in the country in order to preserve the unique biodiversity of Mexico's staple crop. As the World Watch Institute wrote:
For years, scientists and environmental activists have been warning the Mexican government that GMOs in imported corn could harm Mexico's exceptionally rich biological and cultural diversity. The known risks of GMOs include the creation of hard-to-control weedy relatives of crops through "crop-to-wild hybridization," the development of insect pests or weeds that are resistant to the chemicals used with GMO crops, and the unintentional poisoning of beneficial insects and non-target species.
YOU MIGHT ALSO LIKE
Outraged Republican Senator Vows to Block Appointment of FDA Commissioner Over GMO Salmon
Taiwan Bans GMOs in Schools, Mandates Strict Label Laws
Nestle, Pepsi Fined for Concealing GMOs as Campbell Soup Announces Voluntary Label
iStock
By Robert Coleman
The Environmental Working Group's (EWG) just-released Tap Water Database shows that a startling number of cancer-causing chemicals contaminate the nation's drinking water. Of 250 different contaminants detected in tests by local utilities, 93 are linked to an increased risk of developing cancer.
Keep reading...
Show less
Aaron Teasdale
By Aaron Teasdale
"How much moon do we have tonight?" I yelled to my friend Greg, trying to make myself heard over the sounds of wind and surging water. The sun was sinking toward the mountains all too quickly and our float-in campsite lay somewhere down the river's bends in darkening forest.
Greg shrugged. He had no clue of the moon's cycle either, which showed just how tragically pasty and over-civilized we'd turned. Our days had become filled with computer screens, not forest scenes; our nights capped with ceilings, not stars. All of which made this journey on standup paddleboards so sweet—or at least we hoped it would be sweet, if the pesky headwind would let up before we had to risk disfiguring ourselves while navigating boulder-strewn waters by headlamp and whatever light the moon might spare.
Keep reading...
Show less
By Rebekah Wilce
The world of independent chemical testing has a shiny veneer. The public is reassured that chemicals they're exposed to on a daily basis are certified by technicians in spotless white lab coats who carefully conduct scientific studies, including on animals in neat rows of cages.
But a federal grand jury investigation that ended with convictions in the early 1980s discovered that Industrial Bio-Test Laboratories (IBT), the largest such lab in the U.S., conducted trials with mice that regularly drowned in their feeding troughs. The dead animals would decompose so quickly that "their bodies oozed through wire cage bottoms and lay in purple puddles on the dropping trays." IBT even invented an acronym "TBD/TDA" for its raw safety data, later discovered to mean "too badly decomposed."
Keep reading...
Show less
iStock
Roman officials are considering shutting off the water supply to one-third of the city's residents for eight hours per day as early as this weekend, according to reports.
Keep reading...
Show less
Ararat Rock Solar farm in Mount Airy, North Carolina. NARENCO
North Carolina Gov. Roy Cooper signed a bill into law Thursday that will boost solar production but curb wind energy in the state.
House Bill 589, the result of months of arduous negotiations between utilities and the solar industry, is intended to encourage the continued growth of solar in the state, but it includes a moratorium on new wind projects for the next 18 months.
Keep reading...
Show less
Algal blooms in Lake St. Clair and in western Lake Erie in 2015. NASA Earth Observatory
Heavier rainfall linked to rising temperatures could substantially increase the volume of agricultural runoff flowing into waterways, triggering toxic algal blooms, according to new research.
A study published Thursday in the journal Science finds that heavier rainfall could increase nitrogen runoff in U.S. lakes, rivers and streams by 19 percent by the end of this century.
Keep reading...
Show less
iStock
By Jen Sawada
Sharks have been around for 400 million years, before the time of the dinosaurs, but there's much more to them than big teeth and summer blockbusters. Consider these facts, which will change what you think about sharks.
Keep reading...
Show less
Felix Kramer / Wikimedia
By Jason Mathers
The high level of confidence that automotive industry leaders have in the future of electric vehicles (EVs) has been on full display recently.
Keep reading...
Show less


Get EcoWatch in your inbox