This website uses cookies to ensure you get the best experience while browsing it. By clicking 'Got It' you're accepting these terms.


The best of EcoWatch, right in your inbox. Sign up for our email newsletter!
5 Ways to Green Your K-Cup
Mar. 06, 2015 09:05AM EST
Food
Since Keurig's K-Cup coffee system arrived on the market in the late '90s, single-serve coffee makers have exploded in popularity. In fiscal year 2013 alone, Green Mountain Coffee Roasters, owner of the Keurig Company since 2006, sold more than $827 million worth of brewers and other accessories, more than double its sales just three years before.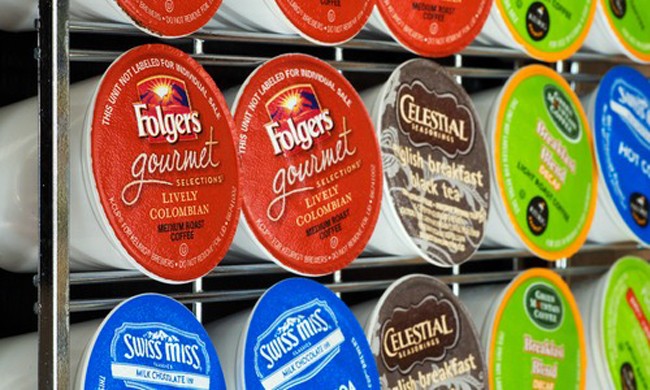 In 2013, Green Mountain Coffee produced enough coffee pods to wrap around the equator 10.5 times. Rob Hainer / Shutterstock.com
While the convenience and variety afforded by single-serve coffee systems is celebrated by many, the appliance's darker side—the mountains of unrecyclable waste that result from its use—is equally abhorred by environmentalists and others concerned about the impacts of on-demand coffee. To put this waste into perspective, John Sylvan, the system's creator, has himself estimated that a single K-Cup machine can create ten times more waste than a conventional drip brewer, and in fact now notes regretting his invention.
The environmental cost of landfilling or incinerating all of that valuable plastic has been widely discussed, but one element which has received less attention is the loss of valuable coffee grounds, which if collected, could create millions of tons of nutrient rich compost. Rich in nitrogen (energy used by bacteria to break down food waste), coffee grounds are a valuable addition to a compost pile and can even be added directly to indoor plants and gardens, if done properly.
In 2013, roughly 10 billion individual K-Cup packs were sold. At about 2 tablespoons of ground coffee per K-Cup, we're talking about 20 billion tablespoons, or more than 67 million gallons of waste coffee grounds every year! Yikes. That's a lot of waste and a lot of valuable compost.
Fortunately, more and more sustainable alternatives have been popping up on the market that allow you to keep using your single-serve system (and enjoying that hot cup of coffee when you want it) while reducing plastic waste and capturing the used coffee grounds for compost.
Here are five greener single-serve alternatives worth checking out:
1. Reusable Filters: Keurig's own reusable filter is a great option, but only if you have an older machine. Keurig does not make a reusable filter for its latest 2.0 model brewer. Another popular reusable filter is the Eko-Brew, but check their compatibility list to see if it will work with your machine. This single-piece system ranges from $9 for their classic plastic model to about $16 for a stainless steel model.
2. Recyclable K-Cups: Although Keurig says its K-Cups won't be recyclable until 2020, New England favorite Dean's Beans has launched a fully recyclable, #5 plastic K-Cup alternative, packed with their organic and fair trade coffee. A pack of 12 costs $8.99. Crazy Cups out of Brooklyn, New York, also sells a recyclable K-Cup, but it needs to be disassembled by the user. They run about $1.30 per cup. Before you order either of these options, check to see if #5 plastics are recyclable in your area.
3. Biodegradable and Compostable K-Cups: The Rogers Company offers OneCup, a K-Cup alternative made of 97 percent biodegradable materials filled with a variety of coffees. Canadian company Canterbury Coffee's OneCoffee label is 99 percent compostable by weight in commercial composting facilities. Their goal is to get to 100 percent compostable and start selling in the U.S. Another Canadian company, Club Coffee, plans to launch fully compostable coffee pods that will be sold in the United States through other brands.
4. Coffee Pods: New Hampshire Coffee has designed a 100 percent compostable coffee pod system of its own. The pods look like oversized tea bags and can be used in New Hampshire Coffee's own system or can be used in a Keurig-type system with the purchase of a Pod Holster. After brewing, the pods can be tossed into the compost with no disassembly, but they do come individually wrapped, so there is still some waste. Pods come in 18-count sleeves and cost $9. (The Pod Holster may not work with all brands of coffee makers.)
5. All-in-one K-Cup-free single-serve systems: If you don't already own a Keurig system, there are several K-Cup-free systems that brew single-serve coffee on demand. Breville's You Brew system, for example, allows you to brew one cup at a time or up to a 12-cup pot. The system has a holding tank for whole beans, which then get ground on demand for whatever size cup or pot you select. You Brew Systems cost between $230 and $250. Cuisinart makes a similar Coffee On Demand 12-Cup Programmable Coffee Maker using a reusable mesh filter for $99.95. These systems may seem like a big investment up front, but even the most conservative estimates out there show that K-Cup coffee costs two to five times as much as regular drip coffee. Then, of course, there's always the reliable French press—there are several single-serve versions on the market these days.
There's no question that on-demand coffee is a nice convenience, but it doesn't have to come at the expense of the environment. Once you've made the switch, make sure to compost those grounds! Here's a handy guide on various ways to compost and use coffee grounds. For once, you can have your coffee and even "eat it" too!
YOU MIGHT ALSO LIKE
K-Cup Inventor Admits He Doesn't Have a Keurig, Regrets Inventing Them … Find Out Why
6 Healthy Chain Restaurants That Your Kids Will Love
Record-Setting Indiegogo Campaign at $4.7 Million Takes Honeybee Entrepreneurs to New Heights
EcoWatch Daily Newsletter
PhotoAlto / Laurence Mouton / Getty Images
By Ana Reisdorf, MS, RD
You've probably heard the buzz around collagen supplements and your skin by now. But is the hype really that promising? After all, research has pointed to both the benefits and downsides of collagen supplements — and for many beauty-conscious folk, collagen isn't vegan.
Pixabay
By Marlene Cimons
Neil Pederson's introduction to tree rings came from a "sweet and kindly" college instructor, who nevertheless was "one of the most boring professors I'd ever experienced," Pederson said. "I swore tree rings off then and there." But they kept coming back to haunt him.
Aerial view of the explosion site of a chemical factory on March 22 in Yancheng, Jiangsu Province of China. Caixin Media / VCG / Getty Images)
At least 47 people have died in an explosion at a plant in Yancheng, China Thursday run by a chemical company with a history of environmental violations, Sky News reported.
A fishmonger in Elmina, a fishing port in the Central Region of Ghana. Environmental Justice Foundation
By Daisy Brickhill
Each morning, men living in fishing communities along Ghana's coastline push off in search of the day's catch. But when the boats come back to shore, it's the women who take over.
Pexels
By Sam Nickerson
Links between excess sugar in your diet and disease have been well-documented, but new research by Harvard's School of Public Health might make you even more wary of that next soda: it could increase your risk of an early death.
The study, published this week in the American Heart Association's journal Circulation, found that drinking one or two sugar-sweetened beverages (SSBs) each day — like sodas or sports drinks — increases risk of an early death by 14 percent.
Tyson Foods is recalling approximately 69,093 pounds of frozen chicken strips because they may have been contaminated with pieces of metal, the U.S. Department of Agriculture (USDA) Food Safety and Inspection Service (FSIS) announced Thursday.
The affected products were fully-cooked "Buffalo Style" and "Crispy" chicken strips with a "use by" date of Nov. 30, 2019 and an establishment number of "P-7221" on the back of the package.
"FSIS is concerned that some product may be in consumers' freezers," the recall notice said. "Consumers who have purchased these products are urged not to consume them. These products should be thrown away or returned to the place of purchase."
Environmental exposure to pesticides, both before birth and during the first year of life, has been linked to an increased risk of developing autism spectrum disorder, according to the largest epidemiological study to date on the connection.
The study, published Wednesday in BMJ, found that pregnant women who lived within 2,000 meters (approximately 1.2 miles) of a highly-sprayed agricultural area in California had children who were 10 to 16 percent more likely to develop autism and 30 percent more likely to develop severe autism that impacted their intellectual ability. If the children were exposed to pesticides during their first year of life, the risk they would develop autism went up to 50 percent.