This website uses cookies to ensure you get the best experience while browsing it. By clicking 'Got It' you're accepting these terms.
5 Ways to Green Your K-Cup
Mar. 06, 2015 09:05AM EST
Food
Since Keurig's K-Cup coffee system arrived on the market in the late '90s, single-serve coffee makers have exploded in popularity. In fiscal year 2013 alone, Green Mountain Coffee Roasters, owner of the Keurig Company since 2006, sold more than $827 million worth of brewers and other accessories, more than double its sales just three years before.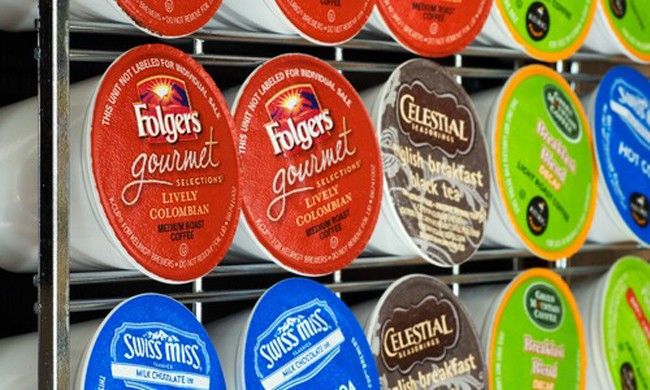 In 2013, Green Mountain Coffee produced enough coffee pods to wrap around the equator 10.5 times. Rob Hainer / Shutterstock.com
While the convenience and variety afforded by single-serve coffee systems is celebrated by many, the appliance's darker side—the mountains of unrecyclable waste that result from its use—is equally abhorred by environmentalists and others concerned about the impacts of on-demand coffee. To put this waste into perspective, John Sylvan, the system's creator, has himself estimated that a single K-Cup machine can create ten times more waste than a conventional drip brewer, and in fact now notes regretting his invention.
The environmental cost of landfilling or incinerating all of that valuable plastic has been widely discussed, but one element which has received less attention is the loss of valuable coffee grounds, which if collected, could create millions of tons of nutrient rich compost. Rich in nitrogen (energy used by bacteria to break down food waste), coffee grounds are a valuable addition to a compost pile and can even be added directly to indoor plants and gardens, if done properly.
In 2013, roughly 10 billion individual K-Cup packs were sold. At about 2 tablespoons of ground coffee per K-Cup, we're talking about 20 billion tablespoons, or more than 67 million gallons of waste coffee grounds every year! Yikes. That's a lot of waste and a lot of valuable compost.
Fortunately, more and more sustainable alternatives have been popping up on the market that allow you to keep using your single-serve system (and enjoying that hot cup of coffee when you want it) while reducing plastic waste and capturing the used coffee grounds for compost.
Here are five greener single-serve alternatives worth checking out:
1. Reusable Filters: Keurig's own reusable filter is a great option, but only if you have an older machine. Keurig does not make a reusable filter for its latest 2.0 model brewer. Another popular reusable filter is the Eko-Brew, but check their compatibility list to see if it will work with your machine. This single-piece system ranges from $9 for their classic plastic model to about $16 for a stainless steel model.
2. Recyclable K-Cups: Although Keurig says its K-Cups won't be recyclable until 2020, New England favorite Dean's Beans has launched a fully recyclable, #5 plastic K-Cup alternative, packed with their organic and fair trade coffee. A pack of 12 costs $8.99. Crazy Cups out of Brooklyn, New York, also sells a recyclable K-Cup, but it needs to be disassembled by the user. They run about $1.30 per cup. Before you order either of these options, check to see if #5 plastics are recyclable in your area.
3. Biodegradable and Compostable K-Cups: The Rogers Company offers OneCup, a K-Cup alternative made of 97 percent biodegradable materials filled with a variety of coffees. Canadian company Canterbury Coffee's OneCoffee label is 99 percent compostable by weight in commercial composting facilities. Their goal is to get to 100 percent compostable and start selling in the U.S. Another Canadian company, Club Coffee, plans to launch fully compostable coffee pods that will be sold in the United States through other brands.
4. Coffee Pods: New Hampshire Coffee has designed a 100 percent compostable coffee pod system of its own. The pods look like oversized tea bags and can be used in New Hampshire Coffee's own system or can be used in a Keurig-type system with the purchase of a Pod Holster. After brewing, the pods can be tossed into the compost with no disassembly, but they do come individually wrapped, so there is still some waste. Pods come in 18-count sleeves and cost $9. (The Pod Holster may not work with all brands of coffee makers.)
5. All-in-one K-Cup-free single-serve systems: If you don't already own a Keurig system, there are several K-Cup-free systems that brew single-serve coffee on demand. Breville's You Brew system, for example, allows you to brew one cup at a time or up to a 12-cup pot. The system has a holding tank for whole beans, which then get ground on demand for whatever size cup or pot you select. You Brew Systems cost between $230 and $250. Cuisinart makes a similar Coffee On Demand 12-Cup Programmable Coffee Maker using a reusable mesh filter for $99.95. These systems may seem like a big investment up front, but even the most conservative estimates out there show that K-Cup coffee costs two to five times as much as regular drip coffee. Then, of course, there's always the reliable French press—there are several single-serve versions on the market these days.
There's no question that on-demand coffee is a nice convenience, but it doesn't have to come at the expense of the environment. Once you've made the switch, make sure to compost those grounds! Here's a handy guide on various ways to compost and use coffee grounds. For once, you can have your coffee and even "eat it" too!
YOU MIGHT ALSO LIKE
K-Cup Inventor Admits He Doesn't Have a Keurig, Regrets Inventing Them … Find Out Why
6 Healthy Chain Restaurants That Your Kids Will Love
Record-Setting Indiegogo Campaign at $4.7 Million Takes Honeybee Entrepreneurs to New Heights
EcoWatch Daily Newsletter

georgeclerk / E+ / Getty Images
By Jennifer Molidor
One million species are at risk of extinction from human activity, warns a recent study by scientists with the United Nations. We need to cut greenhouse gas pollution across all sectors to avoid catastrophic climate change — and we need to do it fast, said the Intergovernmental Panel on Climate Change.
This research should serve as a rallying cry for polluting industries to make major changes now. Yet the agriculture industry continues to lag behind.
Edwin Remsburg / VW Pics / Getty Images
Botswana, home to one third of Africa's elephants, announced Wednesday that it was lifting its ban on the hunting of the large mammals.
"The Ministry of Environment, Natural Resources Conservation and Tourism wishes to inform the public that following extensive consultations with all stakeholders, the Government of Botswana has taken a decision to lift the hunting suspension," the government announced in a press release shared on social media.
Pxhere
By Richard Denison
Readers of this blog know how concerned EDF is over the Trump EPA's approval of many dozens of new chemicals based on its mere "expectation" that workers across supply chains will always employ personal protective equipment (PPE) just because it is recommended in the manufacturer's non-binding safety data sheet (SDS).
By Grant Smith
From 2009 to 2012, Gregory Jaczko was chairman of the Nuclear Regulatory Commission, which approves nuclear power plant designs and sets safety standards for plants. But he now says that nuclear power is too dangerous and expensive — and not part of the answer to the climate crisis.
A lake in Rocky Mountain National Park. Brett Walton / Circle of Blue
By Brett Walton
When Greg Wetherbee sat in front of the microscope recently, he was looking for fragments of metals or coal, particles that might indicate the source of airborne nitrogen pollution in Rocky Mountain National Park. What caught his eye, though, were the plastics.
Gabriele Holtermann Gorden / Pacific Press / LightRocket / Getty Images
In a big victory for animals, Prada has announced that it's ending its use of fur! It joins Coach, Jean Paul Gaultier, Giorgio Armani, Versace, Ralph Lauren, Vivienne Westwood, Michael Kors, Donna Karan and many others PETA has pushed toward a ban.
This is a victory more than a decade in the making. PETA and our international affiliates have crashed Prada's catwalks with anti-fur signs, held eye-catching demonstrations all around the world, and sent the company loads of information about the fur industry. In 2018, actor and animal rights advocate Pamela Anderson sent a letter on PETA's behalf urging Miuccia Prada to commit to leaving fur out of all future collections, and the iconic designer has finally listened.
Amer Ghazzal / Barcroft Media / Getty Images
If people in three European countries want to fight the climate crisis, they need to chill out more.
That's the conclusion of a new study from think tank Autonomy, which found that Germany, the UK and Sweden all needed to drastically reduce their workweeks to fight climate change.
Amazon Employees for Climate Justice held a press conference after the annual shareholder meeting on May 22. Amazon Employees for Climate Justice