Food
Jul. 28, 2015 10:00AM EST
5 Videos the Tuna Industry Doesn't Want You to See
Today, we're releasing five new video testimonials from Pacific tuna fishermen detailing the horrible conditions they've worked under. The interviews—conducted in a South Pacific port earlier this year—reveal incidents of abuse, inadequate or nonexistent pay, food and sleep deprivation, and even murder.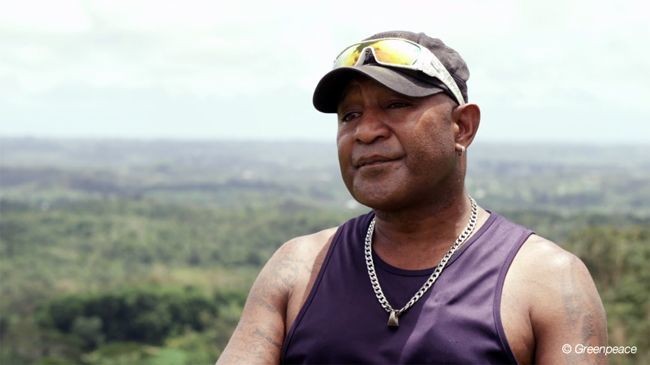 We heard first-hand from current and former tuna fisherman about the shocking abuse they've witnessed and endured working on fishing vessels. Photo credit: Greenpeace
As investigation after investigation after investigation continue to expose the poor state of the fishing industry, it's becoming more clear than ever that American consumers can't trust the seafood they feed their families. In the case of these particular fisherman, the horrific human rights abuses at sea are directly connected to the tuna industry, confirming that tuna companies have major work to do in order to clean up their supply chains and win back the trust of consumers.
Watch These Stories of Abuse at Sea
Trigger warning: these videos contain descriptions of violence that may be disturbing to some viewers.
Fishermen are often subject to bullying or intimidation for speaking up, meaning the harrowing stories captured below are hard to come by.
These videos were shot in a South Pacific port earlier this year. Three of the videos feature current or recent tuna fishermen from Indonesia, whose identities have been masked for their protection. The other videos feature an unmasked fishermen from Fiji, who details abuse from his time on a tuna boat ten years ago, revealing just how long these issues have been prevalent in the industry. Many of the men our team spoke to would not go on camera for fear of retribution against themselves or their family.
These are the stories that major tuna companies want to hide. Don't let them. Click here to tweet at some of the U.S.'s largest tuna brands.
"If the people above you are hitting you, then we are not being treated as humans, but more like animals."
"It was about one and a half years we worked for nothing. No salary at all."
"I feel sorry for my friend. He was thirsty at 1am and there wasn't any water. So he drank water from the air conditioner."
"I saw his fingers, they were missing. I asked what happened."
"So you'll have two to three hours sleep then you'll start again in the morning."
Targeting Tuna
These brave individuals and others like them are shining a light on the long history of abuse and slavery on tuna fishing vessels. Greenpeace has worked on tuna sustainability issues for years, and it's becoming increasingly clear that we must all work together to address the deeply ingrained human rights issues within the industry, as well.
Labor abuses and slavery that destroy the lives of workers and their families, and overfishing that destroys ocean life are both issues that stem from an out of control and under regulated industry. Greenpeace and a range of allies across the environmental and human rights movements are working to transform the tuna industry into one that is both just and sustainable.
As consumers, we should all be questioning where our tuna comes from.
In both the recent New York Times investigation and an Associated Press investigation in March, Thai Union—owner of Chicken of the Sea and soon Bumble Bee in the U.S.—was directly implicated for major human rights abuses and slavery at sea. This raises a glaring red flag that the largest tuna producer in the world has undeniable connections to this issue.
These stories—and the thousands of others like them that have gone untold—are a call to action for the tuna industry. Now more than ever, leaders must emerge to show that they take these issues seriously and are committed to addressing them in their global supply chains. There are a variety of solutions that companies and governments can begin implementing today that can address both the human rights abuses that are rampant and sustainability concerns.
Tuna fishing has become destructive for both people and the oceans—and it must be reformed immediately. Tweet at your favorite tuna company to let them know that you want them to proactively implement the solutions that will protect people and our oceans:
Tweet at Bumble Bee: It's unacceptable that tuna fishing is linked to human rights abuses. @BumbleBeeFoods, what actions are you taking?

Tweet at Chicken of the Sea: I'm calling on @COSMermaid to take action on human rights abuses in the tuna industry. You can too.

Tweet at Starkist: .@StarkistCharlie, are you playing your part to address human rights abuses in the tuna industry? We deserve to know.
YOU MIGHT ALSO LIKE
4 Best Places to Buy Your Seafood
Canned Tuna Shopping Guide: How Does Your Brand Stack Up?
Farmed Salmon Rejected Over Huge Spike in Antibiotic Use Due to Bacterial Outbreak
iStock
By Robert Coleman
The Environmental Working Group's (EWG) just-released Tap Water Database shows that a startling number of cancer-causing chemicals contaminate the nation's drinking water. Of 250 different contaminants detected in tests by local utilities, 93 are linked to an increased risk of developing cancer.
Keep reading...
Show less
Aaron Teasdale
By Aaron Teasdale
"How much moon do we have tonight?" I yelled to my friend Greg, trying to make myself heard over the sounds of wind and surging water. The sun was sinking toward the mountains all too quickly and our float-in campsite lay somewhere down the river's bends in darkening forest.
Greg shrugged. He had no clue of the moon's cycle either, which showed just how tragically pasty and over-civilized we'd turned. Our days had become filled with computer screens, not forest scenes; our nights capped with ceilings, not stars. All of which made this journey on standup paddleboards so sweet—or at least we hoped it would be sweet, if the pesky headwind would let up before we had to risk disfiguring ourselves while navigating boulder-strewn waters by headlamp and whatever light the moon might spare.
Keep reading...
Show less
By Rebekah Wilce
The world of independent chemical testing has a shiny veneer. The public is reassured that chemicals they're exposed to on a daily basis are certified by technicians in spotless white lab coats who carefully conduct scientific studies, including on animals in neat rows of cages.
But a federal grand jury investigation that ended with convictions in the early 1980s discovered that Industrial Bio-Test Laboratories (IBT), the largest such lab in the U.S., conducted trials with mice that regularly drowned in their feeding troughs. The dead animals would decompose so quickly that "their bodies oozed through wire cage bottoms and lay in purple puddles on the dropping trays." IBT even invented an acronym "TBD/TDA" for its raw safety data, later discovered to mean "too badly decomposed."
Keep reading...
Show less
iStock
Roman officials are considering shutting off the water supply to one-third of the city's residents for eight hours per day as early as this weekend, according to reports.
Keep reading...
Show less
Ararat Rock Solar farm in Mount Airy, North Carolina. NARENCO
North Carolina Gov. Roy Cooper signed a bill into law Thursday that will boost solar production but curb wind energy in the state.
House Bill 589, the result of months of arduous negotiations between utilities and the solar industry, is intended to encourage the continued growth of solar in the state, but it includes a moratorium on new wind projects for the next 18 months.
Keep reading...
Show less
Algal blooms in Lake St. Clair and in western Lake Erie in 2015. NASA Earth Observatory
Heavier rainfall linked to rising temperatures could substantially increase the volume of agricultural runoff flowing into waterways, triggering toxic algal blooms, according to new research.
A study published Thursday in the journal Science finds that heavier rainfall could increase nitrogen runoff in U.S. lakes, rivers and streams by 19 percent by the end of this century.
Keep reading...
Show less
iStock
By Jen Sawada
Sharks have been around for 400 million years, before the time of the dinosaurs, but there's much more to them than big teeth and summer blockbusters. Consider these facts, which will change what you think about sharks.
Keep reading...
Show less
Felix Kramer / Wikimedia
By Jason Mathers
The high level of confidence that automotive industry leaders have in the future of electric vehicles (EVs) has been on full display recently.
Keep reading...
Show less


Get EcoWatch in your inbox