This website uses cookies to ensure you get the best experience while browsing it. By clicking 'Got It' you're accepting these terms.


The best of EcoWatch, right in your inbox. Sign up for our email newsletter!
Over the last year, no area of sustainability has drawn as much interest from students in Columbia University's Sustainability Management graduate program than the environmental performance of the fashion industry. One of these students is Kwesi Blair, who has, himself, worked in the retail of fashion for a decade, and who has experienced, firsthand, the need for sustainability management in that industry. In this interview, Blair, discusses the integration of sustainability into the fashion industry. The M.S. in Sustainability Management program, says Blair, "has given me the tools to help integrate sustainable practices across all business units."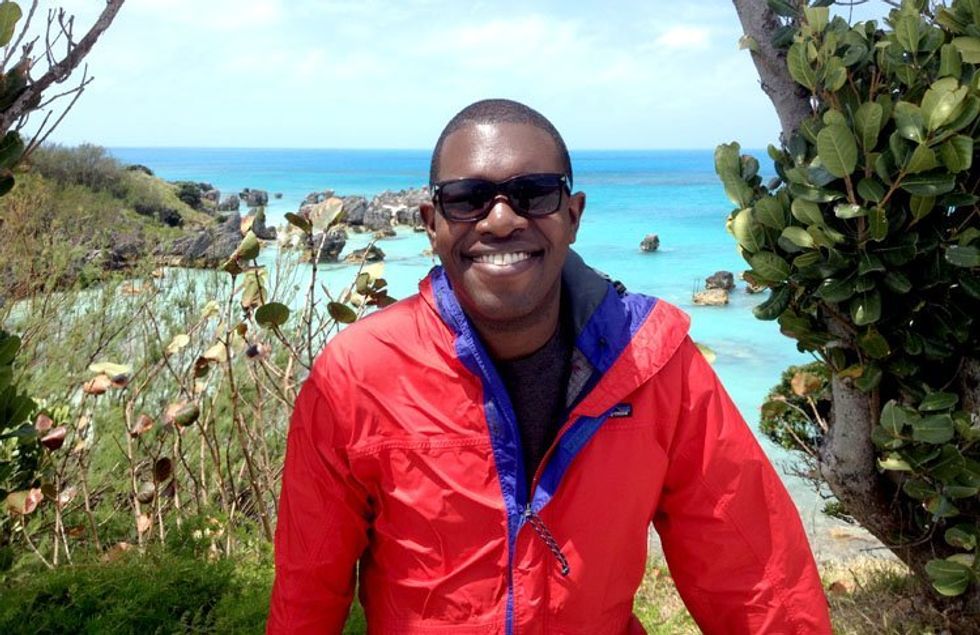 1. What is your current job and what are the responsibilities associated with your position?
I am Senior Vice President of Strategy at Robert Burke Associates. I am tasked with developing solutions for how brands and retailers think through growth, positioning, consumer engagement and relevance. I travel often to cities all over the world to assess opportunities for brands, and determine optimal strategies for entering new markets. I also regularly advise investors who want to understand whether or not certain brands and retailers are viable investment targets.
2. What have you found in your field that needs to improve and how do you intend to do so once you achieve your degree?
I have worked in fashion and retail developing strategy for over a decade, and continue to be disappointed and concerned by the lack of awareness or action within the industry around sustainability. I would like to use my degree to help brands navigate realistic sustainable goals that will ultimately improve their businesses, while taking responsibility for their environmental and social impacts.
3. What do you think is the most important sustainability challenge?
I believe the most important challenge is clearly communicating what sustainability means and getting people to understand why it's critical from a business perspective.
4. How have you applied what you've learned in the program so far?
I was able to introduce the GRI framework to a client and help them develop a materiality matrix for defining what issues relating to sustainability were most important to the company. This served as the foundation for the company to develop a sustainability report and establish clear, measurable goals.
5. What do you think is the most beneficial aspect of the MSSM program related to your career?
I think the program has given me the tools to help integrate sustainable practices across all business units in the retail industry. I often interact with a variety of teams who work in silos (design, marketing, logistics, finance, etc.) and rarely communicate with each other. I have a better sense of how best to create a realistic sustainability plan that can be applied to an entire organization, and identify where to generate the most impact. I feel comfortable discussing the value of having a sustainability strategy within the context of dollars and cents, which is what all business leaders ultimately care about.
6. Beyond the classroom, what extracurricular sustainability related have you engaged in with your fellow sustainability management students?
I've enjoyed going to a few happy hours outside of classes. The students in our program come from so many backgrounds and places around the world, and everyone is eager to share what they know. I've found that most students are very generous with making connections to people who might be able to offer some professional guidance or insight. It's a very welcoming environment.
7. What is your favorite class in the MSSM program so far and why?
Having the experience to work on a real problem with my fellow students was extremely valuable, having the opportunity to travel to Butte, Montana, in Lynnette Widder's Responsiveness and Resiliency in the Built Environment class was great preparation for Capstone. Also I got to spend more quality time with a few of my classmates.
8. What tips do you have for your fellow students who are looking for a job in sustainability?
Every person that you meet in the program is a possible resource or connection. Ask questions and learn about what people do and who they might know. Also, the professors and lecturers are very committed to helping students, so don't be shy about asking them about tapping into their network.
9. How has collaborating with your fellow students in projects in the classroom benefited you professionally and personally?
It's been really valuable to work with people who have a completely different frame of reference and skill set than me. The idea of sustainability touches on so many parts of an organization, so it's been really good to better understand how different professionals approach issues and solve problems. I feel confident that I can effectively communicate with CEO's, architects, scientists, investors, engineers, marketers and everyone in between.
The M.S. in Sustainability Management, co-sponsored by the Earth Institute and Columbia's School of Professional Studies, trains students to tackle complex and pressing environmental and managerial challenges. The program requires the successful completion of 36 credit points. Those credit points are divided among five comprehensive content areas: integrative sustainability management, economics and quantitative analysis, the physical dimensions of sustainability, the public policy environment of sustainability management, and general and financial management. Visit our website to learn more.
YOU MIGHT ALSO LIKE
Earth Institute Student Transforms Passion Into Action
Sustainability Management in Practice: Student Work Helps Establish Conservation Act in Palau
Earth Institute Students Help an Urban Farm Rethink Its Future
Turning passion for the environment into action that transforms how organizations do business requires skills and training. Columbia University's graduate program in Sustainability Management prepares students to change organizations in this way, graduating students like James Ossman of Etsy. In this interview, Ossman answers questions about how he integrates sustainability across the firm's global operations.
James Ossman, global operations manager at Etsy
What are the responsibilities associated with your position?
I'm the global operations manager at Etsy, which is a marketplace where people around the world connect, both online and offline, to make, sell and buy unique goods. In this role, I'm responsible for internal operations at our nine global offices. I design and oversee our strategy for facilities management, health, safety and security, and I also partner with departments throughout the company to help implement their programs at our international locations. This includes things like our food program that features locally sourced lunches (called Eatsy), our community-based partnerships and employee volunteering programs, our team celebrations, and more.
On a day-to-day basis I spend a lot of time managing the global team that makes our offices creative, weird, sustainable and fun places to work. I also develop policies, tools, and systems that support Etsy's rapidly scaling physical presence and employee population.
I also wear a second hat at Etsy, serving as the co-leader of our Zero Waste task force. In this capacity I'm responsible for our efforts to increase the rate of waste diverted from landfill, and reducing the overall quantity of waste we produce.
Do your current job responsibilities align with the professional goals that you originally had when you began the MSSM program?
When I enrolled in the MSSM program, I didn't have a clear idea of what I wanted to get out of it. I knew I was looking for a career transition into the private sector, and that I was interested in working for companies that have a business model that promotes sustainability.
At some point along the way, I started to focus in on B-Corps, and the idea of working for a company that really embeds sustainability in the fabric of its DNA. I didn't want to be part of a sustainability department in a company where I would be fighting an uphill battle to convince other departments of the value of sustainable approaches, but rather, to do the job function that I know and love (operations) in a company that demands I take a sustainable approach to my work. My job at Etsy really achieves that goal 100 percent.
What inspired you to work in sustainability?
My professional life provides a huge amount of personal fulfillment for me, and because of this I really put my heart into whatever I'm doing. I need to feel connected to the mission and values I'm promoting through my work in order to stay motivated. It's also important that I can feel and see my impact. Working in sustainability keeps me connected to the environment around me and allows me to create and contribute to the world that I want to be a part of.
What has been your biggest challenge associated with sustainability?
I would say that my biggest challenge related to sustainability has been prioritizing where I focus my energy. Etsy is all about building for the long term, and I'm trying to instill that value into my approach to sustainable operations. I have had to resist the urge to jump into more glamorous sustainability initiatives, because it's most important that I build a solid base of systems and processes that set us up for success down the road.
What has been your biggest accomplishment associated with sustainability?
When I started in this role, Etsy was already doing amazing things to reduce its waste and increase its diversion to landfill. This year we took the next step and established formal sustainability goals that we will be publicly announcing. I led the effort around our waste reduction targets. It was great to be able to pull together all of our awesome work to build sustainable systems and engage employees under a single strategy. Now with a clear target in sight, I've been able to focus our efforts to set us on a path to achieving our goal.
What skills has the MSSM program taught you that you think have proven useful to your current position?
I've used a lot of the analytical skills, such as cost benefit analysis and accounting, in my current role. I also have applied many skills gained through my capstone project developing a zero waste strategy for a municipality in upstate New York.
What was your favorite class?
I approached the program looking to leave with a new tool kit of hard skills. GHG reporting, cost benefit analysis, decision models, GIS and others all helped me to achieve this, and were classes I really enjoyed.
How do you intend to utilize your degree in furthering your career?
At the moment, I'm feeling quite settled in how the MSSM program has helped to advance my career. It's great to know though, that I always have a network and the skills I gained in the program to fall back on when I'm ready for my next step.
What tips do you have for your fellow students who are looking for a job in sustainability?
Think beyond jobs with the word sustainability in the title. There are lots of companies out there modeled around sustainable products and services, or that hold sustainability as a core value. In companies like this, you can work in any role and sustainability will be a major part of what you do.
What do you think is the most beneficial aspect of the MSSM program with regard to your career?
I walked away from the program feeling more confident in my analytical skills, and well-versed in the science, theory and language of sustainability. For me, this has been the difference between being interested in and passionate about sustainability, and being able to lead sustainability initiatives with authority.
The M.S. in Sustainability Management, co-sponsored by the Earth Institute and Columbia's School of Professional Studies, trains students to tackle complex and pressing environmental and managerial challenges. The program requires the successful completion of 36 credit points. Those credit points are divided among five comprehensive content areas: integrative sustainability management, economics and quantitative analysis, the physical dimensions of sustainability, the public policy environment of sustainability management, and general and financial management. Visit our website to learn more.
YOU MIGHT ALSO LIKE
Sustainability Management in Practice: Student Work Helps Establish Conservation Act in Palau
Earth Institute Students Help an Urban Farm Rethink Its Future
2015 Was Record-Breaking Year for Investment in Renewable Energy
EcoWatch Daily Newsletter
In the beginning of 2015, David Prieto went off to Palau to study manta rays as part of his study of sustainability management at Columbia University. By the end of that year, the small island state in the western Pacific Ocean had used Prieto's work to pass a new law that protected manta rays from the growing traffic of boats that promise tourists a close-up experience with the majestic fish.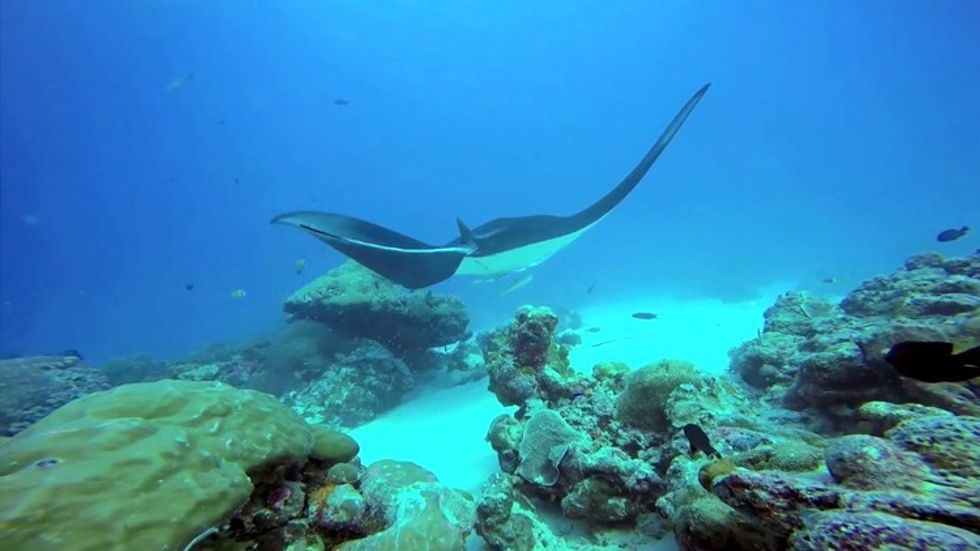 The Manta Ray Conservation Act of the Republic of Palau helped to create the sixth largest marine sanctuary in the world. The area spans the German Channel, a key maritime route, and the only direct passage from the tourist center in Koror to the most popular manta ray watching sites in the country. With tourism growing more than threefold since 2000, boats have increasingly injured manta rays in the German Channel. Manta ray watching tourism contributes more than U.S. $6.8 million annually to the economy, or about 2.5 percent of GDP.
Prieto worked with The Manta Trust, a nongovernmental organization, to develop sustainable tourism management practices. The study involved understanding the effects of boats on manta rays, accounting for the perceptions of tourist boat operators and divers, and forging a management plan that could safeguard the fish, while also preserving the livelihoods of the operators.
Survey results showed that the year 2015 was a poor one for manta ray watching. Divers reported that the number of boat operators in the German Channel had increased by 90 percent since 2010. This growth in traffic, the divers said, was bad for the manta rays and for tourism.
Prieto and his colleagues proposed measures that became part of Palau's new law. Under the Conservation Act, boats are prohibited from entering parts of the German Channel, and there are penalties for violators. The law also provides for ranger, who will enforce the law, training of operators, and a public awareness program for divers and snorkelers.
The work in Palau helped Prieto complete a Master's degree in Sustainability Management, a joint program of Columbia's Earth Institute and the School of Professional Studies.
The new law, Prieto said, "was just a piece of the larger puzzle towards conserving the vast resources that our oceans have to offer, but this achievement could not have been accomplished without the support of The Earth Institute."
The M.S. in Sustainability Management trains students to integrate environmental concerns in the operations of organizations. The curriculum comprises 36 credits in the areas of integrative sustainability management, economics and quantitative analysis, the physical dimensions of sustainability, the public policy environment of sustainability management, and general and financial management.
YOU MIGHT ALSO LIKE
Why Midwest Floods Are Critical to the Restoration of the Louisiana Coast
Farmers Key to Bringing Monarch Butterflies Back From the Brink of Extinction
NASA: 4 Billion People at Risk as 'Water Table Dropping All Over the World'
In the Fair Haven section of New Haven, Conn., rates of obesity and diabetes are high, and access to healthy fresh food can be limited. For some residents of this low-income neighborhood, New Haven Farms is just what the doctor ordered.

The small non-profit agency grows vegetables on several plots around the city, and conducts classes in basic nutrition and healthy cooking. New Haven Farms grew out of a program run by the Fair Haven Community Health Center, which serves the largely low-income, Hispanic neighborhood. Doctors actually prescribe the program as one way to help patients at risk from diet-related diseases like Diabetes 2 learn a healthier lifestyle.
Last fall, a team of students in the Earth Institute's Master of Science in Sustainability Management program traveled to Connecticut to study the New Haven Farms operation and come up with ways to expand its growing capacity and the number of people it serves. This "Capstone Workshop" was one of several conducted by teams of students in the Master of Science in Sustainability Management program and serves in place of a thesis, giving students a hands-on experience consulting for a real-world client. This video tells the story of what the New Haven Farms team did.
The New Haven Farms wellness program runs for 16-20 weeks during the growing season and has served nearly 200 people since 2012. The staff cultivates a little over an acre of land, primarily at two sites. The produce goes into a community supported agriculture program that for a fee provides low- and middle-income residents with fresh vegetables weekly during the growing season. The program also runs a farm stand and sells vegetables to local restaurants.
One garden plot sits next to the Quinnipiac River just beyond Interstate 95, nestled beneath a massive wind turbine, on a quarter acre loaned by Phoenix Press. Participants come here for classes in cooking and nutrition, and to learn about farming. Some of the residents have emigrated from rural areas in Latin America where farming was a way of life; but in this urban setting, their options for using those skills are limited.
Over on Ferry Street, an abandoned lot has been turned into another lush garden. One portion is lined with rows of tomatoes and other vegetables. A second section, on loan from the New Haven Land Trust, is set aside for small, raised-bed gardens that make up the "garden incubator" program. Here the graduates of the wellness program can cultivate their own small plots of vegetables. They get farming advice from the New Haven Farms and land trust gardeners. Such partnerships have been crucial to the development of the program.
One of the goals of New Haven Farms is to keep people in the neighborhood involved in community farming, perpetuating the lessons learned in the farming and wellness program. The agency also runs a youth program to teach youngsters early on about the value of fresh produce and healthy eating. ("Cherry tomatoes are the secret to getting kids into vegetables," advises farm manager Jacqueline Maisonpierre.)
The challenges for the students were diverse: How to create a financially sustainable model, increase the staff, grow more vegetables and expand the wellness program to more people, and build a more ongoing relationship between community members and New Haven Farms.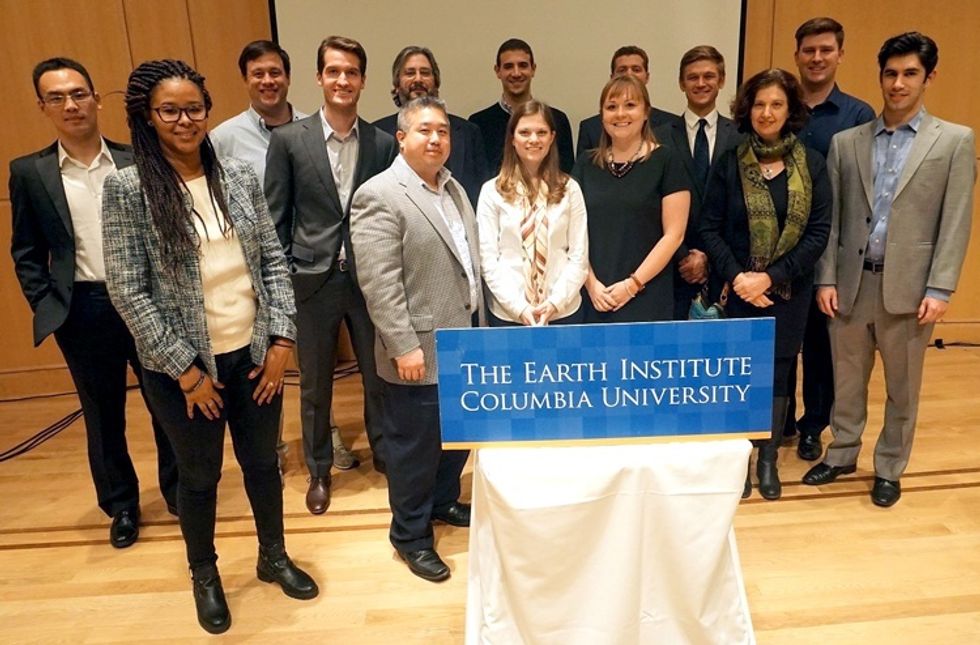 Students from the sustainability management program who worked on the New Haven Farms project. Photo credit: Tim Lyons
The 14 students in the sustainability program who took on these challenges came to Columbia from places as diverse as Los Angeles, Brooklyn, Greenwich, Conn., Toronto and Beijing, and brought to the project a range of experience—environmental consulting, sustainable farming, urbanization issues, finance, public administration, management. They interviewed New Haven Farms staff, studied New Haven's demographics, and investigated other urban farm and wellness programs. Their advisor was Thomas Abdallah, chief environmental engineer for the MTA/New York City Transit.
In the end, they came up with a detailed presentation that outlines several ways New Haven Farms could build its programs into the future. For instance, a modest investment in alternative farming techniques such as a "hightower" greenhouse and hydroponics could expand the growing season and potentially double crop yields. That could mean more produce to sell, raising more money for the program.
The students also recommended adding a third full-time staffer and suggested ways for the organization to build partnerships with other local organizations and increase financial stability.
The Capstone Workshop is a key feature of the M.S. in Sustainability Management program, co-sponsored by the Earth Institute and Columbia's School of Professional Studies. The program trains students to tackle complex and pressing environmental and managerial challenges. An information session on the program will be held from 6 - 7:30 p.m., Feb. 17, at the Faculty House on Columbia's Morningside campus. For more on the event, email Allison E. Ladue at ael2133@columbia.edu; to register, go here. The next application deadline for the program is May 15.
YOU MIGHT ALSO LIKE
Michael Pollan: Return to the Kitchen to Forge a Deeper Connection to the Ingredients We Use to Nourish Ourselves
15 Best Foods for Detoxing Your Body
Ben & Jerry's Launches Vegan Ice Cream Line With 4 Non-Dairy Flavors
13 Herbs and Spices That Will Reduce Inflammation in Your Body
"The worldwide transition from fossil fuels to renewable sources of energy is under way …" according to the Earth Policy Institute's new book, The Great Transition.

Between 2006 and 2012, global solar photovoltaic's (PV) annual capacity grew 190 percent, while wind energy's annual capacity grew 40 percent, reported the International Renewable Energy Agency. The agency projects that by 2030, solar PV capacity will be nine times what it was in 2013; wind power could increase five-fold.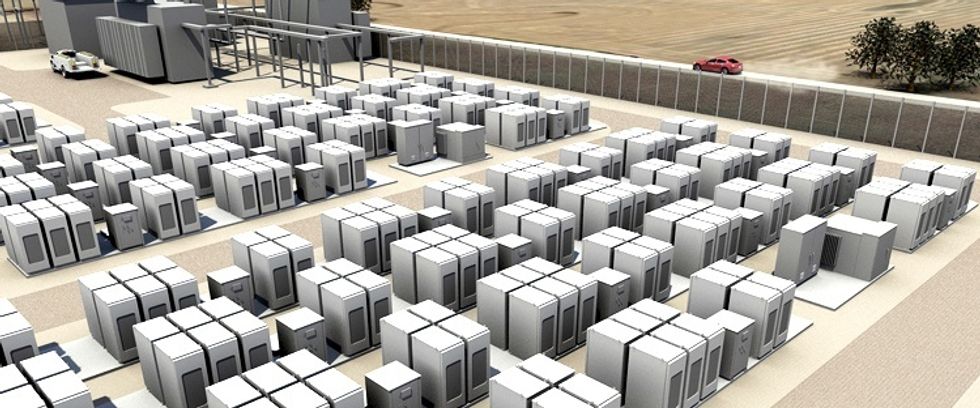 Tesla's utility scale Powerpack batteries.
Electric vehicle (EV) sales have risen 128 percent since 2012, though they made up less than 1 percent of total U.S. vehicle sales in 2014. Although today's most affordable EVs still travel less than 100 miles on a full battery charge (the Tesla Model S 70D, priced starting at $75,000, has a 240-mile range), the plug-in market is projected to grow between 14.7 and 18.6 percent annually through 2024.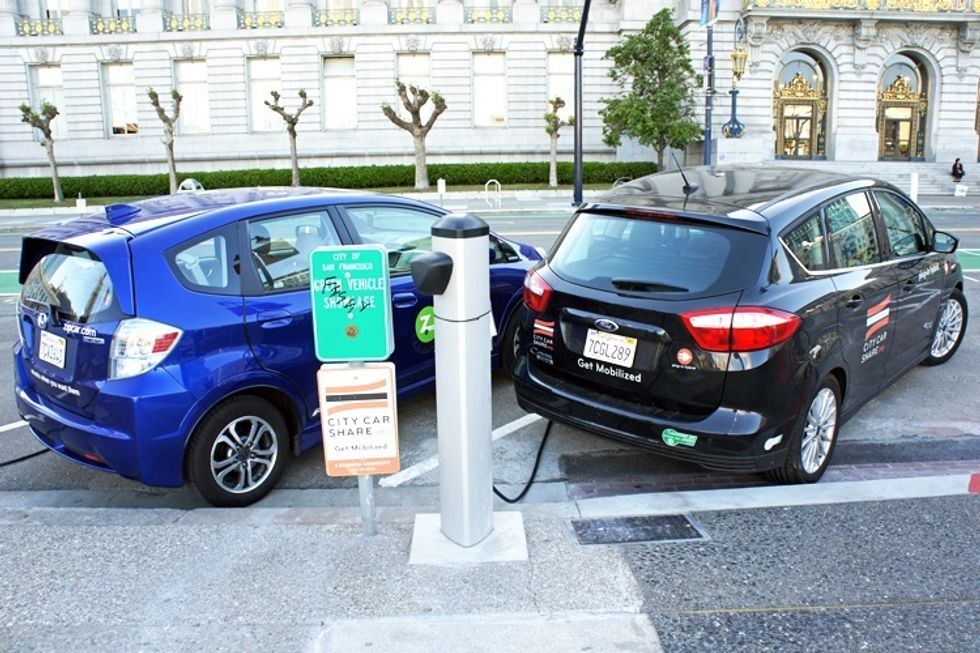 Ford C-Max Energi and Honda Fit EV at a public charging station in front of San Francisco City Hall.
The upward trend for renewables is being driven by concerns about climate change and energy security, decreasing solar PV and wind prices, rising retail electricity prices, favorable governmental incentives for renewable energy, the desire for energy self-sufficiency and the declining cost of batteries. Growing EV sales, also benefitting from incentives, are affecting economies of scale in battery manufacturing, helping to drive down prices.
Sun and wind energy are free, but because they are not constant sources of power, renewable energy is considered "variable"—it is affected by location, weather and time of day. Utilities need to deliver reliable and steady energy by balancing supply and demand. While today they can usually handle the fluctuations that solar and wind power present to the grid by adjusting their operations, as the amount of energy supplied by renewables grows, better battery storage is crucial.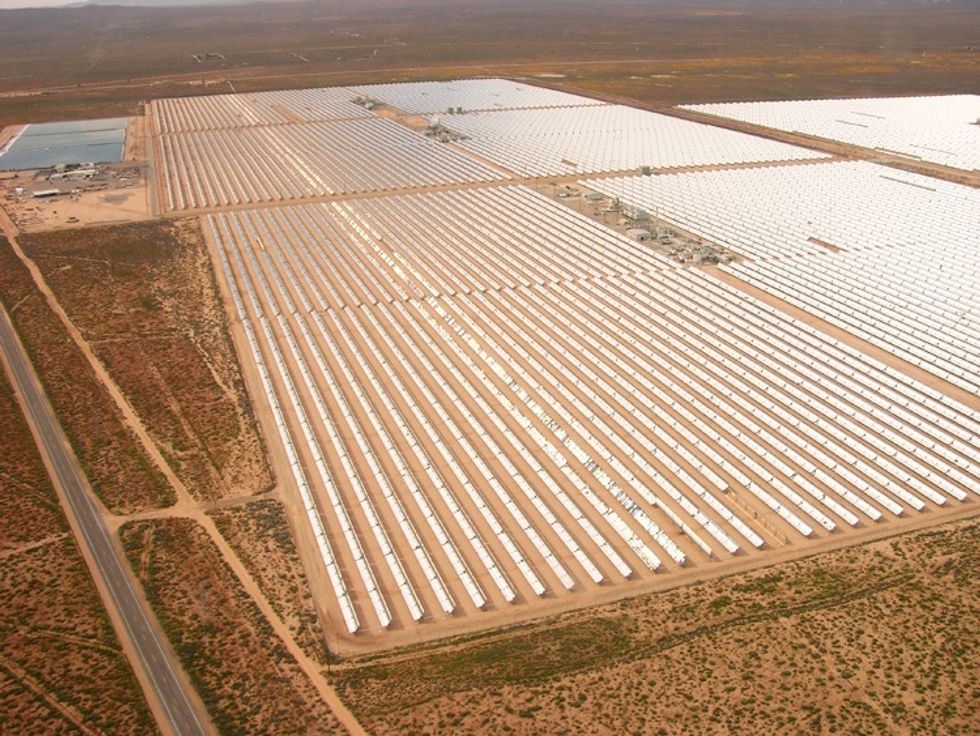 Solar plant in the Mojave. Photo credit: Akradecki
Batteries convert electricity into chemical potential energy for storage and back into electrical energy as needed. They can perform different functions at various points along the electric grid. At the site of solar PV or wind turbines, batteries can smooth out the variability of flow and store excess energy when demand is low to release it when demand is high. Currently, fluctuations are handled by drawing power from natural gas, nuclear or coal-fired power plants; but whereas fossil-fuel plants can take many hours to ramp up, batteries respond quickly and when used to replace fossil-fuel power plants, they cut CO2 emissions. Batteries can store output from renewables when it exceeds a local substation's capacity and release the power when the flow is less or store energy when prices are low so it can be sold back to the grid when prices rise. For households, batteries can store energy for use anytime and provide back-up power in case of blackouts.
Batteries have not been fully integrated into the mainstream power system because of performance and safety issues, regulatory barriers, the resistance of utilities and cost. But researchers around the world are working on developing better and cheaper batteries.
Every battery consists of two terminals made of different chemicals (usually metals)—a positively charged cathode and a negatively charged anode—and the electrolyte, the chemical medium that separates the terminals. When a battery is connected to a device or an electric circuit, chemical reactions take place on the electrodes, causing ions (atoms with a positive electrical charge) to flow from the anode through the electrolyte to the cathode. Electrons (particles with a negative charge) want to move to the positive cathode too, but because the electrolyte blocks them, they are forced to do so via the outside circuit, creating the electric current that powers the device. After all the electrons move to the cathode, the battery dies. In rechargeable batteries, electricity from an outside source can reverse the exchange, but since the chemical reaction is not perfectly efficient, the number of times a battery can be recharged is usually limited.

Batteries vary in their attributes. The charge time determines how long a battery takes to get back to its charged state. Energy density is the amount of energy that can be put into a battery of a given size and weight, which matters depending on application. Cycle life refers to how many times a battery can be recharged before it drops below 80 percent of its ability to hold a charge, which is when it begins to be depleted. Other aspects of a battery include its toxicity, recycleability and how easily it can be kept in its required temperature range. Cost has been the major limiting factor for widespread use.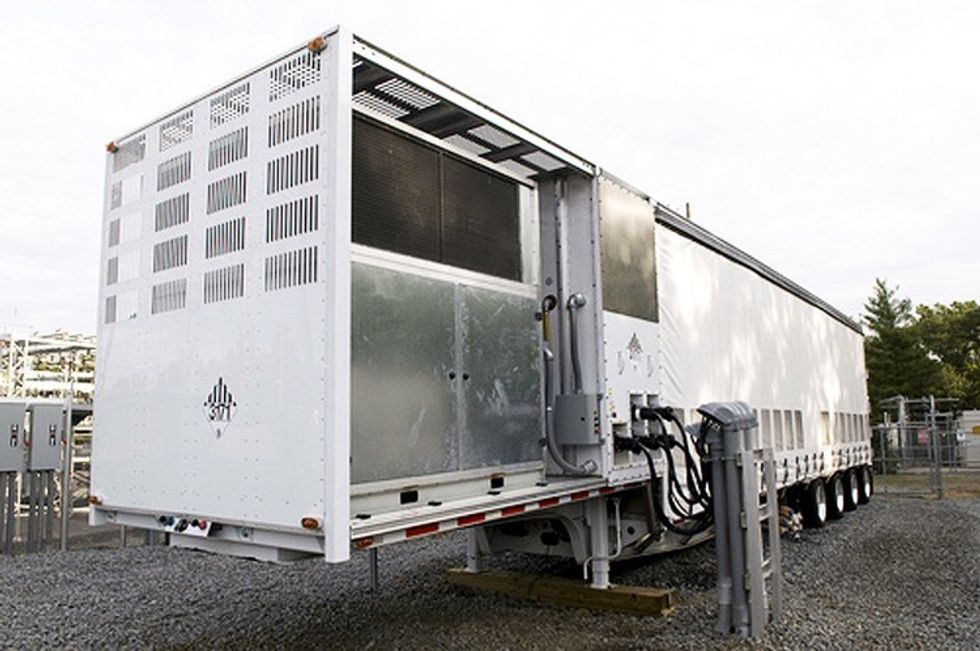 Duke Energy's large battery can store 500 kWh of electricity, enough to power 50 homes during peak demand.
There are many kinds of batteries available today and depending on the function a battery serves, many different requirements for storage capacity, charging and discharging performance, response time, maintenance, safety and cost. Here are a few examples of battery types.
Lead-acid batteries are already used worldwide to support renewable energy. Many have a short cycle life and last only three to four years. Nickel cadmium batteries have good cycle life and can discharge quickly, but the materials are more expensive than those in lead acid batteries. Lithium-ion batteries have high energy density for their size, which is why they are widely used for consumer electronics and electric vehicles. They are good for short discharge cycles and high power, but because of the energy density and combustibility of lithium, they can potentially overheat and catch fire. Sodium-sulphur batteries, with molten salt as the electrolyte, must operate at high temperatures, but can discharge for six hours or more.
Flow batteries, with the chemicals to produce electricity dissolved in water in separate tanks, can be charged and discharged limitlessly and can provide steady energy over time. Because the use of bigger tanks allows flow batteries to store more energy, they have great potential to help the grid deal with utility-scale electricity storage.
BASF experiments with cathode materials to improve lithion-ion batteries.
Battery researchers are trying to advance existing technologies and develop novel ones, as well as enhance materials and manufacturing processes. They are manipulating chemicals and experimenting with new ones, trying to improve the scale of batteries, the duration of their discharge, their efficiency, response time, sustainability and cost, as well as addressing safety issues. Japan and the U.S. are global leaders in the use of battery storage, with China and Germany close behind. India, Italy and South Korea are also implementing battery storage.
Some examples of new batteries being developed include Japan's dual carbon battery that charges 20 times faster than ordinary lithium-ion batteries with comparable energy density, doesn't heat up and is fully recyclable. Researchers at Stanford University are using nanotechnology in a pure lithium battery to hopefully triple the energy density and decrease the cost four-fold. At the University of Illinois at Chicago, lithium ions have been replaced with magnesium ions, which can move twice as many electrons; this allows the battery to be recharged more times before degrading. The Joint Center for Energy Research at Argonne National Laboratory is researching technologies other than lithium-ion that can store five times more energy at one-fifth the cost.
Eric Isaacs, a Columbia University Ph.D. candidate in Applied Physics, is studying how to improve cathode materials. Featured in the 2015 Earth Institute Student Research Showcase, his research focuses on lithium iron phosphate as a candidate for cathode material. It has high energy density and can be heated to hotter temperatures, so it is safer than typical lithium-ion batteries and since iron is abundant, it could potentially be used to produce a cheaper and more sustainable battery. But Isaacs explained that the basic material is unstable when it's partially charged and "playing tricks" in processing it to help stabilize it lowers the energy density. His research aims to understand and remedy the instability and could also eventually help identify and evaluate other new materials for cathodes.
More than $5 billion has been invested in battery development over the last decade. Bill Gates has backed MIT's liquid metal battery, made up of two common molten metals separated by a molten salt that is cheap, easy to assemble and long-lasting. The venture capital firm Kleiner Perkins Caufield & Byers invested in an aqueous-ion battery, an updated saltwater battery being developed at Carnegie Mellon with potential to become the cheapest non-toxic and long-lasting battery for homes and hospitals. Khosla Ventures is behind Berkeley Lab's dry lithium battery that uses porous material and has two to three times the energy density of today's liquid lithium battery.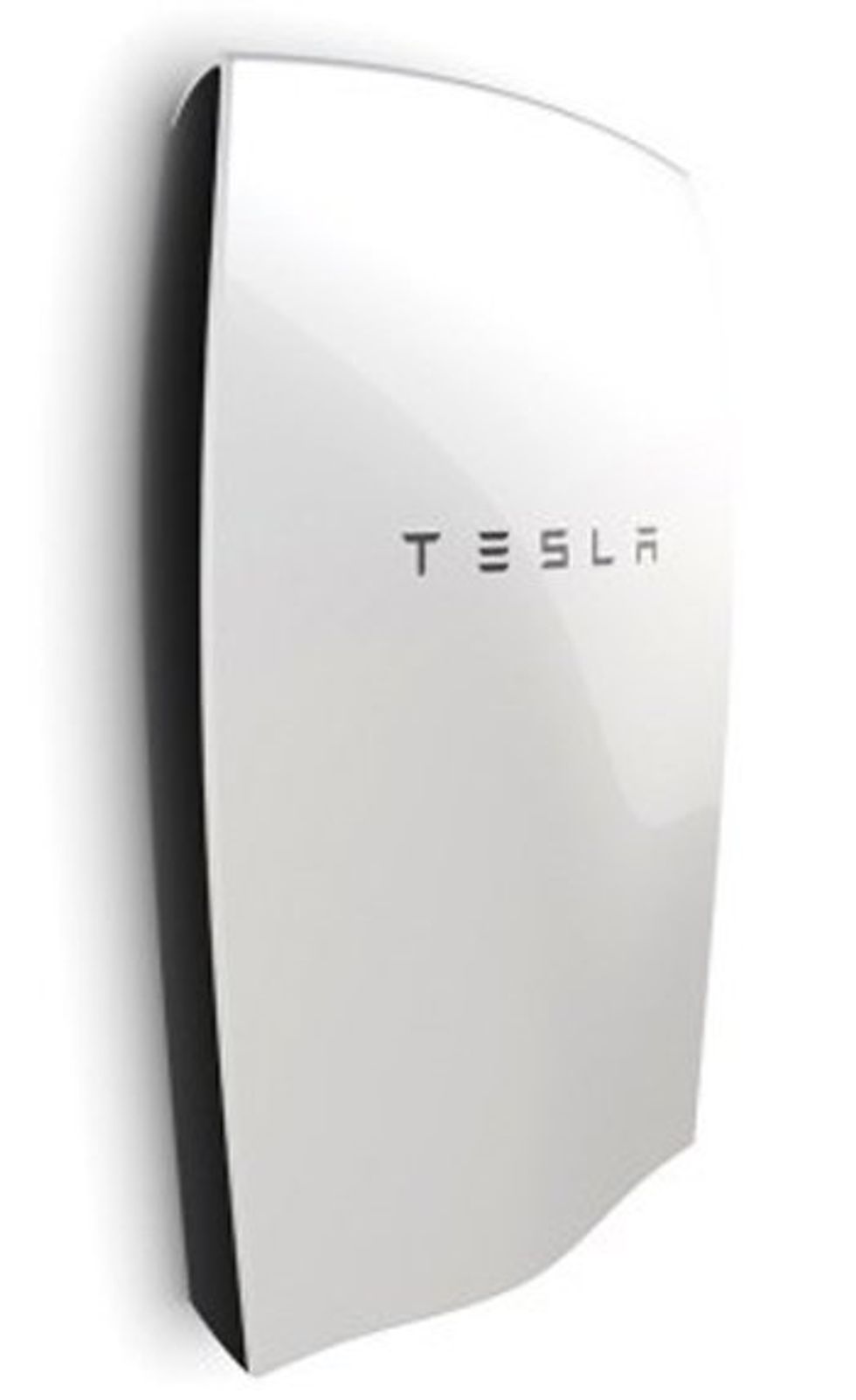 "The issue with existing batteries is that they suck," said Elon Musk, Tesla's CEO when the company launched its new Powerwall and Powerpack products at the end of April. Tesla's solution is the Powerwall, a rechargeable lithium-ion battery, 7 inches thick and 3 feet by 4 feet, that can be mounted on a wall. The 7kWh version sells for $3,000, the 10kWh costs $3,500 and they are guaranteed for 10 years. Up to nine of them can be stacked in a home, providing up to 90 kWh of power. The 10kWh model could power the average American home, which uses about 30kWh per day, for 8 hours, according to one analyst. 38,000 Powerwalls units were reserved the first week after the launch and they are already sold out until mid-2016.
The Powerpack is a 100 kWh battery for utility scale use, which can be combined to "scale infinitely," said Musk. Ten thousand Powerpacks would produce 1GW of electricity. To move the world to sustainable energy and curb climate change, Musk envisions a scenario where 160 million Powerpacks could enable the U.S. to transition to renewable energy; 900 million Powerpacks could make it possible to make all electricity generation in the world renewable.
"The goal is complete transformation of the entire energy infrastructure of the world," said Musk.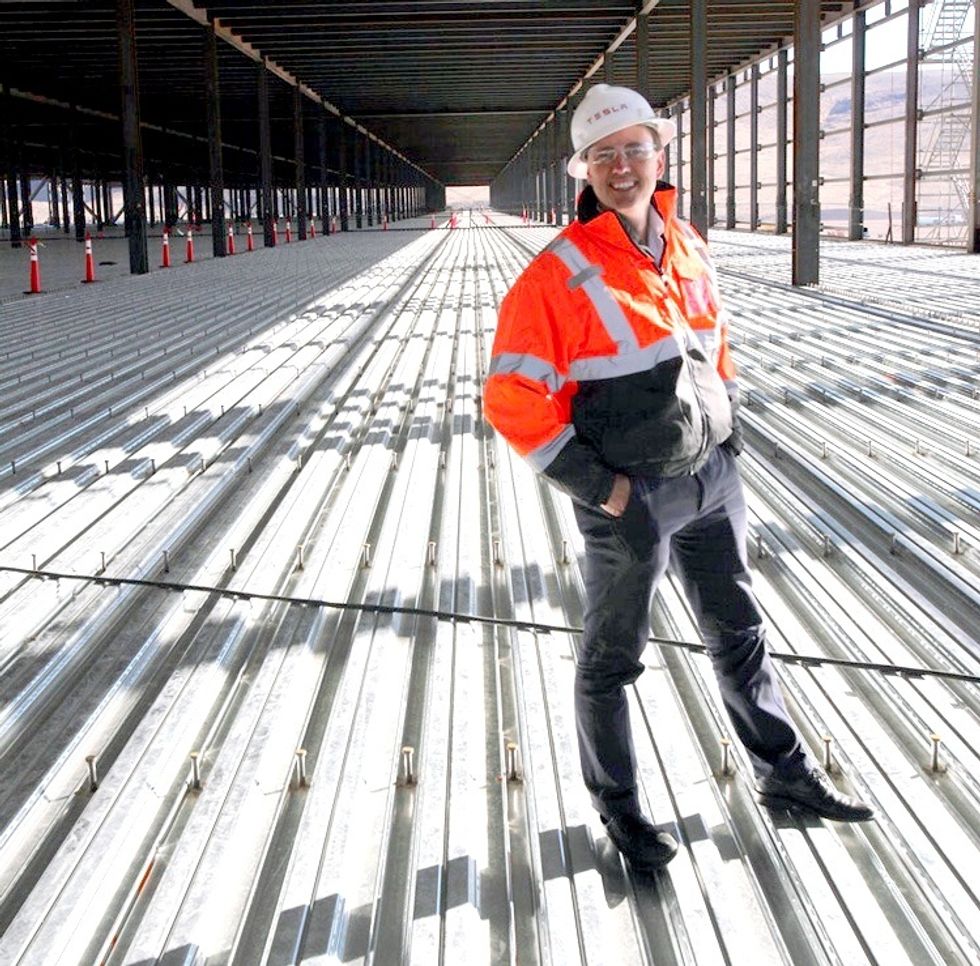 To produce the Powerwall, Powerpack and its electric vehicle batteries, Tesla is building a $5 billion "gigafactory" in Nevada, the first of many. The factory will produce the energy it needs from geothermal, solar and wind and one expert projected that it will actually generate 20 percent more than it needs.
In the U.S., battery storage is already used in places like Notrees, Texas, where thousands of lead-acid batteries store wind energy. In Laurel Mountain, West Virginia, a lithium-ion battery storage plant with 32MW of capacity is so far the largest in the world. Southern California Edison has the nation's biggest battery storage system, with plans for an additional 264 MW of storage, using Tesla batteries. California's large utilities are required to collectively add 1,325 MW of storage by 2024.
A battery that costs $100 per kWh is the Holy Grail for battery researchers around the world. Electric vehicle batteries cost between $300 and $410 per kWh in 2014; analysts generally agree that batteries must reach $150 per kWh or less for those vehicles to be competitive with gasoline-powered vehicles. The cheaper the battery, the more electricity can be stored and the farther the car can go on a charge.
Last year, the cheapest utility scale batteries cost $700 or more per kWh. The Tesla Powerpack is currently estimated to cost $250 per kWh, with the "gigafactory" expected to cut battery prices by 30 percent. The Advanced Research Project Agency-Energy (ARPA-E) is funding 21 different grid-scale battery technologies, hoping to lower battery costs to $100 per kWh, the point at which storage becomes competitive with conventionally generated electricity.
According to the International Renewable Energy Agency, annual battery storage capacity is expected to grow from 360MW to 14GW between 2014 and 2023. Global sales of light duty electric vehicles are projected to go from 2.7 million in 2014 to 6.4 million in 2023. With so many striving for a significant battery breakthrough, more economies of scale and improved manufacturing processes, the world just might see a $100 per kWh battery within the next few years.
Columbia University's Earth Institute and School of Continuing Education developed the Master of Science in Sustainability Management to train professionals in sustainability. The program emphasizes skills and knowledge that are needed to integrate sustainability in business, and in public and non-profit organizations. The coursework combines the study of management and economic and quantitative analysis with classes in the state of the art in sustainability practice and science.
Scientists working in the desert badlands of northwestern Kenya have found stone tools dating back 3.3 million years, long before the advent of modern humans, and by far the oldest such artifacts yet discovered.
The tools, whose makers may or may not have been some sort of human ancestor, push the known date of such tools back by 700,000 years; they also may challenge the notion that our own most direct ancestors were the first to bang two rocks together to create a new technology.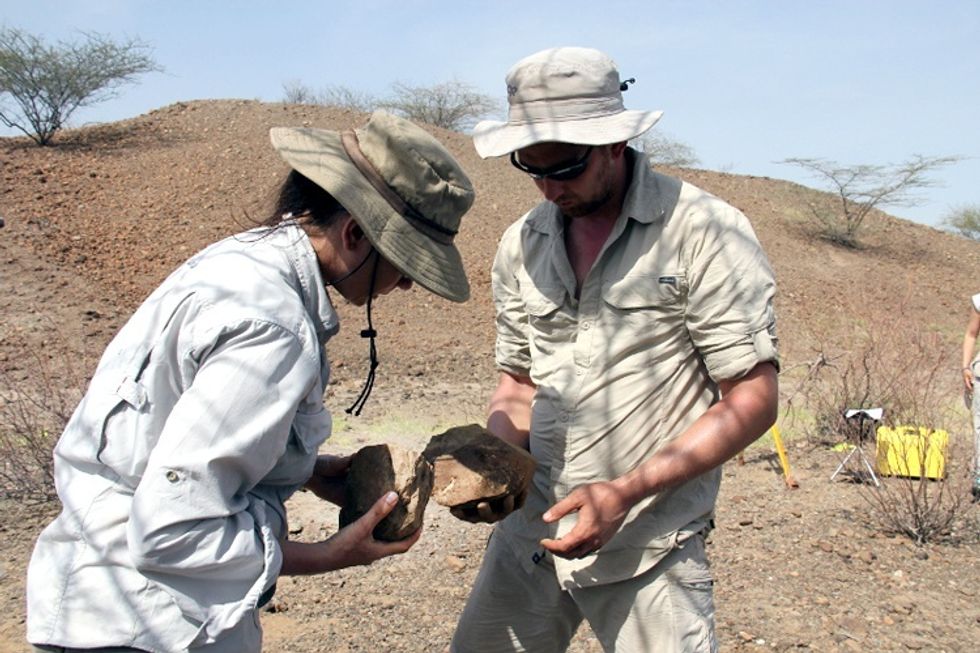 The discovery is the first evidence that an even earlier group of proto-humans may have had the thinking abilities needed to figure out how to make sharp-edged tools. The stone tools mark "a new beginning to the known archaeological record," say the authors of a new paper about the discovery, published today in the leading scientific journal Nature.
"The whole site's surprising, it just rewrites the book on a lot of things that we thought were true," said geologist Chris Lepre of the Lamont-Doherty Earth Observatory and Rutgers University, a co-author of the paper who precisely dated the artifacts. The tools "shed light on an unexpected and previously unknown period of hominin behavior and can tell us a lot about cognitive development in our ancestors that we can't understand from fossils alone," said lead author Sonia Harmand, of the Turkana Basin Institute at Stony Brook University and the Université Paris Ouest Nanterre.
Hominins are a group of species that includes modern humans, Homo sapiens , and our closest evolutionary ancestors. Anthropologists long thought that our relatives in the genus Homo—the line leading directly to Homo sapiens—were the first to craft such stone tools. But researchers have been uncovering tantalizing clues that some other, earlier species of hominin, distant cousins, if you will, might have figured it out.
The researchers do not know who made these oldest of tools. But earlier finds suggest a possible answer: The skull of a 3.3-million-year-old hominin, Kenyanthropus platytops, was found in 1999 about a kilometer from the tool site. A K. platyops tooth and a bone from a skull were discovered a few hundred meters away, and an as-yet unidentified tooth has been found about 100 meters away.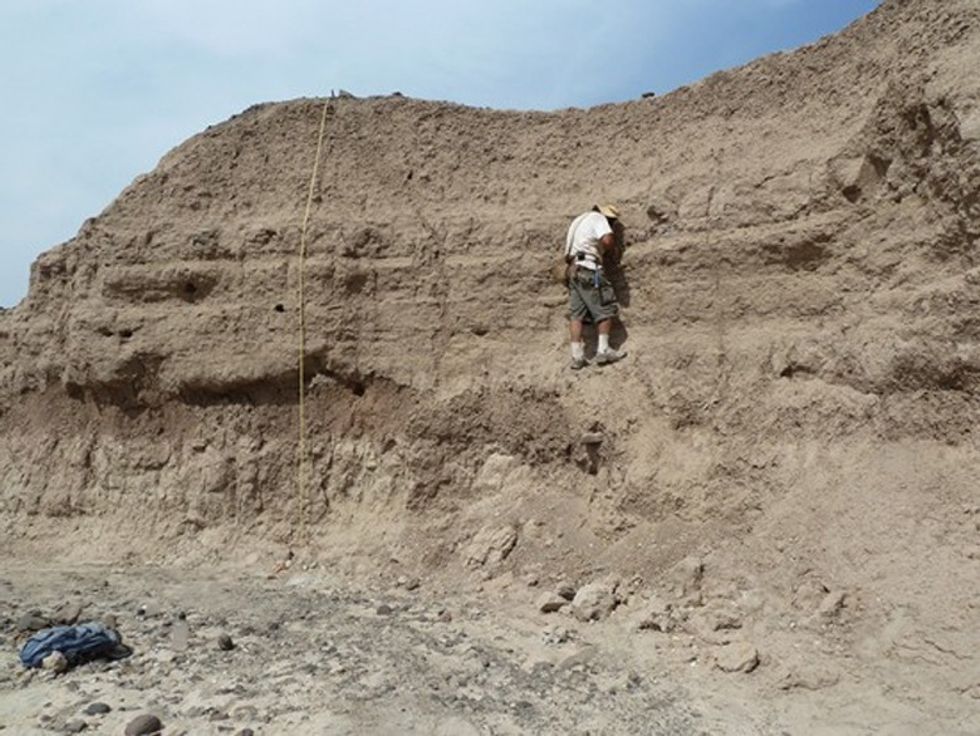 The precise family tree of modern humans is contentious, and so far, no one knows exactly how K. platyops relates to other hominin species.Kenyanthropus predates the earliest known Homospecies by a half a million years. This species could have made the tools; or, the toolmaker could have been some other species from the same era, such as Australopithecus afarensis, or an as-yet undiscovered early type of Homo.
Lepre said a layer of volcanic ash below the tool site set a "floor" on the site's age: It matched ash elsewhere that had been dated to about 3.3 million years ago, based on the ratio of argon isotopes in the material. To more sharply define the time period of the tools, Lepre and co-author and Lamont-Doherty colleague Dennis Kent examined magnetic minerals beneath, around and above the spots where the tools were found.
The Earth's magnetic field periodically reverses itself, and the chronology of those changes is well documented going back millions of years. "We essentially have a magnetic tape recorder that records the magnetic field … the music of the outer core," Kent said. By tracing the variations in the polarity of the samples, they dated the site to 3.33 million to 3.11 million years.
Another co-author, Rhonda Quinn of Seton Hall University, studied carbon isotopes in the soil, which along with animal fossils at the site allowed researchers to reconstruct the area's vegetation. This led to another surprise: The area was at that time a partially wooded, shrubby environment. Conventional thinking has been that sophisticated tool-making came in response to a change in climate that led to the spread of broad savannah grasslands, and the consequent evolution of large groups of animals that could serve as a source of food for human ancestors.
One line of thinking is that hominins started knapping—banging one rock against another to make sharp-edged stones—so they could cut meat off of animal carcasses, said paper co-author Jason Lewis of the Turkana Basin Institute and Rutgers. But the size and markings of the newly discovered tools "suggest they were doing something different as well, especially if they were in a more wooded environment with access to various plant resources," Lewis said. The researchers think the tools could have been used for breaking open nuts or tubers, bashing open dead logs to get at insects inside, or maybe something not yet thought of.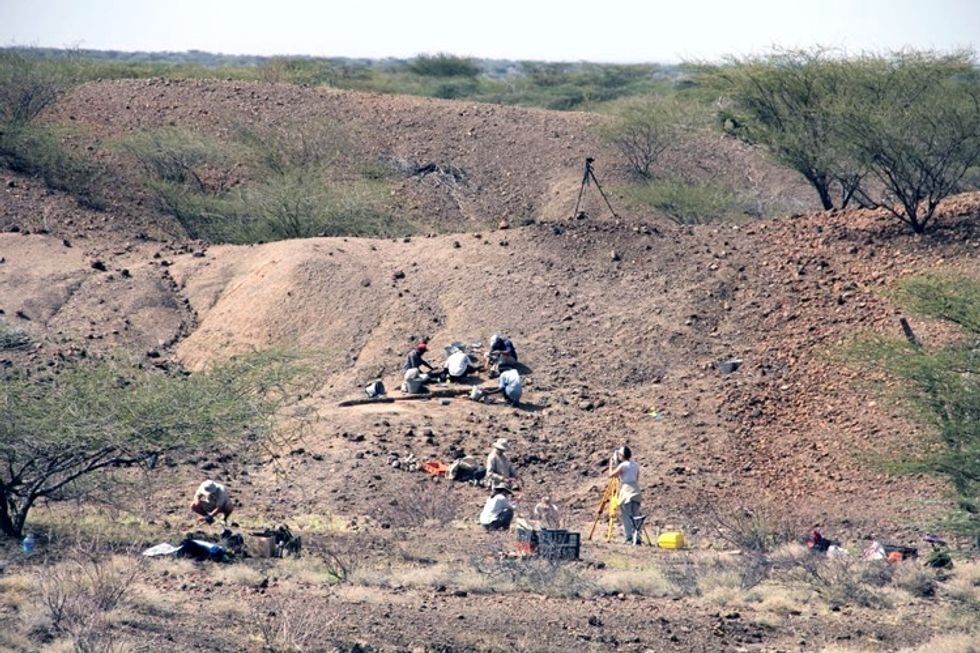 "The capabilities of our ancestors and the environmental forces leading to early stone technology are a great scientific mystery," said Richard Potts , director of the Human Origins Program at the Smithsonian's National Museum of Natural History, who was not involved in the research. The newly dated tools "begin to lift the veil on that mystery, at an earlier time than expected," he said. Potts said he had examined the stone tools during a visit to Kenya in February.
"Researchers have thought there must be some way of flaking stone that preceded the simplest tools known until now," he said. "Harmand's team shows us just what this even simpler altering of rocks looked like before technology became a fundamental part of early human behavior."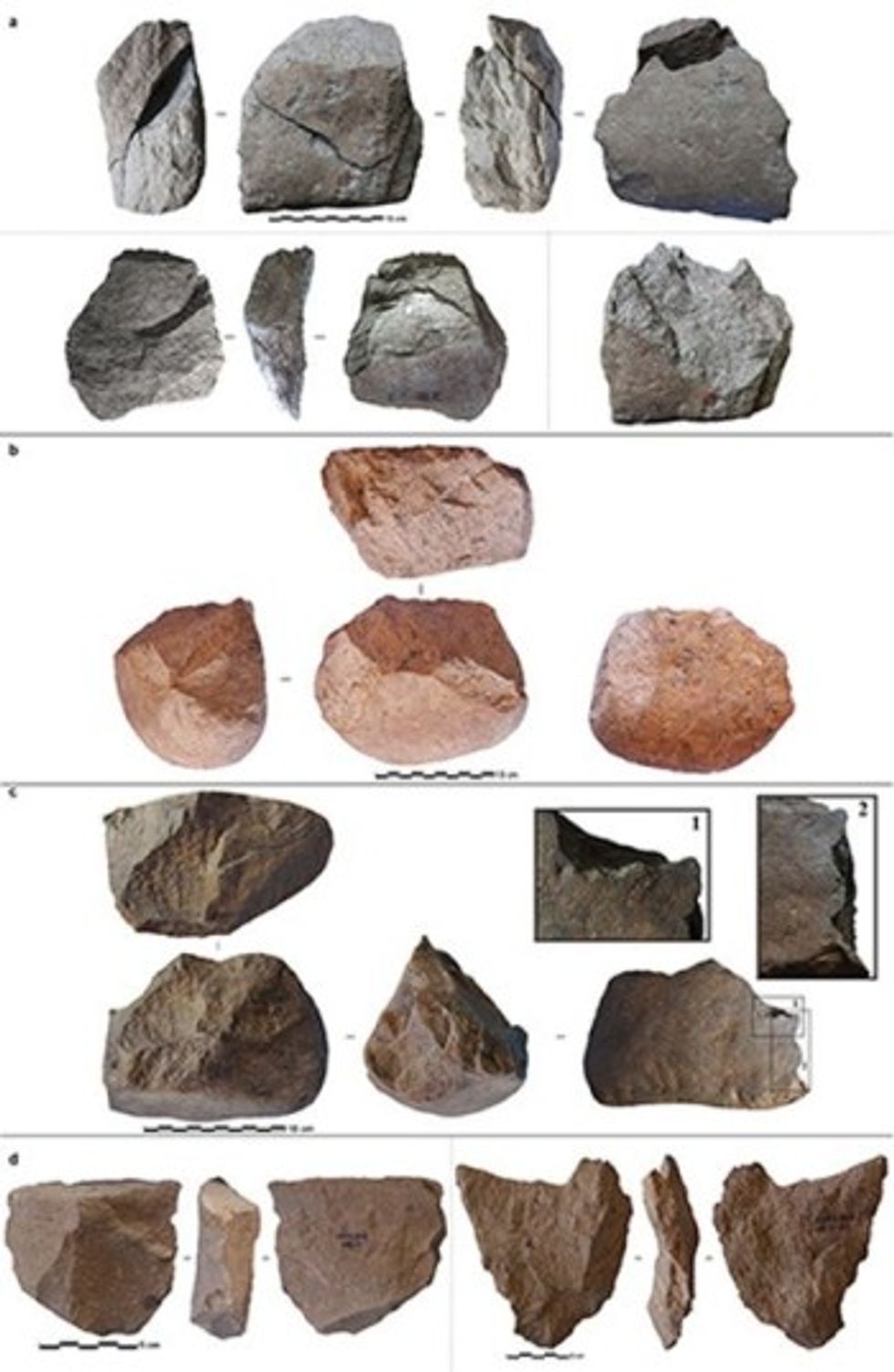 Ancient stone artifacts from East Africa were first uncovered at Olduvai Gorge in Tanzania in the mid-20th century, and those tools were later associated with fossil discoveries in the 1960s of the early human ancestor Homo habilis. That species has been dated to 2.1 million to 1.5 million years ago.
Subsequent finds have pushed back the dates of humans' evolutionary ancestors, and of stone tools, raising questions about who first made that cognitive leap. The discovery of a partial lower jaw in the Afar region of Ethiopia, announced on March 4, pushes the fossil record for the genusHomo to 2.8 million years ago. Evidence from recent papers, the authors note, suggests that there is anatomical evidence that Homo had evolved into several distinct lines by 2 million years ago.
There is some evidence of more primitive tool use going back even before the new find. In 2009, researchers at Dikika, Ethiopia, dug up 3.39 million-year-old animal bones marked with slashes and other cut marks, evidence that someone used stones to trim flesh from bone and perhaps crush bones to get at the marrow inside. That is the earliest evidence of meat and marrow consumption by hominins . No tools were found at the site, so it's unclear whether the marks were made with crafted tools or simply sharp-edged stones. The only hominin fossil remains in the area dating to that time are from Australopithecus afarensis.
The new find came about almost by accident: Harmand and Lewis said that on the morning of July 9, 2011, they had wandered off on the wrong path, and climbed a hill to scout a fresh route back to their intended track. They wrote that they "could feel that something was special about this particular place." They fanned out and surveyed a nearby patch of craggy outcrops. "By teatime," they wrote, "local Turkana tribesman Sammy Lokorodi had helped [us] spot what [we] had come searching for."
By the end of the 2012 field season, excavations at the site, named Lomekwi 3, had uncovered 149 stone artifacts tied to tool-making, from stone cores and flakes to rocks used for hammering and others possibly used as anvils to strike on.
The researchers tried knapping stones themselves to better understand how the tools they found might have been made. They concluded that the techniques used "could represent a technological stage between a hypothetical pounding-oriented stone tool use by an earlier hominin and the flaking-oriented knapping behavior of [later] toolmakers." Chimpanzees and other primates are known to use a stone to hammer open nuts atop another stone. But using a stone for multiple purposes, and using one to crack apart another into a sharper tool, is more advanced behavior.
The find also has implications for understanding the evolution of the human brain. The toolmaking required a level of hand motor control that suggests that changes in the brain and spinal tract needed for such activity could have occurred before 3.3 million years ago, the authors said.
"This is a momentous and well-researched discovery," said paleoanthropologist Bernard Wood of George Washington University, who was not involved in the study. "I have seen some of these artifacts in the flesh, and I am convinced they were fashioned deliberately." Wood said he found it intriguing to see how different the tools are from so-called Oldowan stone tools, which up to now have been considered the oldest and most primitive.
Lepre, who has been conducting fieldwork in eastern Africa for about 15 years, said he arrived at the dig site about a week after the discovery. The site is several hours' drive on rough roads from the nearest town, located in a hot, dry landscape he said is reminiscent of Arizona and New Mexico. Lepre collected chunks of sediment from a series of depths and brought them back to Lamont-Doherty for analysis. He and Kent used a bandsaw to trim the samples into sugar cube-size blocks and inserted them into a magnetometer, which measured the polarity of tiny grains of the minerals hematite and magnetite contained in the sediment.
"The magnetics pretty much clinches that the age is something like 3.3 million years old," said Kent, who also is a professor at Rutgers.
Earlier dating work by Lepre and Kent helped lead to another landmark paper in 2011 : a study that suggested Homo erectus , another precursor to modern humans, was using more advanced tool-making methods 1.8 million years ago, at least 300,000 years earlier than previously thought.
Columbia University's Earth Institute and School of Continuing Education developed the Master of Science in Sustainability Management to train professionals in sustainability. The program emphasizes skills and knowledge that are needed to integrate sustainability in business, and in public and non-profit organizations. The coursework combines the study of management and economic and quantitative analysis with classes in the state of the art in sustainability practice and science.
The fossil-fuels crowd seems to have a thing for China and India. It feels like at least in the U.S., at least half the discussions of clean energy and climate change you see on television end with the anti-renewable voice saying, "Well what about China and India? It doesn't matter what we do if they keep polluting."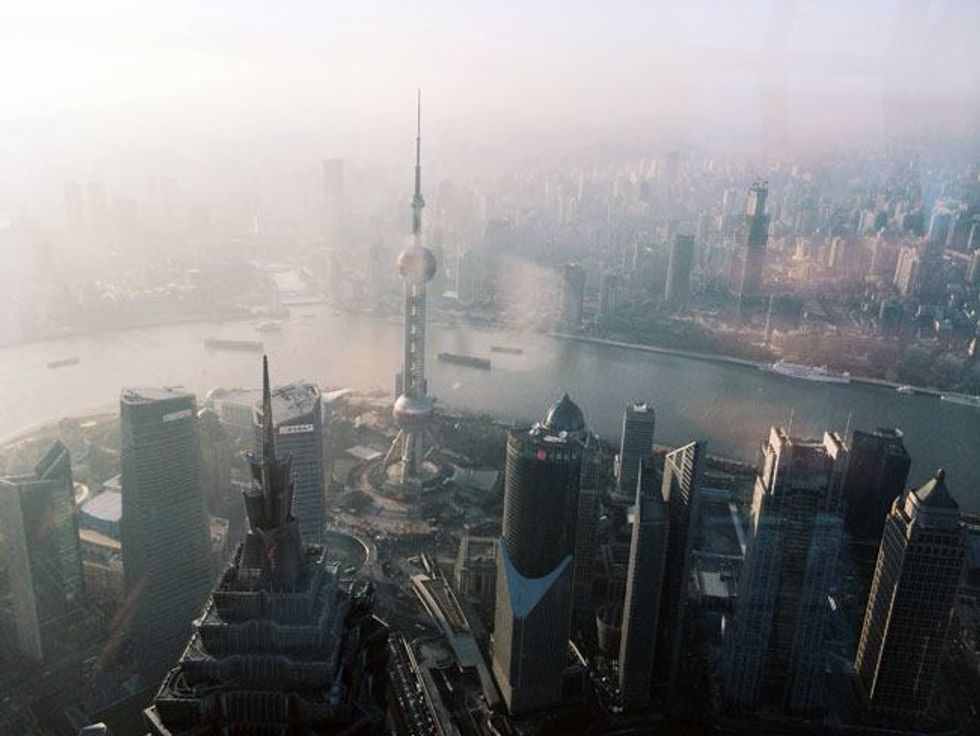 The rest tends to go to script as, almost without fail, a satisfied smirk the size of Texas then creeps into view as our fossil-fuels friend then leans back in his or her chair. Job done. Mission accomplished. Time to head home and light up a victory-lap Cuban.
But here's the thing. When we think about the biggest reasons for hope that humanity is finally getting its act together to protect this precious planet of ours from climate change, what comes to mind isn't the Gigafactory that Tesla CEO Elon Musk is building to revolutionize electric vehicles and energy storage. Or how Costa Rica is committed to going carbon-neutral by 2021. Or the fact that Norway is dropping coal investments from its sovereign wealth fund.
It's China and India.
The world's first and third-largest economies in 2015 (measured by purchasing power parity) are both stepping up their commitment to renewable energy and China in particular is also working to peak its carbon emissions by 2030—and aiming to do so sooner. Maybe the most exciting part of all is the fact that this choice isn't driven by any kind of misguided idealism. It's a clear-eyed business decision made by leaders looking at the realities of fossil fuels and what they mean for the health of millions of citizens and their respective economies – and recognizing that clean energy is the smart long-term bet.
Admittedly, China's further along this path than India and both have some ways to go before their power plants are no longer belching dirty coal soot and carbon pollution by the metric ton. But when nations of this size and aspiration begin shifting to new models of development increasingly powered by renewables and seeing it pay off as their economies keep growing, it sends a clear signal to other emerging countries that clean energy can work.
After highlighting some of the countries with a track record of embracing renewables and flourishing today we're looking at how recent converts to the clean-energy cause are showing over and over that the way to economic success in the twenty-first century is powered by smart technologies like wind and solar. So the next time someone says, "Well what about China and India," you can say, "Well let me tell you about China and India. And Brazil and Mexico too ..."
China
Let's start by addressing the elephant in the room right up front: China's powered much of its remarkable growth in the twentieth and twenty-first century with fossil fuels. So much so that it's poised to catch up with the US on the list of all-time historical carbon polluters before too long (which does beg the question, does the fossil fuel crowd in China try to end debate with the question, "Well what about the Americans?").
#ClimateFact: China is fundamentally transforming its economy. http://t.co/5NoABFQLNn pic.twitter.com/Gi5HueSxaF

— Climate Reality (@ClimateReality) July 12, 2015
That said, in recent years, China has become a renewable-energy juggernaut, moving full-steam ahead and showing no signs of slowing down anytime soon. Without the space to single out everything happening in a nation of about 1.4 billion, a few headlines really stand out:
Last year, China led the world in investments in renewable energy, upping its stake in the sector to $89.5 billion.
China also led the world in building new generating capacity from renewable sources like solar, wind, and hydropower.
China keeps setting increasingly ambitious goals for solar year after year and is working to more than triple its solar capacity to 100 GW by 2020.
To put a finer point on it, China set a new record for new wind power capacity in a single year in 2014 and aims to nearly double its already significant capacity to 200 GW by 2020.
Thanks in part to such initiatives, the nation pledged to use non-fossil fuel sources to supply 20 percent of its energy use by 2030 in its recent commitments for the UN climate talks in Paris. In the same set of commitments, China also increased its goal to reduce the country's carbon intensity by 60—65 percent from 2005 levels by 2030.
We've made this point before, but China is choosing to do all of this—and a whole lot more—as the world's largest economy. With the lives and well-being of nearly 1.4 billion people on the line. And if that's not proof that clean-energy can work on a massive scale—and that's before counting all the health and other benefits of addressing climate change in the near term—then nothing could be.
India
India hasn't always made the right kind of headlines when it comes to climate change, thanks to the serious amounts of coal powering its economy—and air pollution choking its cities. But what many critics overlook is how the nation is also making some very ambitious commitments to renewable energy. Two things India has going for it are abundant natural resources (read: "lots and lots of sun and wind") and a strong entrepreneurial culture  with a habit of seizing big growth markets. Meanwhile, Prime Minister Narendra Modi has made solar an integral part of the government's efforts to end energy poverty and bring electricity to every Indian household, including the 300 million people currently living without it. Some clear indicators of this progress include:
Renewables made up about 14 percent of India's installed energy capacity in 2013 and the nation is looking to quintuple—quintuple—this number to 175 GW by 2022.
As part of this effort, the government recently raised its targets for growing solar by a factor of five, raising its targets from 20 GW by 2022 to 100 GW in the same year.
The country is also the world's fifth-largest market for wind power, with a cumulative capacity of nearly 22.5 GW installed at the end of last year.
Investors are taking note, pouring $7.9 billion into clean energy projects in 2014. For 2015, this number is projected to surpass $10 billion, a sign of real confidence in the sector's promise.
To propel these efforts, the Indian government has also introduced a range of forward-looking policies that mandate reductions in energy use from large industries and encourage state electricity providers to use renewables, among other measures. And while there's no way around the fact that the nation clearly has a long ways to go, the fact that real progress is happening in a nation of India's size and footprint is a real reason for hope.
Mexico
The clean-energy turnaround stories happening in China and India aren't the only ones pointing to an ongoing shift in global attitudes. Though its noisy neighbors to the north tend to hog the spotlight when it comes to climate news, Mexico has quietly been building the second-largest clean energy market in Latin Americawhile making strong commitments to reducing greenhouse gas emissions. Along the way, it's also been reforming its electricity sector to pave the way for significantly greater use of renewables in the years ahead.
It takes everyone. #Mexico Commits to Reducing GHG Emissions for #COP21 #RoadToParis http://t.co/gLCEJHXG7V pic.twitter.com/QElkUU72PZ

— Climate Reality (@ClimateReality) May 19, 2015
What does this all mean in practice? Well, one research firm ranked Mexico second in Latin America for solar installations in 2014 and forecasted that the sector would grow by 84 percent through 2018. The country has also set ambitious goals to grow domestic wind power from just over 2,500 MW of capacity last year to 15,000 MW by 2022. Which is not a small undertaking.
Of course, if you want to get a real picture of what's happening, follow the money (we've heard that's a smart idea). And in Mexico, the money is moving into clean energy, with investors first putting $2.2 billion into renewables in 2013 and then adding $1.3 billion more in just the first six months of 2014. Fueled by this support, developers are busy working on a range of clean energy projects in areas from biofuels to geothermal to small hydropower to solar to wind.
Brazil
From the second-largest clean energy market in Latin America to the largest: Brazil. While many countries in the region have looked to fossil fuels or foreign resources to power their economies, Brazil has a long history of working for self-sufficiency and using its own natural resources. The result is that the nation has been able to supply over 80 percent of its electricity needs with renewables, with the bulk coming from hydropower.
Admittedly, large-scale hydropower is not without its own issues and so the good news is that other sectors like wind and solar are starting to really pick up in Brazil. Already, the nation was one of the top 10 globally for clean energy investment in 2013. Plus, wind, to pick just one sector, could reach 12 percent of the nation's generation capacity by 2023 if Brazil meets its current goals. And with Brazilian President Dilma Rousseff recently pledging that the country will generate 20 percent of its energy with non-hydropower renewables by 2030, there's every reason to expect it will.
Perhaps most importantly, while Brazil was creating a low-carbon economy, it was also living through a decade of extraordinary growth and social progress from 2003—2013 in which over 26 million people emerged from poverty and the country made major strides in reducing inequality.
Reasons For Hope
The bottom line is that we're seeing countries in every part of the world and all along the economic spectrum increasingly turn to clean energy and thriving as a result. So while the recent headlines on what's happening in Greenland and Antarctica make for some sobering reading, places like China and India and Mexico and Brazil are proving that we can make smart decisions on how we power our lives without plunging our economies into chaos, like the fossil fuel crowd would have you believe. And that's a reason for hope worth sharing.
Want to keep up with the latest in developments on clean energy and climate action as we move closer to a global agreement in Paris? Sign up for the Climate Reality email activist list and we'll keep you in the loop.
YOU MIGHT ALSO LIKE
NASA's 14 Second Video Says It All
World's Glaciers Melting at Record Rate
Elon Musk's Tesla Battery So Popular It Sold Out Through 2016
Ever had one of those moments where you turn on the television and stumble onto a show from decades back that you can't believe is even on any more? If you're in the U.S., something like Wheel of Fortune or The Price Is Right? (And this is one of those rare instances of universal harmony where every nation has its own version). But there it is, still making the rounds with the host looking as indeterminately aged as ever and an audience dressed for today. And you can't help thinking, "Wait, people still watch this?"
Here at Climate Reality, we've been having a similar thought hearing senators and media pundits rehearse the tired old claim that switching from fossil fuels to clean energy would be economic suicide: "Wait, people still believe that?"
Because—and here's the key point—the opposite is true. Look at the list of countries making real commitments to clean energy and you'll see a list of strong economies that aren't suffering because they've embraced renewables like solar and wind power. In many cases, they're growing—and kind of like Pat Sajak, it's time to take the Clean Energy Would Kill the Economy show off the air once and for all.
Changing the Channel in 2015
If this myth has been around for so long, why are we focusing on it now? And why this one in particular?
In a word: Paris. Along with everyone else in the climate community, The Climate Reality Project is working to build support for a global agreement to cut greenhouse gas emissions at the UN talks in Paris later this year. If we're successful—and world leaders make the kind of emissions reduction commitments that can keep warming within safe limits—the upshot is that we're going to have to scale down our use of fossil fuels as a planet and scale up renewables in a big, big way.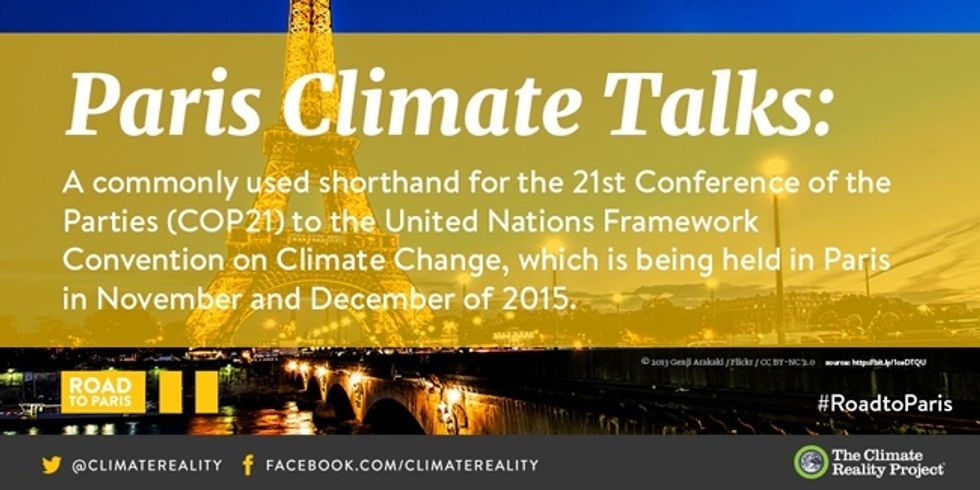 Naturally, the fossil fuel industry sees an existential threat here and has its spokespeople and government supporters making the rounds to claim that any significant moves in this direction would only kill jobs and destroy the economy. Just look at all the hyperbolic invectives against the EPA's Clean Power Plan we're hearing here in the U.S., as one example.
These kinds of claims make for great quotes and conspiracy theories, but when you compare them to what's already actually happening in the world, they fall apart fast. So in the interest of a little truth-telling, over the next couple weeks, we're highlighting some of the nations showing that clean energy economies work—and work well—beginning with a few that have been going clean and winning for a while.
Germany
You might have heard of it. You know, the world's fourth-largest economy by gross domestic product (GDP), industrial powerhouse of Europe, world champions in soccer/football and home of major companies like Volkswagen, Deutsche Bank and Siemens.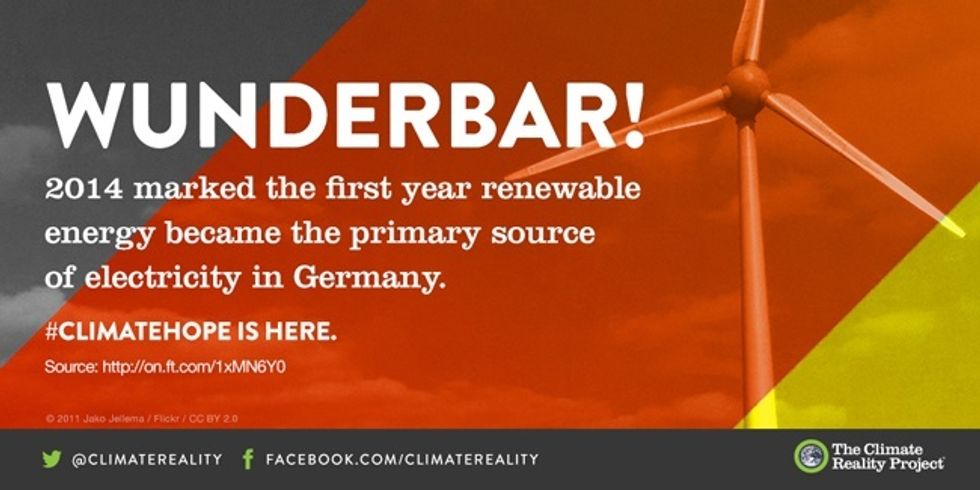 Germany began betting big on clean energy long before it was cool, with the government taking its first significant steps to start a nationwide transition from nuclear power and fossil fuels to renewables back in the early 90s (there's even a typically long and nearly pronounceable German word for this idea: "Energiewende" (or "energy transition"). The results have been pretty spectacular. Among other highlights:
Between 1990 and 2010, per capita greenhouse gas emissions dropped 26 percent, even as per capita GDP grew 36 percent.
In 2014, Germany generated more than 27 percent of its electricity with renewables, making clean energy the nation's primary source of power and cementing its place at the top of the list of solar-powered countries. That same year, it ranked second in the world in most electricity from biopower and third in installed wind power capacity. Not too shabby.
Meanwhile, the nation set goals of reducing its greenhouse gas emissions by 40 percent from 1990 levels by 2020 and 80 percent by 2050.
Germany is also working to reduce its primary energy consumption by 20 percent below 2008 levels by 2020 and 50 percent by 2050.
It's worth remembering that Germany has continued its clean-energy initiatives in the middle of a global recession and all while remaining one of the world's greatest economic powers. And it somehow beat Brazil 7-1 in Brazil, which suggests there's very little Germans can't do when they put their collective wills to it.
Denmark
Just across the border, Denmark has been taking a bit of anything-you-can-do-Germany-we-can-do-better approach to clean energy. While the nation isn't quite the economic powerhouse of its southern neighbor, it has one of the highest standards of living in the world and has seen steady economic growth in the twenty-first century. And it's done so while also decreasing both its energy use through ambitious conservation measures and its carbon emissions.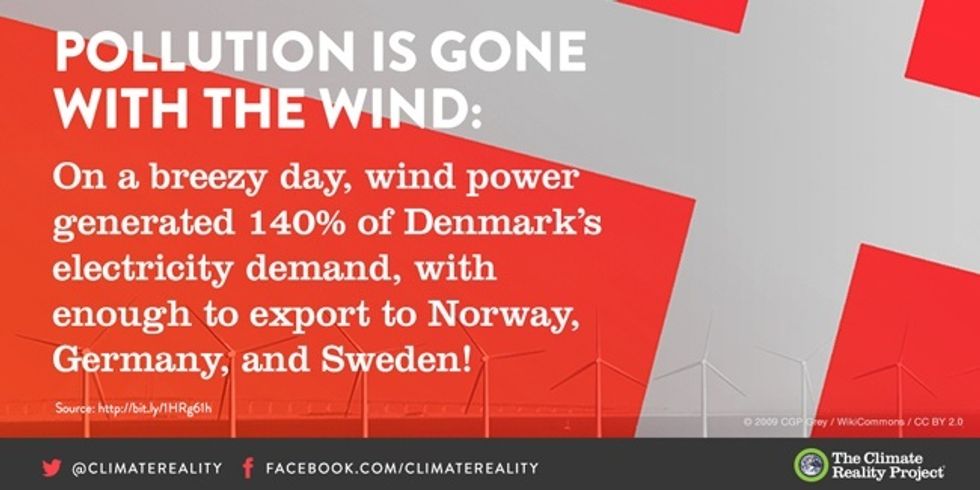 No surprise: renewables are a big part of this story, especially wind. The country set a new world record for wind power by getting more than 39 percent of its power from wind in 2014. Then on July 9 and 10 of this year, Denmark generated 140 percent of its energy needs with wind, sending the surplus power to neighboring nations. Plus, just in case anyone ever wanted to accuse the Danish of lacking ambition, the country aims to go from low-carbon to no-carbon and become completely independent of fossil fuels by 2050. No one on staff at Climate Reality knew Danish for "wow," but it's clearly time we learned.
Costa Rica
For any detractors thinking clean energy can only work in advanced economies in Europe, let's head over to Costa Rica. The nation has taken advantage of its abundant natural resources to create real capacity in small-scale hydroelectric and geothermal power, with the result it generated 100 percent of its electricity with renewables for the first 113 days of this year. Costa Rica is also developing—and attracting investment in—other areas like solar, wind and biofuels and has committed to becoming carbon-neutral by 2021.
So far, all this focus on renewables hasn't exactly killed the nation's economy. Instead, Costa Rica has become an upper middle-income country, experiencing steady economic growth over the past 25 years and the World Bank expects its GDP to keep growing around 4 percent annually for the next several years. Pura vida, indeed.
California
Admittedly, California isn't technically a nation—the whole "California Republic" ethos notwithstanding—but this one state has the seventh-largest economy in the world, ahead of countries like Brazil, Canada and Italy. Which makes it a pretty good test case for clean energy in the U.S.—and something of an embarrassment for the anti-renewable crowd.
It may not be The Endless Summer, but there is endless solar. California is shining with #ClimateHope. pic.twitter.com/YfK6RBPioV

— Climate Reality (@ClimateReality) July 5, 2015
So what's making the Golden State the, um, gold standard on clean energy when it comes to the U.S? The topline here is that through a combination of ambitious efficiency measures, aggressive targets and policies for emissions reduction and a deep commitment to expanding renewables, the state's been able to do the remarkable and grow its economy without substantially increasing emissions. And not just without increasing emissions, but actually shrinking them by 25 percent per person from 1990—2012, all while growing per-capita GDP by 37 percent in the same period and creating what one report has hailed as the second-greenest economy in the world.
While pulling out all the factors contributing to this achievement would take up a post of its own (if not a book), a few in particular stand out:
Governor Jerry Brown recently issued an executive order to reduce California's greenhouse gas emissions by 40 percent below 1990 levels by 2030, making it possibly the most ambitious target in North America.
California is home to the largest carbon market in North America, with a cap and trade system linked with Quebec and soon with Ontario.
The state has developed both the policies and industry to become the leading state for solar energy in the U.S. and currently is home to the world's three largest solar power plants. Along the way it became the first U.S. state to top 10 GW of solar capacity—or enough to power nearly 2.6 million homes—while its domestic solar industry employs nearly 55,000 workers across the solar value chain.
Looking at these figures, you have to try hard—really hard—not to reach one conclusion: if the world's seventh-largest economy can make clean energy work, other nations and states can too. Which gives us a lot of hope looking ahead to negotiations in Paris. You might have heard the saying, "As California goes, so goes the nation." We sure like the sound of it.
YOU MIGHT ALSO LIKE
Clean Power Plan Paves Way Toward a Carbon-Free Economy
Jon Stewart's 5 Best Segments Bashing Climate Deniers
Many people who care about climate change understand the corrupting influence of big money in politics and rightfully sound the alarm when elected officials who are supposed to represent their constituents instead protect corporate profits. This is especially true when it comes to big political spenders and climate polluters like the Koch Brothers and the fossil fuel companies like Shell.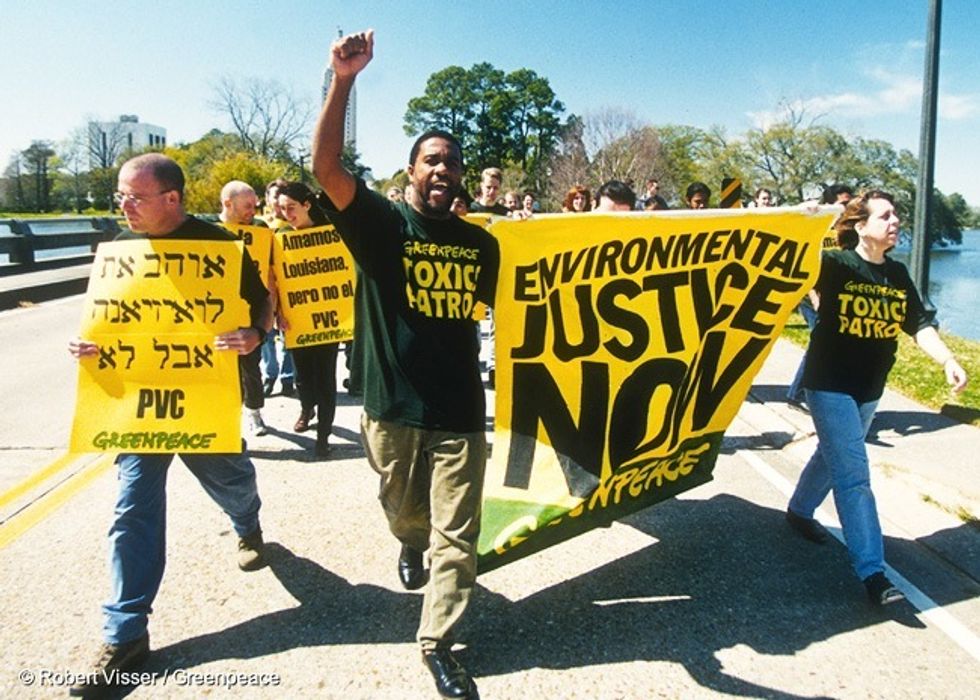 The Greenpeace toxic patrol, lead by Damu Smith, protests against the toxics industry with a banner reading: 'Environmental Justice Now' which is displayed along with other banners as the activists protest through the street. Photo credit: Robert Visser / Greenpeace
However, voter suppression and disenfranchisement are not as commonly talked about in the environmental community. This despite the fact that denying the right to vote strips people of access to a cornerstone of our democracy and a way to have their interests represented in decisions that impact them—including issues of climate and environmental health.
It's high time we make those connections.
Climate Justice and Voting Rights
Jacqueline Patterson, environmental and climate justice director at the National Association for the Advancement of Colored People (NAACP), explains the intersectionality of race, voting rights, climate justice and health in a fantastic blog here.
In her piece, Patterson calls out the fact that "African American children [are] four times as likely as White American children to die from asthma attacks tied to poor air quality for coal fired plants and other facilities and with the rampant loss of life we are seeing from extreme weather events in our communities and worldwide driven by climate change, which largely results from fossil fuel based energy production."
Marginalized communities—often communities of color that have been historically disenfranchised—disproportionately suffer environmental harms and often have the fewest resources available to counteract those harms. When we recognize that a healthy environment and a healthy democracy go hand in hand, it's clear that ensuring the right to vote is critical.
As Patterson puts it:
"… [W]ith entities that have driven the agenda towards stripping voting rights planning on putting $889 million into the coming elections, we must all lean in together on campaign finance reform and voting rights so that communities (and all of us) feel that our votes and our advocacy on issues like net metering, energy efficiency, renewable portfolio standards and indeed relatedly, income inequality and community policing, will actually add value and have a transformational impact."
Aside from being just plain wrong, disenfranchising impacted communities gives corporations and oligarchs even more power to recklessly plunder the world around us. Equality and justice are part of our shared vision for the future. We must stand with our allies to move that vision forward.
What Happened to the Voting Rights Act?
Fifty years ago, the Civil Rights Movement paved the way for the passage of the Voting Rights Act of 1965. Though the fight for justice continues to this day, this was a monumental victory for a movement that was struggling for freedom and self-determination, as it outlawed many of the tools used by racist state and local governments to deny people of color and language minority groups the ability to exercise their right to vote.
However, in June 2013—after 48 years and more than 700 instances of discriminatory impacts prevented by the law between 1982 and 2006 alone—the Supreme Court's conservative majority struck down key pieces of the Voting Rights Act in a case called Shelby County v. Holder. This decision made it far easier for states to pass discriminatory voting measures and more difficult for people of color and language minority groups to register, vote and have their votes counted equally.
This was a huge blow. In the words of the Leadership Conference on Civil and Human Rights, "In this 50th anniversary year of the Voting Rights Act, voters are more vulnerable to discrimination than at any time since the law was first passed in 1965."
Time for Action
In 2015, the right to vote and to have votes counted fairly is still at stake. Though voting has always been one of many ways of building and exercising power and holding elected officials accountable to the communities they are supposed to represent, we are all being called upon (again) to support this most basic right.
Civil rights organizations are leading the charge for a gold standard when it comes to voting rights in the U.S. and it's up to everyone—members of labor unions, environmental organizations and many others—to stand by these leaders in calling for the U.S. to live up to its promise of democracy for all Americans.
Join the call. Tell your member of Congress that it's time to restore the Voting Rights Act.
YOU MIGHT ALSO LIKE
Jimmy Carter: The U.S. Is an 'Oligarchy With Unlimited Political Bribery'
Jon Stewart's 5 Best Segments Bashing Climate Deniers
Inside Bernie Sanders and Donald Trump's Mass Appeal to Americans
Today, we're releasing five new video testimonials from Pacific tuna fishermen detailing the horrible conditions they've worked under. The interviews—conducted in a South Pacific port earlier this year—reveal incidents of abuse, inadequate or nonexistent pay, food and sleep deprivation, and even murder.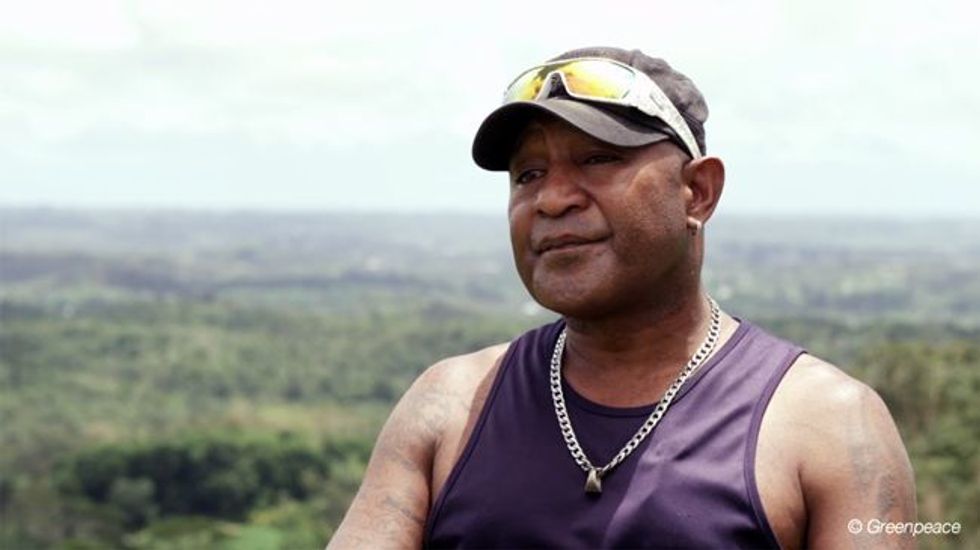 We heard first-hand from current and former tuna fisherman about the shocking abuse they've witnessed and endured working on fishing vessels. Photo credit: Greenpeace
As investigation after investigation after investigation continue to expose the poor state of the fishing industry, it's becoming more clear than ever that American consumers can't trust the seafood they feed their families. In the case of these particular fisherman, the horrific human rights abuses at sea are directly connected to the tuna industry, confirming that tuna companies have major work to do in order to clean up their supply chains and win back the trust of consumers.
Watch These Stories of Abuse at Sea
Trigger warning: these videos contain descriptions of violence that may be disturbing to some viewers.
Fishermen are often subject to bullying or intimidation for speaking up, meaning the harrowing stories captured below are hard to come by.
These videos were shot in a South Pacific port earlier this year. Three of the videos feature current or recent tuna fishermen from Indonesia, whose identities have been masked for their protection. The other videos feature an unmasked fishermen from Fiji, who details abuse from his time on a tuna boat ten years ago, revealing just how long these issues have been prevalent in the industry. Many of the men our team spoke to would not go on camera for fear of retribution against themselves or their family.
These are the stories that major tuna companies want to hide. Don't let them. Click here to tweet at some of the U.S.'s largest tuna brands.
"If the people above you are hitting you, then we are not being treated as humans, but more like animals."
"It was about one and a half years we worked for nothing. No salary at all."
"I feel sorry for my friend. He was thirsty at 1am and there wasn't any water. So he drank water from the air conditioner."
"I saw his fingers, they were missing. I asked what happened."
"So you'll have two to three hours sleep then you'll start again in the morning."
Targeting Tuna
These brave individuals and others like them are shining a light on the long history of abuse and slavery on tuna fishing vessels. Greenpeace has worked on tuna sustainability issues for years, and it's becoming increasingly clear that we must all work together to address the deeply ingrained human rights issues within the industry, as well.
Labor abuses and slavery that destroy the lives of workers and their families, and overfishing that destroys ocean life are both issues that stem from an out of control and under regulated industry. Greenpeace and a range of allies across the environmental and human rights movements are working to transform the tuna industry into one that is both just and sustainable.
As consumers, we should all be questioning where our tuna comes from.
In both the recent New York Times investigation and an Associated Press investigation in March, Thai Union—owner of Chicken of the Sea and soon Bumble Bee in the U.S.—was directly implicated for major human rights abuses and slavery at sea. This raises a glaring red flag that the largest tuna producer in the world has undeniable connections to this issue.
These stories—and the thousands of others like them that have gone untold—are a call to action for the tuna industry. Now more than ever, leaders must emerge to show that they take these issues seriously and are committed to addressing them in their global supply chains. There are a variety of solutions that companies and governments can begin implementing today that can address both the human rights abuses that are rampant and sustainability concerns.
Tuna fishing has become destructive for both people and the oceans—and it must be reformed immediately. Tweet at your favorite tuna company to let them know that you want them to proactively implement the solutions that will protect people and our oceans:
Tweet at Bumble Bee: It's unacceptable that tuna fishing is linked to human rights abuses. @BumbleBeeFoods, what actions are you taking?

Tweet at Chicken of the Sea: I'm calling on @COSMermaid to take action on human rights abuses in the tuna industry. You can too.

Tweet at Starkist: .@StarkistCharlie, are you playing your part to address human rights abuses in the tuna industry? We deserve to know.
YOU MIGHT ALSO LIKE
4 Best Places to Buy Your Seafood
Canned Tuna Shopping Guide: How Does Your Brand Stack Up?
Farmed Salmon Rejected Over Huge Spike in Antibiotic Use Due to Bacterial Outbreak
You probably saw breathless news outlets reporting an impending "mini ice age." Before you stock up on mittens and parkas, read on to understand the full story.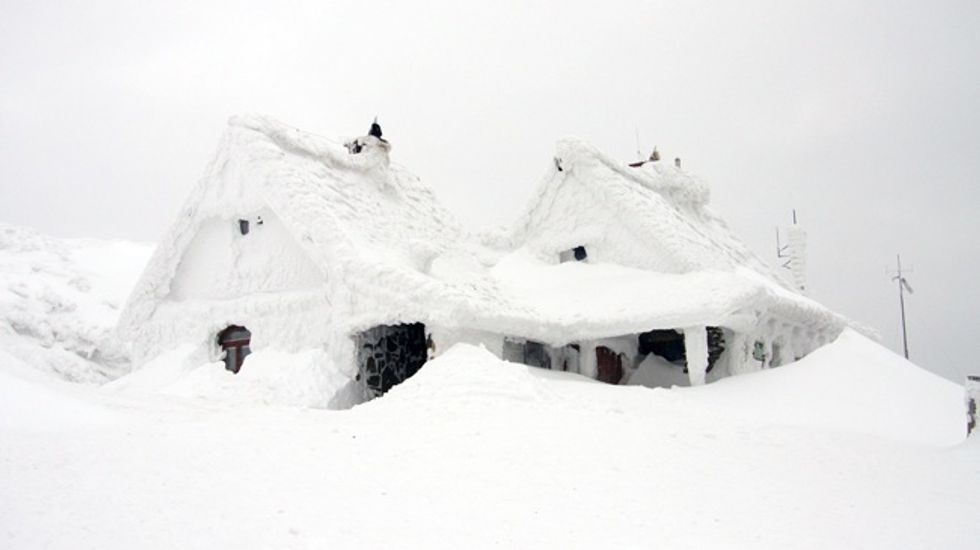 Researchers from the University of Northumbria recently made headlines with an eye-opening presentation at the Royal Astronomical Society's National Astronomy Meeting postulating that solar activity could fall by 60 percent in the 2030s, possibly bringing the Earth into a "mini ice age." The reason, they assert, is that fluid movements within the sun will converge in such a way that temperatures on Earth fall leading to conditions similar to the "Maunder Minimum," a cold period between 1645—1715.
You can guess what happened next. The usual suspects of climate change deniers jumped on the study to suggest that climate predictions are too uncertain to trust. And so it doesn't make sense to worry about reducing greenhouse gas emissions (especially if the Earth might actually get colder). Before everyone gets carried away, let's consider the bigger scientific picture and two points in particular.
THE SUN ISN'T THE ONLY PLAYER IN THE CLIMATE SYSTEM.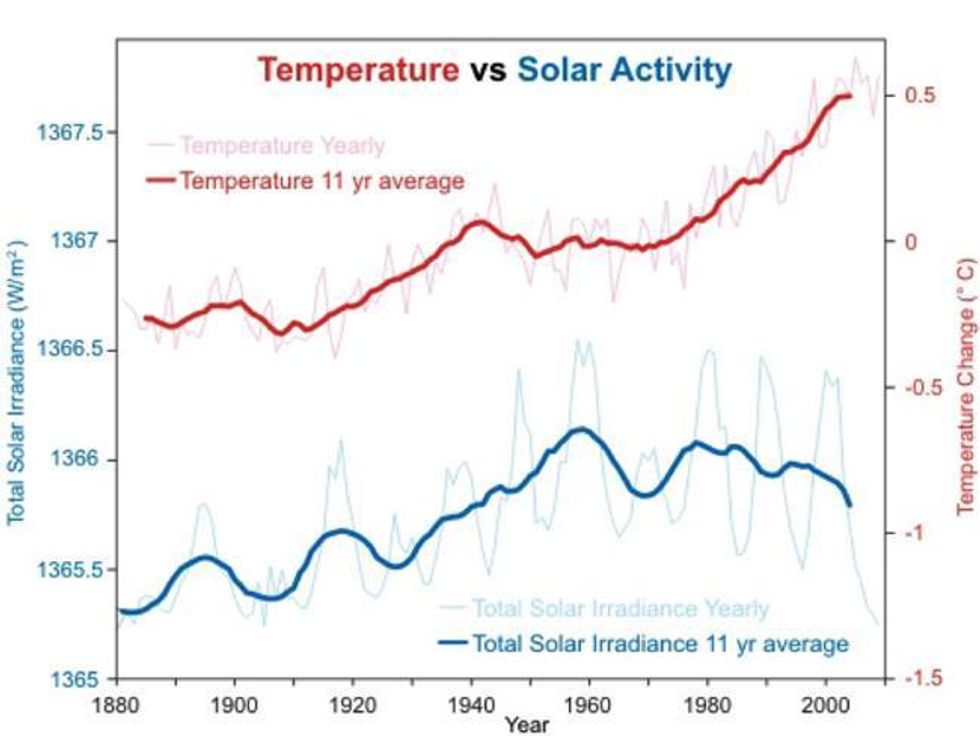 Photo credit: Skeptical Science
Many factors influence surface temperatures on Earth along with the sun. Some are natural—such as volcanic activity and internal variability—while others are linked to humans. The magnitude of these individual factors may vary at any given moment and one could potentially offset or overshadow the effects of the others. Case in point: the sun has shown a slight cooling trend for at least the past 35 years, but 14 of the 15 hottest years on record have occurred since 2000.
In other words, even though recent solar activity suggests that the planet should already be cooling, global temperatures have kept rising. So even if we do see a period of exceptionally low solar activity, it doesn't automatically mean a mini ice age is coming. Especially when there are other factors to offset any cooling (like, say, the highest levels of CO2 in the atmosphere in the last 800,000 years).
THIS ISN'T THE ONLY STUDY ON MAUNDER MINIMUMS.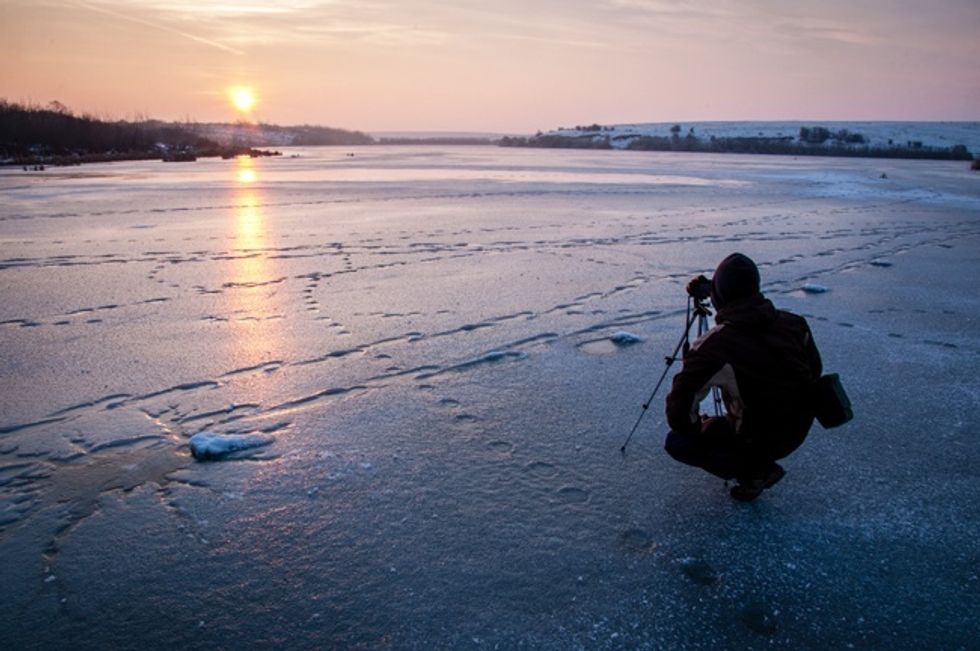 Scientists have been studying Maunder Minimums for a long time. So if you want to know what the general consensus of years of research and hundreds of scientists is, it's worth looking at what the Intergovernmental Panel on Climate Change (IPCC)—the United Nations' panel of scientists that gathers and assesses the research on climate change happening all over the world—has to say about periods of low solar activity. And what it has to say in its most recent report is this:
"Despite uncertainties in future solar activity, there is high confidence that the effects of solar activity within the range of grand solar maxima and minima will be much smaller than the changes due to anthropogenic effects."
In other words, even if there is a solar minimum like the one predicted by the Northumbria study, any cooling effects on the climate will be offset by the warming effects of man-made climate change. Many studies back this conclusion up, but the point is that we've got to look at any new study in the context of the larger body of research before jumping to conclusions.
IT'S GETTING HOT IN HERE.
The Northumbria study makes an intriguing contribution to the research on the connection between solar activity and our climate. But the study alone doesn't mean we shouldn't reduce our greenhouse gas emissions. Especially when the overwhelming body of scientific evidence suggests the planet is warming thanks to human activity—and will keep doing so unless we seriously cut down on fossil fuels. There are also plenty of climate impacts—like oceans becoming more and more acidic—that diminished solar activity wouldn't even touch. Plus, the big-picture solution to climate change—a global shift to clean energy—will bring improvements in health and economic opportunities that will benefit the world, "mini ice age" or no.
Bottom line: It's possible that decreasing solar activity could offset some—and we repeat "some"—of the Earth's warming, but the dangerous warming caused by burning fossil fuels will continue unless we take bold steps to change our energy use. So when it comes to talk about a new ice age, let's ensure cooler heads prevail.