This website uses cookies to ensure you get the best experience while browsing it. By clicking 'Got It' you're accepting these terms.
4 Ways the Green Climate Fund Can Help Developing Countries
Feb. 23, 2014 09:30AM EST
Business
By Alex Doukas
The Green Climate Fund (GCF) has big ambitions: It aspires to become the main global fund for providing climate change finance, contributing to activities like the design of resilient cities and the expansion of low-emission power generation.
However, it faces crucial questions about how it will allocate its funds to achieve its many mitigation and adaptation objectives, while avoiding the pitfalls of spreading funding too thinly to achieve impact. The answers to these questions and more will shape to what degree the GCF can catalyze low-carbon, climate-resilient development in developing countries.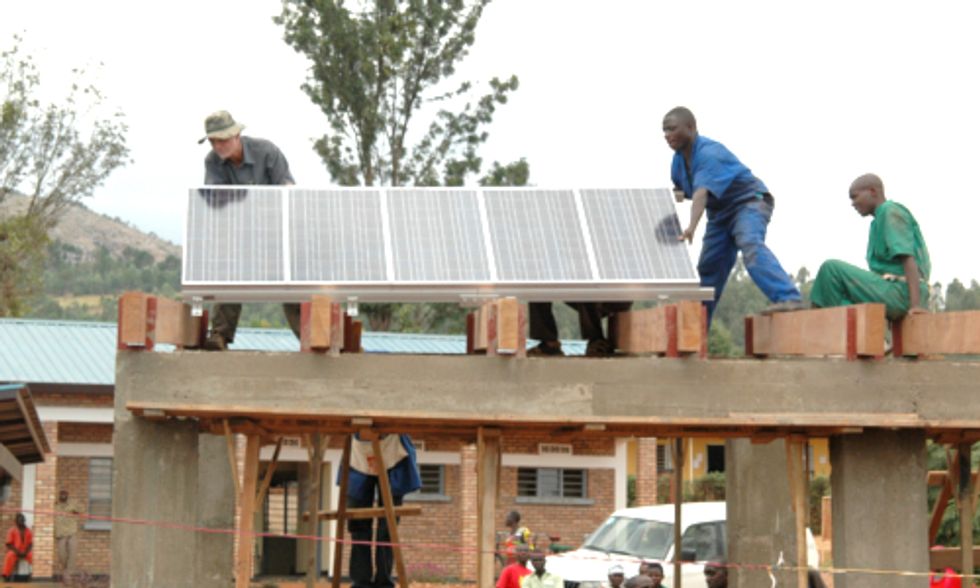 The GCF Board discussed how to allocate its resources at its meeting in Bali, Indonesia. The WRI analyzed how 15 other climate and development funds balance trade-offs to achieve their objectives.
Four key insights emerge from this analysis that the GCF Board should consider as it continues discussing how to allocate its funds:
Identify a range of possibilities to invest in from the ground up, and prioritize support where it can have the most impact in addressing climate change. By allowing local companies and investors—whether they are owned by governments or by the private sector—to present the GCF with a range of investment possibilities, the Fund can cast its net wide and identify opportunities that can deliver maximum impact. Moreover, such an approach also helps to foster a stronger ownership of programs and projects by those who will be responsible for taking actions that address climate change. At the same time, to ensure progress toward internationally agreed-upon outcomes—such as limiting global temperature rise to 2 degrees Celsius—the GCF cannot fund whatever comes its way. It will need to screen opportunities to ensure that the projects it selects will deliver maximum benefits in terms of reducing greenhouse gas emissions and enhancing resilience to the expected impacts of climate change.

Prioritize activities that deliver long-term impacts. To focus on the highest-impact investments, the GCF will have to prioritize activities that have the potential to put us on a fundamentally low-emission, climate-resilient path (what the GCF calls a "paradigm shift"), rather than "quick fixes." As a hypothetical example, while fuel-switching from coal to natural gas might yield cost-effective, short-term emissions reductions, it may not support deeper, long-term emissions reductions in the same way that investments in renewable energy would. Efforts like renewable energy development may take a longer time to bear fruit than short-term, one-off investments, but are critically important in transitioning to low-carbon economies. And there will certainly be exceptions, such as addressing imminent humanitarian needs arising from climate change impacts. Incorporating different time horizons for actions and results into allocation approaches will support the kind of transformational impacts to which the GCF aspires.

Allocations should be driven by potential for impact and calibrated for fairness. The GCF Board must ensure that the balance of resources allocated is perceived as fair. Many funds start with an allocation process focused on potential for impact, and only after this initial allocation do they make adjustments or apply caps and floors to ensure fairness. This appears to be a more effective way to ensure equity in the distribution of resources, particularly for low-capacity countries. Such adjustments can ensure that groups of countries that meet certain criteria, such as the Least Developed Countries, have adequate access to resources even if they end up with lower initial allocations because of their capacity constraints.

Provide flexibility to be responsive to emerging opportunities, but not at the expense of predictability. The GCF should be empowered with an allocation system that is flexible enough to respond to brief windows of opportunity for low-emission and climate-resilient development. For example, a country recovering from a climate-related disaster might see an opportunity to rebuild in a more climate-resilient way, but would not have been able to foresee this circumstance. Overly rigid allocation systems are ill-suited to respond quickly to such opportunities and are unable to accommodate the wide variety of socio-economic conditions and institutional capacities across (and within) developing countries. At the same time, the GCF needs to provide patient support where needed to enable long-term, systemic change. Finding a balance between predictable flows and a flexible system will be necessary. The degree of flexibility could be differentiated, with more flexibility for mitigation and more predictability for adaptation. Increased predictability in adaptation funding can help countries with a high degree of need but limited capacity to use funds effectively.
While the GCF Board should be ambitious and innovative, they can also look to what's been done before. Drawing knowledge from the experiences of other critical climate and development funds is one way to ensure that the GCF succeeds.
Getting the allocation system right is a key step in building an effective and fair GCF that can contribute to objectives like the design of low-emission, climate-resilient cities, the expansion of renewable energy, and more. The insights above can help guide the GCF to focus on opportunities that deliver substantial global benefits, without fragmenting resources in a way that dilutes impact.
Learn more on the World Resource Institute's working paper, Sum of Parts: Making the Green Climate Fund's Allocations Add Up to Its Ambitions.
Visit EcoWatch's SUSTAINABLE BUSINESS page for more related news on this topic.

EcoWatch Daily Newsletter
Aerial view of Ruropolis, Para state, northen Brazil, on Sept. 6, 2019. Tthe world's biggest rainforest is under threat from wildfires and rampant deforestation. JOHANNES MYBURGH / AFP via Getty Images
By Kate Martyr
Deforestation in Brazil's Amazon rainforest last month jumped to the highest level since records began in 2015, according to government data.
A total of 563 square kilometers (217.38 square miles) of the world's largest rainforest was destroyed in November, 103% more than in the same month last year, according to Brazil's space research agency.
From January to November this year an area almost the size of the Caribbean island of Puerto Rico was destroyed — an 83% overall increase in destruction when compared with the same period last year.
The figures were released on Friday by the National Institute for Space Research (INPE), and collected through the DETER database, which uses satellite images to monitor forest fires, forest destruction and other developments affecting the rainforest.
What's Behind the Rise?
Overall, deforestation in 2019 has jumped 30% compared to last year — 9,762 square kilometers (approximately 3769 square miles) have been destroyed, despite deforestation usually slowing during November and December.
Environmental groups, researchers and activists blamed the policies of Brazil's president Jair Bolsonaro for the increase.
They say that Bolosonaro's calls for the Amazon to be developed and his weakening support for Ibama, the government's environmental agency, have led to loggers and ranchers feeling safer and braver in destroying the expansive rainforest.
His government hit back at these claims, pointing out that previous governments also cut budgets to environment agencies such as Ibama.
The report comes as Brazil came to loggerheads with the Association of Small Island States (AOSIS) over climate goals during the UN climate conference in Madrid.
AOSIS blasted Brazil, among other nations, for "a lack of ambition that also undermines ours."
Last month, a group of Brazilian lawyers called for Bolsonaro to be investigated by the International Criminal Court over his environmental policies.
Reposted with permission from DW.
The Carolina parakeet went extinct in 1918. James St. John /
CC BY 2.0
The Carolina parakeet, the only parrot species native to the U.S., went extinct in 1918 when the last bird died at the Cincinnati Zoo. Now, a little more than 100 years later, researchers have determined that humans were entirely to blame.
Pexels
Vitamin C is a very important nutrient that's abundant in many fruits and vegetables.
BLM drill seeders work to restore native grasses after wildfire on the Bowden Hills Wilderness Study Area in southeast Oregon, Dec. 14, 2018. Marcus Johnson / BLM / CC BY 2.0
By Tara Lohan
In 2017 the Thomas fire raged through 281,893 acres in Ventura and Santa Barbara counties, California, leaving in its wake a blackened expanse of land, burned vegetation, and more than 1,000 destroyed buildings.