This website uses cookies to ensure you get the best experience while browsing it. By clicking 'Got It' you're accepting these terms.
According to the U.S. Department of Agriculture, the average American consumes 36 pounds of cheese, 200 pounds of milk and cream and 24 pounds of ice cream or frozen dairy products annually. But what benefits do dairy products provide in the first place? The dairy industry touts bone health and calcium, but research suggesting dairy helps bone health is weak at best. If you are deficient in calcium, there are plenty of non-dairy calcium sources, including kale, collard greens, tempeh and beans.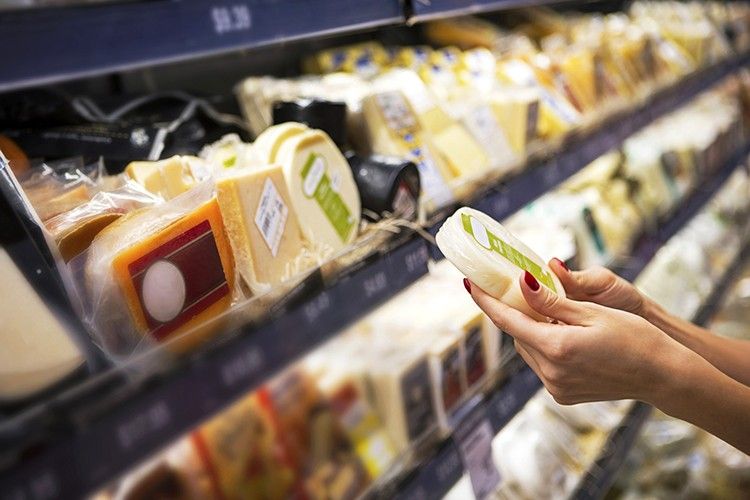 On the other hand, there may be some health reasons to reduce or cut dairy out completely. What happens to your body when you go cold turkey on dairy?
1. Fewer Zits
Excluding dairy products could make you less prone to getting acne. According to research from Dartmouth Medical School, milk has testosterone-like hormones, which may stimulate oil glands in the skin and contribute to breakouts.
2. Better Digestion, Less Gas
Nearly two-thirds of the world's population has a hard time digesting milk, according to the U.S. National Library of Medicine. This varies with ethnic groups from mild to severe lactose intolerance. If you have an intolerance to lactose, cutting out dairy could reduce bloating, flatulence, diarrhea and stomach cramps says the NHS.
3. Reduced Cancer Risk
Swedish researchers found women who drink more than one glass of milk per day may double their risk of ovarian cancer. A Harvard study found men who consumed more than two daily dairy servings had a 34 percent increased risk of developing prostate cancer, compared with those who consumed little or no dairy.
4. Longer Life
According to a study published in the BMJ, each daily glass of milk elevated mortality risk by 15 percent. Women who drank three or more glasses of milk per day were nearly twice as likely to die over the next two decades than those who drank less than one glass a day. The culprit: galactose, a simple milk sugar that induces oxidative stress and low-grade inflammation, often a precursor to disease.
In a YahooNews article, Julieanna Hever, MS, RD, CPT, a plant-based dietitian and author of The Vegiterranean Diet and The Complete Idiot's Guide to Plant-Based Nutrition adds that abstaining from dairy could reduce your risk of cardiovascular disease, type 2 diabetes, obesity and most other chronic diseases. That because most dairy products contain saturated fats, cholesterol-hormones and steroids.
YOU MIGHT ALSO LIKE
8 Health Benefits of Coconut Water
The Zero-Calorie 'Miracle' Noodle
Bananas: Are They Fattening or Will They Help You Lose Weight?
EcoWatch Daily Newsletter
Tuna auctions are a tourist spectacle in Tokyo. Outside the city's most famous fish market, long queues of visitors hoping for a glimpse of the action begin to form at 5 a.m. The attraction is so popular that last October the Tsukiji fish market, in operation since 1935, moved out from the city center to the district of Toyosu to cope with the crowds.

gmnicholas / E+ / Getty Images
Kristan Porter grew up in a fishing family in the fishing community of Cutler, Maine, where he says all roads lead to one career path: fishing. (Porter's father was the family's lone exception. He suffered from terrible seasickness, and so became a carpenter.) The 49-year-old, who has been working on boats since he was a kid and fishing on his own since 1991, says that the recent warming of Maine's cool coastal waters has yielded unprecedented lobster landings.
Aerial view of lava flows from the eruption of volcano Kilauea on Hawaii, May 2018. Frizi / iStock / Getty Images
Hawaii's Kilauea volcano could be gearing up for an eruption after a pond of water was discovered inside its summit crater for the first time in recorded history, according to the AP.
The Eqip Sermia Glacier is seen behind a moraine left exposed by the glacier's retreat during unseasonably warm weather on Aug. 1 at Eqip Sermia, Greenland. Sean Gallup / Getty Images
hadynyah / E+ / Getty Images
By Johnny Wood
The Ganges is a lifeline for the people of India, spiritually and economically. On its journey from the Himalayas to the Bay of Bengal, it supports fishermen, farmers and an abundance of wildlife.
The river and its tributaries touch the lives of roughly 500 million people. But having flowed for millennia, today it is reaching its capacity for human and industrial waste, while simultaneously being drained for agriculture and municipal use.
Here are some of the challenges the river faces.
By Jake Johnson
As a growing number of states move to pass laws that would criminalize pipeline protests and hit demonstrators with years in prison, an audio recording obtained by The Intercept showed a representative of a powerful oil and gas lobbying group bragging about the industry's success in crafting anti-protest legislation behind closed doors.
Reposted with permission from our media associate Common Dreams.

DESIREE MARTIN / AFP / Getty Images
Wildfires raging on Gran Canaria, the second most populous of Spain's Canary Islands, have forced around 9,000 people to evacuate.