This website uses cookies to ensure you get the best experience while browsing it. By clicking 'Got It' you're accepting these terms.
4 Million People Die Each Year Inhaling Black Carbon
Apr. 08, 2016 11:56AM EST
Climate
One of global warming's biggest culprits is lurking in the most unlikely of places. Black carbon from household stoves is fueling climate change and degrading public health and the issue has spurred a wave of investment in novel alternatives to solid fuel cookstoves.
Millions of women in developing countries cook on stoves heated by burning wood, charcoal, crops and dung. Soot from these stoves collects in homes and in the atmosphere as black carbon, a potent greenhouse gas second only to CO2 in its ability to trap heat. But unlike CO2, which is harmless if inhaled, black carbon contains carcinogens that can enter the bloodstream and wreak havoc on vital organs.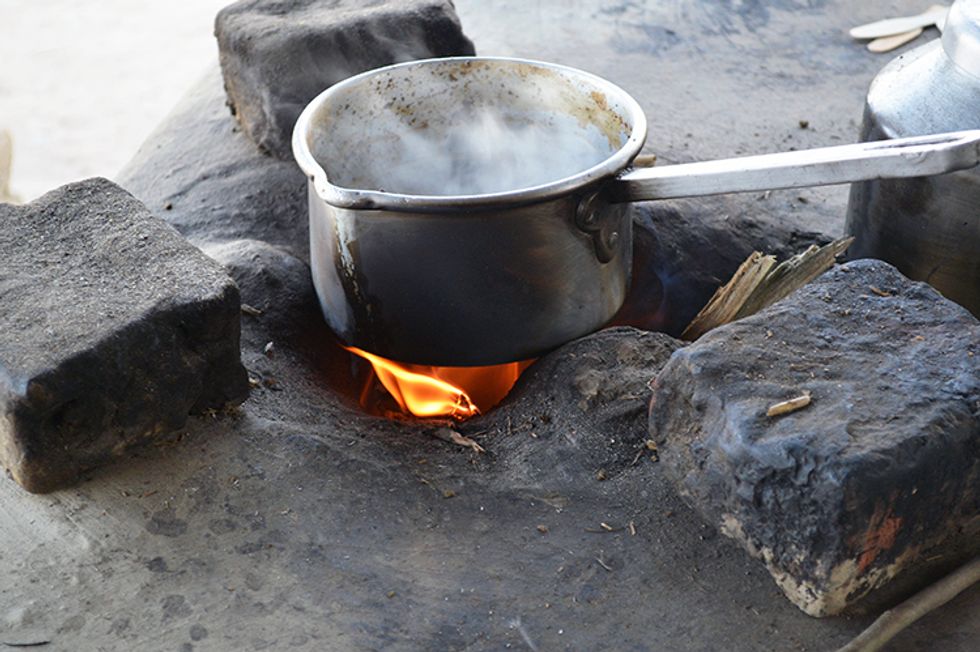 "Having an open fire in your kitchen is like burning 400 cigarettes an hour," Kirk Smith, professor of environmental health at UC Berkeley told the World Health Organization. Smoke from cookstoves claims roughly 4 million lives each year, more than malaria, HIV/AIDS and tuberculosis combined. Women and children stand at greatest risk.
So pernicious are black carbon's effects that Sen. James Inhofe of Oklahoma, Capitol Hill's most outspoken climate change doubter, supported a bill to investigate its dangers. Inhofe told the The Guardian he was concerned about the spread of lung disease in Africa, where so many families cook on wood stoves.
Inhofe's political rivals have proved just as determined to eliminate indoor pollution from burning wood and coal. In 2010, Sec. of State Hillary Clinton announced an public-private partnership to provide clean-burning stoves to families in Africa, Asia and South America. As of October, the Global Alliance for Clean Cookstoves had delivered 28 million stoves, a milestone on its way to its goal of 100 million stoves by 2020.
The alliance counts oil giant Shell among its key partners. To critics, Shell's participation may look like greenwashing, a way for the fossil fuel titan to invest in clean energy without undercutting its oil business—see its sponsored article in Wired magazine or its TV commercial. But the company has contributed to grants for numerous game-changing ventures, like BioLite, a U.S. startup producing clean-burning stoves.
BioLite developed a cookstove with an attached thermo-electric generator that uses heat produced by burning wood to generate electricity. The generator powers a fan that draws oxygen into the burner, feeding the fire while eliminating smoke. The result is a cleaner, more efficient stove.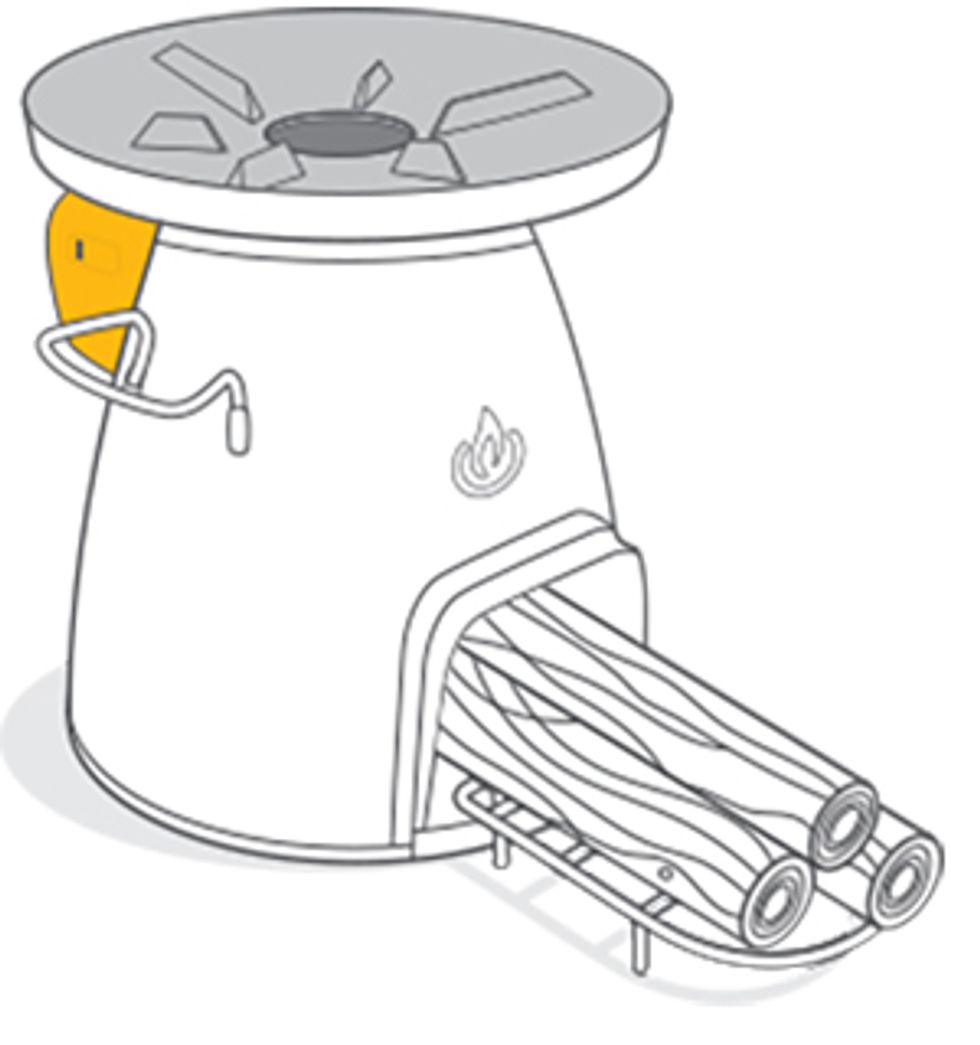 According to BioLite, the HomeStove requires roughly half the fuel of an open fire and produces 90 percent less carbon pollution. And, the extra energy produced can be used charge a cell phone or power an LED light.
Some contributions to the genre of clean cookstoves have proved less elegant. Last week, (B)energy, a German social business venture, put forward its latest design—an enormous inflatable bag that can be filled with methane from decomposing organic matter—food, manure, even human waste. Once filled, the bag can be transported on one's back and connected to a stove to provide fuel.
Jonathan Cedar, one of BioLite's founders, believes cleaner-burning stoves could be the next penicillin, saving millions of lives at a negligible cost. Their impact on climate change could be even bigger. Solid fuel stoves account for 25 percent of black carbon emissions globally. Unlike carbon dioxide, which can linger in the atmosphere for centuries, black carbon remains for just days or weeks, meaning cutting pollution from cookstoves would pay off quickly.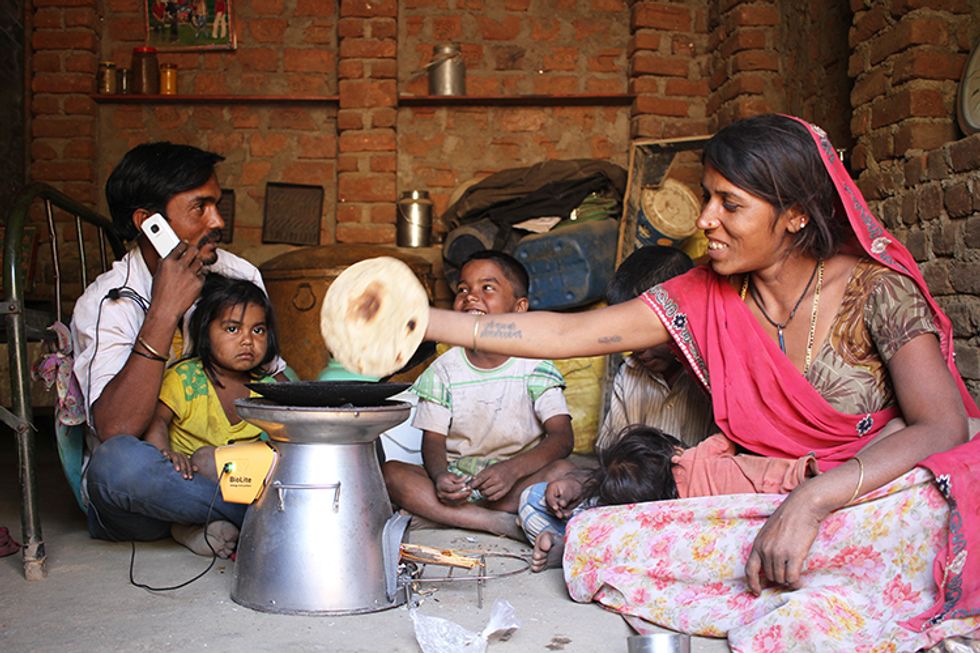 "Reductions in short-lived climate pollutants cannot be made in isolation from efforts to reduce other greenhouse gases, especially carbon dioxide," said Sameer Akbar, a senior environmental specialist at the World Bank. "But black carbon and methane reductions can slow the warming impact in the near-term. That would buy us some much-needed time to address carbon dioxide emissions and to help communities adapt to the changing climate."
As far as global warming goes, clean-burning cookstoves are low-hanging fruit. They are cheap, unobjectionable and able to produce immediate benefits for the climate and for human health. The challenge now is getting people to change the way they cook.
Jeremy Deaton writes about the science, policy and politics of climate and energy for Nexus Media. You can follow him at @deaton_jeremy.
YOU MIGHT ALSO LIKE
Online Database Tells You if the Cleaning Products You Bring in Your Home Are Toxic
7-Year-Old Files Climate Change Lawsuit with the Supreme Court of Pakistan
Can Cuba Supply America's Growing Appetite for Organic Food?
10 Inspiring Films on Food + Farming: Who Do You Think Should Win the People's Choice Award?
EcoWatch Daily Newsletter
U.S. President Donald Trump listens as Anthony Fauci, Director of the National Institute of Allergy and Infectious Diseases speaks in the Rose Garden for the daily coronavirus briefing at the White House on March 29 in Washington, DC. Tasos Katopodis / Getty Images
By Jake Johnson
Just over a month after proclaiming that the number of coronavirus cases in the U.S. would soon "be down to close to zero," President Donald Trump said during a press briefing on the White House lawn Sunday that limiting U.S. deaths from the pandemic to between 100,000 and 200,000 people would mean his administration and the country as a whole did "a very good job."
Dicamba is having a devastating impact in Arkansas and neighboring states. A farmer in Mississippi County, Arkansas looks at rows of soybean plants affected by dicamba. The Washington Post / Getty Images
Documents unearthed in a lawsuit brought by a Missouri farmer who claimed that Monsanto and German chemical maker BASF's dicamba herbicide ruined his peach orchard revealed that the two companies knew their new agricultural seed and chemical system would likely damage many U.S. farms, according to documents seen by The Guardian.
Washington State Governor Jay Inslee and other leaders speak to the press on March 28, 2020 in Seattle. Karen Ducey / Getty Images
A bushfire burns outside the Perth Cricket Stadium in Perth, Australia on Dec. 13, 2019. PETER PARKS / AFP via Getty Images

By Albert Van Dijk, Luigi Renzullo, Marta Yebra and Shoshana Rapley
2019 was the year Australians confronted the fact that a healthy environment is more than just a pretty waterfall in a national park; a nice extra we can do without. We do not survive without air to breathe, water to drink, soil to grow food and weather we can cope with.
By Fino Menezes
Everyone adores dolphins. Intelligent, inquisitive and playful, these special creatures have captivated humans since the dawn of time. But dolphins didn't get to where they are by accident — they needed to develop some pretty amazing superpowers to cope with their environment.