4 Million People Demand Obama Administration to Protect Bees from Toxic Insecticides
Today, a coalition of more than 125 conservation, beekeeping, food safety, religious and farming advocacy groups rallied in front of the White House and delivered more than four million petition signatures calling on the Obama administration to put forth strong protections for bees and other pollinators.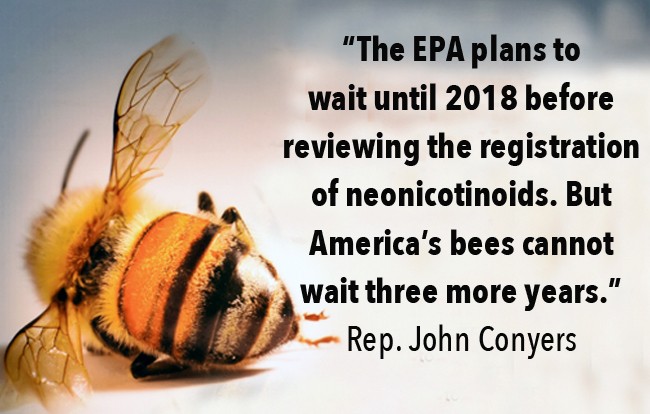 The rally coincided with both a D.C. metro ad campaign, and Representatives Earl Blumenauer (D-OR) and John Conyers' (D-MI) reintroduction of the Saving America's Pollinators Act, "which would suspend the use of four of the most toxic neonicotinoids until the Environmental Protection Agency conducts a full review of their safety," said Friends of the Earth.
Neonicotinoids are a class of pesticides that are known to have acute and chronic effects on honey bees and other pollinator species, and are considered a major factor in overall population declines. Twenty-nine independent scientists conducted a global review of 1,121 independent studies and found overwhelming evidence of pesticides linked to bee declines.
Concerned citizens refuse to sit idly by as pollinator species plummet. The action today followed a letter on Monday drafted by the coalition urging President Obama and the U.S. Environmental Protection Agency (EPA) to "take swift and meaningful action to address the impacts of toxic pesticides on pollinator species." While the European Union passed a two-year moratorium on three of the most widely used neonicotinoids, the U.S. government has done very little.
"The EPA plans to wait until 2018 before reviewing the registration of neonicotinoids. But America's bees cannot wait three more years. Neither can the thousands of farmers that rely on pollinators," said Representative Conyers. "Our honeybees are critical to ecological sustainability and to our economy. I am urging all of my colleagues to please protect our pollinators and support the Saving America's Pollinators Act."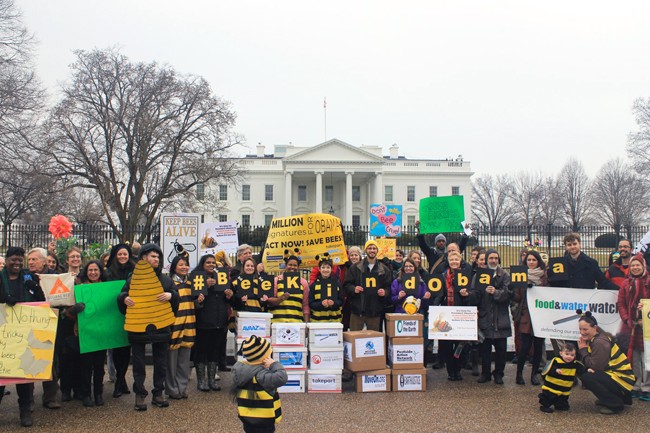 President Obama announced the creation of the Pollinator Health Task Force this past June and recommendations are expected later this month. "Given the historic decline in the population of pollinators—bees, butterflies and birds—it is critical that the president and White House Task Force show forceful leadership in addressing all factors contributing to the crisis, with the suspension of neonicotinoid insecticides being a critically necessary action," said Jay Feldman, executive director of Beyond Pesticides, who spoke at today's rally.
Advocates remain hopeful that the task force will take a strong stance, but they worry that federal agencies might do more of the same—voluntary farming management practices, insignificant pesticide label changes and weak state pollinator plans, according to Friends of the Earth. Given the EPA's continued registration of pesticides that are known to be highly toxic to pollinators, there's reason for concern.
Forward-thinking businesses that employ triple bottom line principles understand what's at stake. "Business leaders nationally recognize the importance of pollinators to the well-being of the economy, people, and ecosystems," said Fran Teplitz, Co-Executive Director, Green Business Network and Bryan McGannon, Deputy Director, American Sustainable Business Council. "Businesses committed to sustainability support strong federal action to protect pollinators from pesticides linked to their decline; now is the time to act."
The four million signatures were collected by Avaaz, Beyond Pesticides, the Center for Biological Diversity, Center for Food Safety, CREDO, Earthjustice, Environment America, Food and Water Watch, Food Democracy Now!, Friends of the Earth U.S., Green America, MoveOn, Organic Consumers Association, Pesticide Action Network, Save Our Environment, TakePart and Toxic Free North Carolina.
YOU MIGHT ALSO LIKE
People, Planet, Profit: How Triple-Bottom-Line Businesses Lead the Way Toward Sustainable Economies
David Suzuki: Climate Change Is Real Threat, Not Activists Calling for Immediate Action
Why Grass-Fed Butter Is One of the Healthiest Fats on the Planet
Bill Maher is sick of billionaires' obsession with Mars, more like "Mars-a-Lago," he said.
In a new animation produced by ATTN:, the popular talk show host of Real Time, discusses the perils of our planet, including how "climate change is killing us."
Keep reading...
Show less
Dr. Benjamin D. Santer, research scientist
A group of prominent climate scientists have written a study explicitly refuting statements made by the U.S. Environmental Protection Agency Administrator Scott Pruitt on climate data. During his Senate confirmation hearing, Pruitt claimed in a written response that satellite data shows a "leveling off" of warming over the past two decades.
Keep reading...
Show less
By David Pomerantz
The Nevada Assembly passed a bill Wednesday that would dramatically increase the growth of renewable energy in the state, but Sheldon Adelson, the casino magnate and major donor to Donald Trump, is attempting to prevent the bill from becoming law.
Keep reading...
Show less
Matt Crossick
By Yosola Olorunshola
Whether it's through fashion or protest, Vivienne Westwood is not a woman afraid of making a statement.
On May 23, she rocked up to the residence of the Archbishop of Canterbury in London with a special guest—the Grim Reaper—to issue a strong statement on the Church of England's position on fracking.
Keep reading...
Show less
By Paul Brown
The food industry and big agricultural concerns are driving climate change and at the same time threatening to undermine efforts to feed the world's growing population, according to GRAIN, an organization that supports small farmers.
Particularly singled out for criticism are the large chemical fertilizer producers that have gained access to the United Nations talks on climate change. GRAIN accuses them of behaving like the fossil fuel companies did in the 1990s, pushing false information in the hope of delaying real action on climate change.
Keep reading...
Show less
May. 24, 2017 06:55PM EST
By Sydney Robinson
President Trump has no doubt been given a long list of extravagant, elaborate gifts in his lifetime, but the gift given to him today by Pope Francis may not make it on his most favorite list.
Keep reading...
Show less
May. 24, 2017 07:17PM EST
By John Rogers
Maybe it's because I first started working on clean energy while serving in the Peace Corps he founded, or maybe it's my years of working on these issues from his home state. But I can't help thinking about the 100th anniversary of John F. Kennedy's birth, and connecting his stirring rhetoric to the energy challenges of our times.
Here's what our 35th president might have said about the challenges of energy transition and the opportunities in clean energy:
"Change is the law of life. And those who look only to the past or present are certain to miss the future."
Keep reading...
Show less
May. 24, 2017 01:47PM EST
Keep reading...
Show less


Get EcoWatch in your inbox