This website uses cookies to ensure you get the best experience while browsing it. By clicking 'Got It' you're accepting these terms.
4 Million People Demand Obama Administration to Protect Bees from Toxic Insecticides
Mar. 04, 2015 02:55PM EST
Today, a coalition of more than 125 conservation, beekeeping, food safety, religious and farming advocacy groups rallied in front of the White House and delivered more than four million petition signatures calling on the Obama administration to put forth strong protections for bees and other pollinators.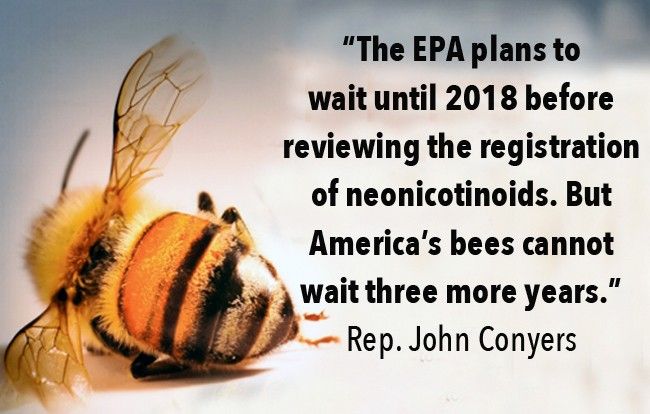 The rally coincided with both a D.C. metro ad campaign, and Representatives Earl Blumenauer (D-OR) and John Conyers' (D-MI) reintroduction of the Saving America's Pollinators Act, "which would suspend the use of four of the most toxic neonicotinoids until the Environmental Protection Agency conducts a full review of their safety," said Friends of the Earth.
Neonicotinoids are a class of pesticides that are known to have acute and chronic effects on honey bees and other pollinator species, and are considered a major factor in overall population declines. Twenty-nine independent scientists conducted a global review of 1,121 independent studies and found overwhelming evidence of pesticides linked to bee declines.
Concerned citizens refuse to sit idly by as pollinator species plummet. The action today followed a letter on Monday drafted by the coalition urging President Obama and the U.S. Environmental Protection Agency (EPA) to "take swift and meaningful action to address the impacts of toxic pesticides on pollinator species." While the European Union passed a two-year moratorium on three of the most widely used neonicotinoids, the U.S. government has done very little.
"The EPA plans to wait until 2018 before reviewing the registration of neonicotinoids. But America's bees cannot wait three more years. Neither can the thousands of farmers that rely on pollinators," said Representative Conyers. "Our honeybees are critical to ecological sustainability and to our economy. I am urging all of my colleagues to please protect our pollinators and support the Saving America's Pollinators Act."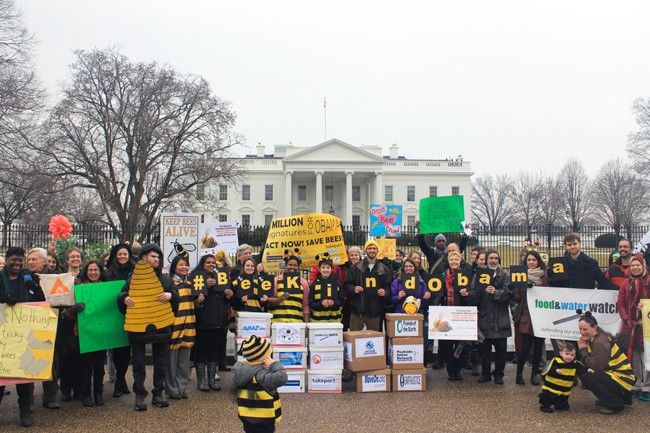 President Obama announced the creation of the Pollinator Health Task Force this past June and recommendations are expected later this month. "Given the historic decline in the population of pollinators—bees, butterflies and birds—it is critical that the president and White House Task Force show forceful leadership in addressing all factors contributing to the crisis, with the suspension of neonicotinoid insecticides being a critically necessary action," said Jay Feldman, executive director of Beyond Pesticides, who spoke at today's rally.
Advocates remain hopeful that the task force will take a strong stance, but they worry that federal agencies might do more of the same—voluntary farming management practices, insignificant pesticide label changes and weak state pollinator plans, according to Friends of the Earth. Given the EPA's continued registration of pesticides that are known to be highly toxic to pollinators, there's reason for concern.
Forward-thinking businesses that employ triple bottom line principles understand what's at stake. "Business leaders nationally recognize the importance of pollinators to the well-being of the economy, people, and ecosystems," said Fran Teplitz, Co-Executive Director, Green Business Network and Bryan McGannon, Deputy Director, American Sustainable Business Council. "Businesses committed to sustainability support strong federal action to protect pollinators from pesticides linked to their decline; now is the time to act."
The four million signatures were collected by Avaaz, Beyond Pesticides, the Center for Biological Diversity, Center for Food Safety, CREDO, Earthjustice, Environment America, Food and Water Watch, Food Democracy Now!, Friends of the Earth U.S., Green America, MoveOn, Organic Consumers Association, Pesticide Action Network, Save Our Environment, TakePart and Toxic Free North Carolina.
YOU MIGHT ALSO LIKE
People, Planet, Profit: How Triple-Bottom-Line Businesses Lead the Way Toward Sustainable Economies
David Suzuki: Climate Change Is Real Threat, Not Activists Calling for Immediate Action
Why Grass-Fed Butter Is One of the Healthiest Fats on the Planet
EcoWatch Daily Newsletter
DESIREE MARTIN / AFP / Getty Images
Wildfires raging on Gran Canaria, the second most populous of Spain's Canary Islands, have forced around 9,000 people to evacuate.
Wolves in Mount Rainier, Washington. Ron Reznick / VW Pics / Universal Images Group via Getty Images
The last four members of an embattled wolf pack were killed in Washington State Friday, hours before the court order that could have saved them.
Plateau Creek near De Beque, Colorado, where land has been leased for oil and gas production. Helen H. Richardson / The Denver Post / Getty Images
By Randi Spivak
Slashing two national monuments in Utah may have received the most attention, but Trump's Interior Department and U.S. Forest Service have been quietly, systematically ceding control of America's public lands to fossil fuel, mining, timber and livestock interests since the day he took office.
Aerial view of lava flows from the eruption of volcano Kilauea on Hawaii, May 2018. Frizi / iStock / Getty Images
Hawaii's Kilauea volcano could be gearing up for an eruption after a pond of water was discovered inside its summit crater for the first time in recorded history, according to the AP.
Global SO2 Emission Hotspot Database / Greenpeace
A new report by Greenpeace International pinpointed the world's worst sources of sulfur dioxide pollution, an irritant gas that harms human health. India has seized the top spot from Russia and China, contributing nearly 15 percent of global sulfur dioxide emissions.
The huge surge this year in Amazon deforestation is leading some European countries to think twice about donations to the Amazon Fund. LeoFFreitas / Moment / Getty Images
By Sue Branford and Thais Borges
Ola Elvestrun, Norway's environment minister, announced Thursday that it is freezing its contributions to the Amazon Fund, and will no longer be transferring €300 million ($33.2 million) to Brazil. In a press release, the Norwegian embassy in Brazil stated:
Gina Lopez, the Philippine secretary of the environment, at a meeting with residents affected by a mine tailing disaster. Keith Schneider
Gina Lopez, a former Philippine environment secretary, philanthropist and eco-warrior, died on Aug. 19 from brain cancer. She was 65.
Trump speaks to contractors at the Shell Chemicals Petrochemical Complex on Aug. 13 in Monaca, Pennsylvania. Jeff Swensen / Getty Images
Thousands of union members at a multibillion dollar petrochemical plant outside of Pittsburgh were given a choice last week: Stand and wait for a speech by Donald Trump or take the day off without pay.