4 Extreme Weather Events Caused By Climate Change ​Right Now
Aug. 08, 2014 10:03AM EST
Climate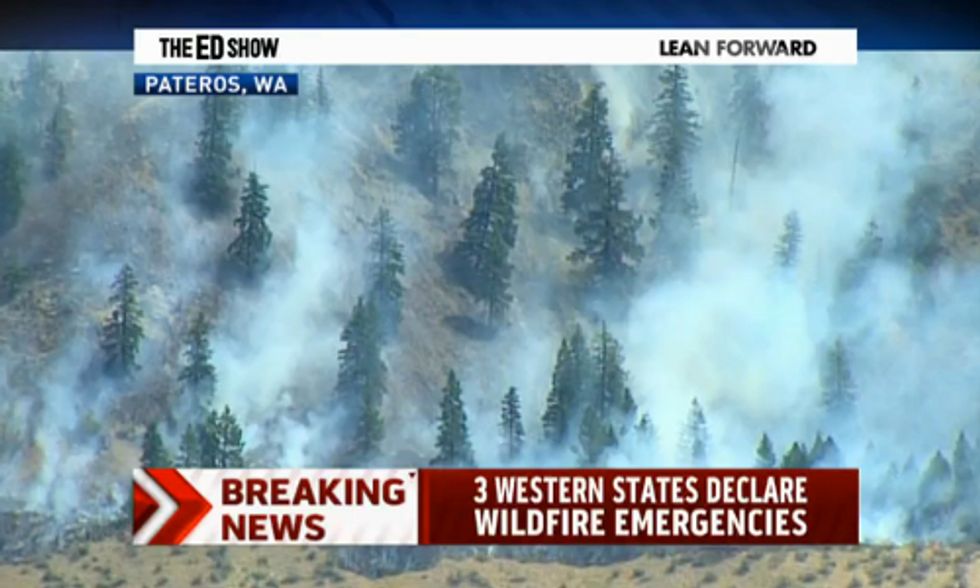 Last night, as Hurricane Iselle moved closer to Hawaii, threatening the state with its worst storm in 22 years, MSNBC's The Ed Show weighed in on four current abnormal weather events.
Crises from Toledo's drinking water ban due to toxic algae to severe drought in California point to one thing, according to host Ed Schultz: "Severe weather is on the rise for a reason: climate change."
Meanwhile, as wildfires in the western U.S. rage out of control, prompting three states to declare emergencies, House Republicans refuse to approve funding for wildfires and instead "sued the president and went on vacation."
"Unfortunately there is a party in this country that refuses to acknowledge that the problem even exists…" said Schultz. "Everyone but science-denying Republicans knows what's happening. It's climate change. But we as a country seem to be in denial."
Although the science is denied by more than 100 members of Congress—which Schultz describes as a "do-nothing Congress telling us we're on our own: get your own drinking water, fight your own fires," possible solutions are discussed with Rep. John Garamendi (D-Cal) and Tiernan Sittenfeld of League of Conservation Voters.
The segment of The Ed Show included a viewer poll: Should climate-denying republicans be forced to take a basic earth science course? So far 96 percent of respondents have responded "yes." What do you think?
You Might Also Like
Fire and Ice: What I Did On My Summer Vacation
NASA: Earth Could Warm 20 Percent More Than Earlier Estimates
Methane Blow-Holes Sign of Runaway Climate Change?
EcoWatch Daily Newsletter