This website uses cookies to ensure you get the best experience while browsing it. By clicking 'Got It' you're accepting these terms.
300,000 West Virginians Told Not to Drink Water After Coal Chemical Spill, 600+ Sick
Jan. 10, 2014 07:14PM EST
Energy

Do you take sugar in your morning coffee? How about 4-methylcyclohexane methanol? 
A large spill of a chemicals used to remove impurities from coal occurred Thursday in Charleston, WV, contaminating the Elk River less than a mile upstream of the intake for the state's largest drinking water treatment plant. As many as 300,000 West Virginia residents in nine counties have been told not to bathe, cook or wash clothes using their tap water, and numerous schools, hospitals and nursing homes, restaurants and other businesses are without water. President Obama and West Virginia Gov. Earl Ray Tomblin declared a state of emergency today.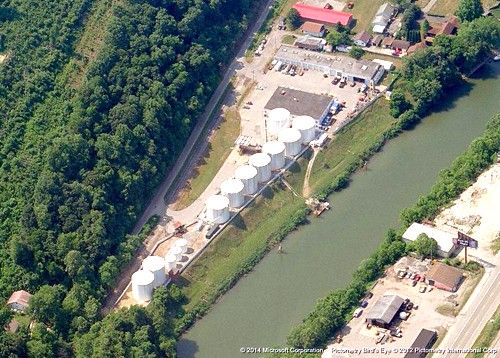 For some, the warnings may have come too late. The Charleston Area Medical Center reported this morning that it had already begun to treat people complaining of contamination-related illnesses. By late Friday, The Guardian reported that 671 people were so ill that they called into the poison control center with reports of vomiting, dizziness, nausea, headaches, diarrhea, reddening skin, itches and rashes. 
Responding to citizen reports about a licorice odor in downtown Charleston, staff from the West Virginia Department of Environmental Protection's Division of Air Quality discovered the foaming agent 4-methylcyclohexane methanol, or MCHM, leaking from a 35,000-gallon storage tank into the Elk River. The facility is owned by Freedom Industries a subsidiary of Etowah River Terminal, LLC. The spill had not been reported by the company. It's still unclear how much of the chemical spilled into the river or how long the advisory will last.
Convenience and grocery stores have sold out of water. After reports that people had begun looting bottled water, armed National Guard troops had to escort and stand guard over a truck carrying clean water to a distribution point set up in the Charleston Civic Center.
"It's like a zombie apocalypse here," said Charleston resident Barbara Paxton. "The scary thing is at 10:30 a.m. yesterday, I read online that there was a smell in the area, and they were 'investigating.' I did not know until 5 in the evening that I was not supposed to use the water."
According to Cindy Rank, West Virginia Headwaters Waterkeeper:
"[w]hat is … astounding is that the chemicals leaking from this facility are used in the coal washing process at sites throughout West Virginia—sites where nearby communities which depend on local sources of surface and ground water are frequently told the chemicals being used are harmless, or [no worse than] commonly used household products. People in these communities live in fear that accidental releases of such chemicals will destroy the water in wells and springs they use daily and it appears their fears are well founded. This situation unacceptable."
"Clean water is essential for life. We cannot cut corners in ensuring that our drinking water supply is protected," said Angie Rosser, executive director of the West Virginia Rivers Coalition. "There is too much at stake—our health, our economic stability, our confidence in water security. We hope that once the immediate crisis phase is over, serious thought will go into meaningful reforms and investment in protecting our rivers and streams that are our lifeline."
The question remains, who will foot the bill for the cleanup and the economic losses caused by the spill?
Residents are being told that they are at risk, but solutions seem limited to allowing the river to "flush" the chemical out of the area.
"It's in my hot water tank. Am I going to have an extremely large water bill because I've got to let everything run? And if it does run, is there going to be residue in my pipes?," asked Paxton. She is not only concerned for her community, but for what may be happening downstream. "My concern is that it's the Elk River, Ohio River, Mississippi River, ocean. What are they telling people downstream?"
Our continuing dependence on fossil fuels as a source of "cheap" energy has many costs that are not reflected in our power bills and prices at the pump. In addition to billions of dollars in environmental damage, the Charleston spill illustrates another example of the coal industry imposing the costs of its inherently dirty practices on Americans, not to mention poisoning the water supplies of hundreds of thousands of people. This spill demonstrates yet again that "clean coal" is a dirty lie.
"At times like these assurances that public water supplies are guaranteed safer and cleaner than the local streams, springs and wells many of us rely on daily sound as empty as the wind whistling through the trees," said Rank.
Visit EcoWatch's COAL and WATER pages for more related news on this topic.

EcoWatch Daily Newsletter
Lara Hata / iStock / Getty Images
By SaVanna Shoemaker, MS, RDN, LD
Rice is a staple in many people's diets. It's filling, inexpensive, and a great mild-tasting addition to flavorful dishes.
An image of the trans-alaskan oil pipeline that carries oil from the northern part of Alaska all the way to valdez. This shot is right near the arctic national wildlife refuge. kyletperry / iStock / Getty Images Plus
The Trump administration has initialized the final steps to open up nearly 1.6 million acres of the protected Alaskan National Wildlife Refuge to allow oil and gas drilling.
Kaboompics / Pexels
Tensions between lawmakers and several large manufacturing companies came to a head on Capitol Hill this week during a hearing on toxic fluorochemicals in U.S. drinking water.
A male african lion plays with his 4 month old cub at Big Marsh in Serengeti National Park, Tanzania. Nick Garbutt / Barcroft Media / Getty Images
A Florida man has been allowed to import a Tanzanian lion's skin, skull, claws and teeth, a first since the animal was listed as threatened under the Endangered Species Act, according to US Fish and Wildlife Service records uncovered by the Center for Biological Diversity through the Freedom of Information Act.
A fracked natural gas well in northwest Louisiana has been burning for two weeks after suffering a blowout. A state official said the fire will likely burn for the next month before the flames can be brought under control by drilling a relief well.
The universe is expanding much quicker than previously thought, according to researchers in Germany, leading scientists to suggest it may be more than 2 billion years younger than past estimates.