This website uses cookies to ensure you get the best experience while browsing it. By clicking 'Got It' you're accepting these terms.
3 Ways a Republican-Controlled Congress Can Herald Action on Climate Change
Jan. 06, 2015 01:43PM EST
Climate
Its here. The day the newly elected, Republican-dominated Congress takes office. The shift understandably has many folks concerned about the future of our climate. After all, Republicans don't exactly have a strong reputation for supporting climate policy.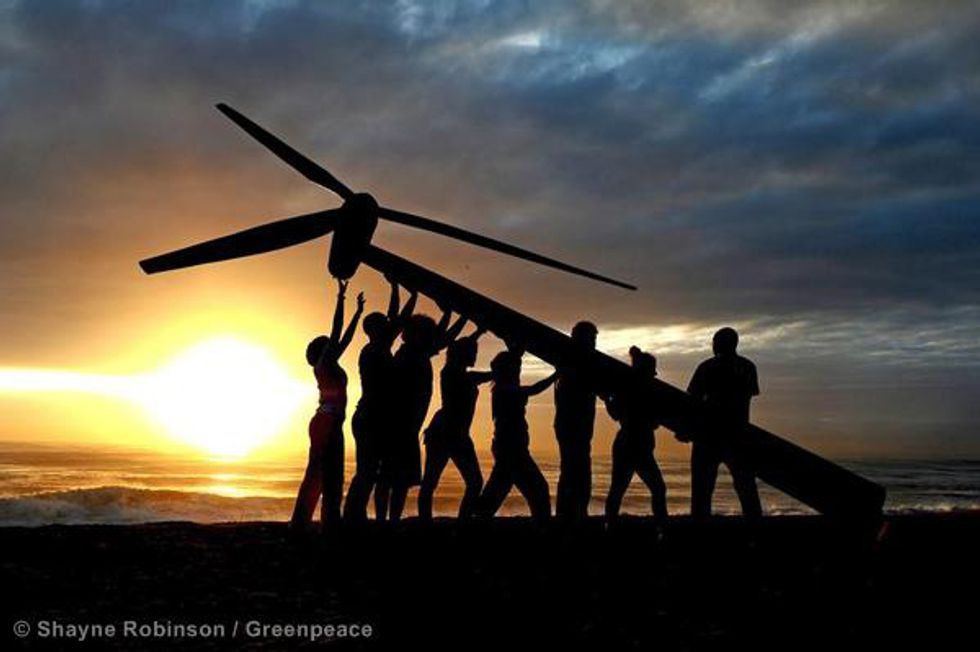 Greenpeace and Tcktcktck volunteers raise a wind turbine on the beach at dawn in Durban, South Africa. Photo credit: Shayne Robinson / Greenpeace
Still, don't put aside all hopes for climate action in the next two years. Here are three reasons a Republican congress could oversee progress.
1. There's still a lot President Obama can do without Congress.
Prime on this list is the U.S. Environmental Protection Agency's (EPA) proposed carbon rule on existing power plants. Released by the Obama administration this past June, the regulation would require all power plants to reduce their carbon emissions up to 15 percent from today's levels by 2030.
The U.S. EPA will still need to finalize the plan, and the rule's carbon reduction goal is roughly a quarter of what Greenpeace analysis shows is possible. But with 40 percent of U.S. carbon emissions coming from power plants, the rule is still a pollution cut worth making—and one that doesn't require a vote by Congress.
The Obama administration also holds big keys to the climate through its federal land leasing program. Leasing of federal land is a major lifeline to the struggling coal mining industry, which depends on scandalously cheap leases from the Department of Interior. Interior agencies also handle oil leases of Arctic seabeds off the coast of Alaska, a deal that Shell has tried (and failed) to cash in on.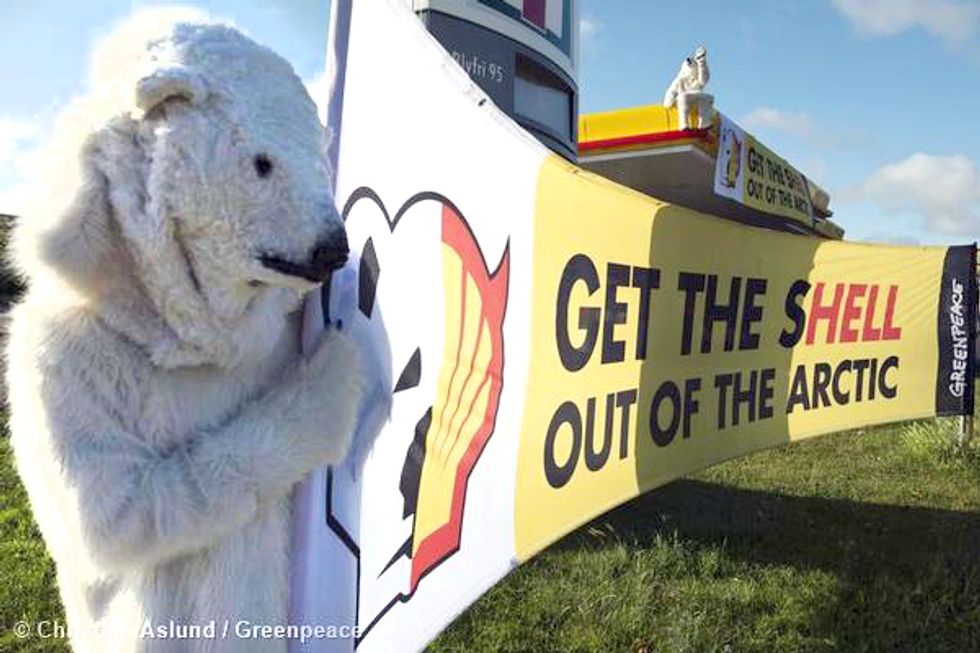 Greenpeace activists dressed as polar bears protest at a Shell petrol station in Malmö against Shell's plan to drill for oil in the Arctic seas off the coast of Alaska. Photo credit: Christian Aslund / Greenpeace
Stopping such leases would not only avert billions of tons of eventual carbon pollution (more than the entire European Union), but directly protect the health of people and ecosystems.
2. All sorts of important things are happening on climate change outside the federal government.
Starting with state and local governments. California Governor Jerry Brown just declared that his state, the nation's most populous, will get half its power from renewables by 2030. On the local level, New York mayor Bill de Blasio recently vowed to cut his city's climate change emissions 80 percent by 2050.
Then there's the private sector, where the plummeting cost of solar panels, along with new financing models, have fueled an explosion in rooftop solar installations. Analysts project that prices for rooftop solar will either equal or dip below the average electricity bill in 47 states by 2016. The Department of Energy predicts that 4 million homes could have rooftop solar by 2020.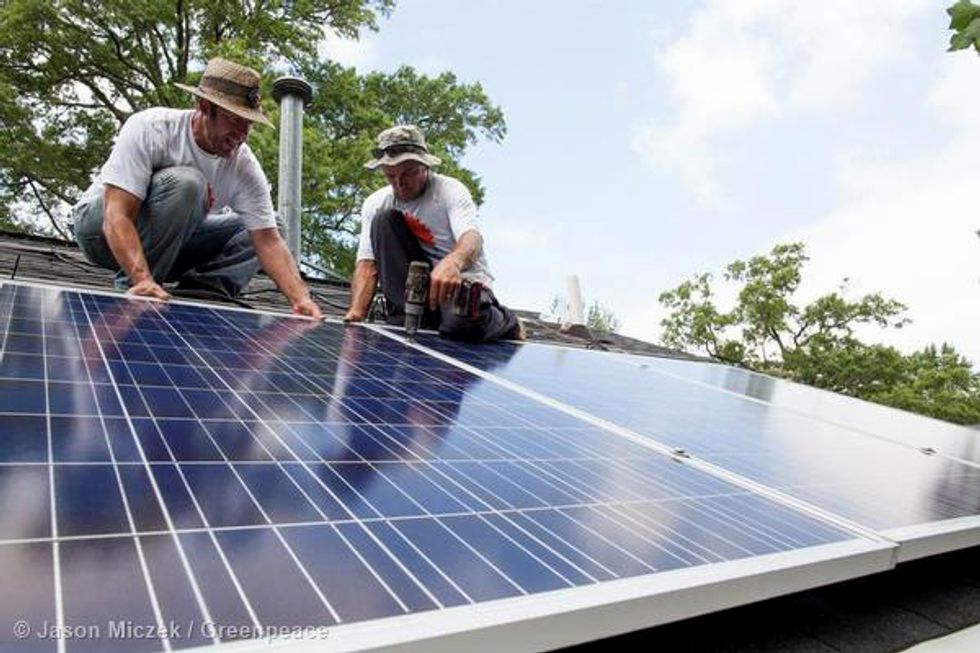 Finally, even conservatives are bypassing the Republican party on climate. In Georgia, Florida and Wisconsin, Tea Party activists are lobbying for greater access to distributed electricity like rooftop solar because, dammit, it's a free market, and who made monopoly utilities king?
3. If there ever was a time for Republicans to change their tune on climate, it's now.
Climate denial has been a checklist item for Republicans, from challenging the idea that human pollution is the main cause, to the even lamer deflection, "I am not a scientist."
But after dominating their elections this fall, some Republicans may feel they finally have the political leash to say what they may have been thinking all along: that climate change is real, and we're responsible.
Look to moderate Republicans in purple and blue states to possibly reel back their denialism, says Greenpeace Senior Legislative Analyst Kyle Ash. A climate disaster such as a flood or an unusual hurricane in a Republican's home state, Ash adds, could also make climate denialism an unattractive claim.
That may not translate into a comprehensive bill on climate change this Congress, but could set the stage for a big bill in another. The House version of the 2009 climate bill only passed by 7 votes. The bill was flawed, and died in the Senate. But if the political balance on climate was ever tippable, it might be now, in this Republican Congress.
YOU MIGHT ALSO LIKE
California Governor Calls for 50 Percent Renewable Energy by 2030
GOP Agenda Promises Worst Attack on Environmental Protections in Decades
EcoWatch Daily Newsletter
Elva Etienne / Moment / Getty Images
By Ketura Persellin
Gift-giving is filled with minefields, but the Environmental Working Group's (EWG) got your back, so you don't need to worry about inadvertently giving family members presents laden with toxic chemicals. With that in mind, here are our suggestions for gifts to give your family this season.
Pexels
Garlic is an ingredient that provides great flavor to dishes and can be found in most kitchens across the globe.
Pexels
Echinacea is a group of flowering plants that belong to the daisy family, along with plants like sunflowers, chicory, chamomile, and chrysanthemums.

One of the 25 new Long Beach Transit hybrid gasoline-electric buses on April 23, 2009. Jeff Gritchen / Digital First Media / Orange County Register / Getty Images
In Long Beach, California, some electric buses can charge along their route without cords or wires.
When a bus reaches the Pine Avenue station, it parks over a special charging pad. While passengers get on and off, the charger transfers energy to a receiver on the bottom of the bus.