This website uses cookies to ensure you get the best experience while browsing it. By clicking 'Got It' you're accepting these terms.
3 Key Issues Governments Must Agree On at Lima Climate Talks
Dec. 01, 2014 09:05AM EST
Climate
There is no question: 2014 has been a key year for the politics of climate change already, even as the latest round of climate talks get under way in Lima, Peru, this week.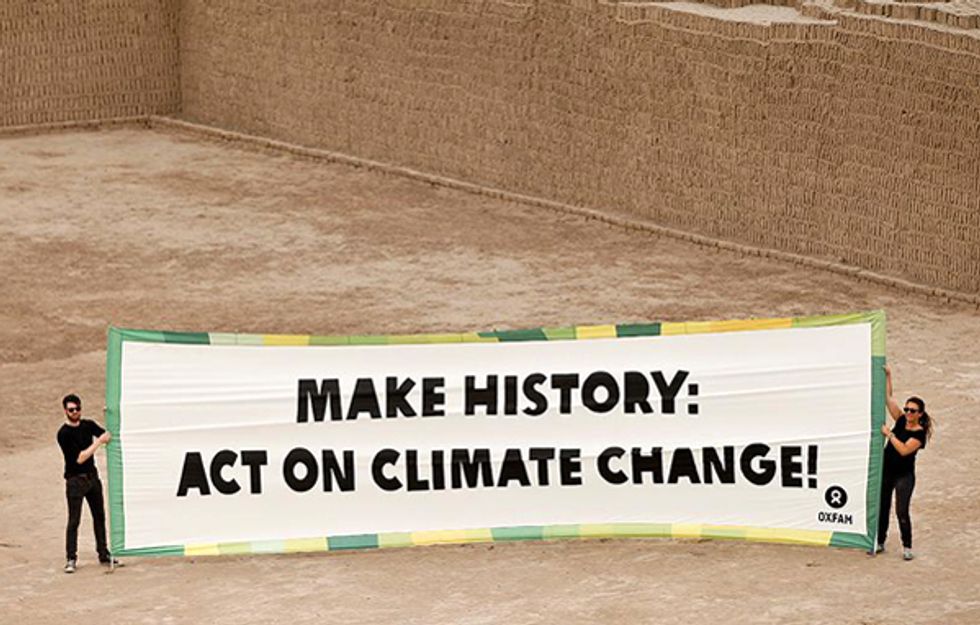 This is the year that you, and people like you, turned the latest, frightening warnings from climate science into a message of hope and defiance. More than 400,000 people marching in New York to call for fast and just climate action were the powerful symbol of a climate movement reawakening all over the world.
As historic as the march in New York was, the end of China's coal boom, the very boom that made the first ten years of the 21st century the worst ever for our global climate was also important. The latest data shows coal use falling faster than thought in China. If this turn into a long term trend, China's emissions can stop their relentless rise soon.
China and the U.S. have together, for the first time, agreed to reduce carbon pollution and to drastically increase the use of clean energy. Their agreement—just like the new goals that the European Union has set for itself—are painfully inadequate in the face of the urgency we face. But they change the dynamic of the global climate conversation.
For years, global climate meetings were the place where countries would say to each other: "you go first, you know this issue is important." Now we are moving to a different world. Now countries say: "I can act, if you can act." This is a major mental shift. This thinking makes collective action a possibility.
To deliver actions that can actually prevent climate chaos, though, we need to go further. We need more countries to say, "I want to act faster than you, because that will be better for me (and you)." This is not a pipe dream because acting on climate change delivers jobs, livelihoods and opportunities. The days when acting against climate change could be considered a burden are over. Clean, renewable energy is getting bigger, better and cheaper every day and can provide the solutions the world needs. Renewables are the most economical solution for new power capacity in an ever-increasing number of countries.
100 percent of new power capacity added in the U.S. in August was renewable and countries such as Denmark and Germany are producing new clean electricity records almost every month. China is installing as much solar this year as the U.S. has ever done.
As the warnings are getting louder and louder—this year will, it is predicted, be the warmest on record—the bricks are quietly being laid in national policies around the world, that could deliver much more decisive climate action—and a meaningful agreement in Paris next year.
For that to happen, governments in Lima must agree a few key issues:
Of course, there is no guarantee that Lima will deliver these key demands (and the many other things the conference could make progress on). Over the next two weeks, governments will often make me despair and remind me of the absurd theatre that the climate negotiations often are. Sometimes, I may even wonder if there really has been progress made at all this year … especially when listening to the governments of Canada and Australia, whom I expect to speak on behalf of the oil and coal industries, not their people. And who will have many—too many—supporters, as with too many countries, the polluters of the past dominate domestic politics.
But, as Kumi Naidoo said at a recent TEDxAmsterdam talk:
"When people in large numbers start believing that change is possible, only then does change become possible."
We are getting there on climate change. The urgency of the climate science, the increasingly attractive economics of renewables, and the rising global climate movement, means that progress on climate action is now inevitable. Leaders in Lima can do their job on behalf of their people speed up the transition to a world run on renewables for all. But even if they dither, they will not be able to change the fact, that the momentum is on our side as we end 2014.
YOU MIGHT ALSO LIKE
Momentous Pressure on World Leaders as Climate Talks Begin in Lima
Extreme Weather Will Be 'New Climate Normal' Without Immediate Action, Warns World Bank
Hottest October on Record Puts Planet on Track for Hottest Year Ever
EcoWatch Daily Newsletter
Pro-environment demonstrators on the streets of Washington, DC during the Jan. 20, 2017 Trump inauguration.
Mobilus In Mobili
/ Flickr /
CC BY-SA 2.0
By Dr. Brian R. Shmaefsky
One year after the Flint Water Crisis I was invited to participate in a water rights session at a conference hosted by the US Human Rights Network in Austin, Texas in 2015. The reason I was at the conference was to promote efforts by the American Association for the Advancement of Science (AAAS) to encourage scientists to shine a light on how science intersects with human rights, in the U.S. as well as in the context of international development. My plan was to sit at an information booth and share my stories about water quality projects I spearheaded in communities in Bangladesh, Colombia, and the Philippines. I did not expect to be thrown into conversations that made me reexamine how scientists use their knowledge as a public good.
Mt. Rainier and Reflection Lake on Sept. 10, 2015. Crystal Geyser planned to open a bottling plant near Mt. Rainier, emails show.
louelke - on and off / Flickr
Bottled water manufacturers looking to capture cool, mountain water from Washington's Cascade Mountains may have to look elsewhere after the state senate passed a bill banning new water permits, as The Guardian reported.
Large storage tank of Ammonia at a fertilizer plant in Cubatão, Sao Paulo State, Brazil. Luis Veiga / The Image Bank / Getty Images
The shipping industry is coming to grips with its egregious carbon footprint, as it has an outsized contribution to greenhouse gas emissions and to the dumping of chemicals into open seas. Already, the global shipping industry contributes about 2 percent of global carbon emissions, about the same as Germany, as the BBC reported.
At high tide, people are forced off parts of the pathway surrounding DC's Tidal Basin. Andrew Bossi /
Wikimedia
The Jefferson Memorial in Washington, DC overlooks the Tidal Basin, a man-made body of water surrounded by cherry trees. Visitors can stroll along the water's edge, gazing up at the stately monument.
But at high tide, people are forced off parts of the path. Twice a day, the Tidal Basin floods and water spills onto the walkway.
Lioness displays teeth during light rainstorm in Kruger National Park, South Africa. johan63 / iStock / Getty Images
Ahead of government negotiations scheduled for next week on a global plan to address the biodiversity crisis, 23 former foreign ministers from various countries released a statement on Tuesday urging world leaders to act "boldly" to protect nature.