This website uses cookies to ensure you get the best experience while browsing it. By clicking 'Got It' you're accepting these terms.
21 Kids Take on the Feds and Big Oil in Historic Climate Lawsuit
Mar. 10, 2016 09:04AM EST
[Editor's note: Twenty-one youth plaintiffs, as well as climate scientist Dr. James Hansen as guardian for future generations, is suing the federal government to cease conduct that promotes fossil fuel extraction and consumption, and instead develop and implement an actual science-based climate recovery plan. The complaint argues the youth have a fundamental constitutional right to be free from the government's destruction of their Earth's atmosphere. Yesterday's court appearance was scheduled for the judge to hear oral arguments from the U.S. government and the fossil fuel industry on their motions to dismiss the landmark constitutional climate change lawsuit.]
At Wednesday morning's historic hearing, U.S. Magistrate Judge Thomas M. Coffin questioned Department of Justice attorney Sean C. Duffy on whether the federal government was allowing tradeoffs between present and future generations. To illustrate his question, the Judge used an example of a discount rate, and pondered whether the government's actions were effectively trading future harm for present day benefits.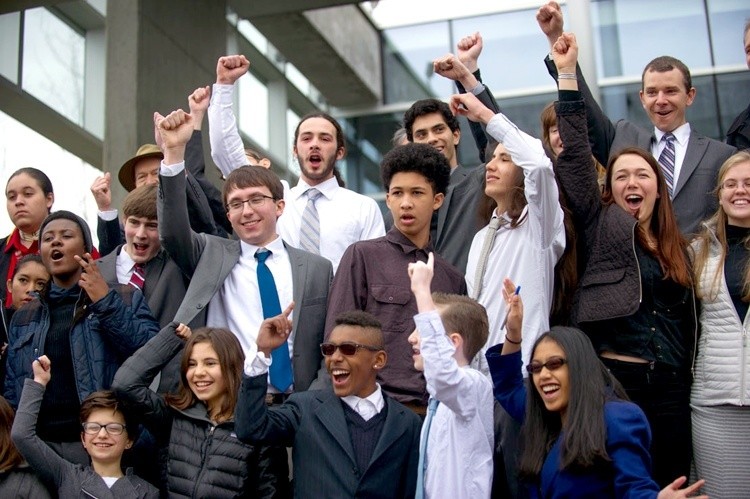 "Are you robbing Peter to pay Paul?" the judge asked a flustered Duffy.
The hearing began with Duffy denying the federal government's duty under the public trust doctrine to protect essential natural resources for the benefit of all present and future generations. The judge asked, "Both (water & air) are vital to life, right?"
"Yes, your honor," replied Duffy.
The Judge also asked if the government could sell the Pacific Ocean to Exxon. Remarkably, Duffy had a constitutional argument handy to support even that proposition.
Hundreds of students, activists, professors and citizens concerned about climate turned out in Eugene, Oregon to support 21 young plaintiffs, ages 8-19, in what Bill McKibben and Naomi Klein call the "most important lawsuit on the planet right now."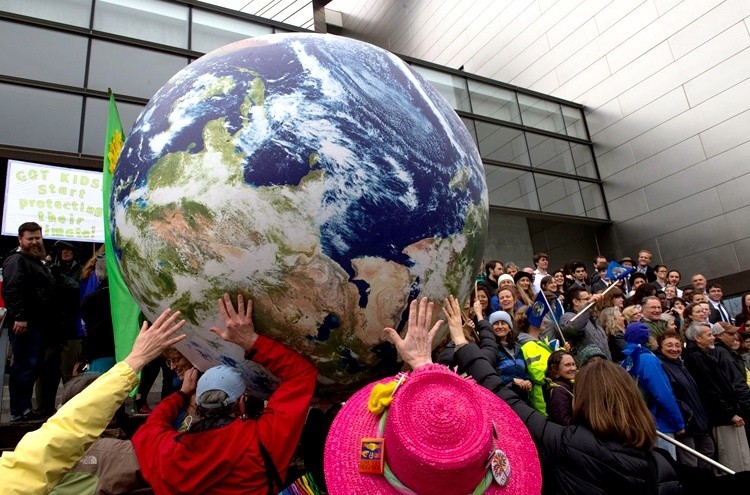 "The future of our generation is at stake," said 16-year-old plaintiff Victoria Barrett at the press conference following the hearing.
"People label our generation as dreamers, but hope is not the only tool we have. I am young, I am a teenager, and I want to have fun, and be creative, and hang out with my friends. I want to do what I love and live a life full of opportunities. I want the generation that follows to have the same and I absolutely refuse to let our government's harmful action, corporate greed and the pure denial of climate science get in the way of that."
The plaintiffs' sued the federal government for violating their fundamental constitutional rights to life, liberty and property by taking actions that permit, encourage and otherwise enable continued exploitation, production and combustion of fossil fuels.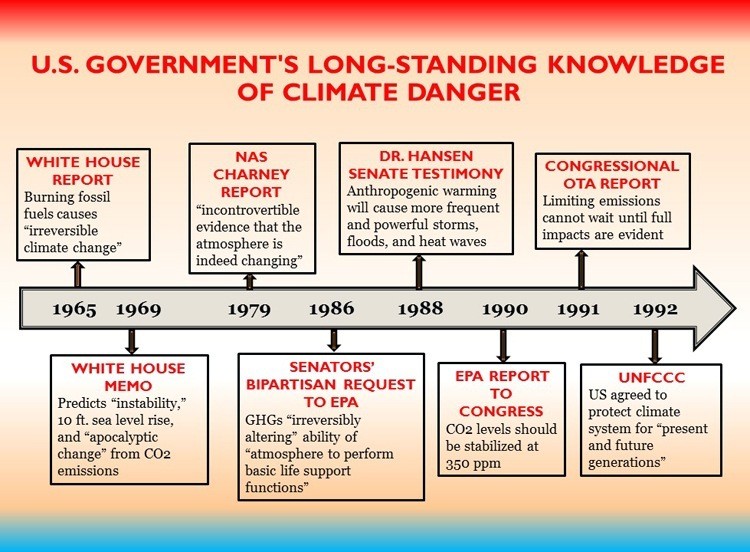 "We firmly believe the court will view this as an egregious instance where the federal government intensified the danger to our plaintiffs' life, liberty and property," said plaintiffs' attorney Phil Gregory with Cotchett, Pitre, & McCarthy. "This case places indisputable climate science squarely in front of the federal courts, requesting an order forcing our government to cease jeopardizing the climate system for present and future generations."
The purpose of Wednesday's hearing was to hear arguments from the parties on the federal government's and fossil fuel industry's motions to dismiss the youth's climate change lawsuit. The judge conducted incisive questioning of lawyers presenting oral argument for both sides on the issue. The hearing lasted for two hours. It's unclear when he will reach a decision on the defendants' motions, but the youth plaintiffs are optimistic the Judge will treat their case fairly.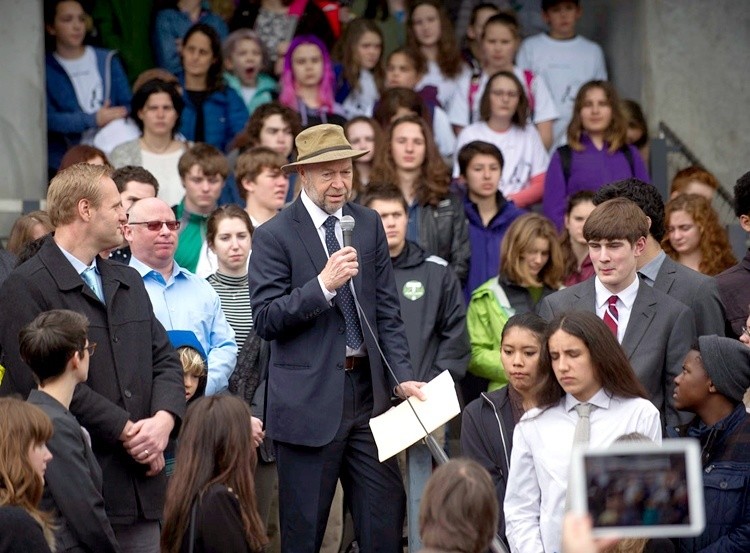 "Defendants are wrong that our complaint fails to allege constitutional and public trust violations for the harms caused these young plaintiffs," said Julia Olson, lead counsel for the plaintiffs and executive director of Our Children's Trust, in her closing argument.
"Defendants in essence ask this court to ignore the undisputed scientific evidence, presented in our complaint and in opposing this motion, that the federal government has, and continues to, damage plaintiffs' personal security and other fundamental rights. But these young plaintiffs have the right to prove the government's role in harming them has been knowing and deliberate."
Watch the press event following yesterday's hearing:
YOU MIGHT ALSO LIKE
Robert F. Kennedy, Jr.: Syria, Another Pipeline War
Dear President Obama, The Clean Energy Revolution Is Now
California Widow Sues Monsanto Alleging Roundup Caused Her Husband's Cancer
Break Free: Stop Dirty Fossil Fuels, Expedite Transition to 100% Renewable Energy
EcoWatch Daily Newsletter
A drilling rig in a Wyoming natural gas field. William Campbell / Corbis via Getty Images
A U.S. federal judge temporarily blocked oil and gas drilling on 300,000 acres of federal leases in Wyoming Tuesday, arguing that the Bureau of Land Management (BLM) "did not sufficiently consider climate change" when auctioning off the land, The Washington Post reported.
Mizina / iStock / Getty Images
Oats are widely regarded as one of the healthiest grains you can eat, as they're packed with many important vitamins, minerals, and fiber.
JPMorgan Chase building in New York City. Ben Sutherland / CC BY 2.0
By Sharon Kelly
A report published Wednesday names the banks that have played the biggest recent role in funding fossil fuel projects, finding that since 2016, immediately following the Paris agreement's adoption, 33 global banks have poured $1.9 trillion into financing climate-changing projects worldwide.
Sriram Madhusoodanan of Corporate Accountability speaking on conflict of interest demand of the People's Demands at a defining action launching the Demands at COP24. Corporate Accountability
By Patti Lynn
2018 was a groundbreaking year in the public conversation about climate change. Last February, The New York Times reported that a record percentage of Americans now believe that climate change is caused by humans, and there was a 20 percentage point rise in "the number of Americans who say they worry 'a great deal' about climate change."
The head of England's Environment Agency has urged people to stop watering their lawns as a climate-induced water shortage looms. Pexels
England faces an "existential threat" if it does not change how it manages its water, the head of the country's Environment Agency warned Tuesday.
Pexels
By Jessica Corbett
A new analysis revealed Tuesday that over the past two decades heat records across the U.S. have been broken twice as often as cold ones—underscoring experts' warnings about the increasingly dangerous consequences of failing to dramatically curb planet-warming emissions.
A flock of parrots in Telegraph Hill, San Francisco.
~dgies / Flickr
By Madison Dapcevich
Ask any resident of San Francisco about the waterfront parrots, and they will surely tell you a story of red-faced conures squawking or dive-bombing between building peaks. Ask a team of researchers from the University of Georgia, however, and they will tell you of a mysterious string of neurological poisonings impacting the naturalized flock for decades.
Fire burns in the North Santiam State Recreational Area on March 19. Oregon Department of Forestry
An early-season wildfire near Lyons, Oregon burned 60 acres and forced dozens of homes to evacuate Tuesday evening, the Oregon Department of Forestry (ODF) said, as KTVZ reported.
The initial cause of the fire was not yet known, but it has been driven by the strong wind and jumped the North Santiam River, The Salem Statesman Journal reported. As of Tuesday night, it threatened around 35 homes and 30 buildings, and was 20 percent contained.