21 Kids Take on the Feds and Big Oil in Historic Climate Lawsuit
[Editor's note: Twenty-one youth plaintiffs, as well as climate scientist Dr. James Hansen as guardian for future generations, is suing the federal government to cease conduct that promotes fossil fuel extraction and consumption, and instead develop and implement an actual science-based climate recovery plan. The complaint argues the youth have a fundamental constitutional right to be free from the government's destruction of their Earth's atmosphere. Yesterday's court appearance was scheduled for the judge to hear oral arguments from the U.S. government and the fossil fuel industry on their motions to dismiss the landmark constitutional climate change lawsuit.]
At Wednesday morning's historic hearing, U.S. Magistrate Judge Thomas M. Coffin questioned Department of Justice attorney Sean C. Duffy on whether the federal government was allowing tradeoffs between present and future generations. To illustrate his question, the Judge used an example of a discount rate, and pondered whether the government's actions were effectively trading future harm for present day benefits.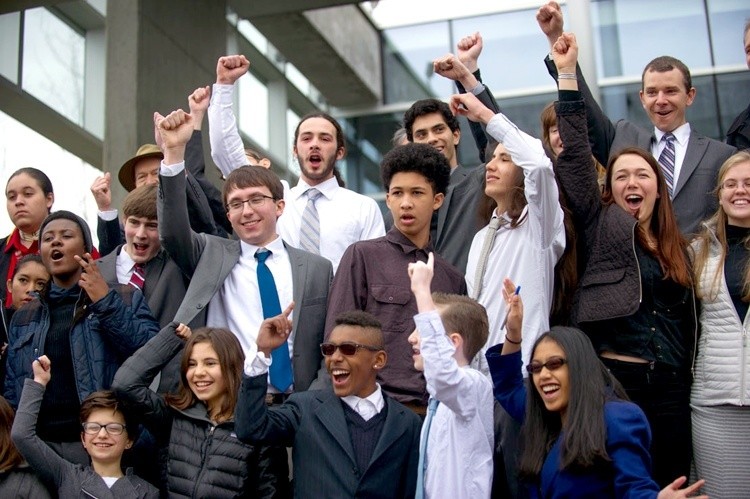 "Are you robbing Peter to pay Paul?" the judge asked a flustered Duffy.
The hearing began with Duffy denying the federal government's duty under the public trust doctrine to protect essential natural resources for the benefit of all present and future generations. The judge asked, "Both (water & air) are vital to life, right?"
"Yes, your honor," replied Duffy.
The Judge also asked if the government could sell the Pacific Ocean to Exxon. Remarkably, Duffy had a constitutional argument handy to support even that proposition.
Hundreds of students, activists, professors and citizens concerned about climate turned out in Eugene, Oregon to support 21 young plaintiffs, ages 8-19, in what Bill McKibben and Naomi Klein call the "most important lawsuit on the planet right now."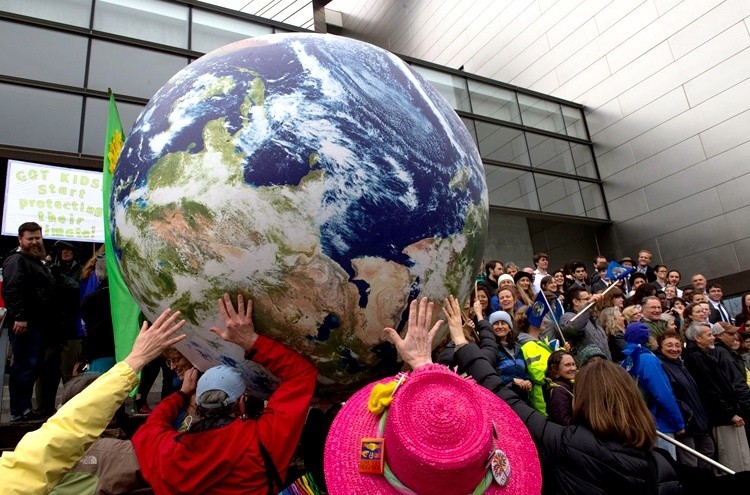 "The future of our generation is at stake," said 16-year-old plaintiff Victoria Barrett at the press conference following the hearing.
"People label our generation as dreamers, but hope is not the only tool we have. I am young, I am a teenager, and I want to have fun, and be creative, and hang out with my friends. I want to do what I love and live a life full of opportunities. I want the generation that follows to have the same and I absolutely refuse to let our government's harmful action, corporate greed and the pure denial of climate science get in the way of that."
The plaintiffs' sued the federal government for violating their fundamental constitutional rights to life, liberty and property by taking actions that permit, encourage and otherwise enable continued exploitation, production and combustion of fossil fuels.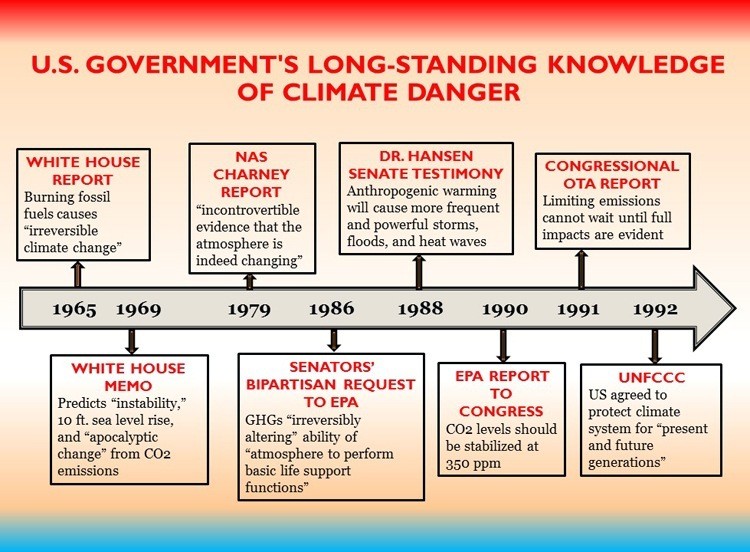 "We firmly believe the court will view this as an egregious instance where the federal government intensified the danger to our plaintiffs' life, liberty and property," said plaintiffs' attorney Phil Gregory with Cotchett, Pitre, & McCarthy. "This case places indisputable climate science squarely in front of the federal courts, requesting an order forcing our government to cease jeopardizing the climate system for present and future generations."
The purpose of Wednesday's hearing was to hear arguments from the parties on the federal government's and fossil fuel industry's motions to dismiss the youth's climate change lawsuit. The judge conducted incisive questioning of lawyers presenting oral argument for both sides on the issue. The hearing lasted for two hours. It's unclear when he will reach a decision on the defendants' motions, but the youth plaintiffs are optimistic the Judge will treat their case fairly.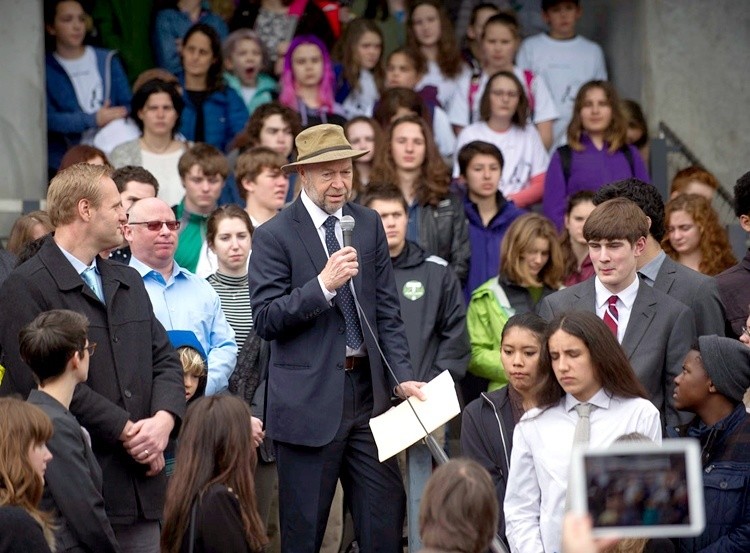 "Defendants are wrong that our complaint fails to allege constitutional and public trust violations for the harms caused these young plaintiffs," said Julia Olson, lead counsel for the plaintiffs and executive director of Our Children's Trust, in her closing argument.
"Defendants in essence ask this court to ignore the undisputed scientific evidence, presented in our complaint and in opposing this motion, that the federal government has, and continues to, damage plaintiffs' personal security and other fundamental rights. But these young plaintiffs have the right to prove the government's role in harming them has been knowing and deliberate."
Watch the press event following yesterday's hearing:
YOU MIGHT ALSO LIKE
Robert F. Kennedy, Jr.: Syria, Another Pipeline War
Dear President Obama, The Clean Energy Revolution Is Now
California Widow Sues Monsanto Alleging Roundup Caused Her Husband's Cancer
Break Free: Stop Dirty Fossil Fuels, Expedite Transition to 100% Renewable Energy
Monsanto, the maker of the glyphosate-based herbicide Roundup, filed a motion June 16 in U.S. District Court, Northern District of California to reconsider the chemical's addition to California's Proposition 65 list of agents known to cause cancer.
The agrochemical giant made this move based on a June 14 Reuters investigation of Dr. Aaron Blair, a lead researcher on the World Health Organization's International Agency for Research on Cancer (IARC) committee, that classified glyphosate as a "2A probable human carcinogen" in March 2015.
Keep reading...
Show less
By Avery Friedman
Algae is often considered a nuisance, but for Sweden, the rapidly growing sea plant is now an asset.
As the Scandinavian country works to cut all of its greenhouse gas emissions by 2045, it's using algae to sop up the carbon emissions from cement.
Keep reading...
Show less
Jun. 24, 2017 01:35PM EST
By Itai Vardi
A recent intensification in protests against Williams Partners' planned Atlantic Sunrise pipeline in Pennsylvania prompted a state senator to propose legislation aimed at limiting demonstrations.
Last month, Pennsylvania Sen. Scott Martin (R-Norman) announced his intention to introduce legislation that would pass the costs of law enforcement responding to protests onto the demonstrators. Martin also helped introduce a different bill that would criminalize protests at natural gas facilities.
Keep reading...
Show less
Jun. 24, 2017 01:29PM EST
Black Shogun / iStock
The Federal Energy Regulatory Commission (FERC) released its Final Environmental Impact Statement Friday for the Mountain Valley Pipeline, a controversial 303-mile pipeline that would carry two billion cubic feet of fracked gas per day from West Virginia through Virginia.
Keep reading...
Show less
Jun. 24, 2017 01:46PM EST
Falcon PEV
The so-called "first and last mile" problem is one of the biggest hurdles with public transportation. How do you encourage more people to take Earth-friendlier commutes when their homes are miles away from the train or bus station?
One solution, as this Estonian electric scooter company proposes, is to simply take your commute with you—literally. Tallinn-based Stigo has developed a compact e-scooter that folds to the size of a rolling suitcase in about two seconds.
Keep reading...
Show less
Jun. 24, 2017 05:12PM EST
Connect4Climate
[Editor's note: I'm still in shock after hearing the news that Lucia Grenna passed away in her sleep last week. When we first met in April of 2014 at a Copenhagen hotel, I was immediately taken by here powerful presence. We spent the next couple days participating in a Sustainia climate change event where Lucia presented her audacious plans to connect people to the climate issue. I had the chance to partner with Lucia on several other projects throughout the years and work with her incredible Connect4Climate team. I was always in awe of her ability to "make the impossible possible." Her spirit will live on forever. — Stefanie Spear]
It is with a heavy heart that Connect4Climate announces the passing of its founder and leading light, Lucia Grenna. Lucia passed peacefully in her sleep on June 15, well before her time. We remember her for her leadership and extraordinary ability to motivate people to take on some of the greatest challenges of our time, not least climate change.
Keep reading...
Show less
Jun. 23, 2017 07:29PM EST
Wikimedia Commons
By Stacy Malkan
Neil deGrasse Tyson has inspired millions of people to care about science and imagine themselves as participants in the scientific process. What a hopeful sign it is to see young girls wearing t-shirts emblazoned with the words, "Forget princess, I want to be an astrophysicist."
Keep reading...
Show less
Jun. 23, 2017 01:57PM EST
www.youtube.com
By Andy Rowell
Any day now we will truly witness climate change in action. Within days at worst, maybe weeks at best, scientists predict that a huge section of the Larsen C ice shelf in Antarctica will break off into the ocean, in what is called a major "carving" event.
Keep reading...
Show less
Jun. 23, 2017 02:27PM EST
www.youtube.com
President Trump visited Cedar Rapids, Iowa on June 21 to speak to a large crowd in the U.S. Cellular Center at a political rally organized by his campaign.
As Trevor Noah noted during The Daily Show episode last night (starts at 2:25), the real reason Trump has these rallies is to "get back in front of his loyal crowds and feed of their energy." Noah believes that "Trump supporters are so on board with their dude he can say anything and they'll come along for the ride."
Keep reading...
Show less