20 Most Popular Eco Hashtags of 2015
Dec. 29, 2015 01:08PM EST
Business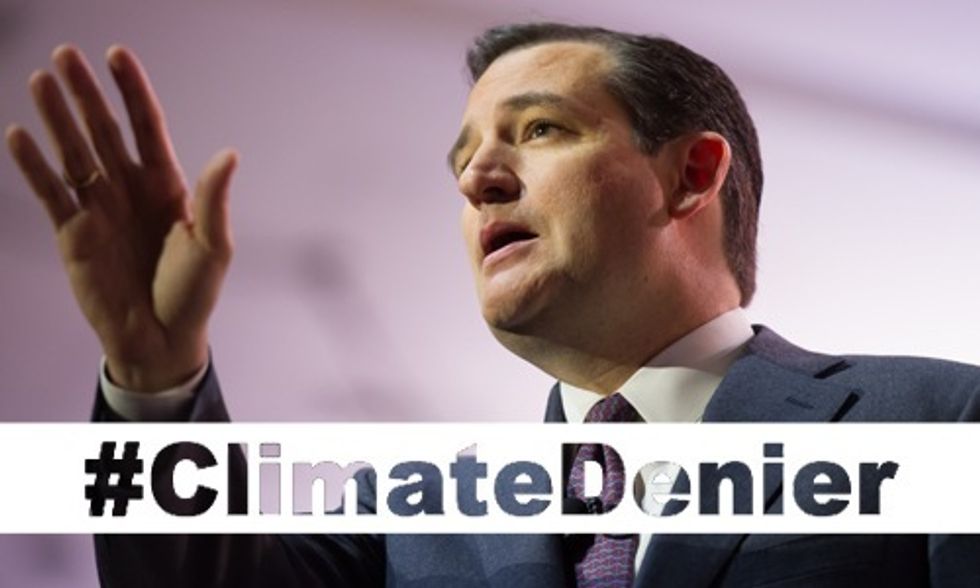 To say that this was a big year for the environmental movement is an understatement. From the Paris climate agreement to the indelible progress of renewable energy, 2015 was a landmark year.
And people didn't hesitate to talk about it. Here are the 20 most popular hashtags on Twitter inspired by environmental progress made in 2015:
Activists ramped up the pressure on world leaders to reach a strong, global agreement on climate change at the UN COP21 Paris climate talks, calling it "our last, best chance" to do so. Climate change received far more attention from mainstream media outlets this year, and according to recent polling, more Americans than ever accept the science on global warming.
And part of that heightened awareness is thanks to the efforts of Pope Francis, who repeatedly spoke out about the need to take immediate action on climate change in 2015.
More and more Americans became disenchanted with Black Friday, and they took to Twitter to express themselves in often very humorous ways.
3. #OptOutside
REI made waves when it announced that it would be closing all of its 143 retail locations, headquarters and two distribution centers on both Thanksgiving Day and Black Friday. All 12,000 full- and part-time employees received paid time off as the company encouraged them and everyone else to go outside instead.
Uruguay; Burlington, Vermont; Aspen, Colorado; and Kodiak Island, Alaska were among the countries and cities that transitioned to run completely on renewables this year.
Costa Rica ran on renewables for almost all of 2015. From small towns like Nassau, New York to major cities such as San Diego, Vancouver and Las Vegas, pledges were made to go 100 percent renewable. Sweden vowed to as well. And Hawaii pledged to do so by 2045—the most ambitious standard set by a U.S. state thus far.
5. #Renewables
Renewables had another record-breaking year with solar and wind power growing like crazy—providing more than 5 percent of the nation's electricity for the first time—and the country's first offshore wind power project is finally under construction.
6. #ElNino
The so-called "Monster El Niño" delivered the globe some powerful extreme weather this year. The World Meteorological Organization's Secretary-General Michel Jarraud said the combination of a record-strength El Niño and climate change is putting us in "uncharted territory." This year will undoubtedly go down as the hottest on record and the UK Met Office has already forecasted 2016 to be even hotter still.
7. #ShellNo
Activists were relentless in calling for President Barack Obama to revoke oil and gas exploration leases in the Chukchi Sea. In July, 13 Greenpeace activists suspended themselves from a bridge in Portland, Oregon, to block Shell's ice breaker from leaving the port headed for the Arctic Ocean. The 40-hour standoff ended with a call for Obama to "join the millions of people who are speaking with one voice to say it loud and clear: ShellNo."
8. #DumpTrump
Despite the fact that Donald Trump has maintained his place at the top of polls for months, many Americans loathe the man. Civil rights groups have demanded everyone, including Saturday Night Live, dump Trump.
9. #FeelTheBern
Bernie Sanders' presidential campaign is drawing massive crowds and generating intense passion among his supporters. He has even set the record for the biggest campaign turnout this year. And yet, an analysis by the Tyndall Report earlier this month revealed a so-called "Bernie Blackout" in which major news programs such as ABC Word News Tonight devoted a total 81 minutes this year to Trump's campaign and just about 20 seconds to Sanders' candidacy.
10. #TPP
The Trans-Pacific Partnership (TPP) has rocked 2015 with controversy. It's the largest regional trade accord in history involving the U.S., Japan and 10 other Pacific Rim nations, who all together represent two-fifths of the global economy. The countries reached a final agreement on the accord, but it still needs to be ratified by each participating country. Sierra Club Executive Director Michael Brune called the agreement a "fast track to disaster" and Sanders vowed to stop the "disastrous" deal.
11. #BanTheBead
Earlier this month, Congress passed the Microbead-Free Waters Act, and Monday, Obama signed a bill that will phase out the manufacturing of face wash, toothpaste and shampoo containing plastic microbeads by July 1, 2017, and the sale of such beauty products by July 1, 2018. This will eliminate a significant source of plastic pollution in oceans.
12. #FastFashion
Fast fashion came under intense scrutiny in 2015 thanks to the work of nonprofits such as Greenpeace and Natural Resources Defense Council, and John Oliver's exposé on the fashion industry. Documentary series such as Sweatshop: Dead Cheap Fashion and The True Cost also helped shine a spotlight on the industry, which one fashion industry executive called the "the second largest polluter in the world … second only to oil."
13. #ClimateDenier
Climate denial persisted this year despite global, scientific consensus on climate change because of a small number of vocal members of Congress and other "shills" for the fossil fuel industry.
Organizing for Action sponsored a Climate Change Fantasy Tournament highlighting climate denial in Congress and Sen. James Inhofe (R-Okla.) took the trophy in the Denial Finals. He serves as chair of the Senate Environment and Public Works Committee. Last winter, he tossed a snowball on the floor of the Senate, claiming he had thereby disproved global warming. Earlier this month during the Paris climate talks, he told a group of deniers that they were doing "the Lord's work."
14. #DroughtShaming
From bottled water companies to celebrities, concerned Californians took to social media to shame anyone they thought was wasting water as the state persisted in its fourth year of drought.
15. #NoKXL
Obama rejected the presidential permit for the Keystone XL tar sands pipeline last month. "A head of state has never rejected a major fossil fuel project because of its climate impacts before," 350.org reported. "The president's decision sets the standard for what climate action looks like: standing up to the fossil fuel industry and keeping fossil fuels in the ground."
16. #VerticalFarming
The world's largest vertical farm broke ground this summer in Newark, New Jersey. The world's first hydraulic-driven vertical farm in Singapore can produce 1 ton of vegetables every other day. And Chicago-based FarmedHere, the first organically-certified indoor vertical aquaponic farm, announced it wants to expand to 18 more locations in the U.S.
17. #NotAScientist
"I'm not a scientist" became the GOP's tired schtick this year with almost all of the Republican presidential candidates responding this way when asked about the threat of climate change. That led Hillary Clinton to release a hilarious faux-horror video bashing her opponents for their stance a few months ago. And earlier this month, Americans United for Change released a video, "Still Not A Scientist," a sequel to the Webby Award nominated video "Not A Scientist."
People took to Twitter to offer their serious and not-so-serious ideas of how to #SaveThePlanetIn4Words. A common tweet: "Don't Vote For Trump."
19. #BearSelfies and #BisonSelfies
While "bear selfies" could mean a few different things, here we are referring to the recent phenomenon in which people have been getting way too close to bears, bison and other wildlife in state and national parks. It became such a problem that a park in the Denver area was forced to close for a period of time because people were putting themselves and the local bears in danger.
20. #HeatWave
Heat waves swept the globe as this year surpassed last year as the hottest on record.
YOU MIGHT ALSO LIKE
2016 Forecasted to Be the Hottest Year Ever Recorded
World's First Solar-Hydrogen Residential Development Is 100% Self-Sustaining
Watch 25 Years of Arctic Sea Ice Melt in One Minute
World's First Off-Grid EcoCapsule Runs Entirely on Renewable Energy
EcoWatch Daily Newsletter