2,000+ New Yorkers Rally Against Fracking at Gov. Cuomo's State of State Address
Jan. 08, 2014 05:04PM EST
Energy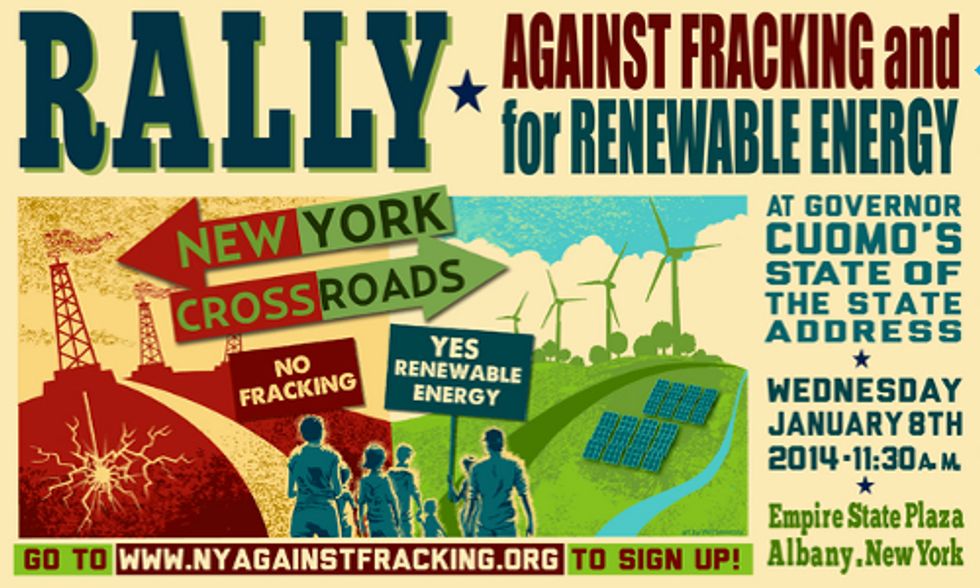 More than 2,000 New Yorkers from every corner of the state descended on Albany today to rally against fracking outside of Gov. Cuomo's (D-NY) State of the State address. The concerned residents pointed to a significant and rapidly growing body of science showing harms of fracking to public health and the environment, delivering a clear message that fracking is inherently dangerous and Gov. Cuomo must ban it statewide. Those at the rally—representing more than 100 organizations—also urged the Governor to be a leader in clean, renewable energy for New York and the nation.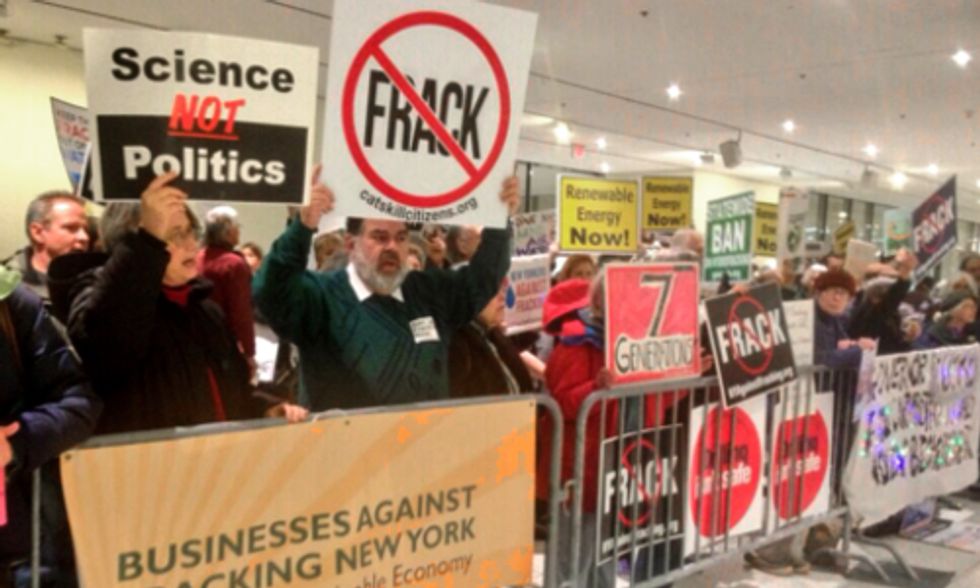 "Fracking does not and cannot meet the standards Gov. Cuomo has promised New Yorkers: that all watersheds are sacrosanct and that public health must be protected," said John Armstrong, a spokesperson for Frack Action and New Yorkers Against Fracking. "As science shows that fracking is inherently dangerous, contaminates water and makes people sick, thousands of New Yorkers are rallying to call on Gov. Cuomo to ban fracking."
The thousands of concerned New Yorkers rallying came from all parts of New York State amidst the harsh winter weather.
Protesters highlighted the environmental and health dangers fracking would pose to the state, calling for a ban as the only way to protect New York' water and the health of residents. In the past couple of weeks alone, an Associated Press review of state data in four states confirmed many cases of water contamination from drilling and fracking, a University of Missouri School of Medicine study linked fracking with dangerous hormone-disrupting chemicals, and county health department tests at fracking sites in West Virginia revealed dangerous levels of air contaminants.
"On a day when all eyes in the state are on Albany, we want to remind Governor Cuomo that New Yorkers won't back off until he protects us by banning fracking," said Alex Beauchamp, regional director of Food & Water Watch. "The huge crowd here today speaks for a clear majority of New Yorkers that are expecting the governor to stand up for their health and safety, once and for all."
"Fracking would jeopardize the health of millions of New Yorkers," said Sandra Steingraber of Concerned Health Professionals of NY. "The best studies and data available compel a ban on fracking to keep our water pure, keep our air clean and to protect the health of our children and families."
Rally participants handed out a double-sided flier to State of the State participants detailing some of the recent science showing the harms of fracking.
The exaggerated economic benefits touted by the gas industry and the faulty economic analysis of the New York State Department of Environmental Conservation have been criticized by New Yorkers and economists. An independent multi-state study by a group of research organizations, including the New York Fiscal Policy Institute, showed that drilling in the Marcellus and Utica Shale formations has "produced far fewer new jobs than the industry and its supporters claim."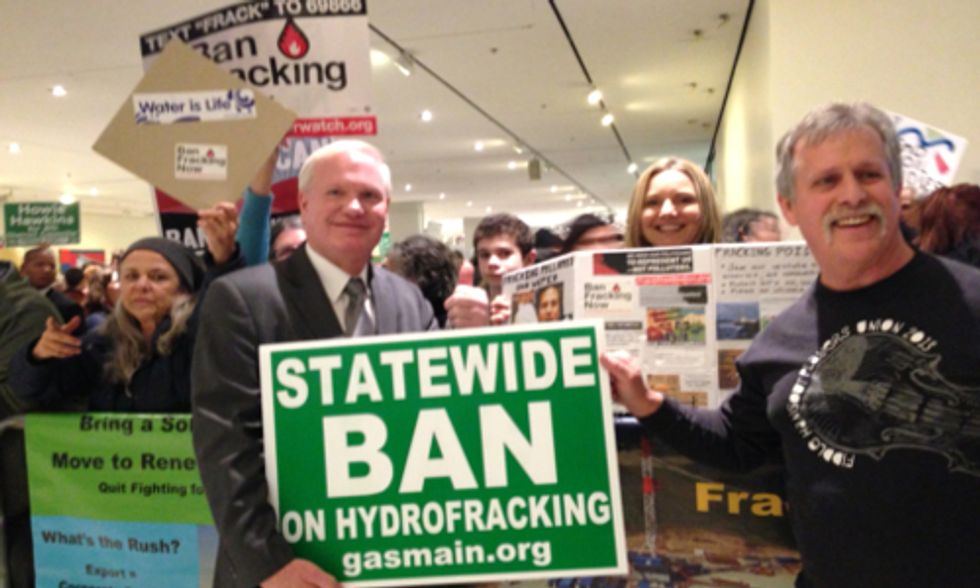 "Far from being an economic savior, fracking quickly leads to an economic bust and leaves a toxic and public health disaster in its wake," said Gerri Wiley, RN, an Elmira resident and spokesperson for Save The Southern Tier. "For the health and wellbeing of the Southern Tier and all of New York State, Gov. Cuomo must ban fracking."
Public polls continue to show a plurality of New Yorkers oppose fracking and a majority of upstate New Yorkers are opposed to allowing it in the state. Meanwhile, the number of New York State municipal bans and moratoria has grown significantly, now totaling 177.
"We love our state," said Wes Gillingham of Catskill Mountainkeeper. "And we will not let our communities be permanently damaged for the sake of gas industry profits and leave us with an economic, health and environmental mess for generations. We are here to change the things we cannot accept."
The gas industry has poured millions of dollars into New York to influence state government through campaign contributions to elected officials and lobbying. Gov. Cuomo is weighing whether or not to allow fracking in New York State. With or without regulations in place, fracking is a menace to public health and will produce hazardous air pollution and endanger the state's food and water.
The 100+ co-sponsoring organizations include the New Yorkers Against Fracking coalition, Catskill Mountainkeeper, Citizen Action Of New York, Citizens Campaign for the Environment, CREDO Action, Environment New York, Environmental Advocates of New York, Food & Water Watch, Frack Action, MoveOn, NYPIRG, Sierra Club Atlantic Chapter, Riverkeeper and Working Families Party.
Visit EcoWatch's FRACKING page for more related news on this topic.

EcoWatch Daily Newsletter