17 U.S. Cities Headed for Warmest Year Ever
Dec. 31, 2014 09:53AM EST
Climate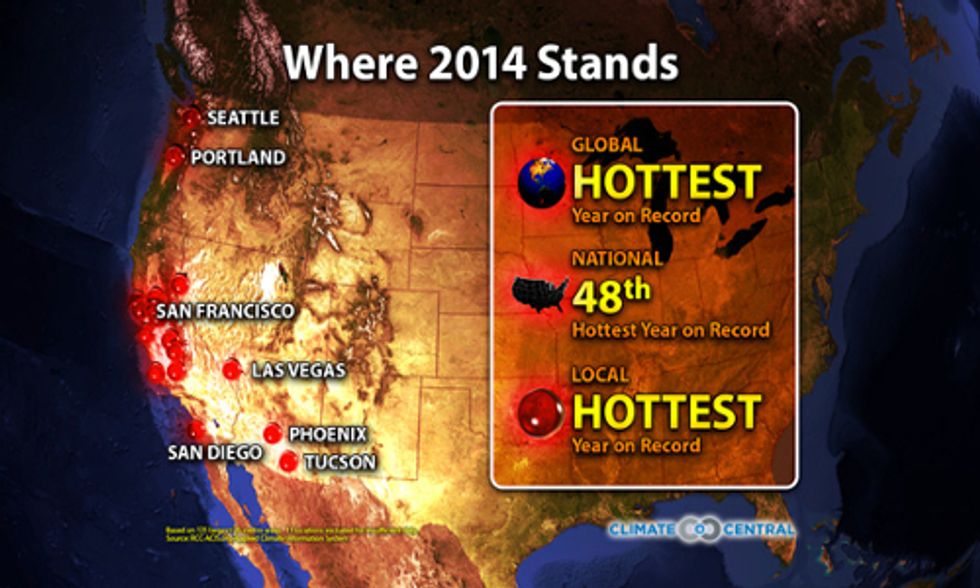 The globe could be on track to look back on 2014 as its warmest year ever. And 17 U.S. cities are among those recording their hottest temperatures, thanks to the acceleration of climate change.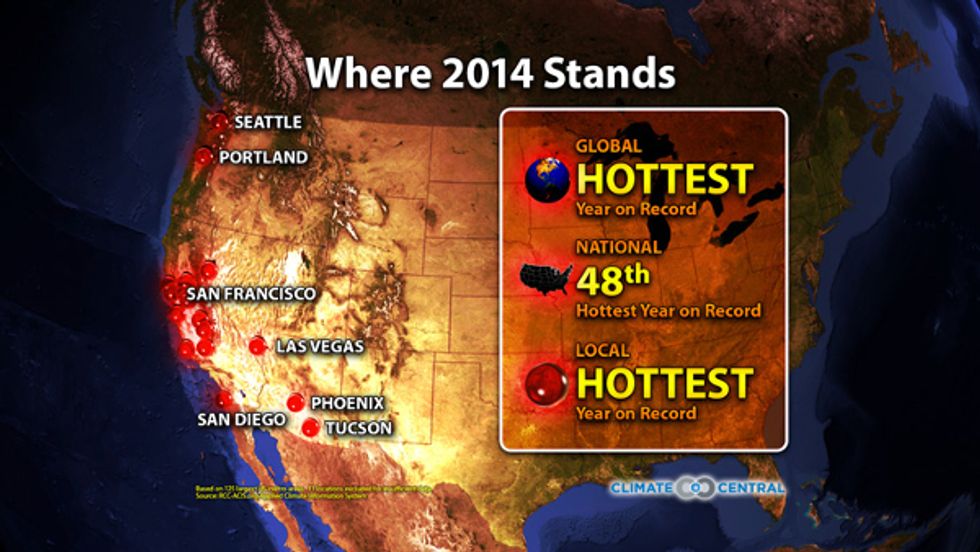 Climate Central analyzed temperature data from the country's 125 largest metropolitan areas to find the 17 scorchers. All are located west of the Rockies, with the majority in California, which has endured lengthy heat waves and a third year of unprecedented drought conditions. Eleven of the cities are in California which, as of November, was recording temperatures about 2 degrees Fahrenheit above its previous hottest year. The Santa Maria-Santa Barbara area is on track to exceed its previous record record by almost 3 degrees.
In California, the cities include Bakersfield, Fresno, Modesto, Sacramento-Roseville-Arden-Arcade, Salinas, San Diego-Carlsbad, San Francisco-Oakland-Hayward, Santa Maria-Santa Barbara, Stockton-Lodi, Vallejo-Fairfield and Visalia-Porterville. Arizona and Nevada each had two metro areas on the list: Phoenix and Tucson in the former, Las Vegas and Reno in the latter. Portland, Oregon and Seattle, Washington round out the list.
"The heat follows Interstate 5 from Seattle down through Portland, Sacramento and San Diego with detours to San Francisco, Fresno and Modesto before heading east to Las Vegas, Phoenix, Reno and Tucson," noted Climate Central writer Brian Kahn. "Salt Lake City, Los Angeles and El Paso are among other western metro areas also in line for one of their top five warmest years."
Climate Central's analysis also revealed that no U.S. city set a record for cold temperatures, noting that it's been almost 30 years since any city set such a record, with Kansas City, Missouri, Spokane, Washington and Boise City, Idaho notching record lows in 1985.
"And when it comes to global record coldest year, you'd have to go back even further," added Kahn. "Way further in fact. It's been over a century since the world's coldest year on record with 1909 setting the record and 1911 tying it. Going back to 1880—the year record-keeping began—the global average temperature has risen by 1.5 degrees Fahrenheit. In the U.S., temperatures have risen about 2 degrees Fahrenheit since 1895 with a large portion of that rise coming since 1970. If greenhouse gas emissions continue unabated, the U.S. average temperature could climb up to another 10 degrees Fahrenheit by the end of the 21st century."
YOU MIGHT ALSO LIKE
California Experiences Worst Drought in 1,200 Years
8 Summertime Woes That Will Only Get Worse With Climate Change
Hottest October on Record Puts Planet on Track for Hottest Year Ever
EcoWatch Daily Newsletter
Related Articles from EcoWatch
Recent Stories from EcoWatch