This website uses cookies to ensure you get the best experience while browsing it. By clicking 'Got It' you're accepting these terms.
17 Funniest Tweets on GOP Debate Failing to Even Mention Climate Change
Aug. 07, 2015 09:51AM EST
Climate
If you were holding your breath last night waiting for one of the 10 GOP presidential candidates to mention climate change at the first debate in Cleveland, Ohio, then you either passed out or felt very light headed.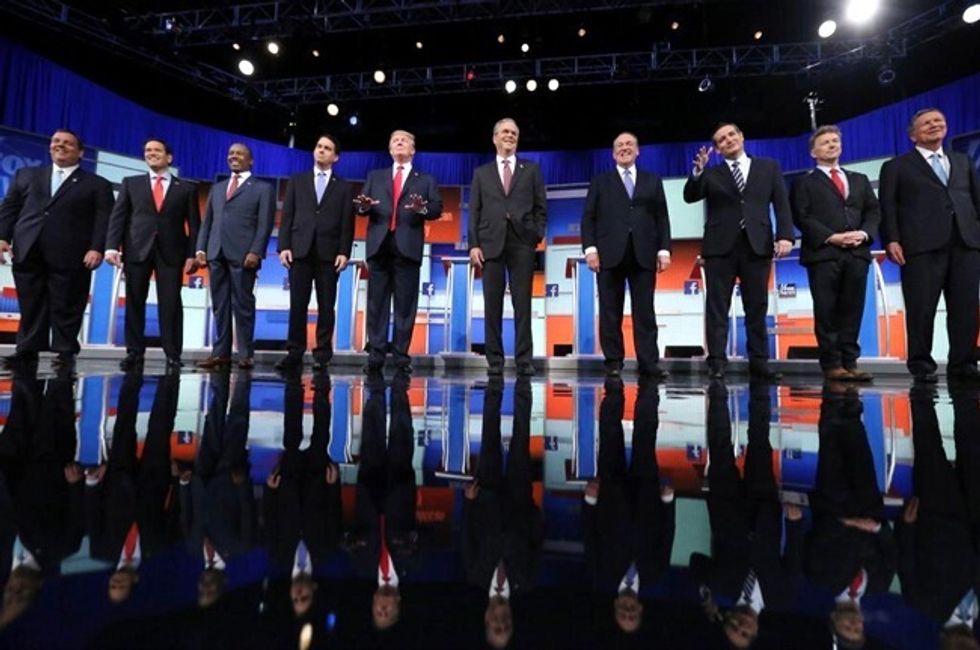 "With 2015 on track to be one of the hottest years on record, and an increasing number of countries set to reaffirm commitments to confronting climate change in December, Fox News dropped the ball tonight on climate change," said Brant Olson, campaign director of ClimateTruth.org.
"As business, religious and political leaders around the world recognize climate change as one of the greatest threats to our economy and collective security, Fox News didn't even bother to ask our presidential hopefuls to weigh in. It's crucial that the American people understand where these candidates stand on climate change. We hope to see CNN correct Fox News' mistake at the next debate on September 16."
Olson was far from the only one to notice the absence of climate change during last night's debate. Here's what other people had to say via Twitter:
Will climate change be addressed or will they "deny" it airtime like they "deny" its existence. #GOPDebate — Environmental Action (@EnviroAction) August 7, 2015
What's the over-under on Climate Change coming up in a #GOPDebate before the wildfires take out my house?

— Bill Maher (@billmaher) August 7, 2015
Was upstairs putting the kids to bed. How many questions about climate change did I miss? #GOPDebate #GOPClownCar

— Michael Brune (@bruneski) August 7, 2015
Great to hear about critical topics like extreme inequality, poverty, climate change, racial justice at the #GOPDebate ... oh wait...

— Peter Daou (@peterdaou) August 7, 2015
Hey Huckabee, you're not allowed to talk about science related to abortion when you don't believe in climate change. #GOPDebate

— Dave Rubin (@RubinReport) August 7, 2015
How come there's no talk about climate change? Has anyone here even seen California right now? #GOPDebate #DebateWithBernie

— Bryan Howl (@BHowl_) August 7, 2015
So 20 more minutes of #GOPDebate and nothing on clean energy, climate change, environment #nokxl clearest indicator of party living in 1980

— Jane Fleming Kleeb (@janekleeb) August 7, 2015
"Let's talk about climate change and the environment?" "Nah. We're good." - @FoxNews #GOPDebate

— Sean Simpson (@seansimpson01) August 7, 2015
Can we talk about climate change or is that just going to be swept under the rug again? #GOPDebate #climatechange

— Sarah Doiron (@SarahDoiron31) August 7, 2015
Did I miss all the climate change questions? #GOPDebate

— Chef John (@foodwishes) August 7, 2015
I filled 15/25 of my bingo spaces tonight. I'm surprised I didn't get "Cruz denies climate change." #GOPDebate

— Walker Cook (@wtc1998) August 7, 2015
Of course there was no question about #climatechange, it doesn't exist! #GOPDebate

— Adrianna DeGazon (@AdriannaEph2016) August 7, 2015
Good thing #climatechange is not something to worry about! I'm excited about the beaches in Colorado. #GOPDebate

— Lolly Walsh (@LollyOhMy) August 7, 2015
If I had a time machine, I'd fast forward 100 years and show people a presidential debate that didn't mention climate change. #GOPDebate

— Peter Daou (@peterdaou) August 7, 2015
So uh, climate change, eh guys? #GOPDebate pic.twitter.com/VNkJJiOQGJ — Kristin M. Coppens (@KristinMCoppens) August 7, 2015
And God (or Koch?) forbid the candidates even mention the number one most serious issue facing the world today, climate change. #GOPDebate

— Sean Munger (@Sean_Munger) August 7, 2015
.@Pontifex says climate change is one of the great crises we face. I'm waiting for one word from Fox and the Rs on it. #DebateWithBernie

— Bernie Sanders (@BernieSanders) August 7, 2015

Bummed that we didn't get to watch a single candidate flounder over climate change #GOPDebate

— Maddie Stone (@themadstone) August 7, 2015
YOU MIGHT ALSO LIKE
Trump's Website Hacked to Write a Thank You Note to Jon Stewart
The Film Donald Trump Does Not Want You to See
EcoWatch Daily Newsletter
A California newt (Taricha torosa) from Napa County, California, USA. Connor Long /
CC BY-SA 3.0
Aerial photos of the Sierra Nevada — the long mountain range stretching down the spine of California — showed rust-colored swathes following the state's record-breaking five-year drought that ended in 2016. The 100 million dead trees were one of the most visible examples of the ecological toll the drought had wrought.
Now, a few years later, we're starting to learn about how smaller, less noticeable species were affected.
Disinfectants and cleaners claiming to sanitize against the novel coronavirus have started to flood the market.
Natthawat / Moment / Getty Images
Disinfectants and cleaners claiming to sanitize against the novel coronavirus have started to flood the market, raising concerns for the U.S. Environmental Protection Agency (EPA), which threatened legal recourse against retailers selling unregistered products, according to The New York Times.
A customer packs groceries in reusable bags at a NYC supermarket on March 1, 2020. Eduardo Munoz Alvarez/Getty Images
The global coronavirus pandemic has thrown our daily routine into disarray. Billions are housebound, social contact is off-limits and an invisible virus makes up look at the outside world with suspicion. No surprise, then, that sustainability and the climate movement aren't exactly a priority for many these days.
Ingredients are displayed for the Old School Pinto Beans from the Decolonize Your Diet cookbook by Luz Calvo and Catriona Rueda Esquibel. Melissa Renwick / Toronto Star via Getty Images
By Molly Matthews Multedo
Livestock farming contributes to global warming, so eating less meat can be better for the climate.
Locals board up their shops in Vanuatu's capital of Port Vila on April 6, 2020 ahead of Tropical Cyclone Harold. PHILIPPE CARILLO / AFP via Getty Images
The most powerful extreme weather event of 2020 lashed the Pacific nation of Vanuatu Monday as it tries to protect itself from the new coronavirus.