150 New Yorkers Protest Fracking at the Office of Talisman Energy USA
Jun. 27, 2012 04:09PM EST
Energy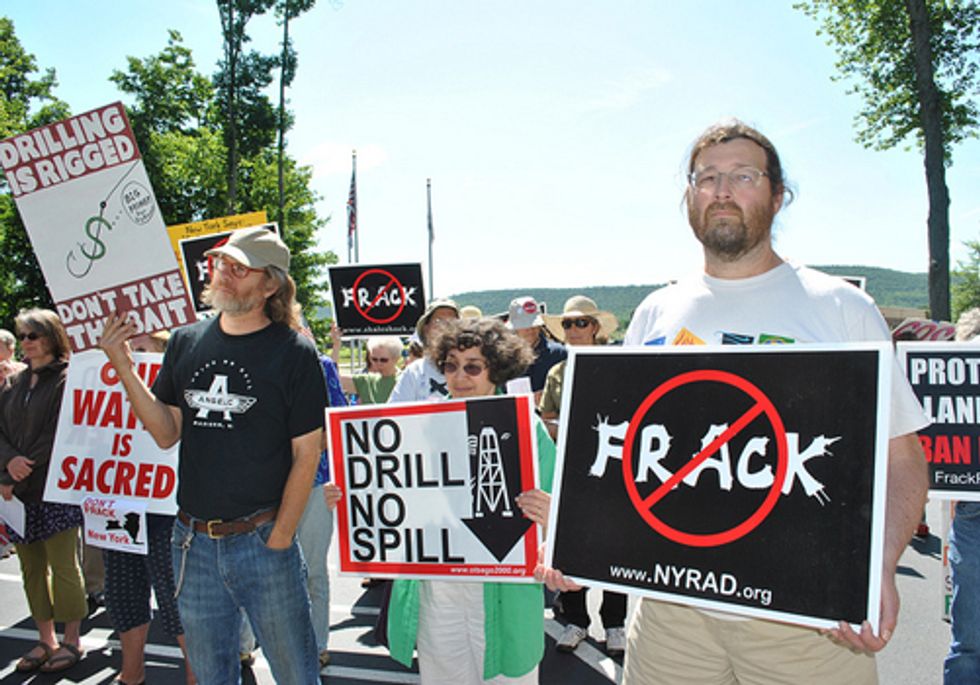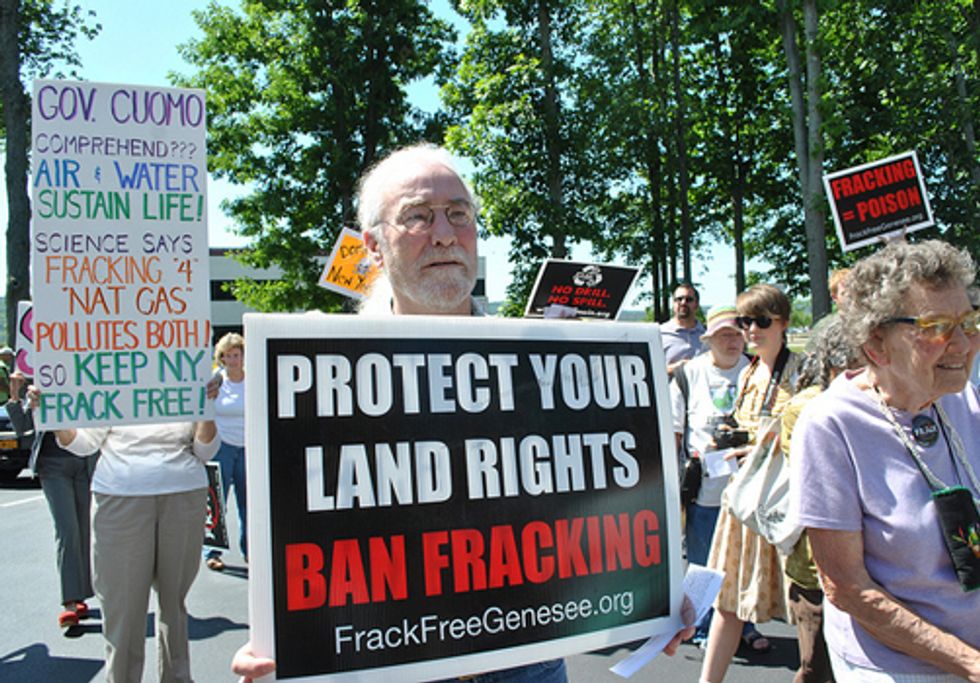 Nearly 150 New York residents gathered today to peacefully protest the process of natural gas extraction, commonly known as fracking, at the regional offices of Talisman Energy USA in Big Flats, NY.
Demonstrators congregated in front of the Talisman office and delivered a statement to its CEO and president John Manzoni. The statement read, "Mr. Manzoni, these New York State residents will not stand by and allow our communities to be fractured and displaced, our drinking water poisoned and our land rendered unlivable. We will not be a sacrifice zone."
Talisman refused to meet with the concerned residents, locking their doors and eventually calling law enforcement and refusing communication with event organizers.
Protesters, including a number of young children, carried signs highlighting Talisman's current number of violations at more than 300 and the problems with fracking fluid spills in neighboring Pennsylvania where fracking has been ongoing for several years.
Organizers of the event hope this protest sends a clear message to legislators, industry and fellow citizens that we don't want fracking in New York. This protest is just the first of a series of escalating direct actions planned for this summer which directly target industry, organizers said.
"Together, we will use our bodies as a source of strength, when our words are not being heard. Everywhere you drill a well, we will be there to stop it. When the first fracking truck drives to pour toxic chemicals into the ground, we will be there to block the road," said an organizer of today's protest.
Ruth Young, a resident of Horseheads, NY, who also spoke at the action said, "Sometimes it is a lonely fight around here. It is wonderful to have the support of all of you who do know realities of this unsafe technology. You are willing to put your time, your energies, and your bodies on the line to fight those who are hell-bent on destroying the precious air, water and land we all share."
A recent New York Times article stated that Governor Cuomo is pursuing a policy that would allow fracking in a few of the most impoverished New York counties in the southwestern part of the state, including Broome, Chemung, Chenango, Steuben and Tioga. Community members and activists have been organizing the anti-fracking movement, which consists of hundreds of groups across the state. Currently, 79 New York towns have passed fracking bans, with another 71 working towards a ban.
Visit EcoWatch's FRACKING page for more related news on this topic.
EcoWatch Daily Newsletter