13 Top U.S. Companies Pledge $140 Billion to Slash Carbon Emissions
Jul. 27, 2015 11:18AM EST
Climate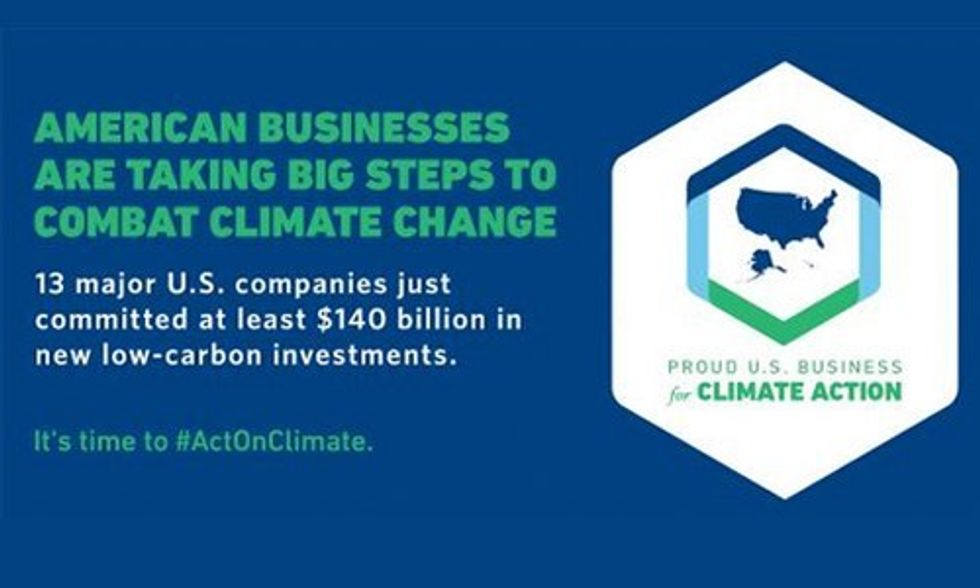 In an effort to gain momentum before the Paris climate talks this December, the Obama Administration has rallied some of the largest companies in the nation to commit billions of dollars to slash their environmental footprints to help combat climate change.
RT the good news: U.S. companies just committed at least $140 billion to #ActOnClimate → http://t.co/IU2TJ02bHg pic.twitter.com/BjcgiF6g00

— The White House (@WhiteHouse) July 27, 2015
Today, the White House launched the "American Business Act on Climate Pledge," with 13 U.S. businesses—Alcoa, Apple, Bank of America, Berkshire Hathaway Energy, Cargill, Coca-Cola, General Motors, Goldman Sachs, Google, Microsoft, PepsiCo, UPS and Walmart—committing a total of $140 billion in new low-carbon investments and more than 1,600 megawatts of new renewable energy. The companies making pledges today represent more than $1.3 trillion in revenue in 2014 and a combined market capitalization of at least $2.5 trillion.
The White House announcement says:
The impacts of climate change are already being felt worldwide. Nineteen of the 20 hottest years on record occurred in the past two decades. Countries and communities around the world are already being affected by deeper, more persistent droughts, pounded by more severe weather, inundated by bigger storm surges, and imperiled by more frequent and dangerous wildfires. Rising temperatures can lead to more smog, longer allergy seasons, and an increased incidence of extreme-weather-related injuries, all of which imperil public health, particularly for vulnerable populations like children, the elderly, the sick, the poor and some communities of color. No corner of the planet and no sector of the global economy will remain unaffected by climate change in the years ahead.
Climate change is a global challenge that demands a global response, and President Obama is committed to leading the fight. The President's Climate Action Plan, when fully implemented, will cut nearly 6 billion tons of carbon pollution through 2030, an amount equivalent to taking all the cars in the United States off the road for more than 4 years. And while the United States is leading on the international stage and the federal government is doing its part to combat climate change, hundreds of private companies, local governments, and foundations have stepped up to increase energy efficiency, boost low-carbon investing and make solar energy more accessible to low-income Americans.
By signing the American Business Act on Climate pledge, these companies are:
Voicing support for a strong Paris outcome.

Demonstrating an ongoing commitment to climate action.

Creating at least $140 billion in new low-carbon investment and more than 1,600 megawatts of new renewable energy.

Setting an example for their peers.
As Bloomberg noted, the combined efforts from these top companies will create enough energy "to power nearly 1.3 million homes."
"Each company is announcing significant new pledges to reduce their emissions, increase low-carbon investments, deploy more clean energy, and take other actions to build more sustainable businesses and tackle climate change," said the White House statement.
Google, for instance, has committed to powering their operations with 100 percent renewable energy. The company has already purchased 1.1 gigawatts of renewable energy to power their data centers, and aims to triple their purchases of renewable energy by 2025.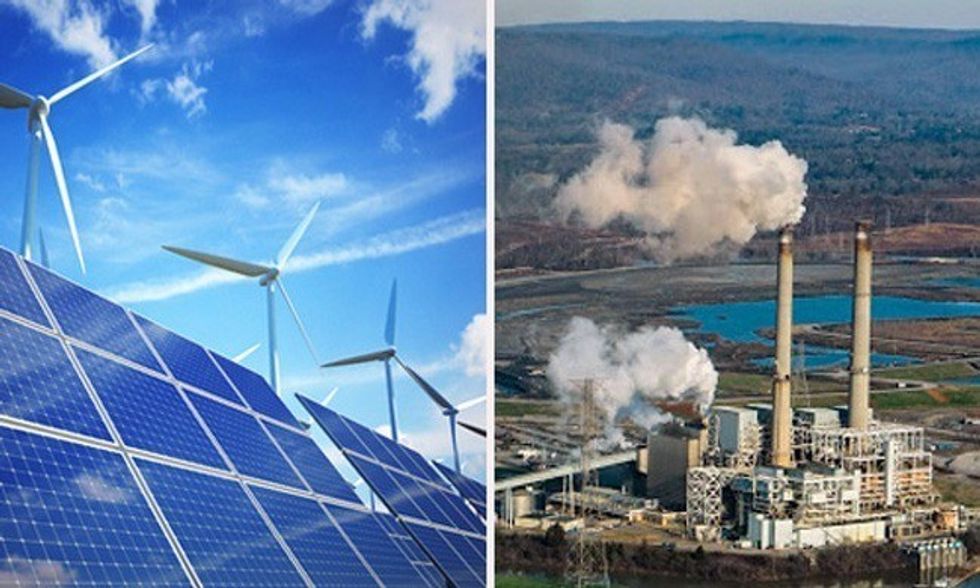 "We believe that by directly investing in renewable energy projects, we can help accelerate the shift to zero-carbon power and create a better future for everyone," the search giant said.
The White House is hoping that these companies will lead by example, and this fall, the Administration will release a second round of pledges "with a goal of mobilizing many more companies to join the American Business Act on Climate Pledge."
"The American Business Act on Climate Pledge shows that the U.S. private sector, with its history of innovation and ingenuity, is committed to stepping up and doing its part in taking on this global challenge," the White House said.
YOU MIGHT ALSO LIKE
Levi Strauss & Co: Bring Us Your Old Jeans
100 Eco-Innovations Changing the Way the World Does Business
IKEA Commits $1.13 Billion to Fight Climate Change and Invest in Renewable Energy
EcoWatch Daily Newsletter