This website uses cookies to ensure you get the best experience while browsing it. By clicking 'Got It' you're accepting these terms.
This May, Break Free 2016 swept the planet, with tens of thousands of people joining actions on six continents.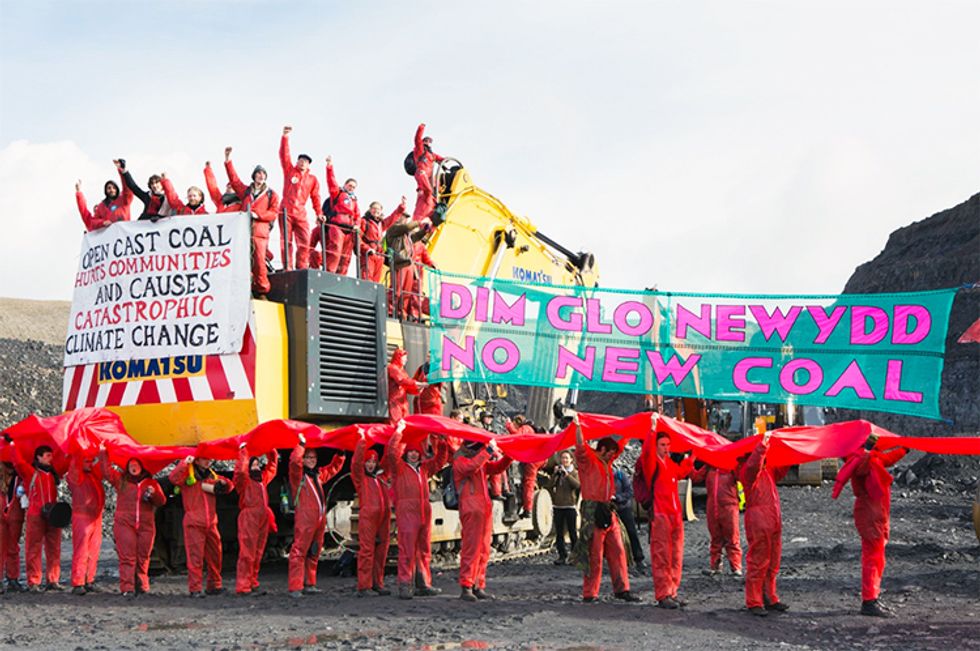 Here are 10 reasons this historic mobilization should give you hope for the future:
1. We're standing up to power — even when power fights back.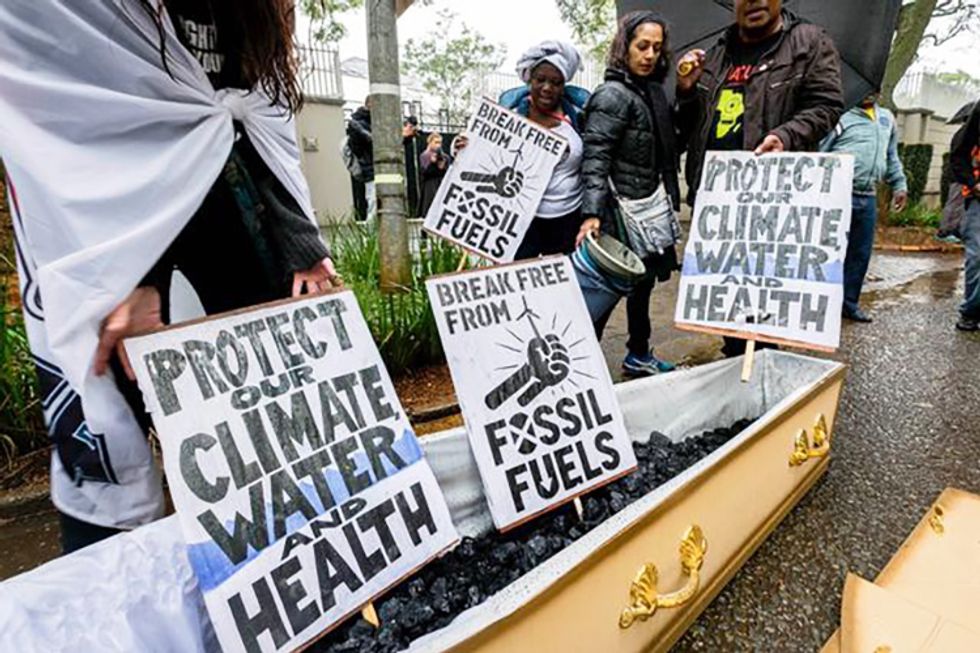 In South Africa, Break Free actions defied attempts to shut down their peaceful protests of the country's most powerful family, the Guptas and returned toxic coal financed by their companies right to their front door.
2. We're learning from the past.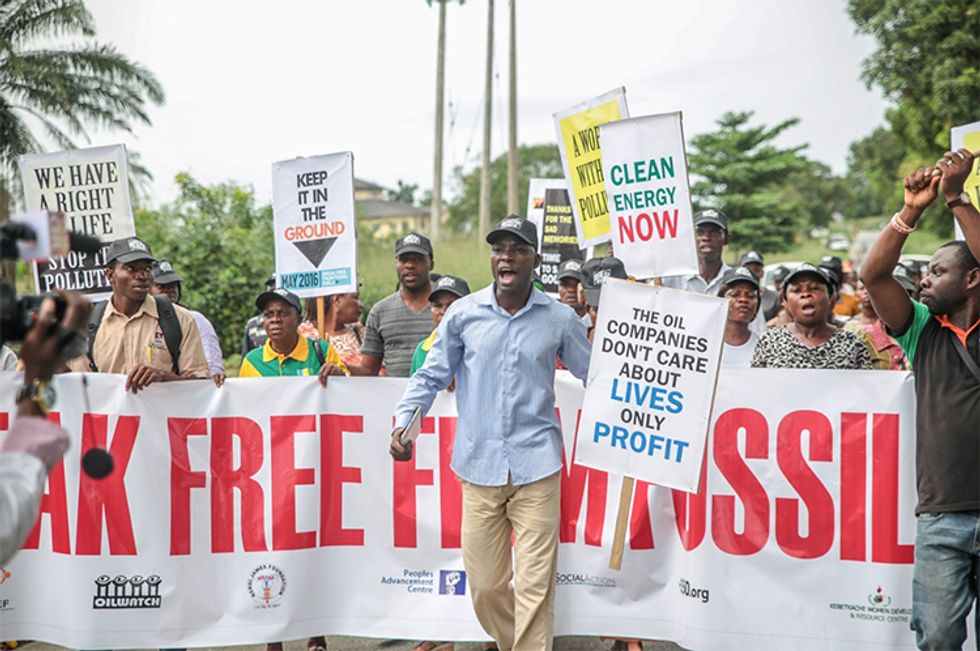 Groups in Nigeria stood together at Oloibiri, the site of the first oil well in Nigeria, to demonstrate how the fossil fuels industry has left only pollution, not prosperity for the people. Later in the week, they continued to carry the message in Ogoni where oil has created such great exploitation and Ibeno, where Exxon wishes to drill for more offshore.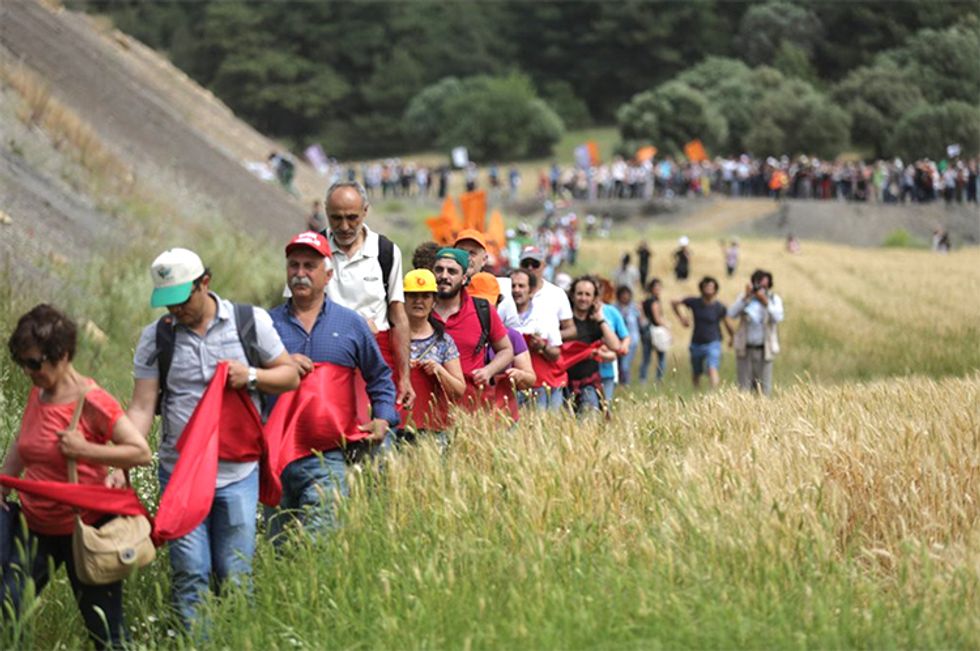 And in Turkey, where in the early 90s a mass movement in the Izmir region defeated plans for a massive expansion of coal, a new wave of organizing picked up the torch. 2000 people marched together and formed a red line around an illegal coal waste dump that is supporting the expansion of coal once more in the region.
3. We're led by powerful voices from Indigenous movements.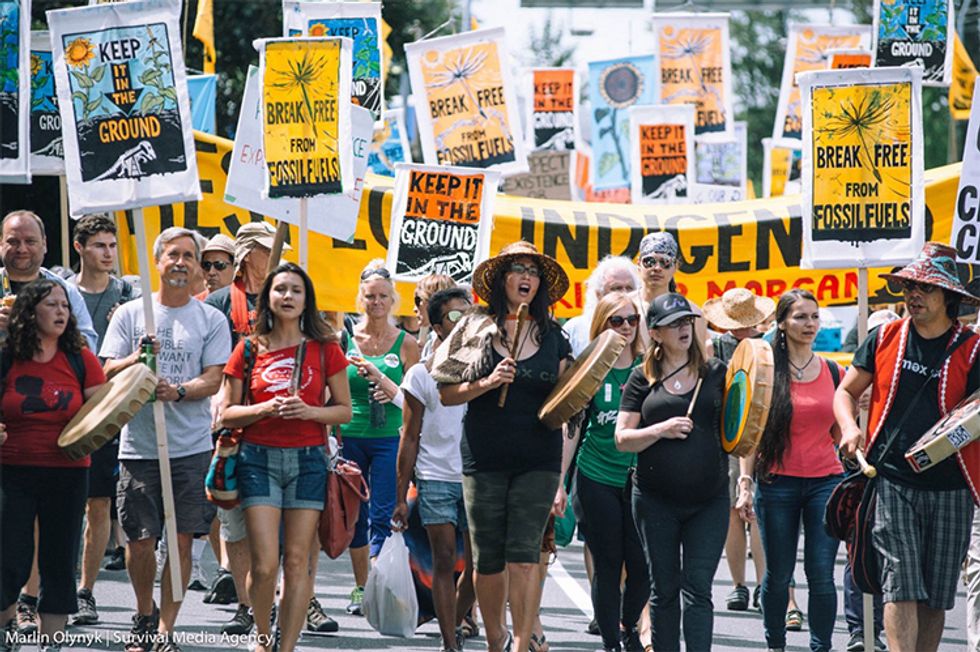 Everywhere, the original inhabitants of lands (that's now being used by the fossil fuel industry) are fighting back — and thousands of people are standing with them. For example in Canada, the Tsleil-Waututh First Nation is fighting to defeat the Kinder Morgan tar sands pipeline on un-ceded Coastal Salish territory on the west coast. More than 800 people stood in solidarity with the T'Sleil-Waututh Nation by swarming the Kinder Morgan facility on both sides. They staged a massive kayak flotilla on the water and surrounded it with their bodies and art on land.
4. We're showing grit and resolve.
Break Free actions were not your typical protests. Some went more than 24 hours long: in Germany, Ende Gelaende occupied the rail lines leading from a lignite mine to a power station for over 48 hours, forcing the plant to power down. On the West Coast of the U.S., several dozen people blocked rail lines carrying "bomb trains" of crude oil to the regions' largest unmitigated source of carbon pollution — for two nights running.
5. We're taking on the biggest projects from land, water and air.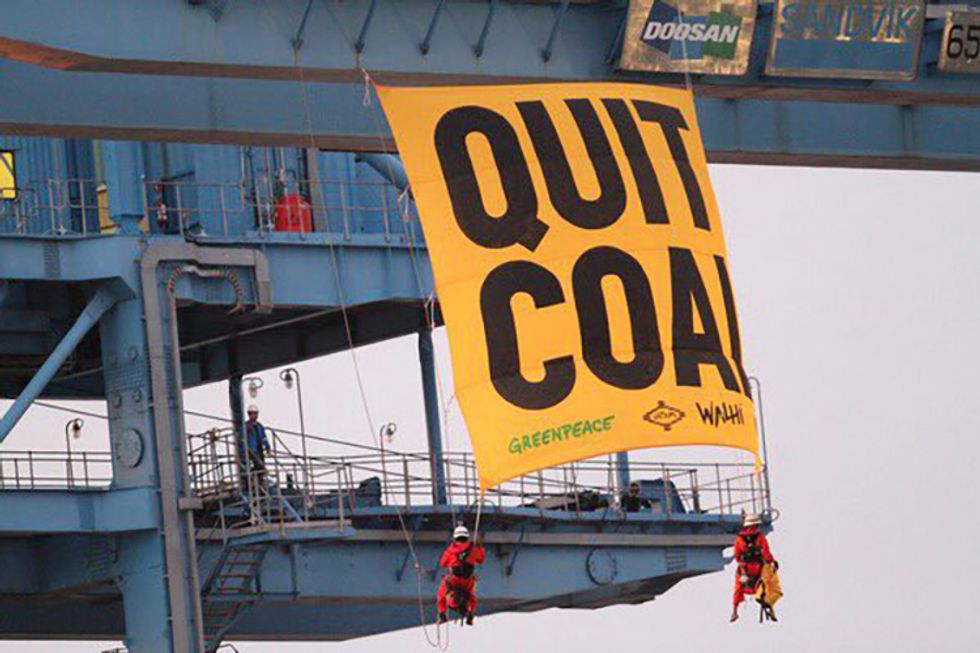 Indonesia digs up and exports more coal than any other country on Earth. During Break Free, 3,000 people joined an ear-splitting whistle action outside the president's office in Jakarta, calling for an end to coal — and then a few days later, others hung off of coal loaders in the port in Cirebon.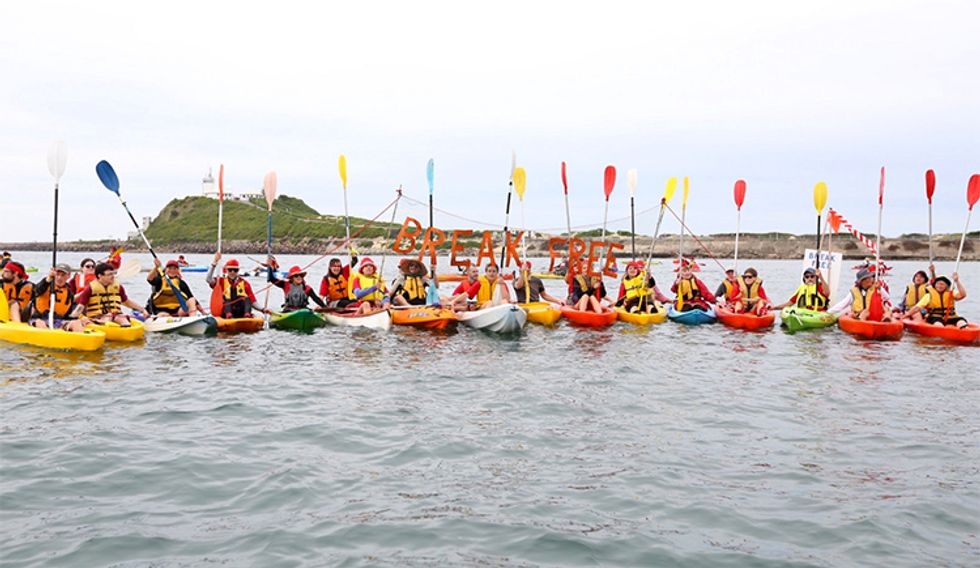 Newcastle, Australia is home to the world's largest coal port and thousands of protesters banded together to block all coal from entering or leaving the port over one day. Actions included an aerial blockade of coal loaders first thing in the morning, more than 60 people blocking a railway to the port and hundreds more afloat in the harbor to keep ships from passing.
6. We're connecting the dots between climate disaster and fossil fuels.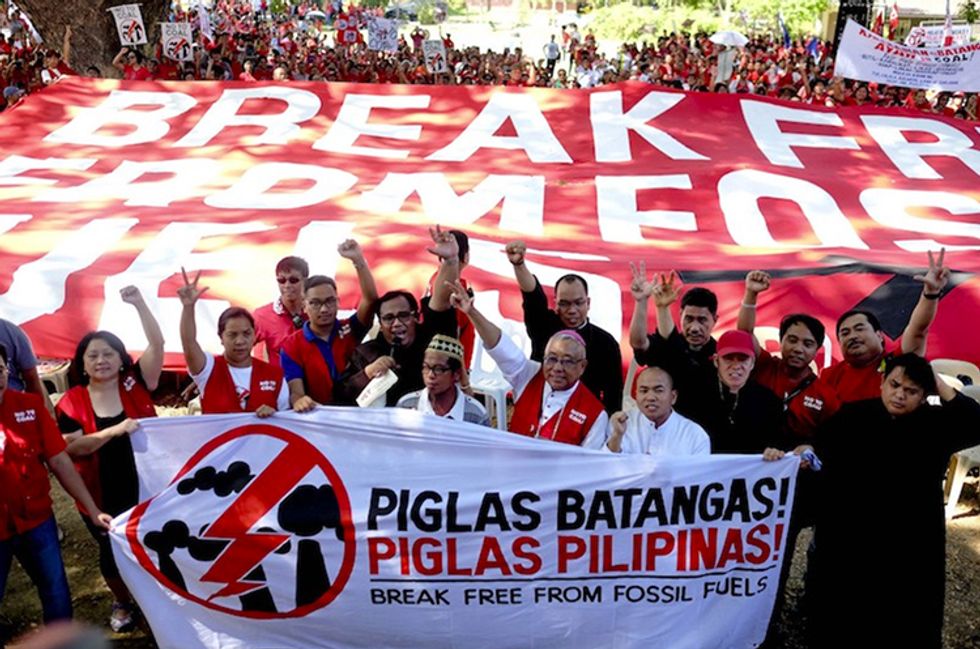 The Philippines is one of the most climate-vulnerable countries on Earth. They helped kick off Break Free with a 10,000 person march to oppose coal in Calaca, Batangas — at 6 a.m. in the morning. They had to start so early because of a devastating heat wave that is making life much harder to live:
7. We're building strong bridges.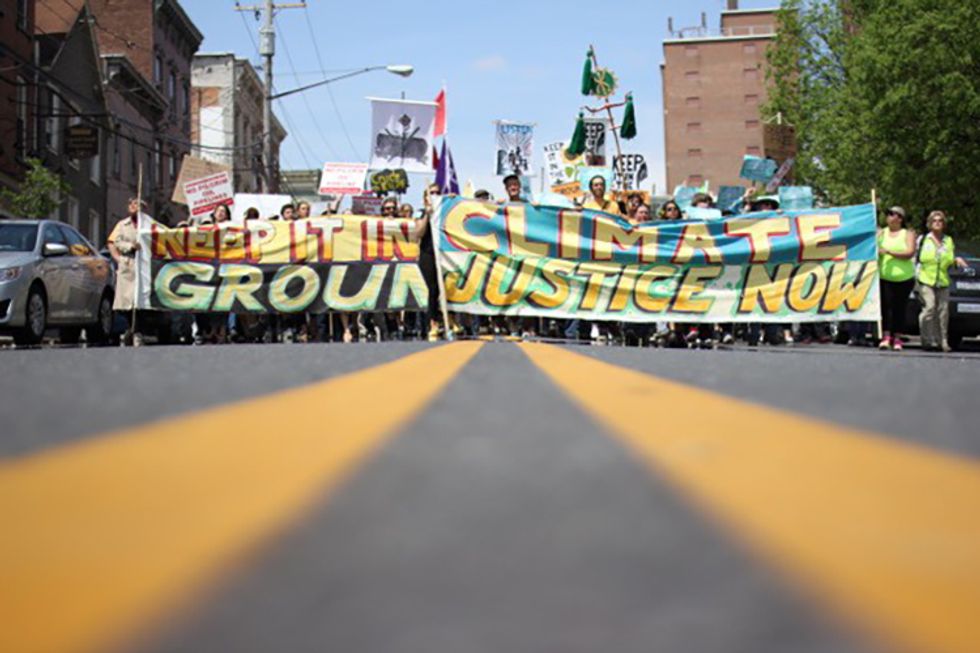 In Albany, New York in the U.S., Big Oil wants to send hundreds more oil by rail "bomb trains" along tracks that run just feet from low income public housing and playgrounds. Residents there have been fighting back against the expanded infrastructure for years, but during Break Free as more than 1,000 people blocked the roads and rails with them, one local leader called the people standing with them as their "spinach"— adding power to the strength they've been showing for years.
8. We're building global power.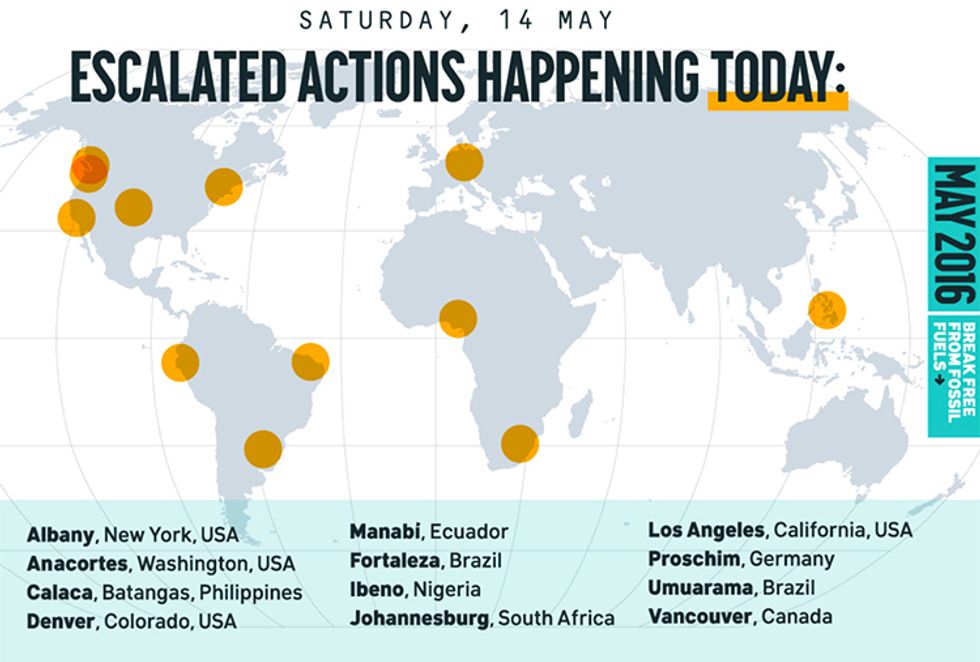 At one point on Saturday, May 14, major fossil fuel projects were being blocked on three continents — from the coal plant in Germany, to Brazil's largest coal power plant, to oil projects on both coasts of the U.S. and a major land and water blockade of a proposed tar sands terminal in Canada.
9. We're getting results.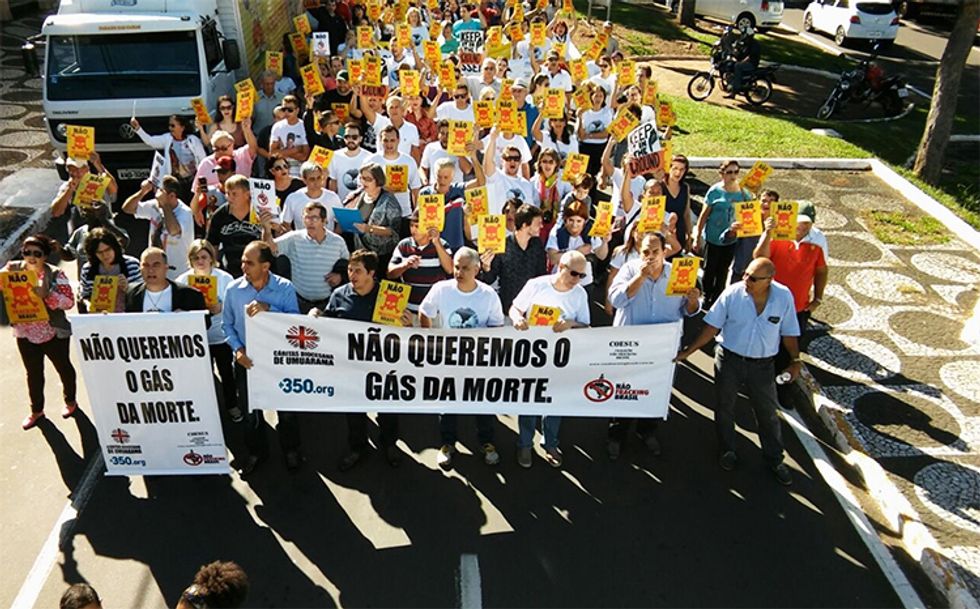 Immediately following a mass action in Umuarama, Brazil during Break Free, the town council voted to ban fracking in their borders — just the latest victory for the Nao Fracking Brasil coalition that is keeping gas in the ground across the country.
At the same time, people in Germany were blocking the Schwarze Pumpe power station, forcing it to reduce capacity by 80 percent.
10. We're bigger than ever.
Break Free was the largest global civil disobedience campaign ever in the history of the climate movement. And as the planet continues to overheat, opposition will only grow from here.
YOU MIGHT ALSO LIKE
Al Gore's Groundbreaking Film … 10 Years Later
NPR: Rising Sea Levels Made This Florida Mayor a Climate Change Believer
Tens of Thousands Take Part in Global Actions Targeting World's Most Dangerous Fossil Fuel Projects
Historic Victory: 4 Teenagers Win in Massachusetts Climate Change Lawsuit
EcoWatch Daily Newsletter
Coldplay is releasing a new album on Friday, but the release will not be followed by a world tour.
Ash dieback is seen infecting a European ash (Fraxinus excelsior) in Bottomcraig, Scotland, UK on Aug. 10, 2016.
nz_willowherb / Flickr
Scientists have discovered a genetic basis to resistance against ash tree dieback, a devastating fungal infection that is predicted to kill over half of the ash trees in the region, and it could open up new possibilities to save the species.
Truth in Action is a day-long global conversation on the climate crisis and how we solve it. The Climate Reality Project
Former Vice President Al Gore kicked off 24 hours of climate talks in the U.S. and 77 other countries around the world Wednesday night.
Activists highlighted the climate emergency outside Scottish Government headquarters at St Andrew's House in Edinburgh on Oct. 13, 2017. Usage of the term "climate emergency" spiked in 2019, according to Oxford Dictionaries.
By Jessica Corbett
Climate advocates and experts celebrated Oxford Dictionaries' announcement Wednesday that "climate emergency" is the Oxford Word of the Year 2019.
By Kieran Cooke
There could be a way of countering one key aspect of the climate emergency by making much greater use of a widely-available plant: bamboo building.