This website uses cookies to ensure you get the best experience while browsing it. By clicking 'Got It' you're accepting these terms.
10 Reasons Canada's Tar Sands Suck
May. 16, 2013 09:42AM EST
Energy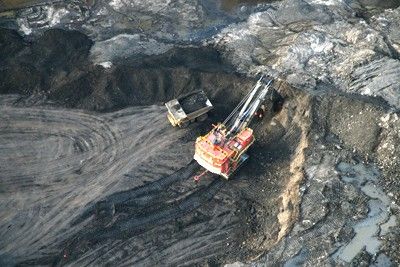 Pardon my french, but Canada's tar sands suck.
As a Canadian it blows my mind that we can have the second largest deposits of oil in the world, but our government remains billions in debt and one in seven Canadian children live in poverty.
I feel like we are being played for fools here in Canada, because foreign owned oil companies like ExxonMobil, British Petroluem and PetroChina (71 percent of oil sands production is owned by foreign shareholders) are making billions exporting raw tar sand from our country, while us citizens are dealing with all the nasty downsides.
 
Time for a tar sands reality check.
Here's the top 10 reasons Canada's tar sands suck:
1. The Canada tar sands isn't just an environmental issue, it is also a social justice, human rights and health issue. A higher incidence of rare and deadly cancers has been documented in First Nations communities downstream of the oil sands by doctors, the Alberta Health Department and First Nations since 2007.
2. Like birds? Me too. Did you know that more than 30 million birds will be lost over the next 20 years due to tar sands development?
3. Ninety-five percent of the water used in tar sands surface mining is so polluted it has to be stored in toxic sludge pits. That's 206,000 liters of toxic waste discharged every day.
4. Canada's tar sands make Hoover Dam look like lego blocks, because we are home to two of the top three largest dams in the world. The dams are used to hold back all that toxic sludge produced by mining tar sands.
5. Producing a barrel of oil from the oil sands produces 3.2 to 4.5 times more greenhouse gases than conventional oil produced in Canada or the U.S. To put that in perspective, a Honda Accord burning tar sands gas has the same climate impact as driving a Chevy Suburban using conventional gas.
6. According to an annual climate change performance index, because of the tar sands, Canada's climate performance is the worst in the entire western world. Canada ranks 58th out of 61 countries on the index, beating out only Kazakhstan (59th), Iran (60th) and Saudi Arabia (61st).
7. Eleven million liters of toxic wastewater seep out of the tailing pits into the boreal forest and Athabasca river every day. That's 4 billion liters a year. Anyone want to go fishing?
8. Norway has saved $644 billion in its petroleum production investment fund. Meanwhile, Alberta, where all the tar sands deposits are, has only saved $16 billion. There is no Canadian federal fund.
9. The International Energy Agency says up to two-thirds of known fossil reserves must be left in the ground to avoid a 2°C global temperature rise. MIT reports that when a global price on carbon emerges to prevent climate change, it will make the oil sands economically non-viable.
10. And if you think the tar sands are going away, think again.The oil sands underlie approximately 140,000 square kilometres of Alberta—an area about the size of Florida. Oil sands leases cover about 20 percent of the province's land area. If the oil companies have it their way, the tar sands operations are on a trajectory to triple in size, with literally no end in sight.
So there you go. The tar sands suck, Canadians are getting screwed and the only people seeing any kind of big payoff are the big oil companies.
Thanks to the Tar Sands Reality Check project for putting all these facts together, and getting them signed off by top experts.
EcoWatch Daily Newsletter
Protesters gathered outside US Bank and Wells Fargo locations around the U.S. to protest investment in the Dakota Access Pipeline on Dec. 1, 2016. This photo is from a protest outside US Bank in south Minneapolis, Minnesota.
Fibonacci Blue / CC BY 2.0
By Jake Johnson
As a growing number of states move to pass laws that would criminalize pipeline protests and hit demonstrators with years in prison, an audio recording obtained by The Intercept showed a representative of a powerful oil and gas lobbying group bragging about the industry's success in crafting anti-protest legislation behind closed doors.
Reposted with permission from our media associate Common Dreams.

DESIREE MARTIN / AFP / Getty Images
Wildfires raging on Gran Canaria, the second most populous of Spain's Canary Islands, have forced around 9,000 people to evacuate.
Wolves in Mount Rainier, Washington. Ron Reznick / VW Pics / Universal Images Group via Getty Images
The last four members of an embattled wolf pack were killed in Washington State Friday, hours before the court order that could have saved them.
Aerial view of lava flows from the eruption of volcano Kilauea on Hawaii, May 2018. Frizi / iStock / Getty Images
Hawaii's Kilauea volcano could be gearing up for an eruption after a pond of water was discovered inside its summit crater for the first time in recorded history, according to the AP.
Plateau Creek near De Beque, Colorado, where land has been leased for oil and gas production. Helen H. Richardson / The Denver Post / Getty Images
By Randi Spivak
Slashing two national monuments in Utah may have received the most attention, but Trump's Interior Department and U.S. Forest Service have been quietly, systematically ceding control of America's public lands to fossil fuel, mining, timber and livestock interests since the day he took office.
Global SO2 Emission Hotspot Database / Greenpeace
A new report by Greenpeace International pinpointed the world's worst sources of sulfur dioxide pollution, an irritant gas that harms human health. India has seized the top spot from Russia and China, contributing nearly 15 percent of global sulfur dioxide emissions.
The huge surge this year in Amazon deforestation is leading some European countries to think twice about donations to the Amazon Fund. LeoFFreitas / Moment / Getty Images
By Sue Branford and Thais Borges
Ola Elvestrun, Norway's environment minister, announced Thursday that it is freezing its contributions to the Amazon Fund, and will no longer be transferring €300 million ($33.2 million) to Brazil. In a press release, the Norwegian embassy in Brazil stated:
Gina Lopez, the Philippine secretary of the environment, at a meeting with residents affected by a mine tailing disaster. Keith Schneider
Gina Lopez, a former Philippine environment secretary, philanthropist and eco-warrior, died on Aug. 19 from brain cancer. She was 65.