This website uses cookies to ensure you get the best experience while browsing it. By clicking 'Got It' you're accepting these terms.
1 Million+ Electric Cars Are Now on the World's Roads
Jun. 03, 2016 10:05AM EST
In 2015, the number of electric cars on the road globally passed the one million threshold for the first time.
The rapid growth of the industry means that it is now the only technology sector on track to meet the International Energy Agency's (IEA) 2C scenario.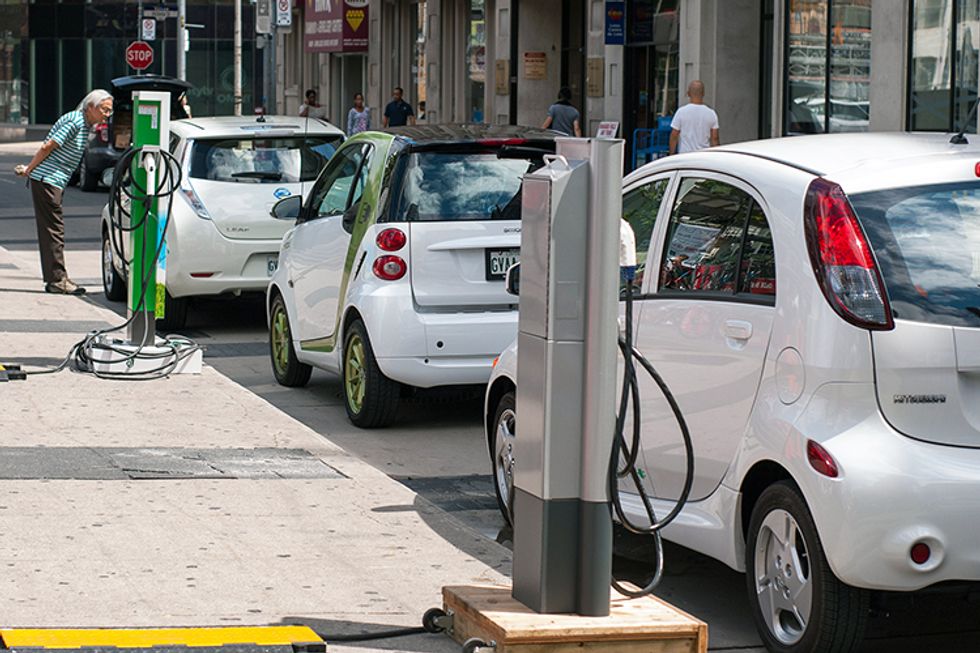 This is the conclusion of the IEA's Energy Technology Perspectives 2016 report, which it released on Wednesday. This is the latest edition of their annual progress review of the technologies that will determine the rate of global emissions, including renewables, nuclear, CCS and coal.
Last year's report, covered by Carbon Brief, painted a bleak picture. It deemed that none of the 19 technologies it tracks had made the necessary progress to limit global temperature rise to below 2C. It said that five technologies were off track, while the remaining 14 were failing to improve fast enough.
One year on, its assessment is equally bleak. The number of technologies off track has risen to six, while 11 are failing to improve fast enough. Only electric vehicles have made to jump towards actually being on track to meet the 2C goal modeled by the IEA.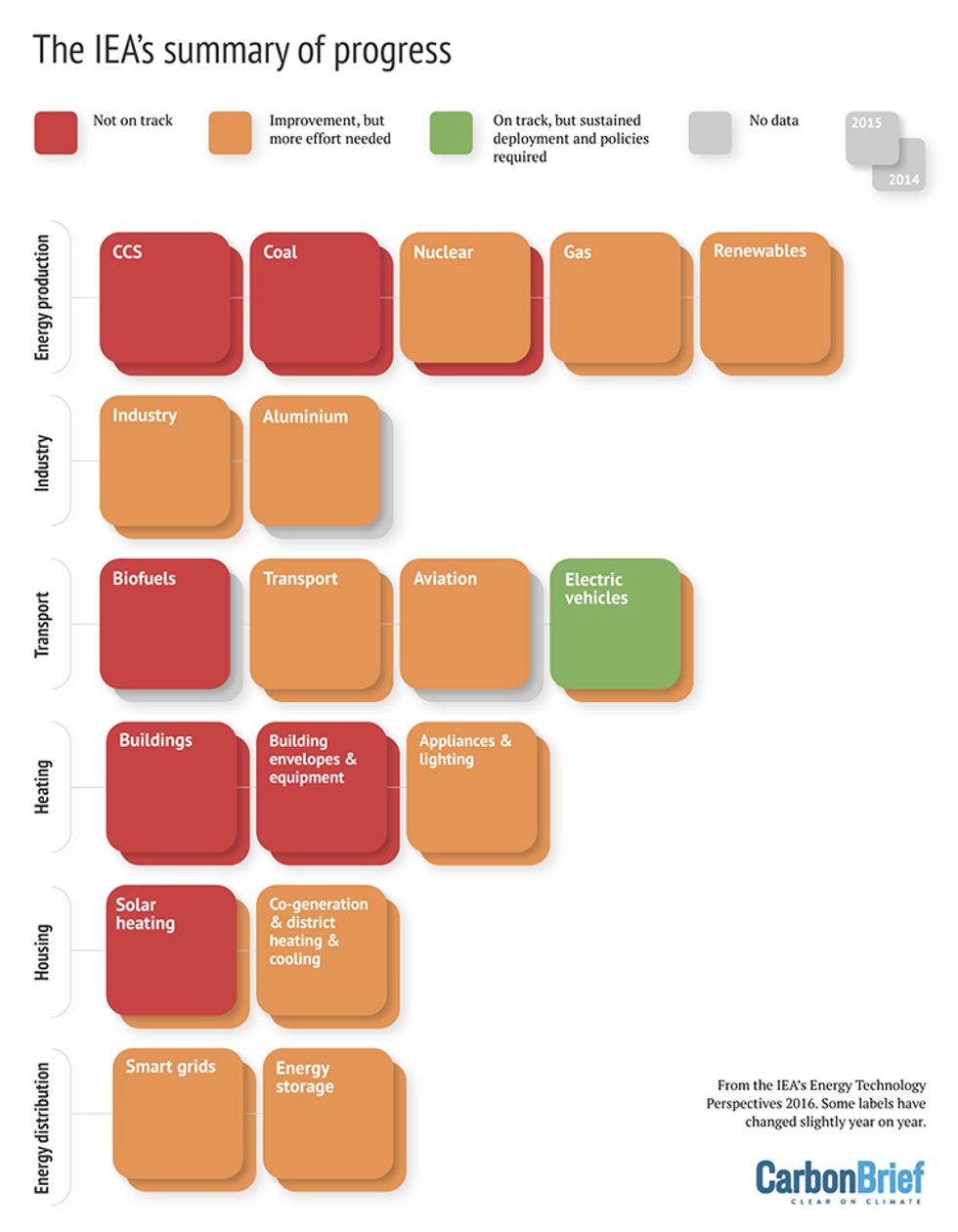 Scenarios
The IEA's 2C scenario (2DS) sets out a pathway that would lead to a 50 percent chance of limiting global average temperature rise since the preindustrial era to 2C. This means cutting CO2 emissions almost 60 percent by 2050 compared to 2013 levels.
This scenario—as is also the case for its 4C and 6C scenarios—includes milestones for energy supply, buildings, industry and transport. Emissions reductions across all these sectors, it says, are vital for hitting the 2DS, as the graph below illustrates.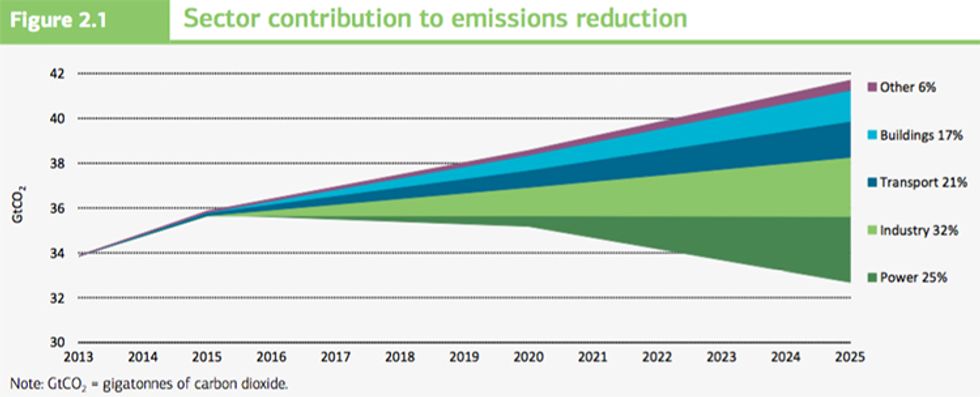 Its models are a combination of forecasting to reflect near-term trends and "backcasting" to develop plausible pathways to the long-term outcome. The report then ranks progress based on how far each technology or sector is from its interim target for 2025 under the 2DS.
Electric Vehicle Progress
In 2015, sales of electric cars around the world amounted to 477,000, taking the total volume up to 1.15m. Sales grew by 70 percent over 2014 levels. The IEA says that this means it is catching up with the rates needed to meet the 2DS.
In an interview with Carbon Brief, the IEA's chief economist Laszlo Varro said:
"Electric cars are roughly 10 years behind wind and solar in terms of deployment and technology development. Still, electric car technology is also gathering momentum. Electric cars increasingly capture the consumer's imagination."
The U.S., China, Netherlands and Norway accounted for 70 percent of all the electric cars sold worldwide. In 2015, China became the world's largest electric car market. But growth was also occurring outside these countries. The number of countries with a market share of electric cars greater than 1 percent grew from three in 2014 to six in 2015.
There have also been notable successes which show an "emerging niche" for electrification, says the IEA. This includes the decision of La Poste, France's national mail carrier, to electrify its delivery fleet with 5,000 fully electric Renault Kangoos, with plans to double its electric fleet by 2020.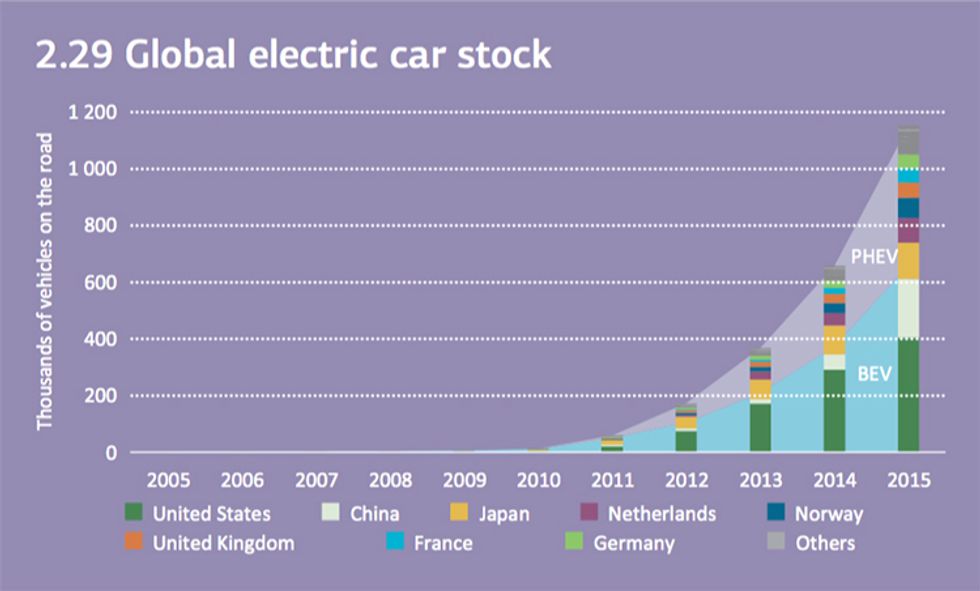 Such growth is encouraging, says the IEA, after annual sales growth had slowed in 2014 to 53 percent.
To remain on track with the 2DS, average annual sales growth will have to be sustained at 66 percent through 2020 and at 39 percent through 2025. This now "seems achievable," says the IEA, although it highlights that there will need to be sustained support. It says:
"Continued support for RD&D [research, development and deployment] is needed to hasten the milestone year when purchase costs of cars with all-electric ranges capable of meeting most driving needs reach parity with ICE [internal combustion engine] cars."
This growth in electric cars has been helped by a simultaneous boom in public charging infrastructure, with the installation of fast DC chargers growing by 350 percent in China alone in 2015. This expanding network, along with improvements in driving range, are helping to narrow the gap between electric and conventional cars and may foster broader adoption, the IEA says.
Working Together
While the growth in electric cars is promising, the IEA emphasises that everything is interlinked. "Decarbonisation of electricity must accompany the push to electrify transport in the 2DS," it says.
This is why the IEA insists on seeing the system as a whole within its scenarios. The 2C target cannot be hit unless there is also swift progress on renewable, nuclear, gas and coal-fired power, where the news is less positive. CCS and energy storage could also have an important role to play in a decarbonized power sector.
YOU MIGHT ALSO LIKE
This Super Sustainable House Can Be Built in One Day
17 Young Social Entrepreneurs Who Are Making the World a Better Place
BMW South Africa Unveils Solar Carport to Charge Electric Vehicles
It's Time to Break Saudi's Oil Monopoly and Embrace Clean Transportation
EcoWatch Daily Newsletter
Penguins are seen near the Great Wall station in Antarctica, Feb. 9, days after the continent measured its hottest temperature on record at nearly 65 degrees Fahrenheit. Xinhua / Liu Shiping / Getty Images
By Richard Connor
Scientists have recorded Antarctica's first documented heat wave, warning that animal and plant life on the isolated continent could be drastically affected by climate change.
The Athos I tanker was carrying crude oil from Venezuela when a collision caused oil to begin gushing into the Delaware River.
U.S. Department of the Interior
A case that has bounced around the lower courts for 13 years was finally settled yesterday when the U.S. Supreme Court upheld a lower court decision, finding oil giant Citgo liable for a clean up of a 2004 oil spill in the Delaware River, according to Reuters.
The buildings of downtown Los Angeles are partially obscured in the late afternoon on Nov. 5, 2019, as seen from Pasadena, California, a day when air quality for Los Angeles was predicted to be "unhealthy for sensitive groups." Mario Tama / Getty Images
The evidence continues to build that breathing dirty air is bad for your brain.
Wave power in Portugal. The oceans' energy potential is immense. Luis Ascenso, via Wikimedia Commons
By Paul Brown
The amount of energy generated by tides and waves in the last decade has increased tenfold. Now governments around the world are planning to scale up these ventures to tap into the oceans' vast store of blue energy.
Yellowstone National Park closed to visitors on March 24, 2020 because of the Covid-19 virus threat. William Campbell-Corbis via Getty Images
When the novel coronavirus started to sweep across the country, the National Park Service started to waive entrance fees. The idea was that as we started to practice social distancing, Americans should have unfettered access to the outdoors. Then the parking lots and the visitor centers started to fill up, worrying park employees.