Women on the Front Lines Fighting Fracking in the Bakken Oil Shale Formations
By Emily Arasim and Osprey Orielle Lake
There are some crystalline moments in which the challenges we face as a civilization become brutally clear. Moments in which corrupt aspects of American democracy and the fractures in our social, economic and political systems are exposed with unsurpassed clarity.
Moments in which we are reminded of how fundamentally ruptured our dominant culture's relationship with the Earth has become and in which we see before our eyes how this split has led to almost unfathomable acts of violence against the Earth, against women and against the original inhabitants of North America.
Standing on the sweeping, golden prairie of North Dakota with the noxious flames of the Bakken fracking fields visible in all directions, one such moment descended with heavy weight.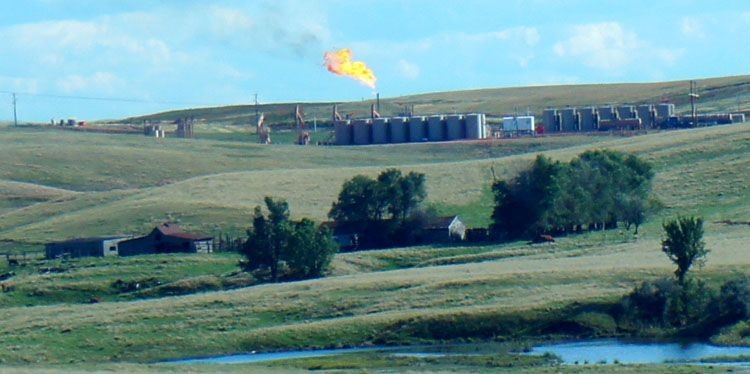 Rape of the Land, Rape of the Women
"The Bakken" is a shale formation that spans some 25,000 square miles and covers much of western North Dakota, eastern Montana and the southern parts of two Canadian provinces. Since the early 2000's, a boom in oil extraction has taken place in the region thanks to newly available hydraulic fracking technologies used to extract sticky, heavy oil from deep within shale rock. In less than a decade, North Dakota has become a fracking epicenter and the second largest U.S oil-producer after Texas.
For millennia before becoming the center of the fracking industry, northwest North Dakota served primarily as rich agricultural grounds and as the home of the Three Affiliated Tribes of the Mandan, Hidatsa and Arikara peoples.
For the Three Affiliated Tribes, the social and environmental destruction wrought by the fracking industry is but the latest wave of historic oppression and colonization. In 1947, the Mandan, Hidatsa and Arikara were forcibly moved from their traditional lands to make room for the construction and flooding of Lake Sakakawea on the Missouri River.
Of the 12 million acres promised to the Three Affiliated Tribes by an 1851 treaty, less than 1 million acres have been delivered in the form of the Fort Berthold Reservation and now these remaining acres are being eaten away by destructive development, cultural dislocation and irremediable ecologic damage cause by the fracking industry.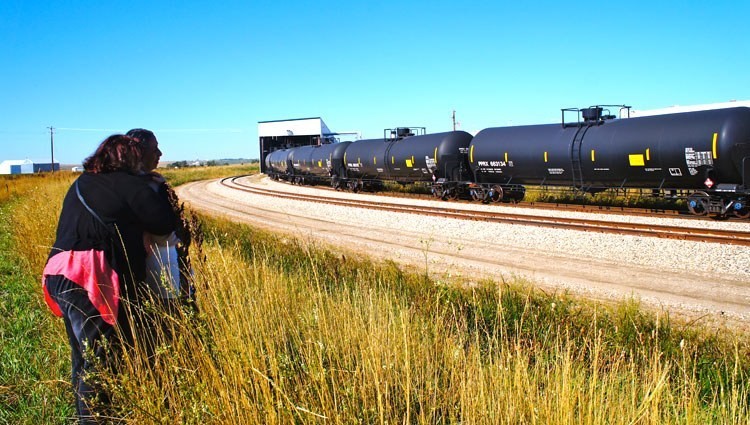 Williston, a mid-sized town just outside of Fort Berthold Reservation, has officially adopted the new town slogan "Boomtown, USA" and has been taken over by the industry to the point that it is almost unrecognizable to residents, both Indigenous and non-Indigenous, whose families have lived there for generations.
The population of Williston has doubled , maybe even quadrupled since 2010, however exact numbers are too hard to track due to the transient flow of labor and utter inability of local government to keep up.
Law enforcement and social services have been stretched far past their limits, leaving many, especially Indigenous women and girls, exposed, vulnerable and without proper legal protection.
While there are some families and women moving to the area to partake in work on the fracking fields and sprawling hotels and strip malls that have popped up to service the workers, the majority of the tens of thousands of new residents are men. In recent years the demographic has changed to the point that there are now more men concentrated in North Dakota than anywhere else in the U.S outside of Alaska.
Workers are housed in ever-expanding mobile home complexes called "man-camps," ranging from unregulated trailers in farmers' fields to sprawling complexes housing and feeding more than 1,000 workers at a time.
Conditions for fracking workers are cramped and have proven to be breeding grounds for violence, drug use and sexual abuse. The population influx and housing demands had driven up rents to exorbitant rates rivaling New York City and San Francisco, squeezing out long-term residents and putting many at risk of homelessness.
According to the state's Uniform Crime Reports, violent crime, including murder, aggravated assault, rape and robbery increased by 125 percent between 2005 and 2013.
In September 2013, the U.S. Department of Health and Human Services identified two small towns in the Bakken alongside four major cities (Boston, Houston, Atlanta and Oakland), as the places in the U.S most in need of assistance to combat rampant sex and human trafficking.
In North Dakota, as in many places across the world, violence against women intersects with and is multiplied by deep racism and a legacy of exploitation, systemic violence and genocide of Indigenous peoples.
According to U.S Department of Justice records, one in three Native American women are raped in their lifetimes, a figure that is two-and-a-half times greater than the average for all U.S. women.
In an astounding 86 percent of cases of rape of Indigenous women and girls, the assailant is non-Native, which has proven to be a fatal catch-22 allowing many crimes to go uninvestigated by either U.S or Tribal officials.
Williston's rape rate is now nearly four times the national average and in 2014, shelter workers reported a more than four-fold increase in domestic violence cases.
From the biggest industry supporter to the staunchest critic, everyone in the North Dakota Bakken is quick to admit that the region feels like an uncontrolled, "wild west." This violent lawlessness bears down upon Indigenous women and girls with unmatched brutality.
In April of 2015, a coalition of Indigenous and women right's organizations, led by Honor the Earth, filed a request with the United Nations Expert Mechanism on the Rights of Indigenous Peoples, demanding a UN intervention in the epidemic of sexual violence brought on by extreme fossil fuel extraction in Bakken fracking fields and the Alberta, Canada tar sands region.
While violence against Indigenous and other local women in the region continues to be pushed under the cover, the very visible rape of the Earth happening across North Dakota is harder to ignore.
The North Dakota Industrial Commission cites nearly 2,000 spills, leaks, ruptures, fires and blowouts over the past 12 months and the Associated Press recently uncovered at least 750 "oilfields incidences" hidden from the public since January 2012. More than 75 tons of oil waste is generated in the state every day, one third of which is highly radioactive.
Radioactive "frack socks," used to filter solids from toxic fracking water, are produced by the hundreds of thousands every day. Waste disposal sites in North Dakota are not allowed to accept these radioactive materials, the result being that thousands of filters are being illegally dumped by industry workers, most notably on back roads, dumpsters and playgrounds of the Fort Berthold reservation.
While fracking is happening across the U.S, there are a several elements of the North Dakota industry that set it above the rest when it comes to devastation of the land and the health of local communities.
The massive worker influx and targeting of Indigenous communities are two such factors—flaring or the burning off of the natural gas extracted during the fracking process, is another.
Across the U.S, an average of just 1 percent of gas is flared, while the rest is captured and used as productive energy. In North Dakota, upwards of 26 percent is burned off, creating an additional source of volatile pollution and waste and serving as a testament to the industries flagrant disregard for the health of people and Earth in North Dakota.
Carbon dioxide, methane and many other hydrocarbons and carcinogens have been identified in samples, however companies are not required to disclose the exact chemical composition of the flared gases, which compromise local air quality, have been linked to cancer, asthma and respiratory disease, and astonishingly, can be seen glowing from space in the previously dim, sparsely populated North Dakota plains.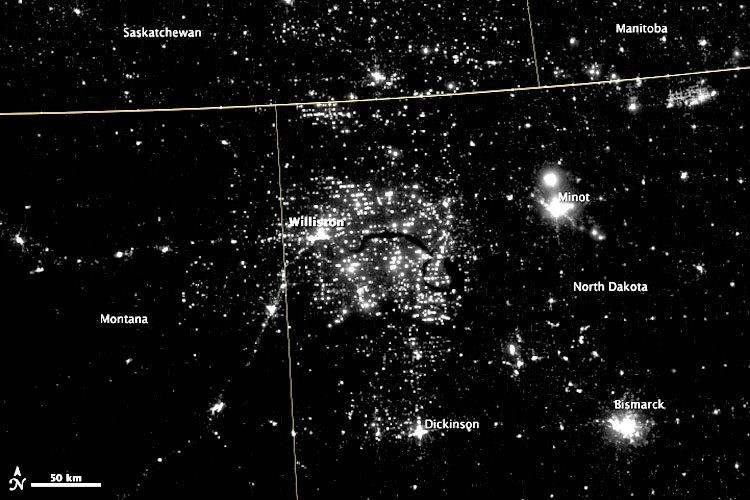 Flares are highly toxic when lit, but even more devastating when the flames go out and gases pour out unseen, creating gas plumes over local communities for hours, days or weeks.
The global warming inducing methane and carbon dioxide released by flaring is a double threat not just for North Dakota, but for worldwide efforts to curb run away climate change.
Fracking is a violent assault on all of Earth's vital systems, but most immediate and pronounced on the water cycle.
The process drills some 2,000 to 10,000 feet deep, often passing through and contaminating vital aquifers. For each frack well, 1 to 8 million gallons of fresh water is mixed with undisclosed chemical "fracking fluids" and forcefully injected into the ground to break the rock and release the gas and oil.
Despite corporate secrecy, it has been established that more than 600 chemicals and volatile organic compounds (VOCs) such as benzene, toluene, ethylbenzene and xylene, are common components of the water/chemical concoction. Many of the chemicals used by the fracking industry have been exempted from the Safe Drinking Water Act, the Clean Air Act and other environmental laws, despite the fact that they are being directly injected into the Earth and drinking water sources.
Elementary school science, which taught us that the water cycle is a closed loop—that no water is ever gained or lost—is no longer an ultimate truth, as water used in the fracking process is contaminated with oil and hydrocarbons, radioactive materials, carcinogens and biocides to the point of no return.
At a time of global water crisis, the fossil fuel industry is permanently destroying billions of gallons of pure water in a race to dig up non-renewable resources. The imperative of action to keep fossil fuels in the ground could not be clearer.
Women Speak from the Frontlines
In September of 2015, a delegation from the Women's Earth and Climate Action Network traveled to Williston, North Dakota to take part in the Fifth Annual Stop Extreme Energy Conference, support advocacy efforts and bear witness to the conditions being experienced in and around the community of longtime Indigenous, women's and climate justice activist, Kandi Mossett.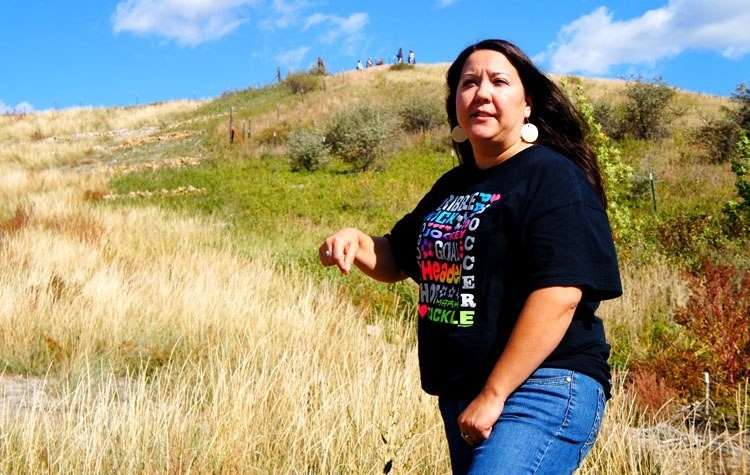 Mossett, native energy and climate campaign organizer with the Indigenous Environmental Network, was born and raised in New Town, a once small, close-knit community just inside the borders of Fort Berthold Reservation.
Mossett led a diverse group of educators and activists on a "toxic tour" of the region around New Town, Williston and Fort Berthold, visiting contaminated sites and passing seemingly endless open flares, oil derricks and drills, processing sites, train depots,"'man camps" and supporting infrastructure from hotels and truck stops, to strip clubs and liquor stores.
The phrase "national sacrifice zone" came to the lips of many of the witnesses, struggling to describe the dangerous deregulation, debase pursuit of corporate profit and callous disregard for the health and safety of local communities, and the soil, water, air and lives of future generations.
Driving just outside of Watford City, the group passed an elementary school and playground. Mere meters away from the school on the other side of the road, Mossett pointed out a torn up road and a newly constructed building, to serve as a radioactive storage facility for the fracking industry. According to Mossett, the permits for the building had been officially issued just weeks previously, however construction had been started many months before.
This is only one of many incidences involving direct threats to local children and their right to life. In the town of Mandaree toddlers were found playing with radioactive "frack-sock" filters dumped in a field, prompting residents to immediately begin campaigning and plastering nearby towns with flyers identifying the danger and making sure parents and children knew to stay away and immediately report dumping of radioactive waste.
With tears and heart-wrenching grief, Mossett also recounted the story of a young girl, less than five years old, found running, naked, away from a man-camp after having been sexually violated by a worker.
In the windswept, rolling plains of North Dakota, companies like Halliburton, Hess, Crestwood Energy, Whiting Petroleum Corp. and Enbridge, to name but a few, have crowned themselves king and are acting with a level of impunity beyond measure.
They are using the complex overlay of sovereign tribal, federal and state jurisdictions, as well as questionable webs of subcontractors, to evade responsibility for atrocious social and ecologic damages—however their air of confidence and inevitability is more and more in-question everyday.
There is a saying of the Global South that speaks to the change that must now come to the Bakken oil fields: Neither the land nor women are territories of conquest.
Hope Amidst Devastation
There are many compelling reasons for hope.
For one, the profitability of the industry is plummeting. In the first weeks of 2016, Flint Hills Resources LLC, the refining arm of the Koch's brothers industries, offered to pay just $1.50 per barrel of North Dakota crude, down from $13.50 one year ago and $47.60 in January of 2014.
The same collapse is happening just north in the Canadian tar sands and investors are fleeing rather than risk stranded assets.
While the growing financial instability and risk facing the extreme energy industry in North Dakota and around the world, is a major victory for the global climate and #KeepItIntheGround movement—it was vividly apparent in travels around North Dakota that deep and sustained attention must be given to ensure that our transition away from fossil fuels is a just one and that those communities whose lives have been uprooted by the industry are not once again made disposable when the fracking boom collapses.
As the industry unravels towards its own demise, resistance movements, local initiatives and powerful narratives speaking out against the industry are also growing in strength.
After learning that their land was slated for industry expansion, the Turtle Mountain Band of the Chippewa people moved unanimously to ban fracking on their 77,000-acre reservation, located in the north-central part of the state, just 190 miles from the fracking epicenter in Forth Berthold.
The Standing Rock Sioux Nation in the southern part of the state have also issued a ban.
As on Mandan, Hidatsa and Arikara land, the movement to ban fracking amongst the Chippewa was led by local women, acting in alignment with their traditional role as providers and protectors of water. Since their success in passing the initial ban, they have been taking the next steps to ensure continued protection and the development of systemic alternatives through the use of abundant solar and wind energy.
North Dakota has the sixth largest wind resource potential in the U.S., totaling 770,000 megawatts—which is more than that of all fossil fuel powered plants in the U.S. combined.
While still plagued by an unresponsive tribal council, Mossett's own community is stepping up and taking action of their own accord.
In 2015, local grassroots women including Lisa DeVille and Theodora and Joletta Birdbear, founded Fort Berthold Protectors of Water & Earth Rights (POWER), through which the have been lobbying and directly pushing back against their local officials and the liable corporations.
They have no intention of stepping down in their campaign to stop fracking in North Dakota, bring an end to violence against local women and Indigenous communities and lift up respect for the vibrant Earth.
In December of 2015, Mossett was one of the leading activists and most prominent Indigenous voices present during the United Nations COP21 climate negotiations in Paris. She helped present the "Keep It In the Ground Declaration" with global allies, delivered a Frontline Women's Press Conference with the Women's Earth and Climate Action Network and led countless other workshops, conferences and stunning direct actions, including a high-profile demonstration to call out fracking inside of the so-called COP21 "Solutions 21" exhibition, where French fracking company Suez was promoting their business as climate friendly.
It should be well noted that at COP21 the U.S., along with 195 countries, pledged to keep global warming below 1.5 degrees Celsius. Scientists have stated that we must keep 80 percent of global fossil fuel reserves in the ground to avoid climate catastrophe. Continued fracking will thus contribute to the negation of the Paris agreement and the demands of science—underscoring the need for serious scrutiny and immediate action to halt this extreme extraction.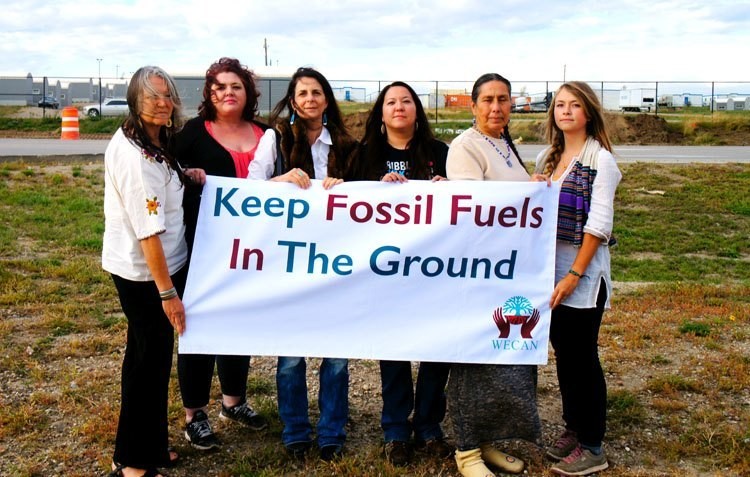 In 2016, Mossett will be working to document and expose the connections between fracking and asthma and other local health impacts and will be taking on the heroic task of founding a nonprofit to promote, teach and manifest food sovereignty and renewable energy on tribal lands across Montana and North and South Dakota.
Mossett is an inspiration not only in her fierce work to challenge brutal prevailing forces of environmental and cultural destruction, gender violence, compromised health and a dangerously dysfunctional legal system—but also in her tender work to heal and nourish alternatives.
She stands with countless other Indigenous women who are working not just to expose injustice, but to actively build the healthy world we seek.
Until we are accountable to the women and the communities on the frontlines of environmental impacts, there will be no social justice or climate solutions.
It is time to urgently end the injustice and racism of sacrifice zones in the U.S. Instead, we must build hope, build solutions and follow the guidance and experience of frontline women leaders like Mossett, as she and others work for a just transition to a clean energy future that works for the Earth and all it's people.
Osprey Orielle Lake is the founder and executive director of the Women's Earth and Climate Action Network (WECAN) International and co-chair of International Advocacy for the Global Alliance for the Rights of Nature. She is the author of the award-winning book Uprisings for the Earth: Reconnecting Culture with Nature. Follow on Twitter @WECAN_INTL.
Emily Arasim has served as WECAN International's media and communications coordinator and project assistant since 2014. She is an avid photojournalist, writer and farmer from New Mexico.
The proposed Atlantic Coast Pipeline
The planned 600-mile interstate pipeline will carry 1.44 billion cubic feet per day of fracked gas from West Virginia to North Carolina, cutting through forests, critical animal habitats and pristine mountains that Dominion would be required to "reduce" between 10 to 60 feet, according to the paper released Thursday by the non-profit Chesapeake Climate Action Network.

The paper cites data from the draft environmental impact statement prepared by the Federal Energy Regulatory Council (FERC) as well as information supplied to FERC by Dominion. It also compiles information from Geographic Information System (GIS) mapping software and independent reports prepared by engineers and soil scientists.
"In light of the discovery that the Atlantic Coast Pipeline will cause 10 to 60 feet of mountaintops to be removed from 38 miles of Appalachian ridges, there is nothing left to debate," said Mike Tidwell, executive director of the Chesapeake Climate Action Network.
"Dominion's pipeline will cause irrevocable harm to the region's environmental resources. With Clean Water Act certifications pending in both Virginia and West Virginia, we call on Virginia Governor Terry McAuliffe and West Virginia Governor Jim Justice to reject this destructive pipeline."
The paper was released in coordination with the Allegheny-Blue Ridge Alliance, Friends of Nelson County, Appalachian Mountain Advocates and the Dominion Pipeline Monitoring Coalition.
Dominion, headquartered in Richmond, Virginia, is one of the nation's largest producers and transporters of energy. The developer promises that the Atlantic Coast Pipeline will have "minimal environmental impact" and that "best-in-class restoration and mitigation techniques will be used to protect native species, preserve wetland and water resources, control erosion and minimize emissions." Duke Energy, Piedmont Natural Gas and Southern Company Gas also have a stake in the project.
As DeSmog reported, President Trump's team has listed the Atlantic Coast Pipeline among the White House's top priorities for infrastructure projects.

Environmentalists and other opponents argue that the pipeline will have adverse effects on sensitive habitats, reduce property values and introduce dangerous precedents for the seizure of private property through eminent domain.
Joyce Burton, a board member of Friends of Nelson County, expressed fears that Dominion's plan to build the pipeline on steep and landslide-prone Appalachian slopes could be catastrophic.
"Many of the slopes along the right of way are significantly steeper than a black diamond ski slope," Burton said.
"Both FERC and Dominion concede that constructing pipelines on these steep slopes can increase the potential for landslides, yet they still have not demonstrated how they propose to protect us from this risk. With all of this, it is clear that this pipeline is a recipe for disaster."
Opponents of the pipeline are demanding more transparency from the company.
Ben Luckett, a staff attorney at Appalachian Mountain Advocates, said it was "astounding" that FERC has not required Dominion to produce a plan for dealing with the millions of cubic yards of excess rock and soil that will result from cutting down the 38 miles of ridgetop for the pipeline.
"We know from experience with mountaintop removal coal mining that the disposal of this material has devastating impacts on the headwater streams that are the lifeblood our rivers and lakes," Luckett added.
"FERC and Dominion's complete failure to address this issue creates a significant risk that the excess material will ultimately end up in our waterways, smothering aquatic life and otherwise degrading water quality. Without an in-depth analysis of exactly how much spoil will be created and how it can be safely disposed of, the states cannot possibly certify that this pipeline project will comply with the Clean Water Act."
Dan Shaffer, a spatial analyst with the Dominion Pipeline Monitoring Coalition, said there are too many risks involved with the project.
"Even with Dominion's refusal to provide the public with adequate information, the situation is clear: The proposed construction plan will have massive impacts to scenic vistas, terrestrial and aquatic habitats, and potentially to worker and resident safety," Shaffer said.
"There is no way around it. It's a bad route, a bad plan and should never have been seriously considered."
Here are some of the new paper's key findings:
• Approximately 38 miles of mountains in West Virginia and Virginia will see 10 feet or more of their ridgetops removed in order to build the Atlantic Coast Pipeline.
• This figure includes 19 miles in West Virginia and 19 miles in Virginia.
• The majority of these mountains would be flattened by 10 to 20 feet, with some places along the route requiring the removal of 60 feet or more of ridgetop.
• Building the ACP on top of these mountains will result in a tremendous quantity of excess material, known to those familiar with mountaintop removal as "overburden."
• Dominion would likely need to dispose of 2.47 million cubic yards of overburden, from just these 38 miles alone.
• Standard-size, fully loaded dump trucks would need to take at least 247,000 trips to haul this material away from the construction site.
Keep reading...
Show less
President Trump plans to sign an executive order today intended to aggressively expand drilling in protected waters off the Atlantic and Arctic oceans.
The new EO will direct U.S. Interior Sec. Ryan Zinke to review the current offshore drilling plans, which limits most drilling to parts of the Gulf of Mexico and Alaska's Cook Inlet, and reexamine opening parts of the Atlantic and Arctic oceans to drilling. The EO will also roll back President Obama's permanent ban on drilling in the Arctic, issued in the last full month of his presidency. Zinke cautioned reporters that implementation of the EO will be "a multi-year effort," and several groups have pledged lawsuits to further slow down the process.
"Interior Sec. Ryan Zinke is dead wrong," said Greenpeace USA senior climate and energy campaigner Diana Best.
"Renewable energy already has us on the right track to energy independence, and opening new areas to offshore oil and gas drilling will lock us into decades of harmful pollution, devastating spills like the Deepwater Horizon tragedy and a fossil fuel economy with no future. Scientific consensus is that the vast majority of known fossil fuel reserves—including the oil and gas off U.S. coasts—must remain undeveloped if we are to avoid the worst effects of climate change."

Best added that Trump's latest executive order does not have popular support, and instead caters to "Trump's inner circle of desperate fossil fuel executives."
"Holing up at Mar-a-lago may protect Trump from an oil spill," she said, "but it will not protect him and his cabinet of one percenters from the millions of people in this country—from California to North Carolina—who will resist his disastrous policies."
Waterkeeper Alliance Executive Director Marc Yaggi agrees. "This attempt to greatly expand offshore drilling into the Arctic and Atlantic is a blatant prioritization of fossil fuel profits over the health of our climate and coastal communities," he said. "President Trump is ignoring the cries of citizens who have said offshore drilling poses too great a threat to their economies and ways of life."
For a deeper dive:
New York Times, AP, Axios, Politico, NPR, LA Times, Bloomberg, USA Today, The Hill, ThinkProgress
For more climate change and clean energy news, you can follow Climate Nexus on Twitter and Facebook, and sign up for daily Hot News.
Keep reading...
Show less
NOAA Photo Library

The National Oceanic and Atmospheric Administration (NOAA) announced Thursday it is investigating the unusually high number of humpback whale deaths off the U.S. Atlantic Coast.
A total of 41 humpback whales died in the waters off Maine to North Carolina since January 2016, including 15 that washed up dead this year. That's about three times more than the region's annual average of just 14 humpback deaths.
"The increased numbers of mortalities have triggered the declaration of an unusual mortality event, or UME, for humpback whales along the Atlantic Coast," said Mendy Garron, stranding coordinator at the NOAA Fisheries Greater Atlantic Region, on Thursday.
A UME is issued whenever there is an "unexpected, involves a significant dieoff of any marine mammal population, and demands immediate response," she added.
So far, NOAA has examined 20 of the whales that died last year and determined that 10 of the mammals "had evidence of blunt force trauma or pre-mortem propeller wounds" likely from marine vessels, the agency said.
The whales may be moving around in search of prey, exposing themselves to shipping traffic, researchers suggested.
"It's probably linked to resources," Greg Silber, the large-whale recovery coordinator for NOAA fisheries, told reporters. "Humpback whales follow where the prey is."
The other half of the whales that were examined had no obvious signs of what caused their demise.
"Whales tested to date have had no evidence of infectious disease," Garron said.
The scientists stressed that they are unsure about what is causing the spike in humpback deaths.
"The answer is really unknown," Silber said.
Keep reading...
Show less
By Dave Anderson
Rick Perry said Tuesday that the Trump administration is having "very classified" conversations about preempting state and local support for renewable energy under the pretense of national security.
Perry's remarks came during an on-stage interview at the 2017 Bloomberg New Energy Finance Summit.
During an on-stage interview, Perry was asked if the administration would interfere with state policies requiring utilities to get power from renewable sources. Such a move would potentially destroy efforts by California, New York and other states to fight climate change by encouraging the growth of clean power.
Perry didn't rule it out, saying the reliability of the grid was a matter of national security.
"That's a conversation that will occur over the next few years," Perry said. "There may be issues that are so important that the federal government can intervene."
And according to Time's Justin Worland:
During a question and answer period, Perry also suggested that increased reliance on renewable energy sources like wind and solar might make the grid unreliable given they only work when the sun is shining and the wind is blowing, creating national security concerns. The Trump administration might try to preempt state and local governments that use policy to encourage clean energy to address those concerns, Perry said.
"There's a discussion, some of it very classified that will be occurring as we go further," Perry said. "The conversation needs to happen so the local governors and legislators, mayors and city council understand what's at stake here in making sure that our energy security is substantial."
Saqib Rahim of E&E News provided a slightly different quote from Perry:
"There's a conversation, there's a discussion, some of it obviously very classified, that will be occurring as we go forward, to make sure that we have the decisions made by Congress, in a lot of these cases, to protect the security interests of America," he said at BNEF's The Future of Energy Summit, "and that states and local entities do in fact get preempted with some of those decisions."
Perry's remarks re-sparked earlier concerns that the Trump administration could seek to preempt renewable energy standard policies that are now in place in 29 states, as well as renewable energy goals adopted by another nine states. The growing number of local communities that have committed to transitioning to 100 percent renewable energy could also come under fire from the Trump administration.
Renewable Energy Is Reliable and Makes America Safer—Just Ask the Department of Energy
Rick Perry is also facing scrutiny for ordering a study examining "electricity markets and reliability" that was tasked to his Chief of Staff Brian McCormack, who previously played a central role in attacks against rooftop solar for the Edison Electric Institute. Also named to lead work on the study is political appointee Travis Fisher. Fisher previously worked for the Institute for Energy Research (IER) and American Energy Alliance (AEA), which have received ample funding from the Koch brothers and coal industry. IER and AEA have long sought to undermine renewable energy standards in states like North Carolina, a national leader in solar energy.
Christian Roselund of PV Magazine responded to Perry's study order by pointing out that the National Renewable Energy Laboratory (NREL)—one of the Dept. of Energy's 17 National Laboratories—has already written studies that show we can rely on renewable energy to provide much more of our electricity than it does today. In fact, one 2012 NREL study found that we could get 80 percent of our electricity from renewable sources by 2050 using existing technologies. Other studies by states and grid operators confirm that renewable energy is reliable.
Another NREL study documented the significant health and environmental benefits generated by the state renewable energy standards that the Trump administration could try to preempt. In short, these policies make Americans safer by reducing harmful pollution emitted when we burn fossil fuels—especially coal—to produce electricity.
Other reports by clean energy experts have documented the economic security benefits of these state renewable energy standards, which have supported the growth of jobs in the booming solar and wind power industries.
Real world experience also shows that renewable energy is working just fine. Texas, the state where Rick Perry was governor, actually leads the nation in wind energy generation. In fact, nearly a quarter of the electricity generated in Texas during the first quarter of 2017 came from wind.
Ask the Department of Defense, Too
The Dept. of Defense does not appear to share the Trump administration's concerns about renewable energy. In fact, the military has made significant investments in renewable energy in order to enhance national security—an investment that continues with Trump in the White House. The U.S. Navy just recently refuted misleading claims that a new wind farm could interfere with a radar system made by some Republican lawmakers in North Carolina who wrote a letter to the Trump administration.
Climate Change Is a Real Threat to Energy and National Security
In 2015, the Dept. of Energy released a report that documented the threat climate change poses to energy security—and by extension national security—in every region of the U.S.
The Dept. of Defense has also documented the national security risks posed by climate change— risks James Mattis acknowledged during his confirmation as Trump's Secretary of Defense.
Trump's efforts to rollback limits on carbon dioxide pollution from power plants and his embrace of the so-called "clean coal" put the nation's energy and national security at further risk from climate change. Preempting state and local support for renewables would only increase those risks.
Rick Perry Could Support Renewable Energy by Working for a Smart Grid
Greentech Media reported that Perry made only "sparse" mention of renewable energy at the Bloomberg New Energy Finance Summit, but did say he wants to "help renewable energy make its way to the grid … "

Preempting local and state support for renewable energy would only ensure that less renewable energy makes its way to the grid. Perry could instead take positive steps to support integration of renewable energy by working to build a smart grid, the topic of a Dept. of Energy website. He could also support the energy storage revolution that is now underway, thanks in part to earlier investments by the Dept. of Energy.
Unfortunately, the Trump administration's energy policy seems to more squarely align with fossil fuel and utility interests who seek to undermine state and local support for renewable energy.
The Trump Team Is Full of Opponents of State and Local Support for Renewable Energy
Travis Fisher is not the only political pick by the Trump administration that comes with a history of attacking state and local policies that have fueled the growth of renewable energy to benefit funders in the fossil fuel or utility industry.

Trump tapped Thomas Pyle, also of the Institute for Energy Research (IER) and American Energy Alliance (AEA), to run his Dept. of Energy transition team. IER and AEA have targeted state renewable energy standard policies with misleading attacks for years. During the 2016 election, Trump responded to an AEA questionnaire with pledges to "review" key U.S. clean energy and climate change policies, including the U.S. Environmental Protection Agency's Clean Power Plan and science-based endangerment finding for greenhouse gas emissions. Trump has already fulfilled part of that pledge by beginning the process of rolling back the Clean Power Plan.
Trump similarly chose climate denier Myron Ebell of the Competitive Enterprise Institute to lead his Environmental Protection Agency transition team. Like Fisher and Pyle, Ebell has attacked renewable energy standards in states like Ohio. Greentech Media recently took a rather revealing look at the backgrounds of some other members of Trump's energy beachhead team.
No Uncertainty About State and Local Support for Renewable Energy
At this point, it remains unclear how exactly the Trump administration would use the pretense of reliability concerns to preempt state and local support for renewable energy. If it does seek to preempt state and local control, it will certainly face significant opposition from states and local communities—including those led by Republicans—that are already leading the way on renewable energy.
Keep reading...
Show less
ExxonMobil must pay $20 million for violating the Clean Air Act more than 16,000 times at a Texas plant, a district judge ruled this week.
The ruling against Exxon in a suit brought by Environment Texas and the Sierra Club found that the oil giant failed to update emissions-reductions technology at its Baytown, Texas refining and chemical plant.
In their suit, the groups alleged the plant illegally released more than 10 million pounds of pollutants between 2005 and 2013, while Exxon gained more than $14 million in economic benefits.
"Today's decision sends a resounding message that it will not pay to pollute Texas," Neil Carman, clean air program director for the Sierra Club's Lone Star Chapter, said in a statement. "We will not stand idly by when polluters put our health and safety at risk."
For a deeper dive:
For more climate change and clean energy news, you can follow Climate Nexus on Twitter and Facebook, and sign up for daily Hot News.

Keep reading...
Show less
Ahead of the People's Climate March, Senators Jeff Merkley, Bernie Sanders and Ed Markey stood beside movement leaders to introduce legislation that will completely phase out fossil fuel use by 2050. The "100 by '50 Act" outlines a bold plan to support workers and to prioritize low-income communities while replacing oil, coal and gas with clean energy sources like wind and solar.
"100 is an important number," said 350.org co-founder Bill McKibben. "Instead of making changes around the margins, this bill would finally commit America to the wholesale energy transformation that technology has made possible and affordable, and that an eroding climate makes utterly essential. This bill won't pass Congress immediately—the fossil fuel industry will see to that—but it will change the debate in fundamental ways."
The "100 by '50 Act" would put a halt to new fossil fuel infrastructure projects like Keystone XL and the Dakota Access pipeline, and fracked gas pipelines facing opposition from tribes and landowners. Instead of new fossil fuel infrastructure, the bill invests hundreds of billions of dollars per year in clean energy—enough to create four million jobs. These large-scale clean energy investments prioritize black, brown and low-income communities on the frontlines of the climate crisis.
"While fossil fuel billionaires supporting Trump's administration put profits before people, we now have a legislative roadmap to phase out this dirty industry once and for all," said 350.org Executive Director May Boeve. "This bill deploys clean energy in communities that need it most and keeps fossil fuels in the ground. From Standing Rock to the Peoples Climate March, movement leaders have been calling for these solutions for years. This bill is proof that organizing works, and it's the beginning of an important conversation."
The issues covered by the bill reflect the demands of the climate movement, from Standing Rock to the fossil fuel divestment campaign, to the fight to keep fossil fuels in the ground. The content stands in bright contrast to Trump's vision of a more polluted America where fossil fuel billionaires profit at the public's expense. While this precedent setting bill is unlikely to pass during the Trump administration, similar bills are being considered at the state and local level in California, Massachusetts, New York and elsewhere across the country.
At a press conference held by Senators Merkley and Sanders, speakers included representatives from climate and environmental justice groups, progressive organizations and more. A crowd of supporters carried banners and signs reading "100% Clean Energy For All," and, "Keep Fossil Fuels In The Ground." The event was part of an ongoing week of action leading up to the People's Climate March on April 29, when thousands of people are converging in DC and around the country to march for jobs, justice and the climate.
Keep reading...
Show less
Apr. 27, 2017 04:51PM EST
By Kelly Levin
Thousands of people are expected to attend the People's Climate Movement march in Washington, DC and sister cities around the world this coming weekend. They are marching because actions taken to date by governments and others are not commensurate with the scale of climate impacts—both those already borne and those projected in the years to come.
It's a good moment to reflect on the facts. What do we know about global climate change and what impacts can we expect in the future? The following graphics speak volumes.
1. What is Climate Change?
Climate change is a long-term change in Earth's weather patterns or average climate, including temperature and precipitation. While the climate has changed in the past, we are now seeing it change at an unprecedented rate. As a result of the build-up of heat-trapping greenhouse gases in the atmosphere—due to our burning of fossil fuels, cutting down trees and other activities—global average temperature is now changing at a faster rate than at least over the past 1,000 years.
NASA
2. What's Causing Climate Change?

When models only include natural drivers of climate change, such as natural variability and volcanic eruptions, they cannot reproduce the recent increase in temperature. Only when models include the increase in greenhouse gas emissions due to human activities can they replicate the observed changes.
U.S. Enviromental Protection Agency, adapted from Huber and Knutti, 2012
3. How Have Global Emissions Changed?

Emissions have been climbing since the Industrial Revolution, but the rate of annual emissions increase during the first 10 years of this century was almost double the rate between 1970 and 2000.
Global Carbon Project
Emissions from fossil fuels and industry have seen a staggering increase in recent years—63 percent since 1990.

4. Who Are the Biggest Emitters?
From 1850 to 2011, the five major emitters—the U.S., European Union, China, Russian Federation and Japan— together contributed two-thirds of the world's CO2 emissions.
Now, China has emerged as the top emitter and China, the EU and the U.S. are the world's top three emitters. Together they emit more than half of total global greenhouse gases. In contrast, the 100 smallest-emitting countries collectively add up to only 3.5 percent of global emissions. Almost three-quarters of global emissions come from only 10 countries.
5. How Much Should We Limit Global Warming?
The Paris agreement on climate change sets a target for countries to collectively limit global temperature rise to 2 degrees C (3.6 degrees F), with a goal of sticking to 1.5 degrees C (2.7 degrees F) in order to prevent some of the worst effects of climate change. The amount of carbon emissions we can emit while still having a likely chance of limiting warming to 2 degrees is known as the "carbon budget." As of 2011, the world had already blown through nearly two-thirds of the carbon budget and is on track to exceed it by 2033 if emissions continue unabated.
6. Where is the Temperature Headed?
In the absence of countries' recent emissions-reduction commitments, known as intended nationally determined contributions or INDCs, we would see 4-5 degrees C of warming. Even if these INDCs are fully implemented, the average global temperature is still on track to increase 2.7-3.7 degrees C by 2100, according to a range of studies. That's far short of the global goal to limit warming to 1.5- 2 degrees C.
7. What Have Been Some of the Impacts of Climate Change to Date?

The impacts of climate change are already occurring and occurring everywhere. For example, climate change has already led to: more negative than positive impacts to crops, such as wheat and maize; coral bleaching and species range shifts; more frequent heat waves; coastal flooding; increased tree die-off in various regions; and a significant loss of ice mass in places like Greenland and Antarctica.
For example, as a result of ice melting on land, such as from glaciers and ice sheets, as well as thermal expansion of the ocean, we have seen sea level rise 3.4 millimeters per year from 1993-2015, which puts coastal communities at risk of flooding and infrastructure damage.
8. What Impacts Do We Expect in the Future?

The impacts we see in the future will be determined by our emissions pathway and resultant level of temperature increase. The warmer it gets, the greater the impacts—and the lower our ability to adapt.
9. Are There Signs of Progress?

Recently, we've seen signs of "decoupling." According to the International Energy Agency, energy-related carbon dioxide emissions stayed flat for three years in a row even as the global economy grew. This flattening of emissions was due to the growth of renewable power generation, fuel switching from coal to natural gas and energy efficiency gains, among other changes.
This decoupling can also be seen at the country level in 21 nations from 2000-2014. Whether these are indicative of long-term shifts remains to be seen. We will need to see a deep decline if we are to limit dangerous climate change and even with existing emissions-reduction commitments, global emissions are not expected to decline until at least after 2030.
20. Are We Investing in Solutions?

Global investments in renewable energy have been growing in recent years to an all-time high of $285.9 billion in 2015, a 5 percent rise compared to the previous year. In 2015, renewable energy (excluding large hydro) made up the bulk (54.6 percent) of new installed generating capacity for the first time.
REN21 Renewables 2016 Global Status Report
That being said, we need to shift away from fossil fuels much more quickly if we are to have a fighting chance of limiting warming to 1.5-2 degrees C.

Marching for Action
Let's hope that as people take to the streets, it will wake leaders up to the scale of the climate change challenge and the task ahead. Avoiding the most dangerous of climate change impacts—which necessitates phasing out emissions in the second half of the century—will require sustained action well beyond this weekend's activities.
Keep reading...
Show less
Apr. 27, 2017 03:03PM EST
The Woodlands, Texas-based oil and gas giant said in press release it was shutting more than 3,000 producing vertical wells, which produce about 13,000 barrels of oil per day, "in an abundance of caution."

Mark Martinez and his brother-in-law Joseph William Irwin III, both 42, were killed in the April 17 explosion. Mark's wife, Erin Martinez, was injured as well her 11-year-old son. A GoFundMe page is currently raising funds for the family.
In its statement, Anadarko acknowledged that the blast occurred approximately 200 feet from the family's recently built two-story home on Twilight Ave., where the company operates an older vertical well drilled by a previous operator.
The tragedy has sparked concerns from local anti-fracking activists over the risks of oil and gas production in Colorado and are calling for a statewide emergency moratorium as officials and regulators investigate the cause of the explosion.
The Frederick-Firestone Fire Protection District and the Colorado Oil and Gas Conservation Commission (COGCC) are involved with the investigation.

"While the well in the vicinity is one aspect of the investigation, this is a complex investigation and the origin and cause of the fire have not been determined," Frederick-Firestone Fire Protection District Chief Theodore Poszywak said.

The Colorado Independent reported on the possible link between the Anadarko-operated gas well and the Firestone house explosion:

A source has told The Independent that personnel and trucks bearing Anadarko's logo responded soon after the explosion, and that company personnel at and near the scene over the following days came in unmarked vehicles and clothes. They were apparently paying special attention to a feeder line that may have been severed near the home.

Furthermore ...
News stories after the explosion reported that Irwin, a master plumber, was helping Mark Martinez install a hot water heater, apparently at or near the time of the explosion. The insinuation was that their work may have led to their deaths.
But that narrative sounded immediately curious to those who knew Irwin and his work, and became less plausible when Colorado's Public Utilities Commission passed the investigation on to the COGCC, which regulates the oil and gas industry.
Anadarko spokesman John Christiansen would not respond to the Independent's report or questions about the company's possible involvement.
Anadarko is one of the world's largest private oil and natural gas exploration and production companies and the largest oil and gas producer in Colorado. The state is the seventh-largest oil and gas producing state in the country.

"Our teams will remain actively engaged with residents in the Firestone community," said Brad Holly, Anadarko senior vice president of U.S. Onshore Exploration and Production.
"Colorado residents must feel safe in their own homes, and I want to be clear that we are committed to understanding all that we can about this tragedy as we work with each investigating agency until causes can be determined."
In response to the incident, Boulder, Colorado-based climate change activist Xiuhtezcatl Martinez is calling for immediate halt on drilling activity.

"Our thoughts and best wishes go to Martinez and Irwin families, no one should have to lose a family member before their time," Martinez, who is the youth director of Earth Guardians, told EcoWatch. "We must fight to make sure that Anadarko is held accountable, if its shown their reckless behavior played a part in their deaths, so we can ensure this is the last time a tragedy like this occurs."
"Unfortunately this is likely the result of a state that has completely failed to protect it's citizens from the impacts of fracking," Martinez added. "Based on the explosive danger coming from this industry and the proximity to homes, schools and hospitals we are calling for a statewide emergency moratorium, until it can be demonstrated that fracking can be done safely."
In March, the Colorado Court of Appeals sided with Martinez and other youth plaintiffs that the Oil and Gas Conservation Act required it to strike a balance between the regulation of oil and gas operations and protecting public health, the environment and wildlife resources.
Martinez said that the appellate court's decision "clearly states that health and safety must be prioritized with regards to oil and gas industry in the state."
"Based on that decision and [the Firestone house explosion] it's clear that all drilling activity should be halted immediately and the danger of fracking should be investigated in full," Martinez said.
A source pointed out to EcoWatch that "Fractivist" Shane Davis, a biologist who started the fracking resistance in Colorado several years ago, happened to live in Firestone and "literally moved out of the town for this very reason."
Incidentally, Davis detailed in a January blog post about the dangers of living nearby drilling operations.
One landowner's decision to lease their minerals to the fracking industry "can place hundreds, if not thousands, of innocent people at risk from the dangers of the fracking industry's toxic air, groundwater contamination, fugitive emissions, failed equipment, human error, and even a blowout which is the most dangerous to communities that are close by," Davis wrote on Fractivist.org.
Anadarko said the wells will remain shut in until the company's field personnel can conduct additional inspections and testing of the associated equipment, such as facilities and underground lines associated with each wellhead. The wells will not be restarted until each has undergone and passed these additional inspections. Anadarko currently anticipates the process will take two to four weeks.

Keep reading...
Show less