Why Isn't Big Ag's Huge Contribution to Climate Change on the Agenda at COP21?
Tackling carbon emissions from agriculture from farming isn't even on the table at the UN climate talks in December. It ought to be and it's big agribusiness that's at the heart of the problem.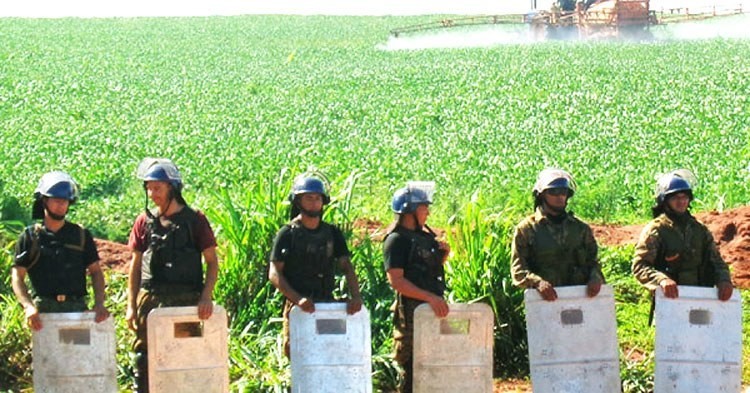 Military police protect a soy field being sprayed with pesticide. Photo credit: Critical Information Collective
In 2006 a report from the UN's Food and Agricultural Organization (FAO) threw the climate change effects of farming into the spotlight. It claimed that the meat and dairy industries are responsible for more greenhouse gases than the whole transport sector.
The majority of ensuing studies have only considered emissions released directly through farming. Yet when supporting industries such as transport, packaging and retail are included, agriculture is responsible for around half of total human-made emissions, not to mention other ecological degradation such as water scarcity and biodiversity loss. Farming itself is also a victim of climate change, as shifting temperatures adversely affect farming conditions and crop yields, particularly in the global south.
Despite the severity of the situation and although food security is stated as a core objective of the UN climate negotiations, agriculture is still off the agenda at COP21 in Paris this December. The climate talks could be a prime moment to tackle the climate impact of agriculture, but doing so requires addressing the real issues at stake and powers at play.
Beyond the Burp
Industrial agriculture is at the heart of social and ecological costs of farming and integral to this are monocultures. These vast areas of production of one type of crop entail systematic deforestation and require machinery, fertilizers and pesticides which are highly reliant on fossil fuels. As more and more crops are cultivated for agrofuels, the interrelationship between big agriculture and energy firms is increasing and fields are viewed more like oil wells than as places of food production.
These harmful effects are intensified with meat and dairy production, which requires huge amounts of grain feed and bring belching cattle into the equation, which accounts for a huge chunk of direct emissions. This problem has deepened over the last fifty years with the increasing "meatification" of diets. The situation is only likely to worsen, with food production expected to double by 2050 according to the FAO, as the global population expands and meat consumption per capita rises and more people move into the middle classes.
However, this kind of prediction assumes that agriculture has simply adapted to suit demand and ignores the fact that both states and agribusiness have been key drivers of increases in meat production and industrial farming. For example, the swing towards meat and dairy consumption in the twentieth century is directly related to the search for a market for the vast grain surpluses produced by U.S. farmers. Expanding measures to open up markets to free trade and private investment, such as the G8's recent New Alliance for Food Security and Nutrition, also illustrate how corporations, facilitated by the state, are responsible for the intensification of industrial agriculture.
Addressing Agriculture
The scarcity of regulations and policies to address this endemic crisis means that proposed solutions tend to ignore these structural causes and instead encourage business as usual. For example, a typical response is to make resources more efficient, such as producing more carbon-efficient fertilizer. But studies show that efficiencies gained are often countered by increases in resource use—it's the farming equivalent of having an extra piece just because the cake is low-calorie. Other measures have included encouraging consumers to go vegan or vegetarian. But these solutions fail to challenge the logic of industrial agriculture, which operates in a paradigm of economic growth at all costs.
To tackle this urgent problem, systemic intervention is needed that can challenge the powerful players in the meat and dairy industries. To do this, transformative and dynamic food movements and networks, those that support food sovereignty and agroecology, are key. Researchers, including the Intergovernmental Panel on Climate Change, are confident that traditional or smallholder production can help to mitigate greenhouse gas emissions while increasing food security. For example, a recent report from Global Justice Now found that the Soils, Food and Healthy Communities Project, a participatory agriculture and nutrition program in northern Malawi, has succeeded in improving child health, crop diversity and food security through sustainable agriculture techniques. And mitigation practices from indigenous communities also have adaptation effects according to a group of scientists and small-scale farmers that met last year at the Lima climate talks.
Solidarity with southern movements and groups is also important because huge amounts of the food that is consumed in the global north originates in the global south and the neoliberal roots of the agricultural problem are common to both regions. But while the potential of agroecology to reduce emissions is widely acknowledged, the priorities and preferences of the corporate sector still dominate decision-making forums. Civil society organizations and indigenous groups will be present at COP21, but their voices are likely to remain systematically ignored in the negotiations in favor of business lobbyists.
YOU MIGHT ALSO LIKE
Dear World Leaders, Take Climate Action Now
It's Official: 19 European Countries Say 'No' to GMOs
Katahdin Woods and Waters. National Parks Conservation Association.
Looks like you'll have to trust your map if you want to find the newly designated Katahdin Woods and Waters National Monument in Maine.
Gov. Paul LePage has refused to put up any official signs along the four main roads to the 87,500-acre preserve, which is on the list of 27 national monuments under Interior Sec. Ryan Zinke's review.
Keep reading...
Show less
Keep reading...
Show less
More than 58 percent of Swiss voters supported a measure to phase out nuclear power in favor of renewable energy.
The plan provides billions in subsidies for renewable energy, bans the construction of new nuclear plants and decommissions Switzerland's five aging reactors. There is no clear date when the plants will close.

Keep reading...
Show less
iStock
By Alex Kirby
An ambitious scientific expedition is due to start work on May 22 on Bolivia's second-highest mountain, Illimani. The researchers plan to drill three ice cores from the Illimani glacier, and to store two of them in Antarctica as the start of the world's first ice archive.
Keep reading...
Show less
CC-BY-SA-2.5 and GNU FDL
Although not on most people's radar here, New York is one step closer to becoming the first state to have genetically modified, non-sterile insects released outside without cages.

Keep reading...
Show less
Photo credit: Michael Fujiwara/YouTube
The viral video of a young girl snatched off a Richmond, British Columbia dock by a sea lion is another reminder that people shouldn't get too close to wild animals.
Port officials in Canada have sharply criticized the family for putting themselves at risk for feeding the large animal, especially since there are several signs in the area warning people not to do so.
Keep reading...
Show less
Bears Ears National Monument. Tim Peterson
An anti-public lands official in Utah said Interior Sec. Ryan Zinke has already made up his mind to repeal Bears Ears National Monument, a move experts say could be against the law.
Keep reading...
Show less
The Crop Trust
Flooding breached a supposedly impregnable Arctic "doomsday" vault containing a collection of seeds stored for an apocalypse scenario last week, after warmer-than-average temperatures caused a layer of permafrost to thaw.
Keep reading...
Show less