UK Proposes to Frack One-Half of Great Britain
As the rapid expansion of fracking in the U.S. has led to a growing chorus of concerned voices about the potential health and environmental repercussions of this activity, news has surfaced that the European Union (EU) is taking significant steps toward preventing fracking in Europe.
However, in a conversation with Polish Prime Minister Donald Tusk, British Prime Minister David Cameron confirmed that he will work to ensure that fracking comes to Europe.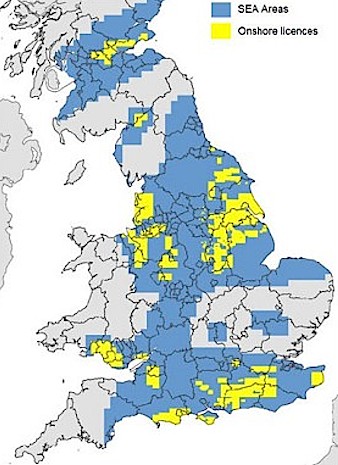 This acknowledgement comes at a time when the EU is debating strengthening its carbon-trading system. The EU has recently moved to delay the selling of 900 million carbon allowances, which is likely to raise the prices of carbon allowances by 10 to 15 percent.
The withholding of carbon allowances—which is a publicly-tradable certificate that "offsets" or pays for the carbon dioxide a company releases into the atmosphere, with each certificate representing a metric ton of the gas—is thought to raise the prices on energy production, as companies must spend more to control their emissions.
Cameron's comments come on the heels of the EU deciding it won't regulate fracking on the European continent. The European Commission, based in Brussels, has previously moved to introduce new regulations that would control the environmental impact the drilling may have. Buoyed by France, which has banned fracking within its borders since 2011, concerns of contamination to the continent's shared watersheds and the possibility of induced earthquakes have forced commissioners to take seriously this relatively new and dangerous technology.
However, lobbying from the UK and various fracking companies have convinced EU President Jose Manuel Barroso that a "hands-off" approach is best.
"I was just very worried that while we are already behind on fracking and unconventional gas compared to America, we would fall even further behind if we had more legal processes to go through," Cameron said after the EU's reconsideration. "So it's a good step forward. It could mean 70,000 jobs or more for people in the UK as well as helping to keep the bills of individuals down, but also helping to make us more competitive as a location for investment.
"We've got to follow through on that and now make sure that this industry can really go ahead," Cameron said.
Chasing Shale Gas in Great Britain
Currently, shale gas extraction is regulated under 17 EU regulations, with the member states having autonomy over how to enforce the legislation. In the UK, rising energy costs have proven to be a cantankerous issue ahead of the 2015 general elections. While the rising price of energy has been a matter of concern—particularly, in light of an abnormally cold winter and tightened carbon trading—anti-fracking protests and outcries from a number of communities have led a number of Tory MPs to fear that their seats may be in danger should fracking be approved in the country.
According to a government-commissioned report, the government is planning to permit as many as 2,800 wells to be drilled. Every English county—with the exception of Cornwall—will receive a well, with the local communities being promised at least $164,730 in benefits per well. Government estimates project that at peak fracking will satisfy one-fifth of the UK's gas demand and create as many as 32,000 jobs.
Among the areas that have been offered to fracking companies as potential well sites are several national parks, a large number of "areas of outstanding natural beauty," and several sites deemed of "international importance" for conservationists.
So far, 176 "license" areas have been allocated to the drilling companies, mostly around Lancashire, Cheshire, Yorkshire and Sussex. The proposed sites stretch from the south of Scotland to the Southern English coast and represent approximately two-thirds of England or one-half of Great Britain.
The oil and gas companies will be allowed to apply in a licensing round to commence in the summer. The companies will be required to secure a series of planning and environmental permits, however, prior to drilling.
"We have seen the enormous impact that shale gas extraction in the States has had on its economy, both on household bills and industrial prices. It has had a strong impact there and it has the potential to have an impact here," said Michael Fallon, the U.K. energy minister. "It will reduce our dependence on liquid natural gas. We import over half our gas at the moment and we face the prospect of having to import 70 percent of our gas by 2030 if we haven't found any shale by then."
"If we do find shale that will obviously reduce our dependence on those imports and reduce our dependence on wholesale gas prices," Fallon continued. "That in turn will be good for the economy."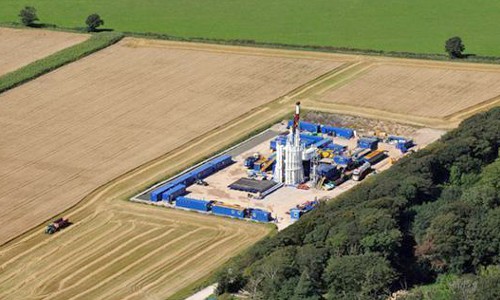 Differing Views
Throughout the continent, there seems to be few shared opinions on fracking. Germany, under Angela Merkel, has increased drilling and extraction to such a high degree that fracking is logistically impossible in the country.
The German coalition agreement read:
According to available studies on its environmental relevance, the fracking technology in unconventional natural gas production—particularly in shale gas production—is a technology with enormous potential risks. The effects on humans, nature and the environment are scientifically not yet sufficiently clarified. Drinking water and health have absolute priority for us.
We reject the use of environmentally toxic substances in the application of fracking technology for exploration and extraction of unconventional natural gas deposits. A request for approval can only be decided upon when the necessary data basis for evaluation exists and is clarified beyond doubt that any adverse change in water quality can be ruled out.
Poland, on the other hand, is aggressively tapping its reserves—thought to be the largest on the continent. This presents a host of problems: Poland is one of Europe's most-densely populated nations with a large agricultural base. The nation's water supply was already under pressure before fracking. Questions about the drilling's massive water use have raised concerns that Poland will be pulled into drought conditions or that leaked fracking fluids can poison a large population quickly.
However, the prospect of Polish gas relieving the EU's dependency on Russian gas has convinced the Eastern European nation to push on despite the risks. Russia currently provides the EU with 25 percent of its natural gas.
California and "Safe Fracking"
As Europe embraces the American fracking model, the U.S. is starting to deal with the long-term implications of the technology. After a series of Associated Press reports highlighting Southern California offshore oil and gas companies discharging fracking chemicals into the ocean, the U.S. Environmental Protection Agency (EPA) has introduced new rules requiring well operators to report the release of any chemicals into the waterways.
The reports found that the well discharged the chemicals without an environmental impact analysis, without public disclosure and with little or no oversight. State regulators ruled separately that California oil companies must test the groundwater and alert local landowners prior to the starting of any fracking or well stimulation activity. In addition, the companies must disclose all chemicals used during fracking and acquire permits prior to a fracking job.
For many, the notion that the oil and gas companies are hiding what they are doing begs the question of just how safe fracking truly is.
"The EPA's rule will provide some information about the toxic fracking chemicals dumped into our ocean, but it relies on oil companies to be honest and transparent in their self-reporting," said Miyoko Sakashita, senior attorney at the Center for Biological Diversity.
These regulations are scheduled to go into effect in 2015.
Visit EcoWatch's FRACKING page for more related news on this topic.

Katahdin Woods and Waters. National Parks Conservation Association.
Looks like you'll have to trust your map if you want to find the newly designated Katahdin Woods and Waters National Monument in Maine.
Gov. Paul LePage has refused to put up any official signs along the four main roads to the 87,500-acre preserve, which is on the list of 27 national monuments under Interior Sec. Ryan Zinke's review.
Keep reading...
Show less
Keep reading...
Show less
More than 58 percent of Swiss voters supported a measure to phase out nuclear power in favor of renewable energy.
The plan provides billions in subsidies for renewable energy, bans the construction of new nuclear plants and decommissions Switzerland's five aging reactors. There is no clear date when the plants will close.

Keep reading...
Show less
iStock
By Alex Kirby
An ambitious scientific expedition is due to start work on May 22 on Bolivia's second-highest mountain, Illimani. The researchers plan to drill three ice cores from the Illimani glacier, and to store two of them in Antarctica as the start of the world's first ice archive.
Keep reading...
Show less
CC-BY-SA-2.5 and GNU FDL
Although not on most people's radar here, New York is one step closer to becoming the first state to have genetically modified, non-sterile insects released outside without cages.

Keep reading...
Show less
Photo credit: Michael Fujiwara/YouTube
The viral video of a young girl snatched off a Richmond, British Columbia dock by a sea lion is another reminder that people shouldn't get too close to wild animals.
Port officials in Canada have sharply criticized the family for putting themselves at risk for feeding the large animal, especially since there are several signs in the area warning people not to do so.
Keep reading...
Show less
Bears Ears National Monument. Tim Peterson
An anti-public lands official in Utah said Interior Sec. Ryan Zinke has already made up his mind to repeal Bears Ears National Monument, a move experts say could be against the law.
Keep reading...
Show less
The Crop Trust
Flooding breached a supposedly impregnable Arctic "doomsday" vault containing a collection of seeds stored for an apocalypse scenario last week, after warmer-than-average temperatures caused a layer of permafrost to thaw.
Keep reading...
Show less