The Fracked Gas Power Plant That Could Put New York City Underwater
The Town of Wawayanda is in the fertile, black dirt region of New York State, not far from Pennsylvania. Like many communities in neighboring Pennsylvania, the rural way of life in this area of Orange County is now under threat from America's shale gas boom.
New York has banned fracking, but not the mass build out of fracked gas infrastructure and that's put many New York communities on the fossil fuel chopping block.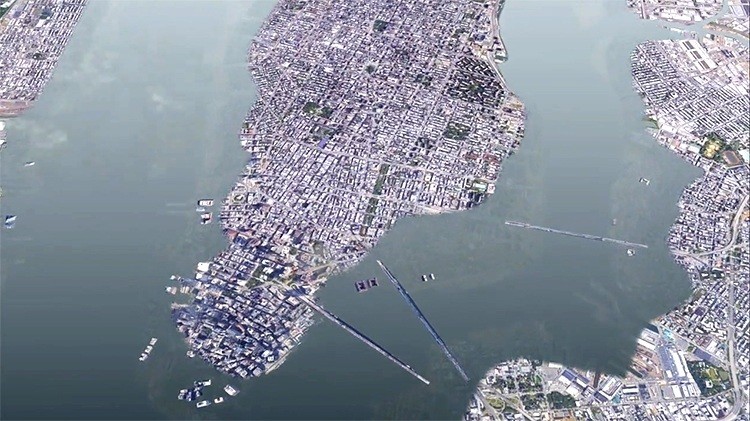 Competitive Power Ventures (CPV) has proposed to build a 650-megawatt fracked gas power plant in Wawayanda. The residents of Orange County already know firsthand that living near fracked gas infrastructure poses many of the same health risks as living next to fracking wells.
In 2013, a fracked gas compressor station was built in nearby Minisink, New York to move gas along the Millennium Pipeline. Because of emissions from the compressor station children living nearby began suffering from nosebleeds, rashes, headaches and dizziness.
A study done by the Southwest Pennsylvania Environmental Health Project in November 2015 found that the air pollution around Minisink was worse than that of a big city. Families with homes close to the compress station have walked away from them.
CPV's fracked gas power plant would release 43 times the emissions as the compressor station. And it's just one of some 300 fracked gas power plants that are being proposed all over the country. If these plants are built you can say goodbye to New York City.
Researchers are finding that the web of fracked gas infrastructure that crosses all over the country has a big emissions problem. And those emission aren't just bad for local air, they're catastrophic for the climate.
Methane, the main component of natural gas, is 86 -105 times more potent of a greenhouse gas than C02 in the first 20 years it's in the atmosphere. Cornell Earth systems scientist Robert Howarth said since the planet responds so quickly to methane, if we want to slow global warming, we must immediately and drastically reduce methane emissions.
But what Howarth and other researchers studying emissions are finding are scary rates of leakage from extraction to delivery. There's continual leakage at the wellhead, there's leakage from the storage and processing facilities, purposeful venting and also accidental leaks. There's leakage in the pipeline systems, distribution systems and storage systems.
If just 3 percent of the fracked gas being mined and supplied to the power plant leaks throughout its life cycle, natural gas is worse than coal for global warming. In the Uinta Basin, National Oceanic and Atmospheric Administration found 6 to 12 percent leakage rates for natural gas production. And before the Aliso Canyon disaster, they found leakage in the Los Angeles Basin was 17 percent. Harvard found that the U.S. shale boom over all has increased global methane emissions by more than 30 percent.
The U.S. has a serious methane problem that will go from bad to dire pretty fast if we build 300 fracked gas power plants.
That's why the first New York screening of my new documentary on climate change will be with community members fighting to stop the CPV Valley fracked gas power plant.
Our climate will get fracked unless we do.
If you live in the Sugar Loaf, New York area, join us for this historic screening or click here to find other screenings throughout the U.S.
YOU MIGHT ALSO LIKE
Robert F. Kennedy, Jr.: Syria, Another Pipeline War
Dear President Obama, The Clean Energy Revolution Is Now
California Widow Sues Monsanto Alleging Roundup Caused Her Husband's Cancer
Break Free: Stop Dirty Fossil Fuels, Expedite Transition to 100% Renewable Energy
Apr. 22, 2017 02:42PM EST
A 130-metre-wide waterfall drains meltwater from the Nansen Ice Shelf into the ocean.
Image: Stuart Rankin via Flickr
By Tim Radford
Scientists poring over military and satellite imagery have mapped the unimaginable: a network of rivers, streams, ponds, lakes and even a waterfall, flowing over the ice shelf of a continent with an annual mean temperature of more than -50C.
In 1909 Ernest Shackleton and his fellow explorers on their way to the magnetic South Pole found that they had to cross and recross flowing streams and lakes on the Nansen Ice Shelf.
Antarctic Waterways
Now, U.S. scientists report in the journal Nature that they studied photographs taken by military aircraft from 1947 and satellite images from 1973 to identify almost 700 seasonal networks of ponds, channels and braided streams flowing from all sides of the continent, as close as 600km to the South Pole and at altitudes of 1,300 meters.
And they found that such systems carried water for 120km. A second research team reporting a companion study in the same issue of Nature identified one meltwater system with an ocean outflow that ended in a 130-meter wide waterfall, big enough to drain the entire surface melt in a matter of days.
In a world rapidly warming as humans burn ever more fossil fuels, to add ever more greenhouse gases into the atmosphere, researchers expect to observe an increase in the volume of meltwater on the south polar surface. Researchers have predicted the melt rates could double by 2050. What isn't clear is whether this will make the shelf ice around the continent—and shelf ice slows the flow of glaciers from the polar hinterland—any less stable.
"This is not in the future—this is widespread now, and has been for decades," said Jonathan Kingslake, a glaciologist at Columbia University's Lamont-Doherty Earth Observatory, who led the research.
"I think most polar scientists have considered water moving across the surface of Antarctica to be extremely rare. But we found a lot of it, over very large areas."
The big question is: has the level of surface melting increased in the last seven decades? The researchers don't yet have enough information to make a judgment.
"We have no reason to think they have," Dr Kingslake said. "But without further work, we can't tell. Now, looking forward, it will be really important to work out how these systems will change in response to warming, and how this will affect the ice sheets."
Many of the flow systems seem to start in the Antarctic mountains, near outcrops of exposed rock, or in places where fierce winds have scoured snow off the ice beneath. Rocks are dark, the exposed ice is of a blue colour, and during the long days of the Antarctic summer both would absorb more solar energy than white snow or ice. This would be enough to start the melting process.
The Antarctic is already losing ice, as giant floating shelves suddenly fracture and drift north. There is a theory that meltwater could be part of the fissure mechanism, as it seeps deep into the shelves.
Drainage Theory

But the companion study, led by the polar scientist Robin Bell of the Lamont-Doherty Observatory suggests that drainage on the Nansen Ice Shelf might help to keep the ice intact, perhaps by draining away the meltwater in the dramatic waterfall the scientists had identified.
"It could develop this way in other places, or things could just devolve into giant slush puddles," she said. "Ice is dynamic, and complex, and we don't have the data yet."
Apr. 21, 2017 07:51PM EST
By now it shouldn't be a surprise that the Trump administration is wiping Obama-era climate initiatives off the Internet.
This time, the Department of Energy (DOE) has significantly altered its websites on renewable energy, removing references on how clean energy technologies can reduce the nation's reliance on fossil fuels and help lower climate-changing emissions.
The DOE's Office of Energy Efficiency and Renewable Energy—which could face deep funding cuts under Trump's budget proposal—has made "extensive changes and reorganizations" on websites for the Bioenergy Technologies Office, the Wind Energy Technologies Office and the Vehicle Technologies Office, according to the Environmental Data and Governance Initiative (EDGI), a coalition of academics and nonprofits that has tracked changes to federal websites ever since Donald Trump took office.
Environmental Data and Governance Initiative
As The Washington Post explained:
"Under the Obama administration, these offices' websites emphasized the importance of cutting down on U.S. carbon emissions and reducing the nation's dependence on fossil fuels—a message in keeping with President Barack Obama's push to address climate change.
"But with the Trump administration de-emphasizing climate change and looking to promote climate-friendly and carbon-intensive energy sources—an agenda that coincides with a broad attempt to eliminate regulations on fossil fuels and particularly on coal—the priorities outlined on these offices' Web pages have been shifting since the inauguration."
For instance, on the wind technology office page, this sentence was entirely removed:
"Wind power is an emission-free and water-free renewable energy source that is a key component to the Administration's renewable electricity generation goals."
Instead, the new wording emphasizes the potential of wind for U.S. jobs and economic growth. For example, this sentence was added:
"Wind energy currently supports more than 100,000 U.S. jobs, and wind turbine technician is the nation's fastest-growing occupation. According to industry experts, the U.S. wind industry is expected to drive over $85 billion in economic activity from 2017 to 2020, and wind-related employment is expected to reach 248,000 jobs in all 50 states by 2020."
This, of course, is true. The renewable energy sector has been a major boon to the nation's job growth and even the DOE can't ignore that.
However, the Rick Perry-led agency gives little weight to the clear environmental benefits of renewable energy.
Take the wind technology office's "WHY IT MATTERS" description. The EDGI noticed that the wording changed from how wind can "help the nation reduce emissions of greenhouse gases and other air pollutants, diversify its energy supply, provide cost-competitive electricity to key regions across the country, and reduce water usage for power generation" to how wind "helps the nation increase its competitiveness, diversify its energy supply, increase energy security and independence, reduce emissions of air pollutants, save water that would otherwise be used by thermal power generation, and provide cost-competitive electricity across the country."

Another subtle change was, "creating long-term, sustainable skilled jobs" to "creating long-term skilled jobs." Notice the difference?
As the Washington Post puts it:
"Together, the changes collectively downplay the climate benefits of each form of technology and distance the agency from the idea that they might be used to reduce dependence on fossil fuels, instead emphasizing their economic advantages. It's a move that's well in line with the Trump administration's generally dismissive attitude toward the issue of climate change."

Apr. 21, 2017 08:24PM EST
NASA
Louisiana Gov. John Bel Edwards declared a state of emergency Wednesday for coastal Louisiana to highlight the state's need for more federal funding to address extreme weather events.
"We are in a race against time to save our coast, and it is time we make bold decisions," Edwards said. "The Louisiana coast is in a state of crisis that demands immediate and urgent action to avert further damage to one of our most vital resources."

More than half of Louisiana's 4.65 million residents live on the coast. "Parts of our state remain unprotected from or vulnerable to future hurricane and flood events," Edwards emphasized, and estimated that 2,250 square miles of coastal Louisiana will be lost in the next 50 years unless immediate action is taken.

Edwards attributed the problem to factors including climate change, sea level rise, subsidence, hurricanes, storm surges, flooding, disconnecting the Mississippi River from coastal marshes and the Deepwater Horizon oil spill.
Louisiana is still reeling from last August's historic flooding, which killed 13 people and caused more than $8 billion in damage. The Shreveport Times reported in January that Edwards was vigorously seeking more federal flood recovery funding beyond the $1.6 billion, which was finally made available last week.
According to The Advocate, Edwards "is seeking $2.2 billion in additional federal flood aid, nearly half of which would go toward homeowner assistance programs."
Also on Wednesday, Louisiana's Coastal Protection and Restoration Authority approved the 2017 Coastal Master Plan and the 2018 Annual Plan, in which spending priorities for restoration and protection were identified.
America's Wetland Foundation praised Edwards' announcement and said it could expedite federal help needed to enact coastal restoration projects.
"This declaration of emergency could greatly speed up the process and eliminate delays in permitting for some of these crucial projects," said King Milling, the foundation's chairman. "We urge President Trump to act on this declaration now."
According to the state of emergency announcement:
"Louisiana and its citizens have suffered tremendously as a result of the catastrophic coastal land and wetlands loss, and the threat of continued land loss to Louisiana's working coast threatens the viability of residential, agricultural, energy, and industrial development, and directly affects valuable fish and wildlife production that is vital to the nation;
Louisiana continues to experience one of the fastest rates of coastal erosion in the world, and this complex and fragile ecosystem is disappearing at an alarming rate—more than 1,800 square miles of land between 1932 and 2010, including 300 square miles of marshland between 2004 and 2008 alone."
New Orleans Public Radio WWNO reported that Edwards has written letters to Trump and to Congress, and if Louisiana is to get more federal aid, it could take months.
Apr. 21, 2017 01:46PM EST
Neil deGrasse Tyson has an urgent message for Americans, especially for some of our most powerful politicians.
In a video posted April 19 on his Facebook page, which already has more than 16 million views, the famed astrophysicist warns that science denial could ultimately destroy democracy.
Alongside the video post, Tyson wrote:
"Dear Facebook Universe, I offer this four-minute video on 'Science in America' containing what may be the most important words I have ever spoken. As always, but especially these days, keep looking up."
The video shows how the U.S. rose from—as Tyson calls it— a "backwoods country" to "one of the greatest nations the world has ever known" because of science.
"But in this, the 21st century, when it comes time to make decisions about science, it seems to me that people have lost the ability to judge what is true and what is not," he laments.

"When you have an established scientific emergent truth it is true, whether or not you believe in it," he says. "And the sooner you understand that, the faster we can get on with the political conversations about how to solve the problems that face us."
The video then shows debates on heated scientific topics, including GMOs, climate change and vaccines, as well as a clip of Vice President Mike Pence, then a congressman, saying on the House floor, "Let us demand that educators around America teach evolution not as fact, but as theory."
Tyson says this shift in attitudes is a "recipe for the complete dismantling of our informed democracy."

Watch the video here:
The March for Science, taking place on Earth Day, will march in defense of truth and scientific fact. A week later, these values will manifest at the People's Climate March where movements for climate, jobs and justice will put forward a vision to build bold solutions that tackle climate change, create and retain fair jobs, and bring forth justice truly for all.
"The Science March is about respecting science, the People's Climate March is about acting on it," said Ploy Achakulwisut, PhD Candidate in Atmospheric Science at Harvard University.
"Science has helped us understand the climate crisis, now we need to demand political action to help solve it. The March for Science calls for science-based policymaking, and the People's Climate March puts this value into practice by opposing Trump's reckless anti-climate agenda, defending the integrity of climate science and democracy, and standing up for justice."
The March for Science and People's Climate March will bring the fight for truth and justice right to the doorstep of the Trump administration. The week of action, dubbed "From Truth to Justice: Earth Day to May Day 2017," will see more than 50 events, including: climate education opportunities and the launch of visionary legislation, youth speak-outs and convergences, direct actions and more.
A series of climate education videos have been developed for use during the "Truth to Justice" week of action. The videos feature 350.org co-founder Bill McKibben, actor and activist Maggie Gyllenhaal, renowned climate scientist James Hansen, longtime head of the EPA Environmental Justice program Mustafa Ali, and top atmospheric scientist Katharine Hayhoe.
Many of the organizers and participants of the March for Science have backgrounds in climate science, and many have been advocating for bold climate action well before the election of Donald Trump.
"The March for Science and the People's Climate March go hand-in-hand," said MIT and Harvard renewable energy modeler Dr. Geoffrey Supran.
"Because attacks on science don't just hurt scientists, they hurt scientists' ability to protect the people, and climate change epitomizes that. When politicians cater to fossil fuel interests by denying the basic realities of climate science and pursuing anti-science climate policy, they endanger the jobs, justice, and livelihoods of ordinary people everywhere. The People's Climate March is about scientists and citizens uniting to protect the people and places we love by demanding that evidence, not ideology, inform policy."
Apr. 21, 2017 01:52PM EST
The decommissioned coal-fired Battersea Power Station near London.
Loco Steve
/flickr
The United Kingdom's grid operator just announced an incredible prediction—April 21 is probably going to be the country's first coal-free day since the Industrial Revolution.
"Great Britain has never had a continuous 24 hour period without #coal. Today is looking like it could be the first," according to a tweet from the National Grid's Electricity National Control Centre.
The National Grid confirmed with the Mirror that Friday is on track to be "the first time the UK has been without electricity from coal since the world's first centralized coal fired generator opened at Holborn Viaduct in London in 1882."
"The first day without coal in Britain since the industrial revolution marks a watershed in the energy transition," Hannah Martin, head of energy at Greenpeace UK, told the Guardian. "A decade ago, a day without coal would have been unimaginable, and in 10 years' time our energy system will have radically transformed again."
The UK intends to phase out the polluting fossil fuel, with plans to switch off its last coal power station in 2025 in order to meet climate commitments.
"The direction of travel is that both in the UK and globally we are already moving towards a low carbon economy. It is a clear message to any new government that they should prioritize making the UK a world leader in clean, green, technology," Martin added.

Great Britain's use of renewable energy has vastly expanded in recent years and the country is now a world leader in offshore wind. And last month, the nation's large expanse of solar fields and rooftop panels reached a milestone when the amount of electricity demanded by homes and businesses was lower in the afternoon than at night.

Solar power turned the country's grid demand "upside down," Duncan Burt, National Grid's head of real time operations, explained in a tweet at that time.
Apr. 21, 2017 11:59AM EST
If you don't agree with 97 percent of climate scientists that climate change is real, you should at least believe your own eyes.
The Earth's rapidly rising temperatures has dramatically transformed our landscapes, as you can see quite clearly in these vivid photos of the world's melting glaciers.
Retreat of the Columbia Glacier, Alaska, USA, by ~6.5 km between 2009 and 2015. Credit: James Balog and the Extreme Ice Survey
The photos appeared in the new paper "Savor the Cryosphere," published in the peer-reviewed GSA Today, a publication of the Geological Society of America. The cryosphere is the Earth's frozen waters.
"We have unretouched photographic evidence of glaciers melting all around the globe," co-author Gregory Baker, adjunct professor of geology at the University of Kansas, said.
"That includes the ice sheets of Greenland and Antarctica—they're reduced in size. These aren't fancy computer models or satellite images where you'd have to make all kinds of corrections for the atmosphere. These are simply photos, some taken up to 100 years ago, and my co-authors went back and reacquired photos at many of these locations. So it's just straightforward proof of large-scale ice loss around the globe."

Baker's research career centers on geophysical imaging of Earth's subsurface and geoscience education.
Stein Glacier, Switzerland, retreat of ~550 m from 2006 to 2015. Credit: James Balog and the Extreme Ice Survey
Photographer James Balog, who was featured in the Emmy Award winning climate change documentary, Chasing Ice, contributed photographs from the Extreme-Ice Survey.
Other co-authors of the paper include Richard Alley, an American geologist who was invited to testify about climate change by Vice President Al Gore; Patrick Burkhart of Slippery Rock University; Lonnie Thompson of the Byrd Polar Research Center at Ohio State University; and Paul Baldauf of Nova Southeastern University also contributed to the paper.
The team hopes the paper will raise awareness about the world's melting glaciers.
"We have all heard of the impact of melting ice on sea level rise, but the public also need to be aware that places around the world depend on glaciers for their water and are going to come under increasing stress, and we already see how water shortages lead to all kinds of conflict," Baker said.
"The other critical point often overlooked is that when glaciers melt we're losing these scientific archive records of past climate change at specific locations around the Earth, as if someone came in and threw away all your family photos."
Solheimajokull, Iceland, retreat of ~625 m from 2007 to 2015. Credit: James Balog and the Extreme Ice Survey
"Glacier ice contains fingerprint evidence of past climate and past biology, trapped within the ice," Baker continued.
"Analyzing ice cores is one of the best ways to analyze carbon dioxide in the past, and they contain pollen we can look at to see what kind of plant systems may have been around. All of this information has been captured in glaciers over hundreds of thousands of years, and sometimes longer—Greenland and Antarctica cover perhaps up to a million years. The more that glacial ice melts, the more we're erasing these historical archives that we may not have measured yet in some remote glaciers, or deep in ice caps, that can tell us the history of the Earth that will be gone forever."