Mitch McConnell's Pro-Coal Response Bill to Obama's Carbon Plan Struck Down
U.S. Sen. Mitch McConnnell (R-KY) surprised nobody with the bill he introduced Wednesday in response to U.S. Environmental Protection Agency Administrator Gina McCarthy's detailing of President Barack Obama's plan to reduce carbon dioxide emissions across the country.
McConnell's measure would have blocked the regulations within Obama's proposal. It would have also provided the Senate minority leader a key piece of legislation for his November re-election bid, enabling him to discuss all the jobs he saved for his coal-reliant state.
McConnell will likely still say all of that, but won't have the accompaniment of his "Coal Country Protection Act." That's because U.S. Senate Majority Leader Harry Reid blocked McConnell's call for "immediate consideration" of the bill.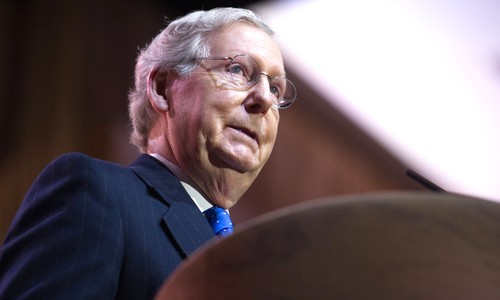 Photo courtesy of Shutterstock
"President Obama's new energy regulations would ship middle class jobs overseas, splinter our manufacturing base and boost energy costs for struggling families," McConnell claimed on the Senate floor.
"The president's energy regulations would hurt the poor, the unemployed, seniors, and especially families in Kentucky."
Reid followed that by reminding McConnell that there is a lengthy public comment period on the EPA plan. States will also have two-to-three years to submit final plans after the EPA's proposal is finalized.
However, it's true that McConnell's state will have a tougher time reducing carbon emissions than others. Kentucky gets a whopping 95 percent of its energy from coal plants. Those plants are clearly a vital part of the economy, but reducing the emissions that come from a state so reliant on coal would preserve the health of the workforce, regardless the industry residents are employed by.
Still, McConnell says 7,000 coal-sector jobs have been lost since Obama took office. That's not all the president's fault, though. Coal plants become more expensive to maintain as they age, making it an industry few want to continue investing in.
Bloomberg's map of retiring plants show that coal closures will take place in nearly every state, but that can't be attributed to those with different political beliefs than McConnell. After all, solar energy didn't capture 74 percent of all new electricity capacity during this year's first quarter because it's a bad investment. In fact, the U.S. Department of Energy reported earlier this year that solar energy is 60 percent of the way to achieving the $0.06-per-kilowatt-hour target set for 2020.
——–
YOU ALSO MIGHT LIKE
How the EPA's Carbon Plan Could Create 274,000 New Jobs
How Much Carbon Do Your State's Coal Plants Emit?
Why Investing in Aging Coal Plants is a Losing Bet
——–
Katahdin Woods and Waters. National Parks Conservation Association.
Looks like you'll have to trust your map if you want to find the newly designated Katahdin Woods and Waters National Monument in Maine.
Gov. Paul LePage has refused to put up any official signs along the four main roads to the 87,500-acre preserve, which is on the list of 27 national monuments under Interior Sec. Ryan Zinke's review.
Keep reading...
Show less
Keep reading...
Show less
More than 58 percent of Swiss voters supported a measure to phase out nuclear power in favor of renewable energy.
The plan provides billions in subsidies for renewable energy, bans the construction of new nuclear plants and decommissions Switzerland's five aging reactors. There is no clear date when the plants will close.

Keep reading...
Show less
iStock
By Alex Kirby
An ambitious scientific expedition is due to start work on May 22 on Bolivia's second-highest mountain, Illimani. The researchers plan to drill three ice cores from the Illimani glacier, and to store two of them in Antarctica as the start of the world's first ice archive.
Keep reading...
Show less
CC-BY-SA-2.5 and GNU FDL
Although not on most people's radar here, New York is one step closer to becoming the first state to have genetically modified, non-sterile insects released outside without cages.

Keep reading...
Show less
Photo credit: Michael Fujiwara/YouTube
The viral video of a young girl snatched off a Richmond, British Columbia dock by a sea lion is another reminder that people shouldn't get too close to wild animals.
Port officials in Canada have sharply criticized the family for putting themselves at risk for feeding the large animal, especially since there are several signs in the area warning people not to do so.
Keep reading...
Show less
Bears Ears National Monument. Tim Peterson
An anti-public lands official in Utah said Interior Sec. Ryan Zinke has already made up his mind to repeal Bears Ears National Monument, a move experts say could be against the law.
Keep reading...
Show less
The Crop Trust
Flooding breached a supposedly impregnable Arctic "doomsday" vault containing a collection of seeds stored for an apocalypse scenario last week, after warmer-than-average temperatures caused a layer of permafrost to thaw.
Keep reading...
Show less