Erin Brockovich on Oklahoma Earthquakes: 'It's Fracking, Let's Just be Honest'
Erin Brockovich is speaking out on Oklahoma's alarming earthquake activity and she's not afraid to tie the state's seismicity to a certain industry.
In an interview with Oklahoma's News9, the prominent environmental activist and consumer advocate explained she's aware that the injection of mass quantities of fracking wastewater in disposal wells is triggering the tremors, as geologists have confirmed.
But Brockovich added, "It's fracking, let's just be honest."
Oklahoma experiences more earthquakes than anywhere in the world. Before 2009, Oklahoma had two earthquakes of magnitude 3.0 or greater each year, but now there are two a day. A 5.1 magnitude earthquake that shook northwest Oklahoma two weeks ago was the third-strongest ever recorded in the state, the U.S. Geological Survey (USGS) said. And, within the past 24 hours, seven earthquakes rattled the city of Edmond in central Oklahoma.
Brockovich told News9 that many citizens have been concerned about structural damage to their homes and have called on her to help protect their health, property and legal rights.
"These people you know, they have rights and their homes are being damaged and structural damage and its cause by a man-made condition," Brockovich said.
Blaming a lack of regulation, Brockovich said that Oklahomans should review policies, legislation, rules, and regulations.
"There's a lack of enforcement. There's a whole lot of information that can go out there that can help this community speak up and stand up for themselves," she said.
Brockovich will be making several stops in the state to address the earthquake crisis, including town halls and an appearance at the state capitol today.
Last night, at an University of Central Oklahoma forum, Brockovich and several state leaders and experts urged Sooner state residents to rally against induced seismicity, FOX25 reported.
"They need resolution yesterday, not tomorrow," Brockovich said. "They're fearful for today, and so it's really important that we have that open process."
Brockovich wrote this on her Facebook page yesterday:
I'm here in Oklahoma today to talk about the fact that Oklahoma has become the Earthquake Capitol of the world ... a manmade natural disaster! Not only have thousands of homes and buildings been damaged ... but every jolt has permanent impacts on the Earth. Irreparable damage done in the name of the all mighty dollar.
Despite mounting scientific consensus against the oil and gas sector, certain politicians such as pro-business state Gov. Mary Fallin have been slow to change their tune about the link between fracking wastewater disposal and earthquakes. State scientists and regulators have also been reportedly silenced by industry-linked state officials.
Big Oil and Gas have denied any wrongdoing on their part and refute that the quakes are man-made. "There may be a link between earthquakes and disposal wells," Oklahoma Oil and Gas Association president Chad Warmington said last April. "But we—industry, regulators, researchers, lawmakers or state residents—still don't know enough about how wastewater injection impacts Oklahoma's underground faults. We don't know enough about what's really going on in the subsurface to know how to mitigate some of this risk."
Sandridge Energy Inc. has also defied the state regulator's request that it shut down six wastewater disposal wells—located more than 100 miles northwest of Oklahoma City—used as part of the company's fracking operations.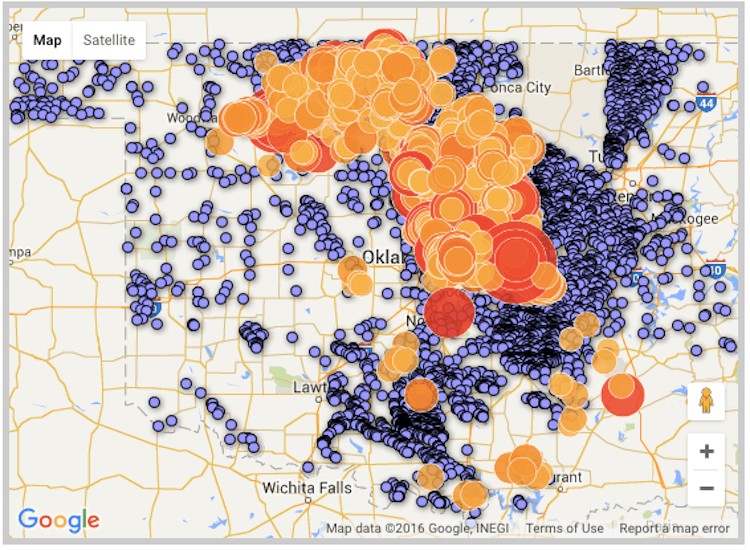 Map of Oklahoma. The orange dots represent the number of earthquakes with a magnitude of 3.0 and higher from 2010 to date. The blue dots represent the state's wastewater disposal wells. Photo credit: Earthquakes in Oklahoma
In recent months, however, the state's oil and gas regulator has had some success in reducing wastewater fluid injection levels and have shut down several wells completely. Shortly after the 5.1 magnitude Feb. 13 earthquake, the Oklahoma Corporation Commission made their largest push yet to curb the state's seismic activity.
According to the Associated Press, the commission ordered operators of nearly 250 injection wells to reduce the amount of wastewater they inject underground. The commission released a plan that covers more than 5,200 square miles in northwest Oklahoma and called for a reduction of more than 500,000 barrels of wastewater daily, or about 40 percent less than previous levels, the AP reported.
Corporation Commission's Matt Skinner also told News9 that they have been "taking action on wells since the 5.6 M Prague earthquake in 2011."
Skinner added that in just the last 11 months, they've taken 15 actions covering 436 wells, 27 of which have been totally shut down.
EcoWatch recently reported that the Sierra Club and the public interest law firm Public Justice filed a federal lawsuit Tuesday against New Dominion, Chesapeake Operating and Devon Energy Production Company alleging that wastewater from fracking and oil production have contributed to the state's earthquakes.
The lawsuit demands the companies, as a first step, "reduce, immediately and substantially, the amounts of production waste they are injecting into the ground."
YOU MIGHT ALSO LIKE
Coast Guard Drops Controversial Proposal to Ship Toxic Fracking Waste
Lawsuit Filed Over Oklahoma's 'Fracking' Earthquakes as Its Third Largest Quake Is Felt in 7 Other States
70 More Earthquakes Hit Oklahoma, Averaging Nearly Three a Day in 2015
Confirmed: 4.6-Magnitude Earthquake in British Columbia Caused by Fracking (Likely World's Largest)
Katahdin Woods and Waters. National Parks Conservation Association.
Looks like you'll have to trust your map if you want to find the newly designated Katahdin Woods and Waters National Monument in Maine.
Gov. Paul LePage has refused to put up any official signs along the four main roads to the 87,500-acre preserve, which is on the list of 27 national monuments under Interior Sec. Ryan Zinke's review.
Keep reading...
Show less
Keep reading...
Show less
More than 58 percent of Swiss voters supported a measure to phase out nuclear power in favor of renewable energy.
The plan provides billions in subsidies for renewable energy, bans the construction of new nuclear plants and decommissions Switzerland's five aging reactors. There is no clear date when the plants will close.

Keep reading...
Show less
iStock
By Alex Kirby
An ambitious scientific expedition is due to start work on May 22 on Bolivia's second-highest mountain, Illimani. The researchers plan to drill three ice cores from the Illimani glacier, and to store two of them in Antarctica as the start of the world's first ice archive.
Keep reading...
Show less
CC-BY-SA-2.5 and GNU FDL
Although not on most people's radar here, New York is one step closer to becoming the first state to have genetically modified, non-sterile insects released outside without cages.

Keep reading...
Show less
Photo credit: Michael Fujiwara/YouTube
The viral video of a young girl snatched off a Richmond, British Columbia dock by a sea lion is another reminder that people shouldn't get too close to wild animals.
Port officials in Canada have sharply criticized the family for putting themselves at risk for feeding the large animal, especially since there are several signs in the area warning people not to do so.
Keep reading...
Show less
Bears Ears National Monument. Tim Peterson
An anti-public lands official in Utah said Interior Sec. Ryan Zinke has already made up his mind to repeal Bears Ears National Monument, a move experts say could be against the law.
Keep reading...
Show less
The Crop Trust
Flooding breached a supposedly impregnable Arctic "doomsday" vault containing a collection of seeds stored for an apocalypse scenario last week, after warmer-than-average temperatures caused a layer of permafrost to thaw.
Keep reading...
Show less