Broccoli Can Help Reduce Health Risks Associated With Air Pollution
How's this for your unexpected health tip of the day—be sure to drink your ... broccoli?
A recent clinical trial involving nearly 300 people living in one of China's most polluted regions found that daily consumption of a half cup of broccoli sprout beverage produced rapid, significant and sustained higher levels of excretion of benzene (known to cause cancer) and acrolein (a lung irritant). Researchers from the Johns Hopkins Bloomberg School of Public Health, working with colleagues at several U.S. and Chinese institutions, used the broccoli sprout beverage to provide sulforaphane, a plant compound already demonstrated to have cancer preventive properties in animal studies.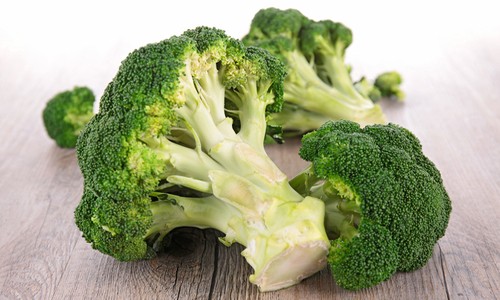 Photo courtesy of Shutterstock
The study was published in the online edition of the journal Cancer Prevention Research.
"Air pollution is a complex and pervasive public health problem," said John Groopman, professor of environmental health at the School of Public Health and one of the study's co-authors. "To address this problem comprehensively, in addition to the engineering solutions to reduce regional pollution emissions, we need to translate our basic science into strategies to protect individuals from these exposures. This study supports the development of food-based strategies as part of this overall prevention effort."
Air pollution, an increasing global problem, causes as many as seven million deaths a year worldwide, according to the World Health Organization, and has in recent years reached perilous levels in many parts of China. Last year, the International Agency for Research on Cancer classified air pollution and particulate matter from air pollution as carcinogenic to humans.
Diets rich in cruciferous vegetables—of which broccoli is one—have been found to reduce risk of chronic degenerative diseases, including cancer. Broccoli sprouts are a source of glucoraphanin, a compound that generates sulforaphane when the plant is chewed or the beverage swallowed. It increases enzymes that enhance the body's capacity to rid itself of these types of the pollutants.
In a 12-week trial, participants who drank a beverage containing freeze-dried broccoli sprout powder mixed with water, pineapple juice and lime juice saw a 61 percent increase in their rate of benzene excretion beginning the first day and continuing throughout the trial. In addition, the rate of excretion of acrolein increased 23 percent.
"This study points to a frugal, simple and safe means that can be taken by individuals to possibly reduce some of the long-term health risks associated with air pollution," said Thomas Kensler, a professor at the School of Public Health and one of the study's co-authors. "This while government leaders and policy makers define and implement more effective regulatory policies to improve air quality."
 This article was originally published on Johns Hopkins University's The Hub
Katahdin Woods and Waters. National Parks Conservation Association.
Looks like you'll have to trust your map if you want to find the newly designated Katahdin Woods and Waters National Monument in Maine.
Gov. Paul LePage has refused to put up any official signs along the four main roads to the 87,500-acre preserve, which is on the list of 27 national monuments under Interior Sec. Ryan Zinke's review.
Keep reading...
Show less
Keep reading...
Show less
More than 58 percent of Swiss voters supported a measure to phase out nuclear power in favor of renewable energy.
The plan provides billions in subsidies for renewable energy, bans the construction of new nuclear plants and decommissions Switzerland's five aging reactors. There is no clear date when the plants will close.

Keep reading...
Show less
iStock
By Alex Kirby
An ambitious scientific expedition is due to start work on May 22 on Bolivia's second-highest mountain, Illimani. The researchers plan to drill three ice cores from the Illimani glacier, and to store two of them in Antarctica as the start of the world's first ice archive.
Keep reading...
Show less
CC-BY-SA-2.5 and GNU FDL
Although not on most people's radar here, New York is one step closer to becoming the first state to have genetically modified, non-sterile insects released outside without cages.

Keep reading...
Show less
Photo credit: Michael Fujiwara/YouTube
The viral video of a young girl snatched off a Richmond, British Columbia dock by a sea lion is another reminder that people shouldn't get too close to wild animals.
Port officials in Canada have sharply criticized the family for putting themselves at risk for feeding the large animal, especially since there are several signs in the area warning people not to do so.
Keep reading...
Show less
Bears Ears National Monument. Tim Peterson
An anti-public lands official in Utah said Interior Sec. Ryan Zinke has already made up his mind to repeal Bears Ears National Monument, a move experts say could be against the law.
Keep reading...
Show less
The Crop Trust
Flooding breached a supposedly impregnable Arctic "doomsday" vault containing a collection of seeds stored for an apocalypse scenario last week, after warmer-than-average temperatures caused a layer of permafrost to thaw.
Keep reading...
Show less