5 Ways the Farm Bill Brings Home the Bacon for Big Ag
Today the U.S. House of Representatives passed the Farm Bill, which fails to make meaningful reforms to correct this imbalance in our food policy:
1. "Direct Payments" Bait and Switch
The Farm Bill eliminates the "Direct Payments" program—long the poster child for wasteful agricultural subsidies, known for handing out checks to rich landowners who don't even farm. But in a political sleight of hand, the bill plows more than half the savings from cutting Direct Payments into a new subsidy program that will continue to give handouts to large agribusinesses that don't need our tax dollars.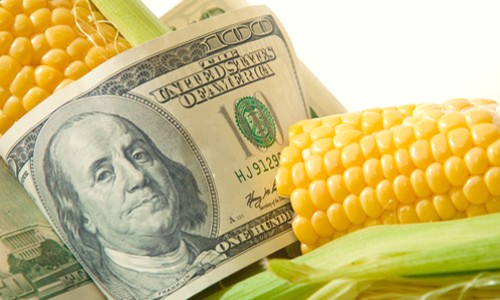 Photo courtesy of Shutterstock
The new "Shallow Loss" programs would lock in the record high prices of recent years. A study commissioned by the Environmental Working Group found that if prices fell, the new program could cost taxpayers $20 billion more over the next decade than the discredited "Direct Payments" program.
2. Big Profits Mean Big Subsidies
Since 1995, just four percent of agribusinesses have made off with three quarters of the subsidies. Yet the bill does next to nothing to reduce or eliminate subsidies for agribusinesses with high incomes. For millionaire farmers, the checks will keep on coming.
3. No Caps Mean Million Dollar Checks
The bill fails to put any cap on how big a check an agribusiness can receive to help pay its insurance bill. Currently, taxpayers pay more than 60 percent of the premiums for insurance that compensates agribusinesses for poor yields, price declines or both. On top of that, taxpayers pay 15 private insurance companies $1.3 billion to run the program.
Because the program has no caps, 26 agribusinesses have received more than $1 million in a single year, while 80 percent get $5,000 on average, according to a study from the Environmental Working Group.
Instead of reining in this program and capping how much agribusinesses can receive, the bill would actually expand it.
4. Paying to Market Big Macs and Underwear Abroad
The Farm Bill makes no changes to the $200 million per year Market Access Program, which has subsidized ad campaigns for giant agricultural companies and their trade associations. Companies receiving funding have ranged from McDonald's to Fruit of the Loom. Taxpayer money has even been used to pay for a reality TV show in India to promote cotton. Companies are perfectly capable of buying their own airtime—they don't need taxpayer dollars to subsidize their ads.
5. Subsidizing Junk Food
At a time when America faces an obesity epidemic, billions in subsidies underwrite the production of junk food additives. Between 1995 and 2012, U.S. PIRG research found that $19.2 billion subsidized four common junk food additives, including high fructose corn syrup. That's enough to buy every kid under 18 eight 2-liter bottles of soda every year. By contrast, the subsidies for apples—the only fruit or vegetable that gets significant subsidies—would pay for less than half of an apple for each taxpayer.
Visit EcoWatch's FOOD and HEALTH pages for more related news on these topics.

Katahdin Woods and Waters. National Parks Conservation Association.
Looks like you'll have to trust your map if you want to find the newly designated Katahdin Woods and Waters National Monument in Maine.
Gov. Paul LePage has refused to put up any official signs along the four main roads to the 87,500-acre preserve, which is on the list of 27 national monuments under Interior Sec. Ryan Zinke's review.
Keep reading...
Show less
Keep reading...
Show less
More than 58 percent of Swiss voters supported a measure to phase out nuclear power in favor of renewable energy.
The plan provides billions in subsidies for renewable energy, bans the construction of new nuclear plants and decommissions Switzerland's five aging reactors. There is no clear date when the plants will close.

Keep reading...
Show less
iStock
By Alex Kirby
An ambitious scientific expedition is due to start work on May 22 on Bolivia's second-highest mountain, Illimani. The researchers plan to drill three ice cores from the Illimani glacier, and to store two of them in Antarctica as the start of the world's first ice archive.
Keep reading...
Show less
CC-BY-SA-2.5 and GNU FDL
Although not on most people's radar here, New York is one step closer to becoming the first state to have genetically modified, non-sterile insects released outside without cages.

Keep reading...
Show less
Photo credit: Michael Fujiwara/YouTube
The viral video of a young girl snatched off a Richmond, British Columbia dock by a sea lion is another reminder that people shouldn't get too close to wild animals.
Port officials in Canada have sharply criticized the family for putting themselves at risk for feeding the large animal, especially since there are several signs in the area warning people not to do so.
Keep reading...
Show less
Bears Ears National Monument. Tim Peterson
An anti-public lands official in Utah said Interior Sec. Ryan Zinke has already made up his mind to repeal Bears Ears National Monument, a move experts say could be against the law.
Keep reading...
Show less
The Crop Trust
Flooding breached a supposedly impregnable Arctic "doomsday" vault containing a collection of seeds stored for an apocalypse scenario last week, after warmer-than-average temperatures caused a layer of permafrost to thaw.
Keep reading...
Show less