This website uses cookies to ensure you get the best experience while browsing it. By clicking 'Got It' you're accepting these terms.


The best of EcoWatch, right in your inbox. Sign up for our email newsletter!
Yogurt Cups, Food Wrappers and a Shoe Found in Stomach of Dead Orca
Dec. 24, 2015 09:20AM EST
This. Keeps. Happening. Another whale has been found dead with plastic trash filling its stomach. This time, a 5.7-meter (about 18-foot) female orca washed up on Plettenberg Bay in South Africa, as News24 reported last week.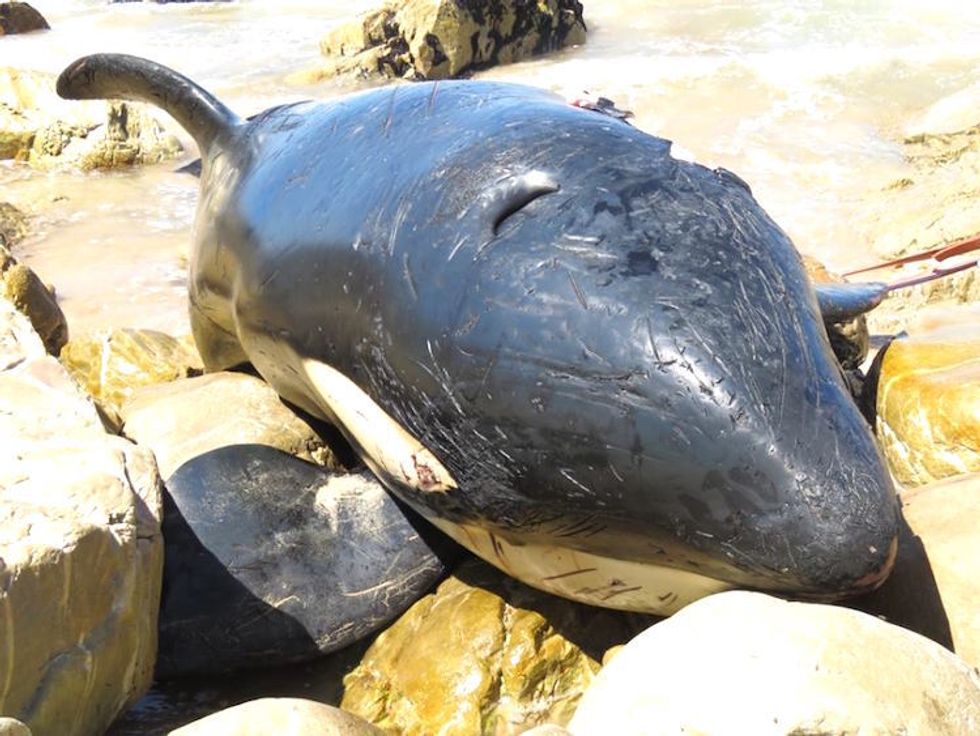 Sadly, it appears that the whale had been struggling for some time in the surrounding waters before it was finally found stranded.
"For almost a week, a magnificent Orca has visited our Hope Spot and stayed in the Bay," a Dec. 14 post from the Plett Hope Spot community Facebook page states. "After one successful rescue attempt to return it to the water after beaching last Thursday, by [the National Sea Rescue Institute], today our worst fears were confirmed—this great creature was found dead washed up on Lookout Rocks."
After a necropsy was performed on the killer whale, items such as yogurt cups, the sole of a shoe, food wrappers, seagrass and tubed organisms were found in her stomach, according to Plett Hope Spot Chair and marine mammal researcher Dr. Gwen Penry.
Penry posted several photos of the contents found in the whale's stomach onto her Facebook page. She wrote in the accompanying caption that while the orca's organ and blood samples are still being analyzed to determine the exact cause of death, she suspects that the animal was "starving" because she didn't have actual food in her stomach.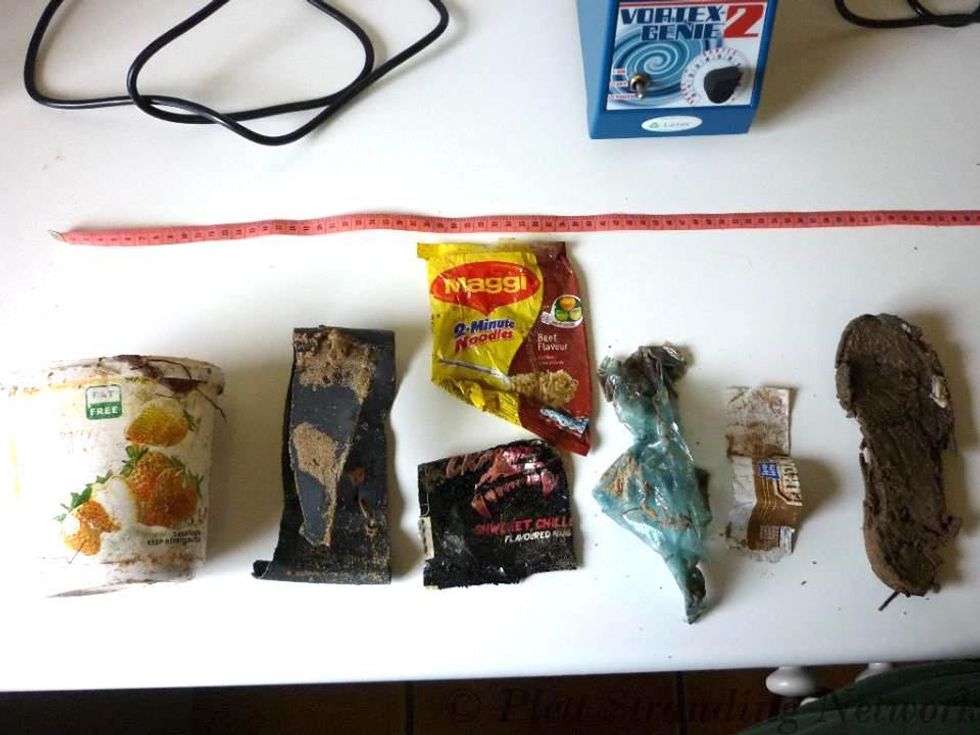 "She had very little real food in her stomach and the stomach lining was disintegrating," she wrote. "We found several large pieces of plastic (yoghurt pots, shoe sole, food wrappers), seagrass and a lot of tubed organisms (yet to be identified). All of this suggests that she was trying to feed in the shallow areas of our bay."
Of course, none of these items are part of an orca's regular diet. "Killer whales off South Africa typically only feed on mammals (seals, dolphins) or large fish and squid," Penry continued. "It is likely that this individual became ill and too weak to hunt with the rest of her pod so moved inshore and tried to feed on what was available and easy to find."
Penry also told News24 about the whale's grisly death that "we're not sure whether it's cause or effect, but she might have been trying to pick up anything she could. Or she swallowed something earlier on and it blocked her passages, so she felt full, but wasn't digesting."
It's clear from a story like this (as well as many, many others) that plastic trash and other marine debris have a major impact on aquatic life. In October, EcoWatch wrote about a mature sperm whale found dead in Taiwan that had vast quantities of plastic bags and fishing nets filling its stomach.
A recent paper published by Environmental Research Letters, A Global Inventory of Small Floating Plastic Debris, suggested there are 15 to 51 trillion microplastic particles in the world's oceans, weighing somewhere between 93 and 236,000 metric tons.
"This is roughly seven times more than what we thought before," noted EcoWatch insights writer Marcus Eriksen about the comprehensive study.
YOU MIGHT ALSO LIKE 
Bottlenose Dolphins Endure Brutal Capture and Slaughter in Taiji's Infamous Cove
Congress Bans Plastic Microbeads, Bill Heads to President Obama's Desk
Exclusive Interview: Researchers Remove Plastic Fork Lodged in Sea Turtle's Nose
Solar-Powered Water Wheel Removes 350 Tons of Trash From Baltimore Harbor
EcoWatch Daily Newsletter
Pexels
Up to 20% of people may have a food addiction or exhibit addictive-like eating behavior.
Spiced hot chocolate. Lilechka75 / iStock / Getty Images
Food is the cornerstone of the holiday season. It brings friends and family together to share memories, cultural traditions, and great flavors.
Solar panels at the Renewable Hydrogen Fueling and Production Station on Joint Base Pearl Harbor-Hickam. U.S. Navy / Mass Communication Specialist 2nd Class Daniel Barker / Released
By Tara Lohan
Three years into the Trump administration, its anti-climate and anti-science agenda is well established. Despite dire warnings from the world's leading scientists about the threats from rising greenhouse gas emissions, the administration has stubbornly continued to deny climate change, obstructed and undermined efforts to curb it, and moved again and again to roll back existing regulations that help reduce emissions.
Pexels
Rye bread tends to have a darker color and stronger, earthier taste than regular white and wheat bread, which is one reason why many people enjoy it.
Elva Etienne / Moment / Getty Images
By Ketura Persellin
Gift-giving is filled with minefields, but the Environmental Working Group's (EWG) got your back, so you don't need to worry about inadvertently giving family members presents laden with toxic chemicals. With that in mind, here are our suggestions for gifts to give your family this season.