Yes, GOP Presidential Candidate John Kasich Believes in Climate Change, But...
Jul. 21, 2015 03:12PM EST
Climate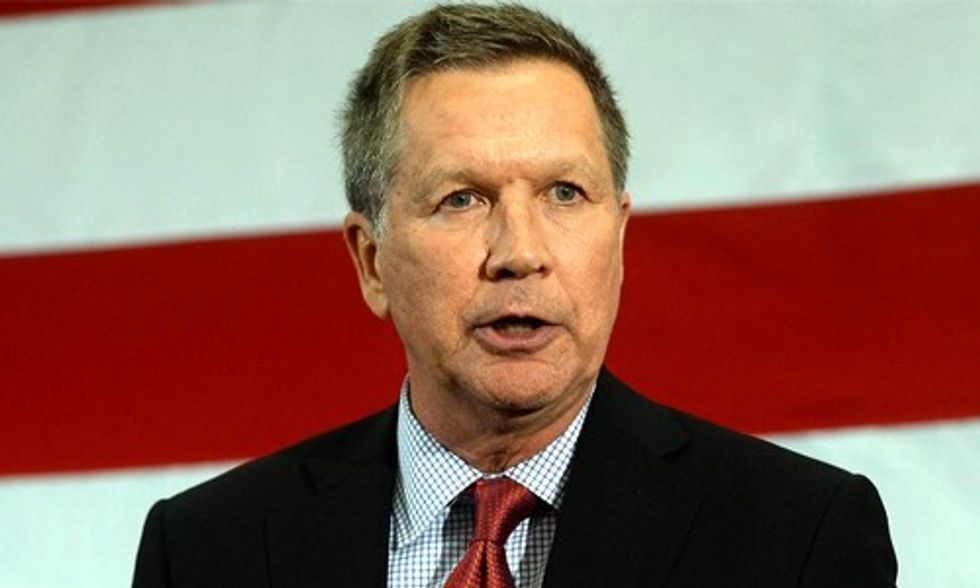 Seriously, at this point, it's hard to keep track. It seems like every other day another Republican is announcing his or her bid for the White House. Ohio Gov. John Kasich officially announced his bid as a presidential candidate today in Columbus, Ohio, making him the 16th Republican in the 2016 race.
.@JohnKasich may be counting on a post-announcement bump to vault him to the GOP debates http://t.co/oQfKRRhC5u pic.twitter.com/mRkmsrhuS3

— Bloomberg Politics (@bpolitics) July 20, 2015
Kasich actually believes in climate change unlike far too many of his fellow candidates. "I happen to believe there is a problem with climate change," he told The Hill. "I don't want to overreact to it, I can't measure it all, but I respect the creation that the Lord has given us and I want to make sure we protect it."
But don't mistake him for a climate warrior. He holds the dubious distinction of making Ohio the first state to freeze its renewable portfolio standard (RPS), which, before being stalled, had created 25,000 jobs and spurred at least $1 billion in private sector investments.
Here's how successful the program was, according to Think Progress:
In less than six years, Ohio's RPS saved consumers roughly $230 million and dropped electricity rates by almost a percent and a half. The efficiency measures that were also frozen had saved ratepayers $1 billion, according to utility company filings. Perhaps unsurprisingly, the policies were supported by 70 percent of Ohioans.
Add to that the fact that last year two environmental groups sued Kasich for illegally making Ohio a fracking waste dump, and you quickly realize that his claims of environmental stewardship don't seem to hold up.
And then there's a recent video from a reporter at The Undercurrent. She asked Kasich at the Faith and Freedom Coalition's Road to Majority Conference last month if he "would agree with the Pope that climate change is a moral issue which we must address and take concrete action on?"
Kasich's response is less than exciting for those who recognize the urgent need to act on climate change. Kasich admits the environment "needs to be taken care of," but quickly cautions that "it shouldn't be worshipped," calling that "pantheism." And he goes on to say "the Pope saying we need to take care of the environment is good," but again, makes a caveat, saying "I don't agree with his conclusion that all of it is bad because of free enterprise because it's lifted people out of poverty and he cares about the poor and so do I. So, I mean a nice warning about people to think about the environment."
Kasich's statement about free enterprise is a quote right out of the Heartland Institute's climate denial textbook, claiming policies to mitigate climate change hurt the poor. According to the World Bank, that couldn't be more far from the truth. The World Bank debunked that myth when they said you can't fight poverty without tackling climate change, and that the world's poorest are most threatened by the effects of climate change.
The Undercurrent reporter followed up with: "So would you take legislative action?" Kasich's response: "Let's not get carried away."
Watch the full interview here:
YOU MIGHT ALSO LIKE
Mayors Flock to Vatican to Sign Pope Francis' Climate Declaration
Hillary Dodges Questions on Climate, Keystone and Fracking in Facebook Q&A
EcoWatch Daily Newsletter
Related Articles from EcoWatch
Recent Stories from EcoWatch