This website uses cookies to ensure you get the best experience while browsing it. By clicking 'Got It' you're accepting these terms.
World's Biggest Banks Are Driving Climate Change, Pumping Billions Into Extreme Fossil Fuels
Jun. 14, 2016 10:59AM EST
Climate
By Climate Denier Roundup
A report released Tuesday by Rainforest Action Network, BankTrack, Sierra Club and Oil Change International provides the first look at bank financing for fossil fuels since the Paris climate agreement, showing that the world's biggest banks are driving climate change by pumping hundreds of billions of dollars into extreme fossil fuels.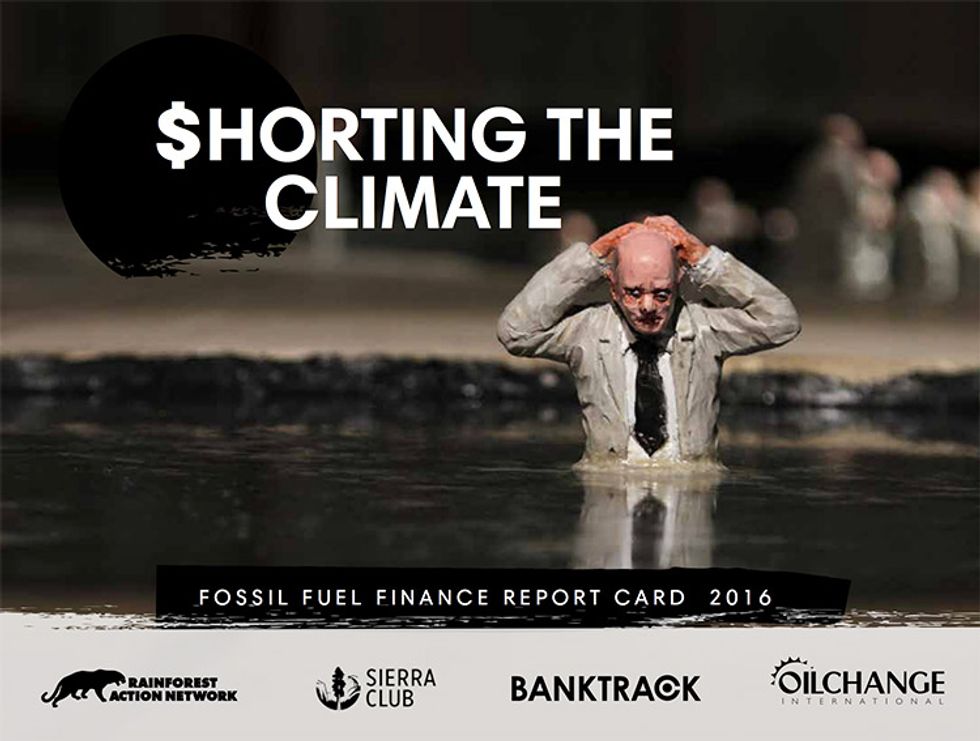 The seventh edition of an annual report, Shorting the Climate: Fossil Fuel Finance Report Card 2016, embarks on new territory to evaluate the bank policies and exposure of 25 U.S., European and Canadian banks in extreme fossil fuels—the most carbon intensive, financially risky and environmentally destructive sub-sectors. This includes coal mining, coal power, extreme oil (tar sands, Arctic oil, ultra-deep drilling) and North American liquefied natural gas export.
The report card, which also graded banks on their human rights policies, shows that banks performed poorly in all sectors. Levels of exposure were high across the board on the order of tens or hundreds of billions of finance for extreme fuel companies, demonstrating that banks are locking the world onto a path of major climate instability. Grades on policies were also poor, with an overall D average for the report card, showing that a vast majority of banks have no significant policies in place to stop funding extreme fossil fuels.
"In finance terms, 'short-selling' or 'shorting' is when an investor profits if a company or asset declines in value," Jason Opeña Disterhoft, senior campaigner with Rainforest Action Network, said. "It means betting on failure. After the Paris agreement, financing extreme fossil fuels amounts to shorting the climate. These bets are also at the expense of some of the most vulnerable communities living in fossil fuel 'sacrifice zones' around the world. We need banks to move now to help pivot the economy away from extreme fossil fuels for the sake of the planet and its people."
At a time when the world's nations have agreed to limit global warming to 1.5 degrees Celsius to avoid the most catastrophic effects of climate change, leading financial institutions have continued business as usual investment in fossil fuels in direct contradiction of global consensus. In just the past three years, these banks have sunk $42 billion for companies active in coal mining; $154 billion for the 20 largest coal-fired power producers; $306 billion for companies that drill extreme oil; and $282 billion for companies building liquefied natural gas export infrastructure. If governments follow through on the Paris agreement and limit carbon emissions, these investments could likely result in stranded assets and significant losses.
The report card does reflect bank movement on coal mining, where 10 of the biggest U.S. and European banks committed to reduce funding for the coal mining sector in the last year. Based on their ability to quickly switch their stance on coal over the last year alone, banks are capable of making the critical choice to cut out extreme fossil fuel investments. Not only can they do it, it is a critical step to follow through on promises made in Paris to stabilize the climate.
"Many banks announced a move away from coal in the run up to COP21 and after, but most of these focused only on coal mining," Yann Louvel, BankTrack's climate and energy coordinator, said. "Our assessment clearly shows that they still have a long way to go to concretely exit this industry and even more for the other extreme fossil fuel sectors. None of these banks can claim to support the Paris agreement, to be aligned with a 2° scenario or to be fighting climate change—as we too often read in their sustainability reports—if they continue to finance these destructive sectors."
YOU MIGHT ALSO LIKE
Carbon Dioxide Levels Set to Pass 400 ppm and Remain Above Symbolic Threshold Permanently
Court Documents Show Peabody Energy Funded Dozens of Climate Denial Groups
May Shatters Yet Another Monthly Heat Record as CO2 Levels Soar
Uncovered Documents Reveal MSNBC Show Worked to Promote Fracking
EcoWatch Daily Newsletter
Pro-environment demonstrators on the streets of Washington, DC during the Jan. 20, 2017 Trump inauguration.
Mobilus In Mobili
/ Flickr /
CC BY-SA 2.0
By Dr. Brian R. Shmaefsky
One year after the Flint Water Crisis I was invited to participate in a water rights session at a conference hosted by the US Human Rights Network in Austin, Texas in 2015. The reason I was at the conference was to promote efforts by the American Association for the Advancement of Science (AAAS) to encourage scientists to shine a light on how science intersects with human rights, in the U.S. as well as in the context of international development. My plan was to sit at an information booth and share my stories about water quality projects I spearheaded in communities in Bangladesh, Colombia, and the Philippines. I did not expect to be thrown into conversations that made me reexamine how scientists use their knowledge as a public good.
Mt. Rainier and Reflection Lake on Sept. 10, 2015. Crystal Geyser planned to open a bottling plant near Mt. Rainier, emails show.
louelke - on and off / Flickr
Bottled water manufacturers looking to capture cool, mountain water from Washington's Cascade Mountains may have to look elsewhere after the state senate passed a bill banning new water permits, as The Guardian reported.
Large storage tank of Ammonia at a fertilizer plant in Cubatão, Sao Paulo State, Brazil. Luis Veiga / The Image Bank / Getty Images
The shipping industry is coming to grips with its egregious carbon footprint, as it has an outsized contribution to greenhouse gas emissions and to the dumping of chemicals into open seas. Already, the global shipping industry contributes about 2 percent of global carbon emissions, about the same as Germany, as the BBC reported.
At high tide, people are forced off parts of the pathway surrounding DC's Tidal Basin. Andrew Bossi /
Wikimedia
The Jefferson Memorial in Washington, DC overlooks the Tidal Basin, a man-made body of water surrounded by cherry trees. Visitors can stroll along the water's edge, gazing up at the stately monument.
But at high tide, people are forced off parts of the path. Twice a day, the Tidal Basin floods and water spills onto the walkway.
Lioness displays teeth during light rainstorm in Kruger National Park, South Africa. johan63 / iStock / Getty Images
Ahead of government negotiations scheduled for next week on a global plan to address the biodiversity crisis, 23 former foreign ministers from various countries released a statement on Tuesday urging world leaders to act "boldly" to protect nature.