World's Biggest Banks Are Driving Climate Change, Pumping Billions Into Extreme Fossil Fuels
By Climate Denier Roundup
A report released Tuesday by Rainforest Action Network, BankTrack, Sierra Club and Oil Change International provides the first look at bank financing for fossil fuels since the Paris climate agreement, showing that the world's biggest banks are driving climate change by pumping hundreds of billions of dollars into extreme fossil fuels.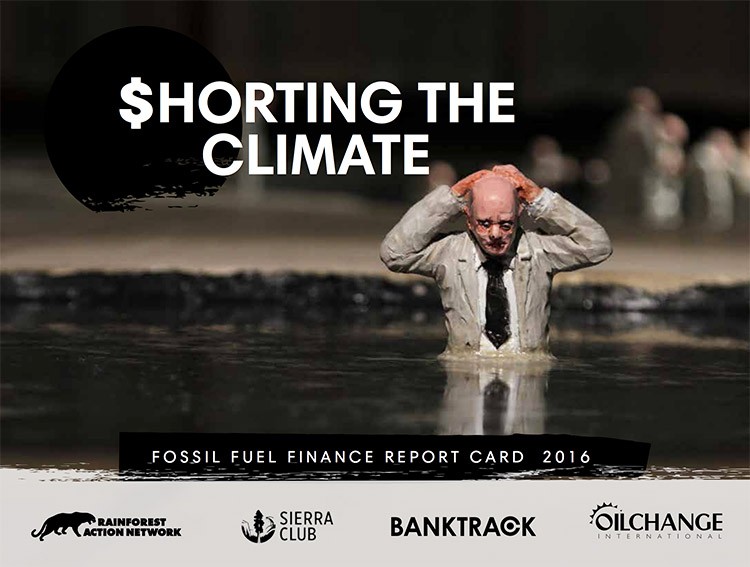 The seventh edition of an annual report, Shorting the Climate: Fossil Fuel Finance Report Card 2016, embarks on new territory to evaluate the bank policies and exposure of 25 U.S., European and Canadian banks in extreme fossil fuels—the most carbon intensive, financially risky and environmentally destructive sub-sectors. This includes coal mining, coal power, extreme oil (tar sands, Arctic oil, ultra-deep drilling) and North American liquefied natural gas export.
The report card, which also graded banks on their human rights policies, shows that banks performed poorly in all sectors. Levels of exposure were high across the board on the order of tens or hundreds of billions of finance for extreme fuel companies, demonstrating that banks are locking the world onto a path of major climate instability. Grades on policies were also poor, with an overall D average for the report card, showing that a vast majority of banks have no significant policies in place to stop funding extreme fossil fuels.
"In finance terms, 'short-selling' or 'shorting' is when an investor profits if a company or asset declines in value," Jason Opeña Disterhoft, senior campaigner with Rainforest Action Network, said. "It means betting on failure. After the Paris agreement, financing extreme fossil fuels amounts to shorting the climate. These bets are also at the expense of some of the most vulnerable communities living in fossil fuel 'sacrifice zones' around the world. We need banks to move now to help pivot the economy away from extreme fossil fuels for the sake of the planet and its people."
At a time when the world's nations have agreed to limit global warming to 1.5 degrees Celsius to avoid the most catastrophic effects of climate change, leading financial institutions have continued business as usual investment in fossil fuels in direct contradiction of global consensus. In just the past three years, these banks have sunk $42 billion for companies active in coal mining; $154 billion for the 20 largest coal-fired power producers; $306 billion for companies that drill extreme oil; and $282 billion for companies building liquefied natural gas export infrastructure. If governments follow through on the Paris agreement and limit carbon emissions, these investments could likely result in stranded assets and significant losses.
The report card does reflect bank movement on coal mining, where 10 of the biggest U.S. and European banks committed to reduce funding for the coal mining sector in the last year. Based on their ability to quickly switch their stance on coal over the last year alone, banks are capable of making the critical choice to cut out extreme fossil fuel investments. Not only can they do it, it is a critical step to follow through on promises made in Paris to stabilize the climate.
"Many banks announced a move away from coal in the run up to COP21 and after, but most of these focused only on coal mining," Yann Louvel, BankTrack's climate and energy coordinator, said. "Our assessment clearly shows that they still have a long way to go to concretely exit this industry and even more for the other extreme fossil fuel sectors. None of these banks can claim to support the Paris agreement, to be aligned with a 2° scenario or to be fighting climate change—as we too often read in their sustainability reports—if they continue to finance these destructive sectors."
YOU MIGHT ALSO LIKE
Carbon Dioxide Levels Set to Pass 400 ppm and Remain Above Symbolic Threshold Permanently
Court Documents Show Peabody Energy Funded Dozens of Climate Denial Groups
May Shatters Yet Another Monthly Heat Record as CO2 Levels Soar
Uncovered Documents Reveal MSNBC Show Worked to Promote Fracking
The Santa Barbara City Council approved a resolution Tuesday opposing new drilling off the California coast and fracking in existing offshore oil and gas wells. The resolution is the first in a new statewide campaign to rally local governments against proposals to expand offshore fossil fuel extraction in federal waters.
The vote—which makes Santa Barbara the first California city to oppose both fracking and new offshore drilling—follows President Trump's April 28 executive order urging federal agencies to expand oil and gas leasing in federal waters. The order could expose the Pacific Ocean to new oil leasing for the first time in more than 30 years.
Keep reading...
Show less
www.facebook.com
Starting Wednesday, the vast majority of Americans can learn about every potentially harmful chemical in their drinking water and what scientists say are the safe levels of those contaminants. The Environmental Working Group's (EWG) new national Tap Water Database is the most complete source available on the quality of U.S. drinking water, aggregating and analyzing data from almost 50,000 public water systems in all 50 states and the District of Columbia.
The organization has earned a reputation for ambitious data-mining research projects that shake up policy debates and consumer markets. EWG's online Farm Subsidy Database, listing millions of subsidy recipients, and its Skin Deep guide to more than 70,000 personal care products, draw tens of millions of visitors every year.
Keep reading...
Show less
By Stacy Malkan
Ever since they classified the world's most widely used herbicide as "probably carcinogenic to humans," a team of international scientists at the World Health Organization's (WHO) cancer research group have been under withering attack by the agrichemical industry and its surrogates.
In a front-page series, The Monsanto Papers, the French newspaper Le Monde described the attacks as "the pesticide giant's war on science," and reported, "to save glyphosate, the firm [Monsanto] undertook to harm the United Nations agency against cancer by all means."
Keep reading...
Show less
Shutterstock
The U.S. electric utility industry recognized decades ago that burning fossil fuels would lead to increased warming, yet later opposed efforts to shift away from coal, according to a new report.
The lengthy report from the Energy and Policy Institute uses reams of archival documents to demonstrate that utility industry representatives knew as far back as 1968 that burning fossil fuels could trigger "catastrophic effects" on the climate.
Keep reading...
Show less
www.youtube.com
By Sharon Kelly
The Pennsylvania's Environmental Hearing Board ordered Sunoco Pipeline LP Tuesday to temporarily halt some types of work on a $2.5 billion pipeline project designed to carry 275,000 barrels a day of butane, propane and other liquid fossil fuels from Ohio and West Virginia, across Pennsylvania, to the Atlantic coast.
On July 19, three environmental groups presented Judge Bernard Labuskes, Jr. with documentation showing that the project had caused dozens of drilling fluid spills and other accidents between April and mid-June.
Keep reading...
Show less
www.youtube.com
By Andy Rowell
The UK has followed France in banning the sale of new petrol and diesel cars by 2040, as part of its plan to tackle chronic air pollution in cities. The government has been coming under intense pressure to act, with an estimated 40,000 people dying prematurely a year from air pollution.
Keep reading...
Show less
By Colleen Curry
People traveling across America today can, if they're lucky, pitch a tent in the same exact spot that early American explorers and map-makers Lewis and Clark did, amid the jagged rocks and sweeping plains of the Upper Missouri River Breaks in central Montana.
Brent Rose, a journalist and filmmaker who has been traveling around the U.S. in a van for two years, was one of the lucky ones.
Keep reading...
Show less
www.youtube.com
Kyara, a killer whale born at SeaWorld San Antonio just three months ago, died Monday at the park, as reported in this video from Newsy. Kyara is the last orca to be born in captivity under the SeaWorld breeding program, which shut down in 2016.
In a statement, SeaWorld said the cause of death was "likely pneumonia" and that "Kyara had faced some very serious and progressive health issues over the last week."
Keep reading...
Show less