This website uses cookies to ensure you get the best experience while browsing it. By clicking 'Got It' you're accepting these terms.
World's Biggest Banks Are Driving Climate Change, Pumping Billions Into Extreme Fossil Fuels
Jun. 14, 2016 10:59AM EST
By Climate Denier Roundup
A report released Tuesday by Rainforest Action Network, BankTrack, Sierra Club and Oil Change International provides the first look at bank financing for fossil fuels since the Paris climate agreement, showing that the world's biggest banks are driving climate change by pumping hundreds of billions of dollars into extreme fossil fuels.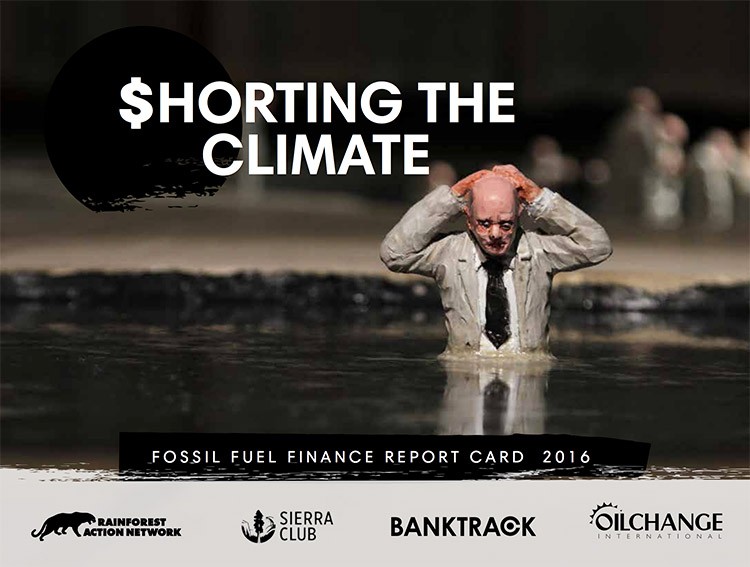 The seventh edition of an annual report, Shorting the Climate: Fossil Fuel Finance Report Card 2016, embarks on new territory to evaluate the bank policies and exposure of 25 U.S., European and Canadian banks in extreme fossil fuels—the most carbon intensive, financially risky and environmentally destructive sub-sectors. This includes coal mining, coal power, extreme oil (tar sands, Arctic oil, ultra-deep drilling) and North American liquefied natural gas export.
The report card, which also graded banks on their human rights policies, shows that banks performed poorly in all sectors. Levels of exposure were high across the board on the order of tens or hundreds of billions of finance for extreme fuel companies, demonstrating that banks are locking the world onto a path of major climate instability. Grades on policies were also poor, with an overall D average for the report card, showing that a vast majority of banks have no significant policies in place to stop funding extreme fossil fuels.
"In finance terms, 'short-selling' or 'shorting' is when an investor profits if a company or asset declines in value," Jason Opeña Disterhoft, senior campaigner with Rainforest Action Network, said. "It means betting on failure. After the Paris agreement, financing extreme fossil fuels amounts to shorting the climate. These bets are also at the expense of some of the most vulnerable communities living in fossil fuel 'sacrifice zones' around the world. We need banks to move now to help pivot the economy away from extreme fossil fuels for the sake of the planet and its people."
At a time when the world's nations have agreed to limit global warming to 1.5 degrees Celsius to avoid the most catastrophic effects of climate change, leading financial institutions have continued business as usual investment in fossil fuels in direct contradiction of global consensus. In just the past three years, these banks have sunk $42 billion for companies active in coal mining; $154 billion for the 20 largest coal-fired power producers; $306 billion for companies that drill extreme oil; and $282 billion for companies building liquefied natural gas export infrastructure. If governments follow through on the Paris agreement and limit carbon emissions, these investments could likely result in stranded assets and significant losses.
The report card does reflect bank movement on coal mining, where 10 of the biggest U.S. and European banks committed to reduce funding for the coal mining sector in the last year. Based on their ability to quickly switch their stance on coal over the last year alone, banks are capable of making the critical choice to cut out extreme fossil fuel investments. Not only can they do it, it is a critical step to follow through on promises made in Paris to stabilize the climate.
"Many banks announced a move away from coal in the run up to COP21 and after, but most of these focused only on coal mining," Yann Louvel, BankTrack's climate and energy coordinator, said. "Our assessment clearly shows that they still have a long way to go to concretely exit this industry and even more for the other extreme fossil fuel sectors. None of these banks can claim to support the Paris agreement, to be aligned with a 2° scenario or to be fighting climate change—as we too often read in their sustainability reports—if they continue to finance these destructive sectors."
YOU MIGHT ALSO LIKE
Carbon Dioxide Levels Set to Pass 400 ppm and Remain Above Symbolic Threshold Permanently
Court Documents Show Peabody Energy Funded Dozens of Climate Denial Groups
May Shatters Yet Another Monthly Heat Record as CO2 Levels Soar
Uncovered Documents Reveal MSNBC Show Worked to Promote Fracking
Plus, learn if there's one that's best for your health.
Catherine Falls Commercial / Moment / Getty Images
An invasive Amynthas worm, also known as a crazy snake worm, Asian jumping worm and Alabama jumper Tom Potterfield / Flickr
By Jason Bittel
My wife and I built a house two years ago on a few acres of woodland outside of Pittsburgh. The backyard is full of maples, poplars, briars and common spicebush. Two-lined salamanders and grumpy-looking crayfish wade among the rocks in the small stream that runs down the edge of the property. Deer, raccoon and opossum tracks appear regularly in the snow and mud. Sometimes, my trail-cam even catches a pair of gray foxes as they slink through the night.
AleksandarNakic / Getty Images
By Kate Murphy
No matter the time of year, there's always a point in each season when my skin decides to cause me issues. While these skin issues can vary, I find the most common issues to be dryness, acne and redness.

David Woodfall / The Image Bank / Getty Images
By Sam Nickerson
The U.S. Environmental Protection Agency (EPA) in April 2018 proposed relaxing standards related to how it assesses the effects of exposure to low levels of toxic chemicals on public health.
Now, correspondence obtained by the LA Times revealed just how deeply involved industry lobbyists and a controversial, industry-funded toxicologist were in drafting the federal agency's proposal to scrap its current, protective approach to regulating toxin exposure.
Steve Irwin poses with a three foot long alligator at the San Francisco Zoo on June 26, 2002. Justin Sullivan / Getty Images
February 22 is the birthday of conservationist and beloved TV personality "Crocodile Hunter" Steve Irwin, who would have been 57 years old today.
Irwin's life was tragically cut short when the barb from a stingray went through his chest while he was filming in 2006, but his legacy of loving and protecting wildlife lives on, most recently in a Google Doodle today honoring his birthday.