This website uses cookies to ensure you get the best experience while browsing it. By clicking 'Got It' you're accepting these terms.
Why the 'Polar Vortex' Does Not Disprove Global Warming
Jan. 07, 2014 10:12AM EST
Climate
By Emily Atkin
On Sunday night, a reporter for The Weather Channel stood in a Minnesota snowstorm, talking about local efforts to move homeless children into heated shelters. "How cold is it supposed to get?" the anchor, back in the studio, asked.
The reporter replied: "Colder than Mars."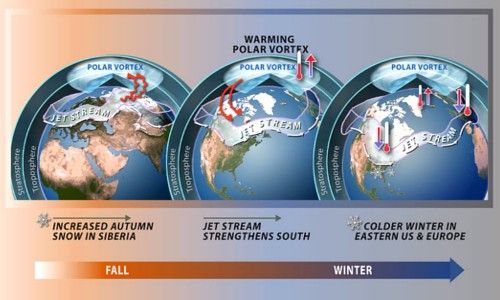 Indeed, recent temperatures across the U.S. have been Mars-like. Forecasts in the midwest call for temperatures to drop to 32 below zero in Fargo, ND, minus 21 in Madison, WI, and 15 below zero in Minneapolis, Indianapolis and Chicago. Wind chills have been predicted to fall to negative 60 degrees—a dangerous cold that could break decades-old records.
All of which begs the question—if climate change is real, then how did it get so cold?
The question is based on common misconceptions of how cold weather moves across the planet, said Greg Laden, a bioanthroplogist who writes for National Geographic's Scienceblog. According to Laden, the recent record-cold temperatures indicate to many that the Arctic's cold air is expanding, engulfing other countries. If true, this would be a perfect argument for a "global cooling" theory. The Arctic's coldness is growing. Laden asks, "How can such a thing happen with global warming?"
The answer, he writes, is that the Arctic air that usually sits on top of our planet is "taking an excursion" south for a couple of days, leaving the North Pole "relatively warm" and our temperate region not-so-temperate. "Go Home Arctic, You're Drunk," he titled the explanation.
"The Polar Vortex, a huge system of moving swirling air that normally contains the polar cold air, has shifted so it is not sitting right on the pole as it usually does," Laden writes. "We are not seeing an expansion of cold, an ice age, or an anti-global warming phenomenon. We are seeing the usual cold polar air taking an excursion. So, this cold weather we are having does not disprove global warming."
In fact, some scientists have theorized that the influx of extreme cold is actually fueled by effects of climate change. Jennifer Francis, a research professor at Rutgers University's Institute of Marine and Coastal Science, told ClimateProgress on Monday that it's not the Arctic who is drunk. It's the jet stream.
"The drunk part is that the jet stream is in this wavy pattern, like a drunk walking along," Francis, who primarily studies Arctic links to global weather patterns, said. "In other places, you could see the tropics are drunk."
Arctic warming, she said, is causing less drastic changes in temperatures between northern and southern climates, leading to weakened west-to-east winds, and ultimately, a wavier jet stream. The stream's recent "waviness" has been taking coldness down to the temperate U.S. and leaving Alaska and the Arctic relatively warm, Francis said. The same thing has been happening in other countries as well. Winter storms have been pounding the UK, she noted, while Scandinavia is having a very warm winter.
"This kind of pattern is going to be more likely, and has been more likely," she said. "Extremes on both ends are a symptom. Wild, unusual temperatures of both sides, both warmer and colder."
Francis' research, however, is still disputed. Dr. Kevin E. Trenberth, a distinguished senior climate scientist at the National Center for Atmospheric Research, told ClimateProgress on Monday that he was skeptical of Francis' assessment.
"Jennifer's work shows a correlation, but correlation is not causation," he cautioned. "In fact it is much more likely to work the other way around."
Instead of Francis' theory that a warm Arctic moves the jet stream, Trenberth said it could be that the jet stream moves, leading to a warmer Arctic. And Francis' theory could work if the Arctic was, in fact, particularly warm and iceless—at the moment, in winter, the Arctic is cooler and icier.
"I am not saying there is no [climate change] influence, but in midwinter, the energy in these big storms is huge and the climate change influence is impossible to find statistically," he said. "So we have to fall back on understanding the processes and mechanisms."
Still, Trenberth—based in Boulder, CO,—just had 11 inches of snow on Saturday, which he said is the third largest ever for the month. Normally the area gets only light, fluffy snow. But, he said temperatures on Friday were 62 degrees, making for extra moisture and heat, "probably" contributing to the extra snow. The incident mimics what Trenberth's research has shown—that increased moisture and heat from climate change has an effect on weather events.
"The answer to the oft-asked question of whether an event is caused by climate change is that it is the wrong question," he has written. "All weather events are affected by climate change because the environment in which they occur is warmer and moister than it used to be."
Visit EcoWatch's CLIMATE CHANGE page for more related news on this topic.

EcoWatch Daily Newsletter
Tuna auctions are a tourist spectacle in Tokyo. Outside the city's most famous fish market, long queues of visitors hoping for a glimpse of the action begin to form at 5 a.m. The attraction is so popular that last October the Tsukiji fish market, in operation since 1935, moved out from the city center to the district of Toyosu to cope with the crowds.

gmnicholas / E+ / Getty Images
Kristan Porter grew up in a fishing family in the fishing community of Cutler, Maine, where he says all roads lead to one career path: fishing. (Porter's father was the family's lone exception. He suffered from terrible seasickness, and so became a carpenter.) The 49-year-old, who has been working on boats since he was a kid and fishing on his own since 1991, says that the recent warming of Maine's cool coastal waters has yielded unprecedented lobster landings.
Aerial view of lava flows from the eruption of volcano Kilauea on Hawaii, May 2018. Frizi / iStock / Getty Images
Hawaii's Kilauea volcano could be gearing up for an eruption after a pond of water was discovered inside its summit crater for the first time in recorded history, according to the AP.
The Eqip Sermia Glacier is seen behind a moraine left exposed by the glacier's retreat during unseasonably warm weather on Aug. 1 at Eqip Sermia, Greenland. Sean Gallup / Getty Images
hadynyah / E+ / Getty Images
By Johnny Wood
The Ganges is a lifeline for the people of India, spiritually and economically. On its journey from the Himalayas to the Bay of Bengal, it supports fishermen, farmers and an abundance of wildlife.
The river and its tributaries touch the lives of roughly 500 million people. But having flowed for millennia, today it is reaching its capacity for human and industrial waste, while simultaneously being drained for agriculture and municipal use.
Here are some of the challenges the river faces.
By Jake Johnson
As a growing number of states move to pass laws that would criminalize pipeline protests and hit demonstrators with years in prison, an audio recording obtained by The Intercept showed a representative of a powerful oil and gas lobbying group bragging about the industry's success in crafting anti-protest legislation behind closed doors.
Reposted with permission from our media associate Common Dreams.

DESIREE MARTIN / AFP / Getty Images
Wildfires raging on Gran Canaria, the second most populous of Spain's Canary Islands, have forced around 9,000 people to evacuate.